When you draft a player in fantasy football, there is a reasonable expectation, that his draft slot is a fair range for him — a guy drafted 10th is likely to finish anywhere between, say, seventh and 15th (just to pick some numbers).
As such, players fit into tiers. There are the surefire starters, the above-average starters, the probable starters, and the rest of the guys. If every player you draft ends up in his designated tier, you'll have at least an average fantasy season. If they fall short, your year could be a bad one.
And if they rise a tier, welcome to winning.
That's what we're looking for each year. You expect players to return the value they are drafted at, but we want to find players who will return the value of a tier above at the value of a tier below. I've (subjectively) defined the tiers below. It's a framework.
| | | | | |
| --- | --- | --- | --- | --- |
| | QB | RB | WR | TE |
| Tier 1 | 1-5 | 1-10 | 1-10 | 1-3 |
| Tier 2 | 6-10 | 11-30 | 11-30 | 4-6 |
| Tier 3 | 11-20 | 31-50 | 31-50 | 7-20 |
| Tier 4 | 21+ | 51+ | 51+ | 21+ |
Tier 1 players obviously can't make it to a higher tier. So we're looking for players below Tier 1 who could climb to the better today. Today, we're looking at wide receivers. Check out the quarterbacks piece from Monday or the running backs piece from Tuesday.
(All ADP data comes from Fantasy Football Calculator.)
Tier 2 to Tier 1
(Current ADP: WR13)
Cooper's trademark so far in his career has been inconsistency. He has the fifth-most games over 30 PPR points among WRs over the course of his career, but also the second-most under 5.0 (among fantasy-relevant names) — and the only player with more, Adam Thielen, did most of that work when he was a backup early in his career. And you can't put that all on his Raiders tenure, as Cooper had two games of 180-plus yards and four under 40 in his nine games with Dallas last year. If Cooper continues to be that volatile, his upside is capped. But there's an argument to put his Oakland inconsistency at the feet of Derek Carr, and his Dallas inconsistency at the feet of his learning a new offense. If he can become a consistent force, he's got easy top-10 upside.
(Current ADP: WR27)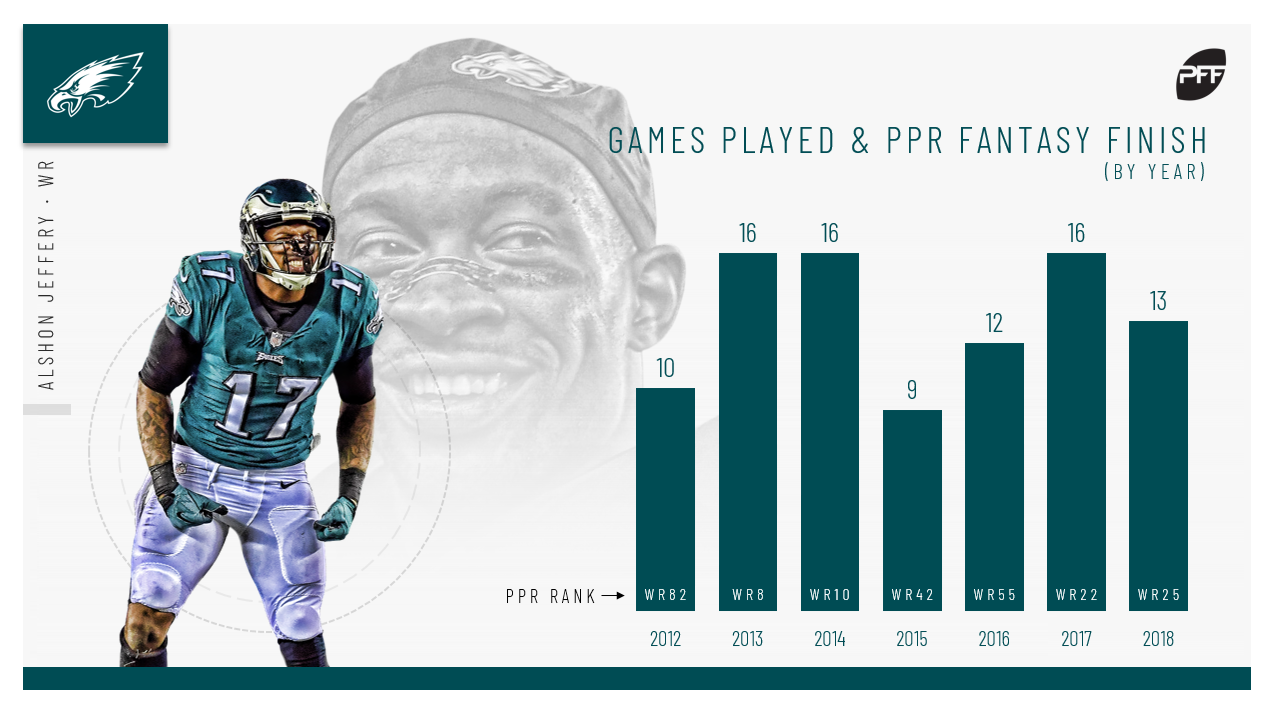 Jeffery a stretch here? Maybe, but consider that in the three years of his career that he's played all 16 games, he's averaged a 13th-place PPR finish among receiver, including two top-10 years. Since joining the Eagles, his PPR points-per-game average is 2 points higher with Carson Wentz at quarterback than without. And the Eagles offense overall should be improved this year with the additions of DeSean Jackson, JJ Arcega-Whiteside, Miles Sanders, and Jordan Howard, and the development of Dallas Goedert. Maybe Jeffery is a stretch here, but not by as much as you might think.
Tier 3 to Tier 2
(Current ADP: WR38)
Jones played through Week 10 last year. Through that time, he was the PPR WR27. Teammate Kenny Golladay was WR23, and Golden Tate (who was on the Lions through Week 8) was WR24. Tate is gone now, with his targets likely to be distributed among Golladay, Jones, and newcomers Danny Amendola and Jermaine Kearse. Despite that, Jones ADP is more than 10 spots worse than he finished last year? Remember, as our Jeff Ratcliffe noted, Jones had three times as many end-zone targets as Golladay when both were active last year. His 2017 WR11 finish is probably out of reach, but it doesn't take much work at all to get him back into the top-30.
(Current ADP: WR39)
Things went about as bad as they reasonably could have for Davis last year (other than injury). His quarterback missed two games and was banged up for several others, faced one of the toughest slate of corners in the league, and only scored 4 touchdowns on his 112 targets. Despite all that, he finished the year as the No. 27 fantasy receiver. I just can't see a way his stock should fall heading into 2019, with a better offense around him, theoretically more health for Marcus Mariota, and what almost has to be an easier schedule. Davis' low ADP baffles me.
(Current ADP: WR47)
If Samuel's 2018 season (fantasy's WR47 in 13 games played, 7 touchdowns on 47 touches) had been his rookie season, he'd be carrying serious buzz into this year's drafts. Instead, it was his second season after an injury-abbreviated rookie campaign in which he was limited to only 225 snaps, and instead of carrying buzz, he's barely a top-50 receiver. Put another way: Samuel finished as WR47 despite barely being on the depth chart to open the year, missing three games to injury, and having to work to overtake Devin Funchess. He did all that, and now he's being drafted … at the exact spot he finished? How does that make sense?
Tier 4 to Tier 3
(Current ADP: WR52)
Taylor Gabriel played 830 snaps and had 91 targets last year in 16 games. For Miller, those numbers were, respectively, 576 and 54 in 15 games. That was in part because of injury and in part because of inexperience, but I'll lay a significant wager that we don't see that sort of disparity again. Assuming health, Miller will see much more work in 2019 than he did in 2018, and while his touchdown efficiency (7 scores on 54 targets) might be tough to replicate, but the increased workload Miller is likely to help him climb significantly over his WR61 finish.
(Current ADP: WR55)
Funchess played himself right out of a job in Carolina in 2018, playing at least 50 snaps in every game through Week 7, at least 40 in every game through Week 11, and then averaging 23.5 after that, ultimately ending with a healthy scratch in Week 17. If that's the Funchess we'll be seeing in Indianapolis, well, he's not worth much. But Funchess (who is still younger than guys considered "up and comers" like Will Fuller, Cooper Kupp, and Kenny Golladay) should get plenty of opportunity as the No. 2 option for Andrew Luck, who is a more accurate quarterback than Funchess' previous signal-caller, Cam Newton.
(Current ADP: WR69)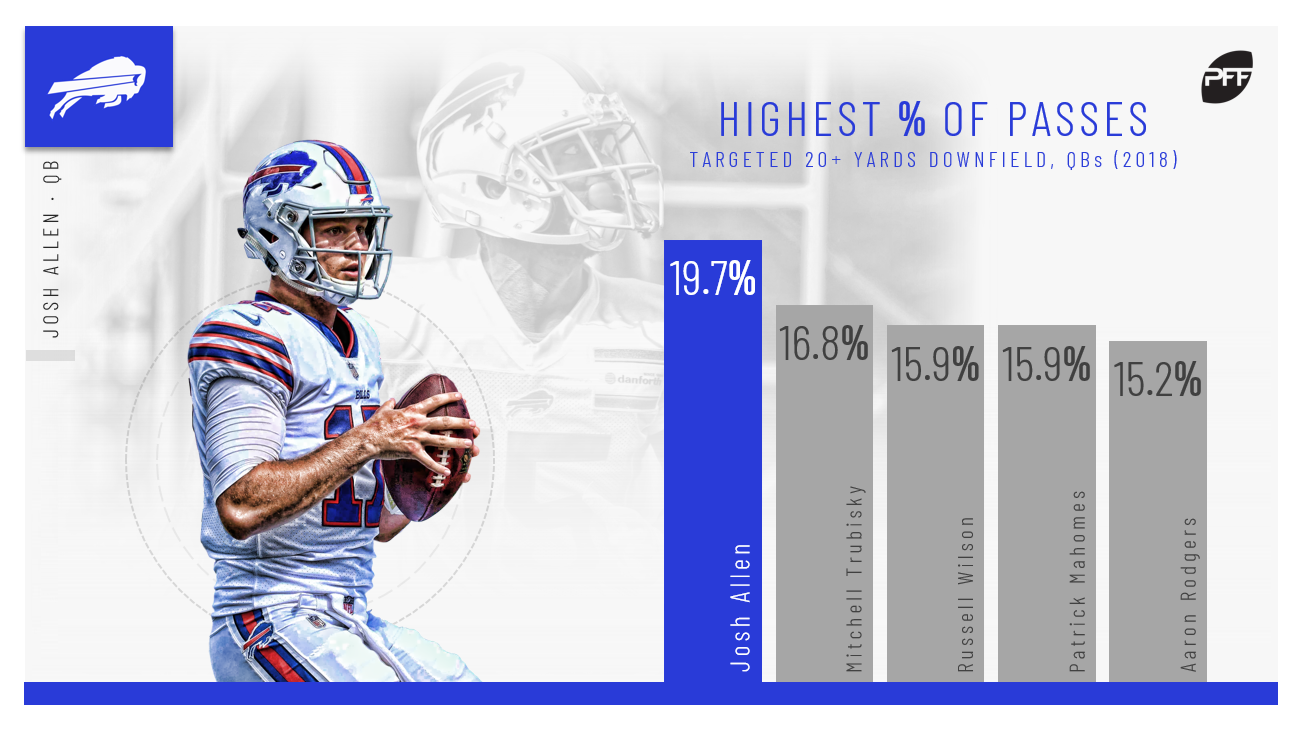 With Joe Flacco as his quarterback last year (Weeks 1-9), Brown was the No. 22 PPR receiver, at 601 yards and 4 touchdowns. With Lamar Jackson as his quarterback (Weeks 11-17), Brown was the No. 98 receiver, at 114 yards and a single touchdown. A receiver's full season matters, of course, but if ever there were extenuating circumstances in a QB situation, Jackson's 2018 would be it. Now Brown goes to Buffalo, where despite Josh Allen's deficiencies as a passer, he did like to throw it deep last year, attempting a pass of 20-plus yards on a league-leading 19.7% of his attempts (Mitchell Trubisky was second all the way down at 16.8%). Catching deep balls has historically been Brown's thing.