With the 2023 NFL Draft less than a week away, it's time to fire up the PFF mock draft simulator to fill the remaining needs for all 32 NFL teams.
Want to see how you'd do as the general manager of your favorite team? Try PFF's mock draft simulator for free — you can trade players and picks and mock all seven rounds. Click here to start drafting!
Note: Each team's mock draft was run independently, so some players may appear twice, as these picks are simply what I would do in the given situation.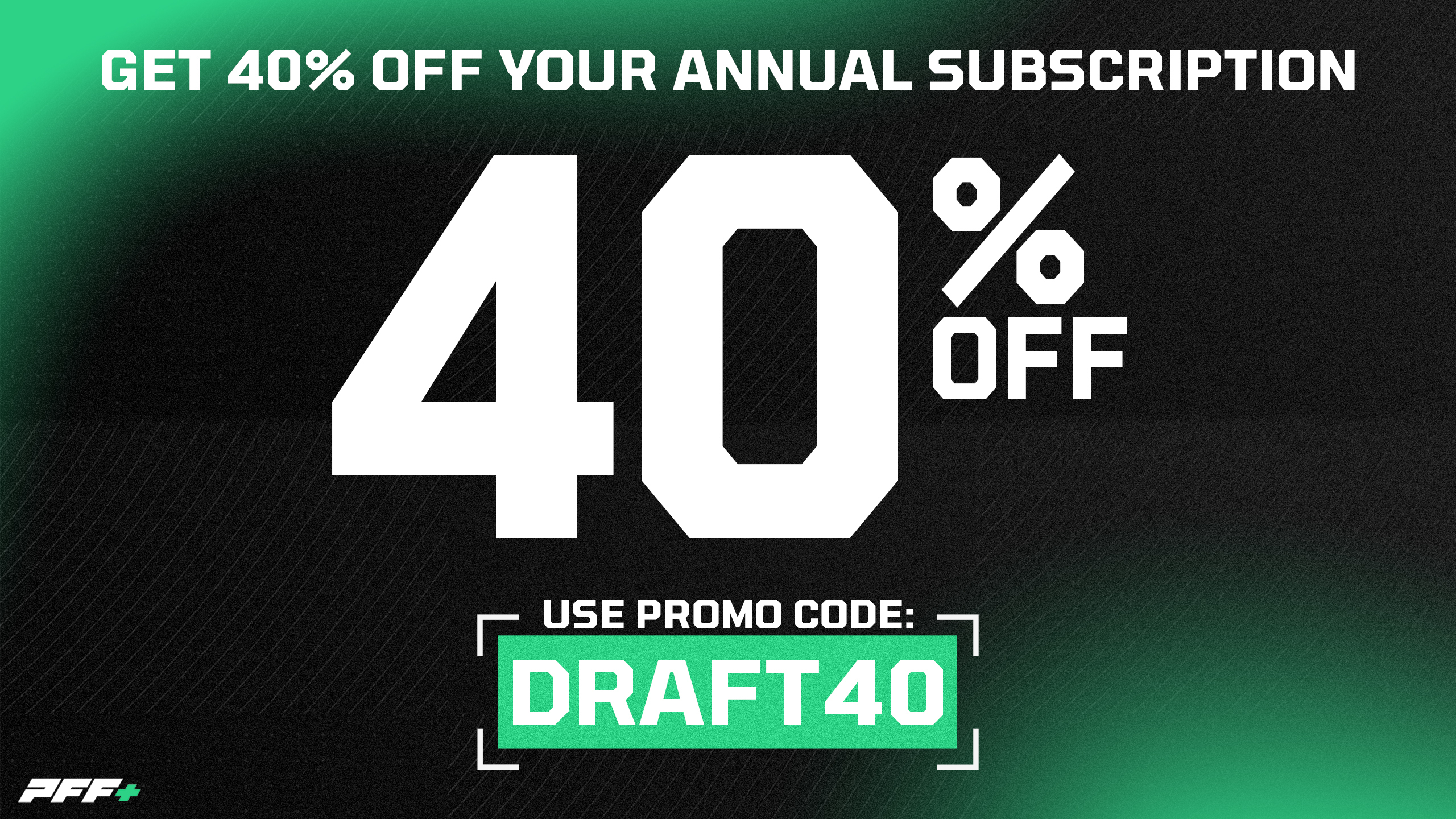 Click here to navigate by division:
AFC NORTH | AFC SOUTH | AFC EAST | AFC WEST
NFC NORTH | NFC SOUTH | NFC EAST | NFC WEST
Round 1: Trade — Ravens trade Pick Nos. 22 and 199 to the Atlanta Falcons in exchange for Nos. 44, 75, 110 and 113
Round 2: EDGE BJ Ojulari, LSU
Round 3: WR Nathaniel Dell, Houston; WR Michael Wilson, Stanford
Round 1: TE Dalton Kincaid, Utah
Round 2: OT Matthew Bergeron, Syracuse
Round 3: DeWayne McBride, UAB
Round 3: S Jordan Battle, Alabama; DI Moro Ojomo, Texas
Round 1: CB Deonte Banks, Maryland
Round 2: OT Dawand Jones, Ohio State; DI Siaki Ika, Baylor
Round 3: WR Nathaniel Dell, Houston
---
Round 1: QB Bryce Young, Alabama; DI Calijah Kancey, Pittsburgh
Round 2: WR Jalin Hyatt, Tennessee
Round 3: EDGE Tuli Tuipulotu, USC; CB Darius Rush, South Carolina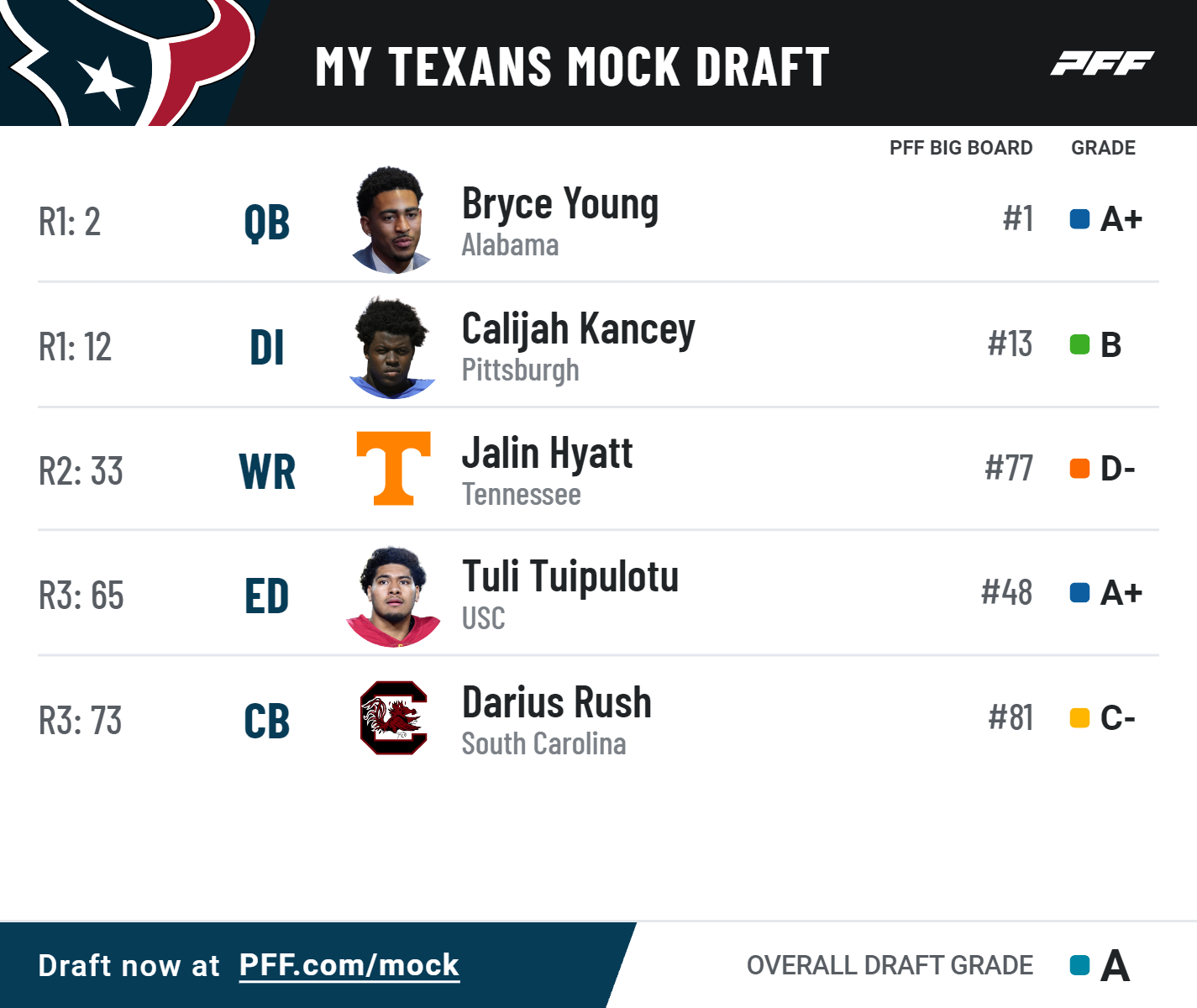 Round 1: QB Will Levis, Kentucky
Round 2: G Steve Avila, TCU
Round 3: WR Rashee Rice, SMU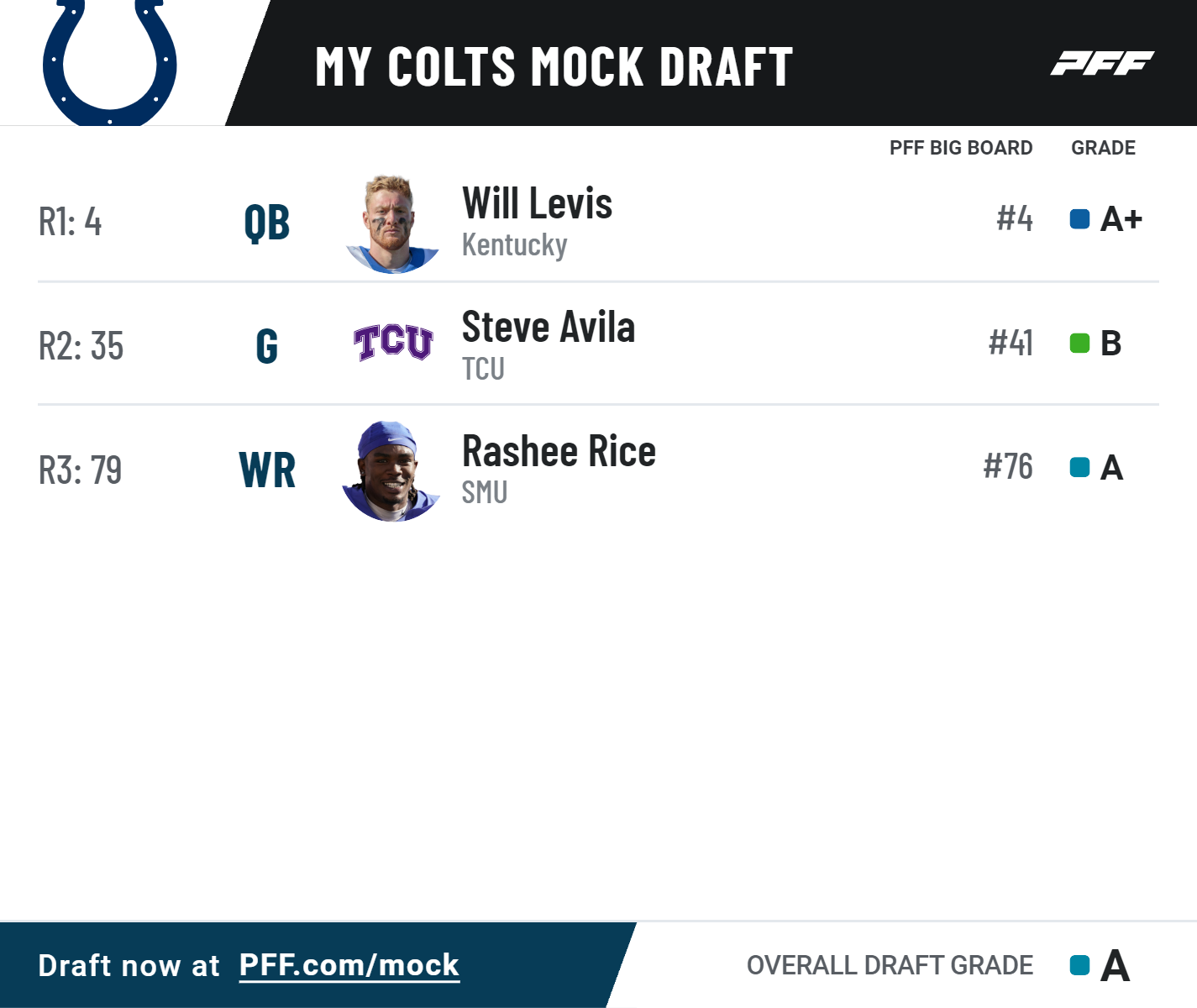 Round 1: OT Anton Harrison, Oklahoma
Round 2: C Luke Wypler, Ohio State
Round 3: EDGE Isaiah McGuire, Missouri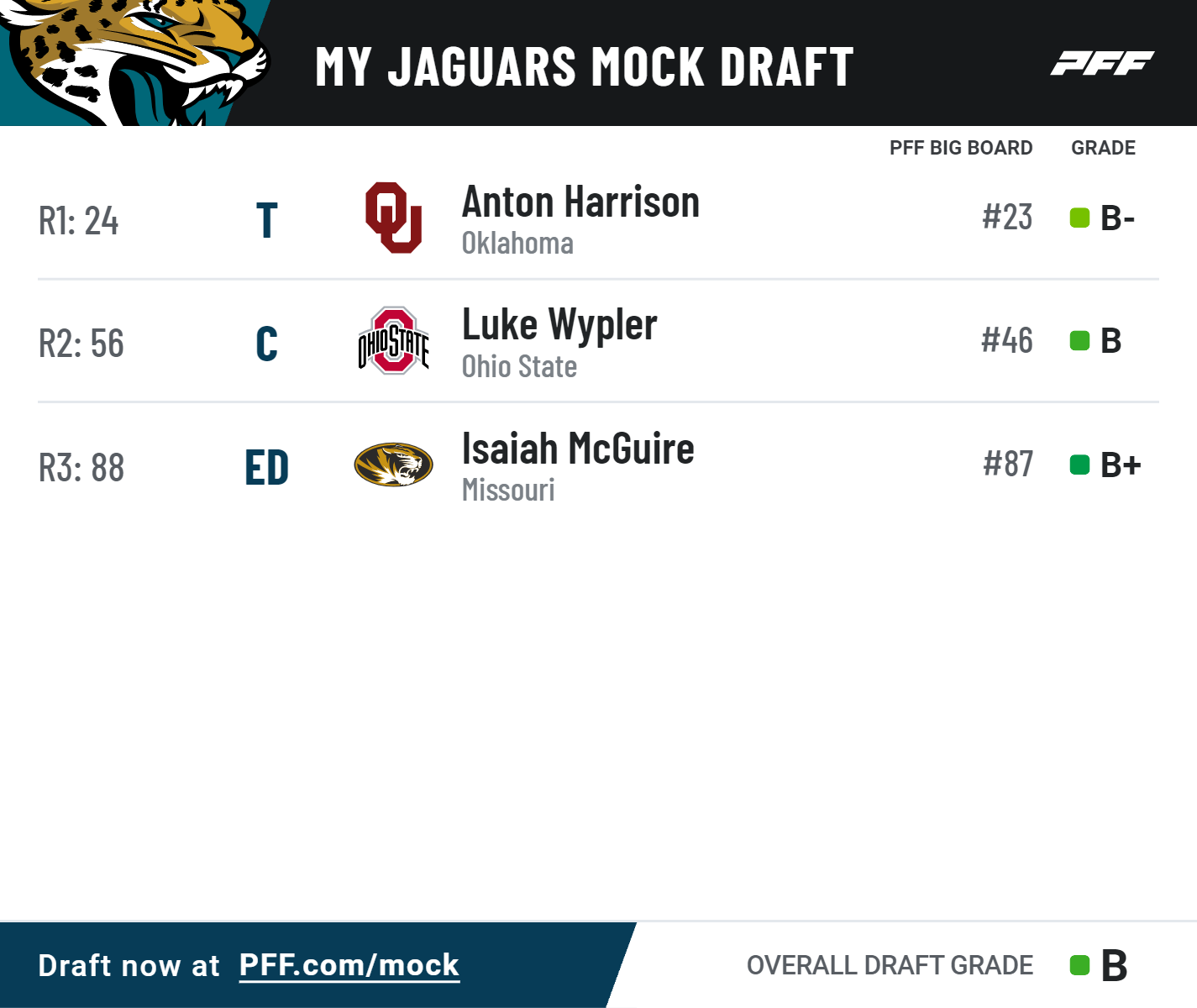 Round 1: WR Quentin Johnston, TCU
Round 2: EDGE Felix Anudike-Uzomah, Kansas State
Round 3: QB Tanner McKee, Stanford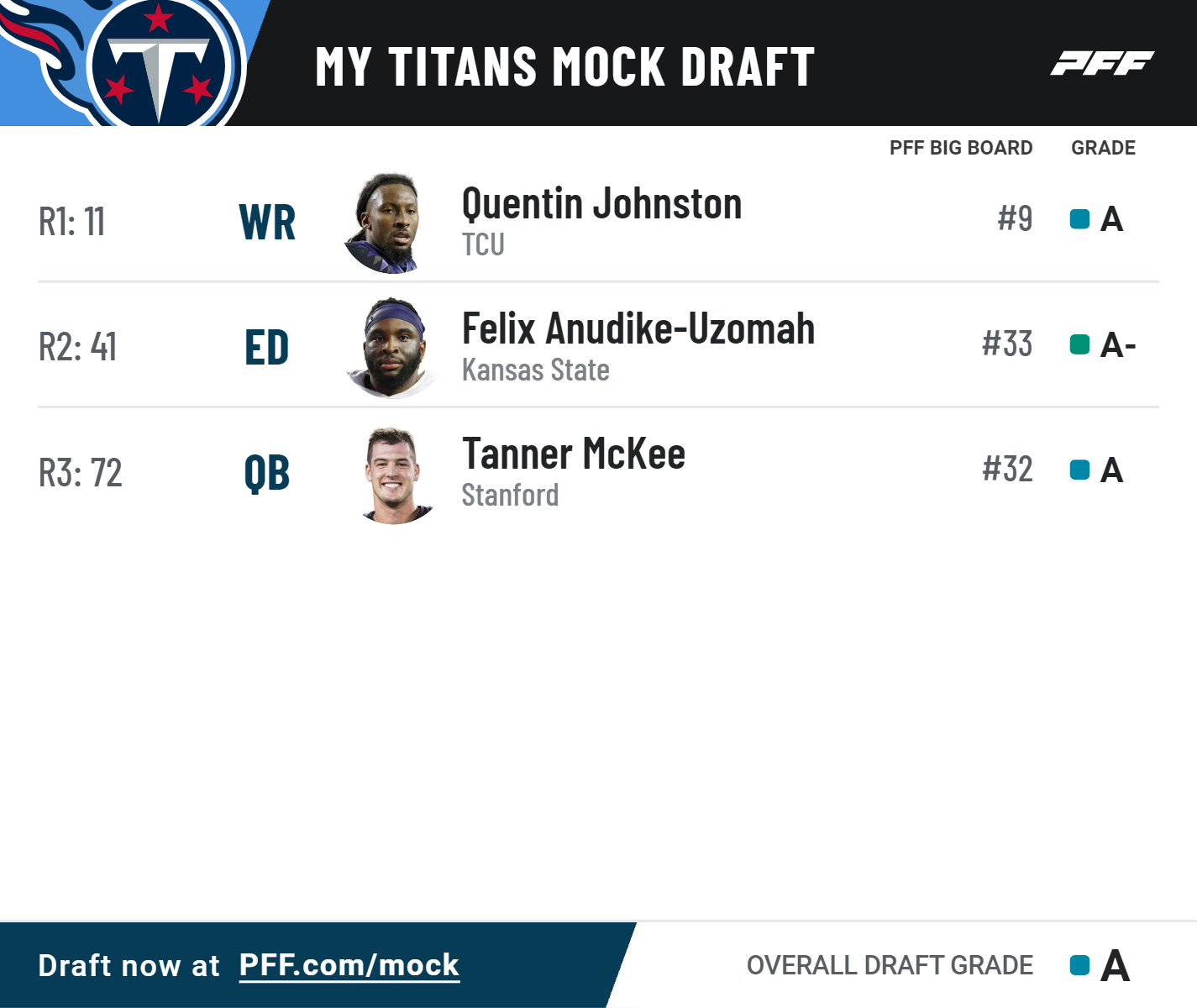 ---
Round 1: OT Dawand Jones, Ohio State
Round 2: CB Eli Ricks, Alabama
Round 3: LB Dorian Williams, Tulane
Round 2: C Luke Wypler, Ohio State
Round 3: S Jordan Battle, Alabama
Round 1: CB Joey Porter Jr., Penn State
Round 2: EDGE Adetomiwa Adebawore, Northwestern
Round 3: WR Nathaniel Dell, Houston
Round 1: EDGE Lukas Van Ness, Iowa
Round 2: Picks 42 and 43 traded to Green Bay Packers in exchange for quarterback Aaron Rodgers
---
Round 3: CB Garrett Williams, Syracuse; DI Moro Ojomo, Texas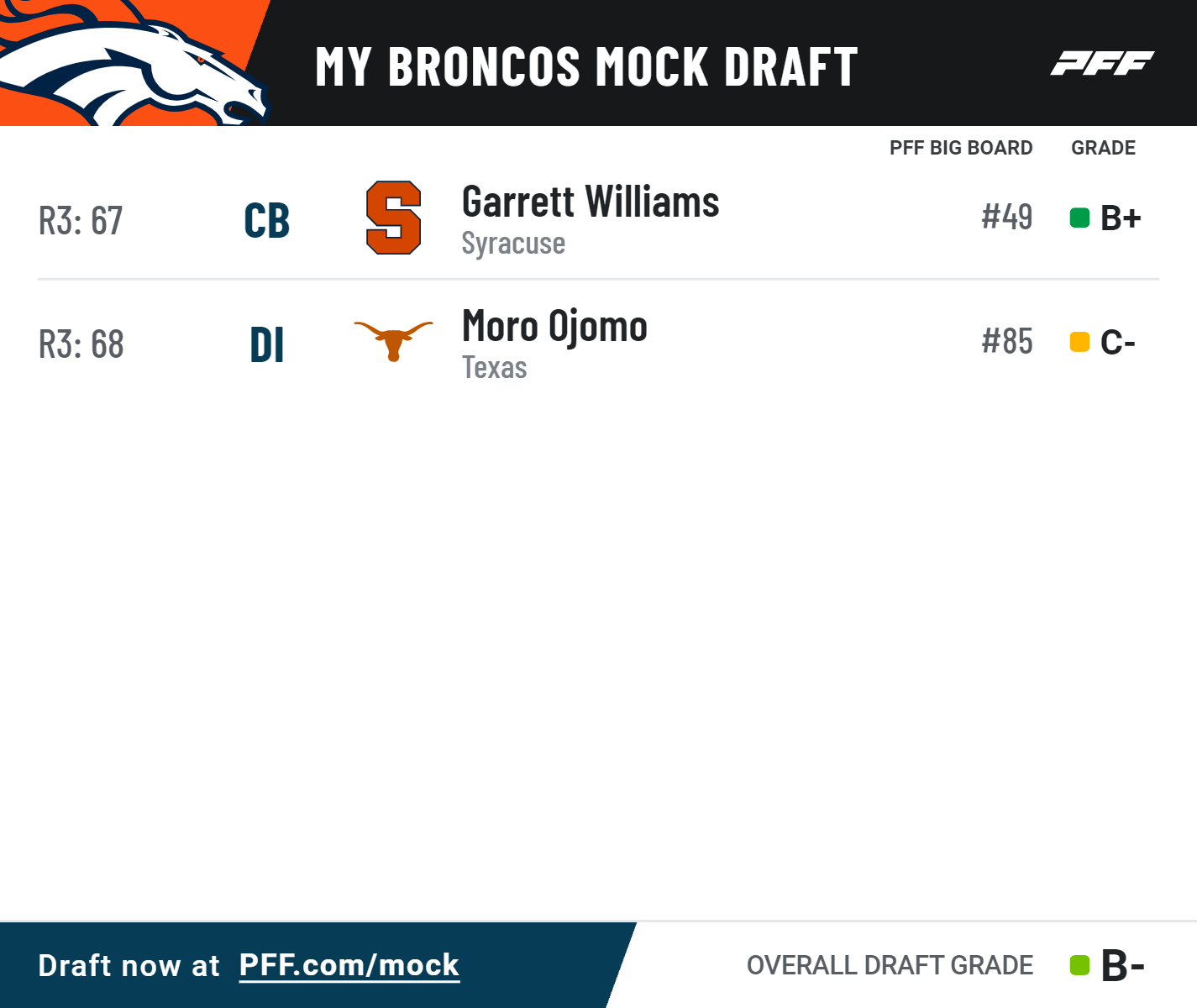 Round 1: OT Dawand Jones, Ohio State
Round 2: EDGE Derick Hall, Auburn
Round 3: WR Parker Washington, Penn State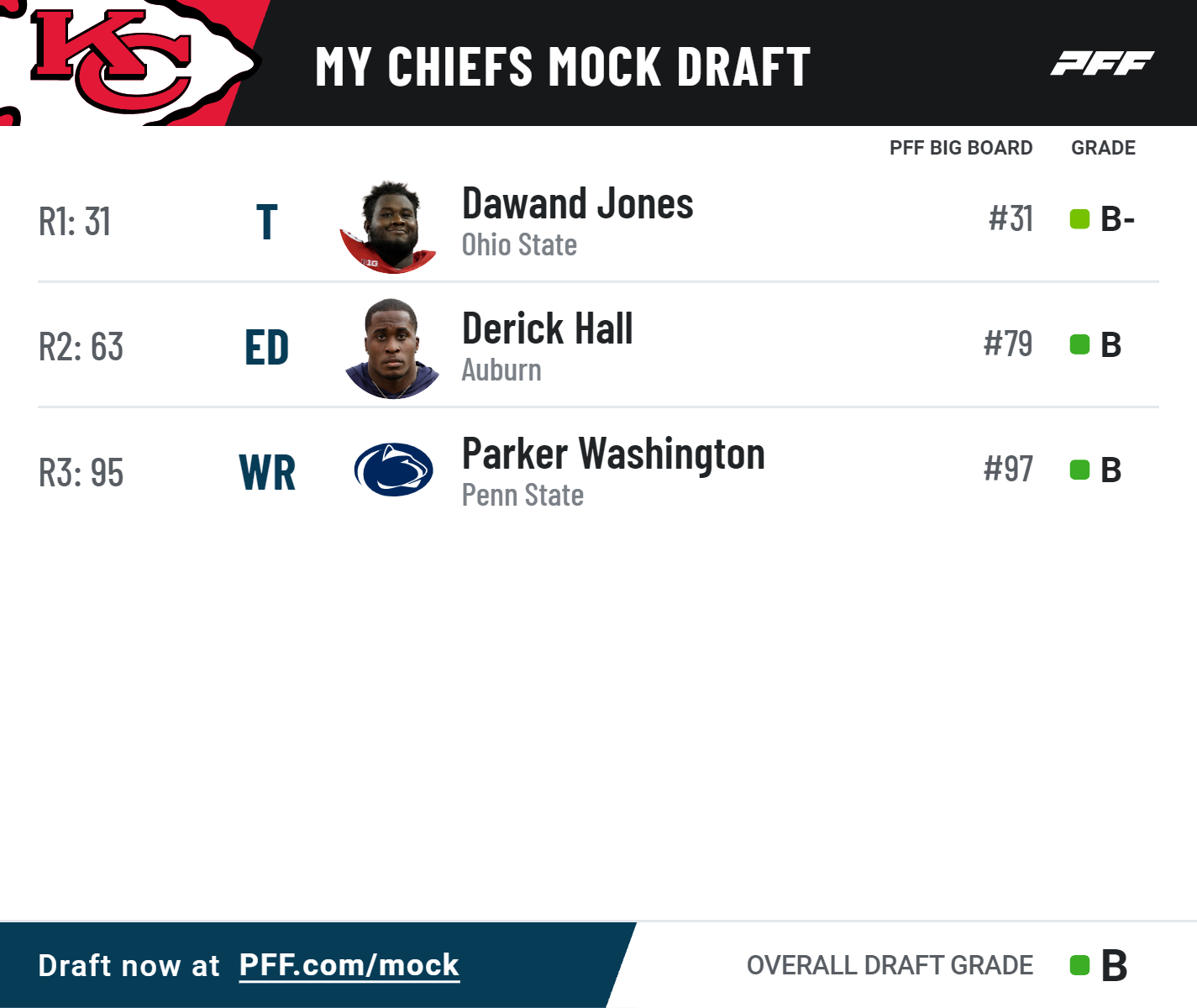 Round 1: QB Will Levis, Kentucky
Round 2: G Steve Avila, TCU
Round 3: CB Tre'Vius Hodges-Tomlinson, TCU; DI Kobie Turner, Wake Forest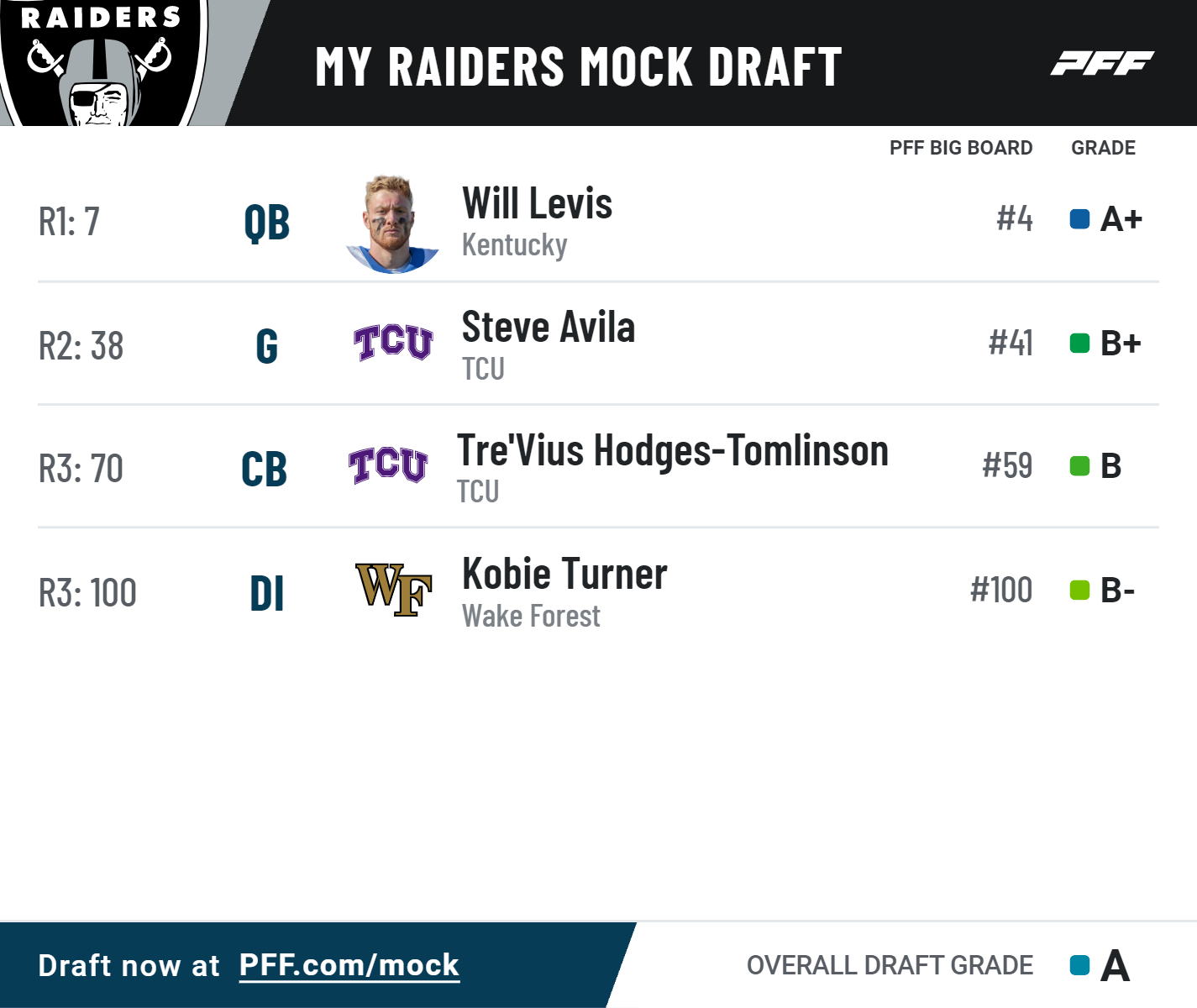 Round 1: WR Zay Flowers, Boston College
Round 2: S Sydney Brown, Illinois
Round 3: LB Dorian Williams, Tulane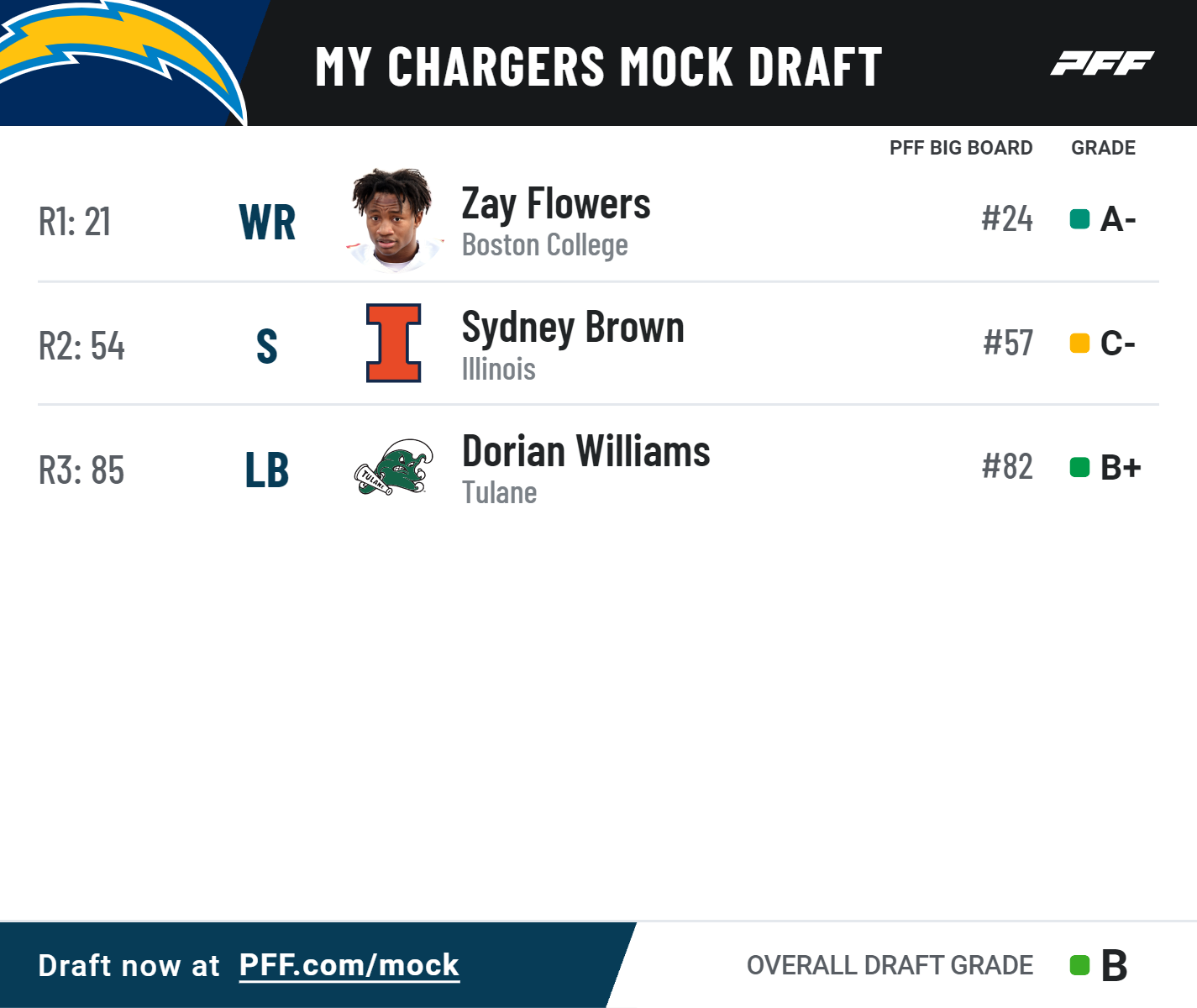 ---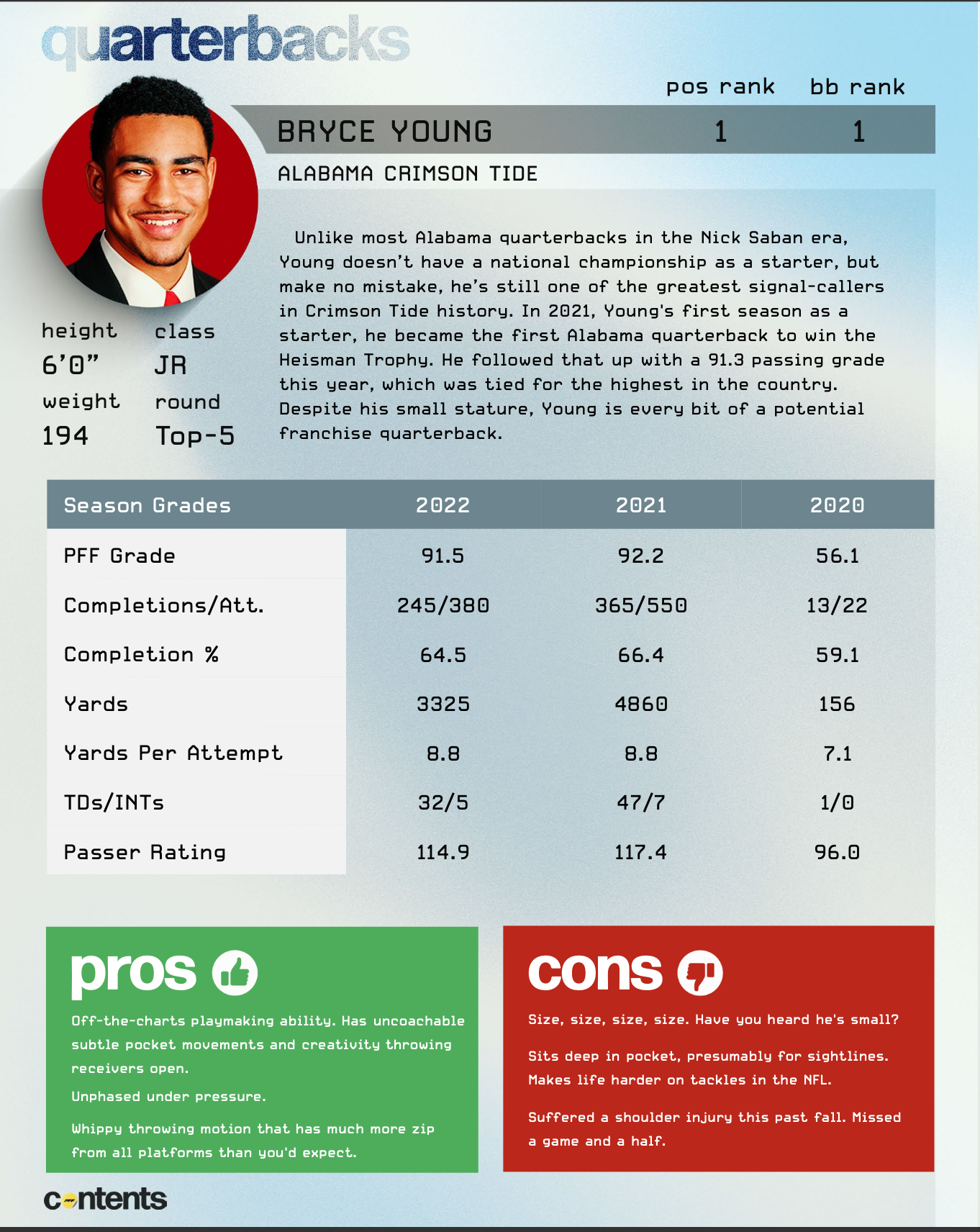 Round 1: WR Quentin Johnston, TCU
Round 2: EDGE Tuli Tuipulotu, USC; CB Julius Brents, Kansas State
Round 3: CB Tre'Vius Hodges-Tomlinson, TCU
Round 1: DI Jalen Carter, Georgia; CB Joey Porter Jr., Penn State
Round 2: EDGE Felix Anudike-Uzomah; CB Tyrique Stevenson, Miami (FL)
Round 3: WR Michael Wilson, Stanford
Round 1: TE Dalton Kincaid, Utah
Round 2: EDGE Will McDonald IV, Iowa State; DI Mazi Smith, Michigan; WR Nathaniel Dell, Houston
Round 3: QB Tanner McKee, Stanford
Round 1: WR Jordan Addison, USC
Round 2: CB Garrett Williams, Syracuse
---
Round 1: WR Jaxon Smith-Njigba, Ohio State
Round 2: CB Emmanuel Forbes, Mississippi State
Round 3: WR Nathaniel Dell, Houston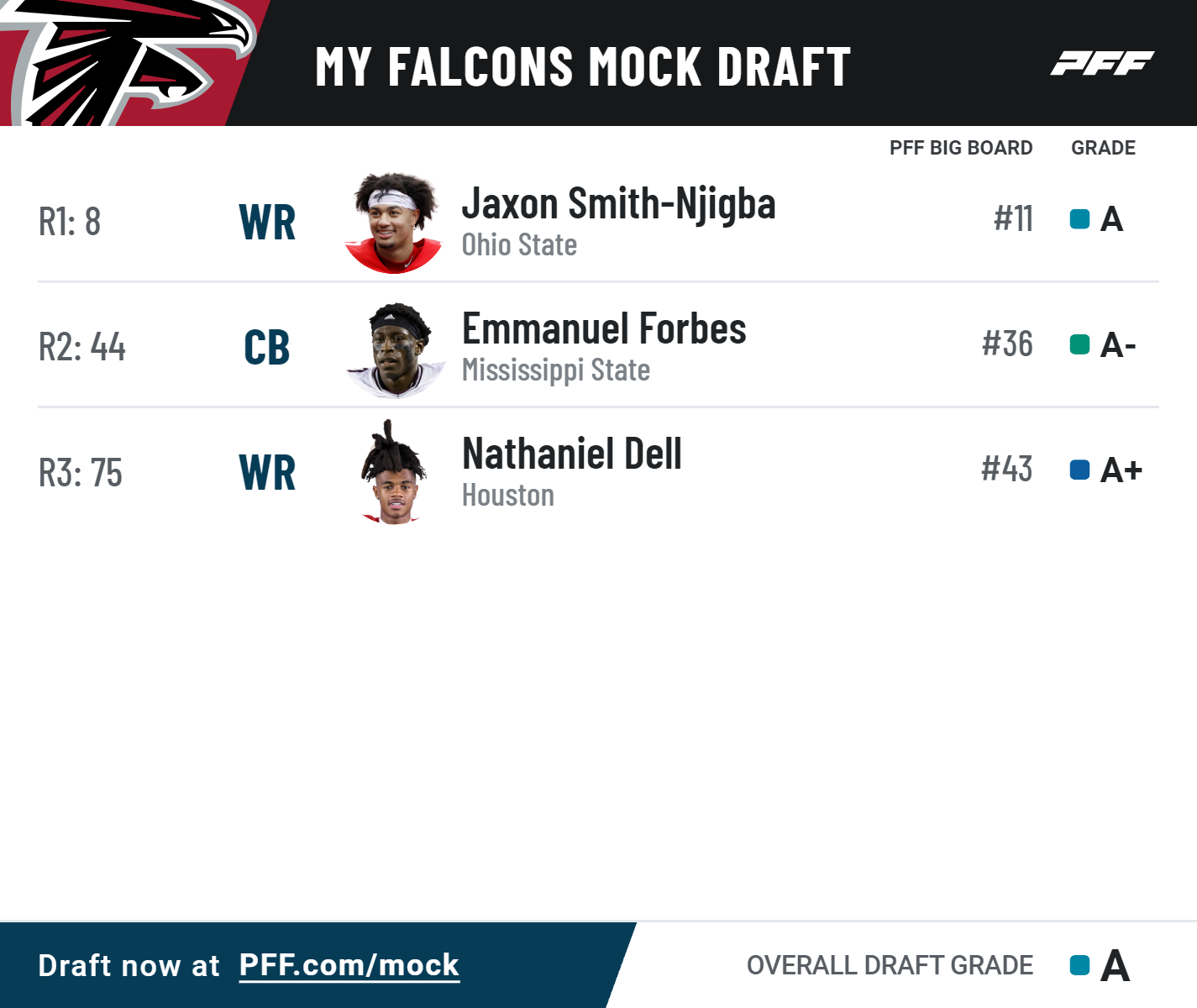 Round 1: QB Bryce Young, Alabama
Round 2: EDGE Felix Anudike-Uzomah, Kansas State
Round 3: WR Michael Wilson, Stanford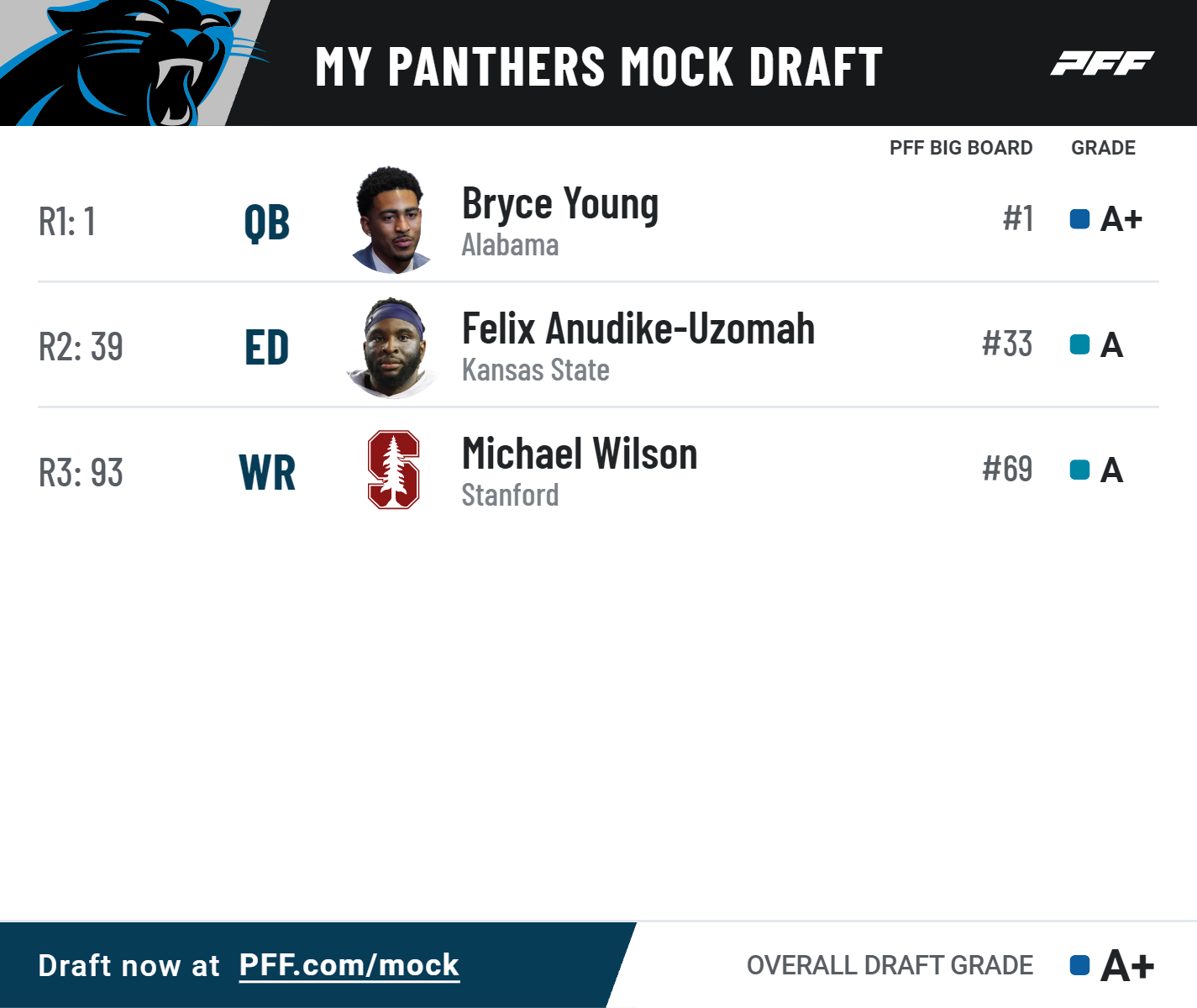 Round 1: DI Calijah Kancey, Pittsburgh
Round 2: LB Daiyan Henley, Washington State
Round 3: QB Tanner McKee, Stanford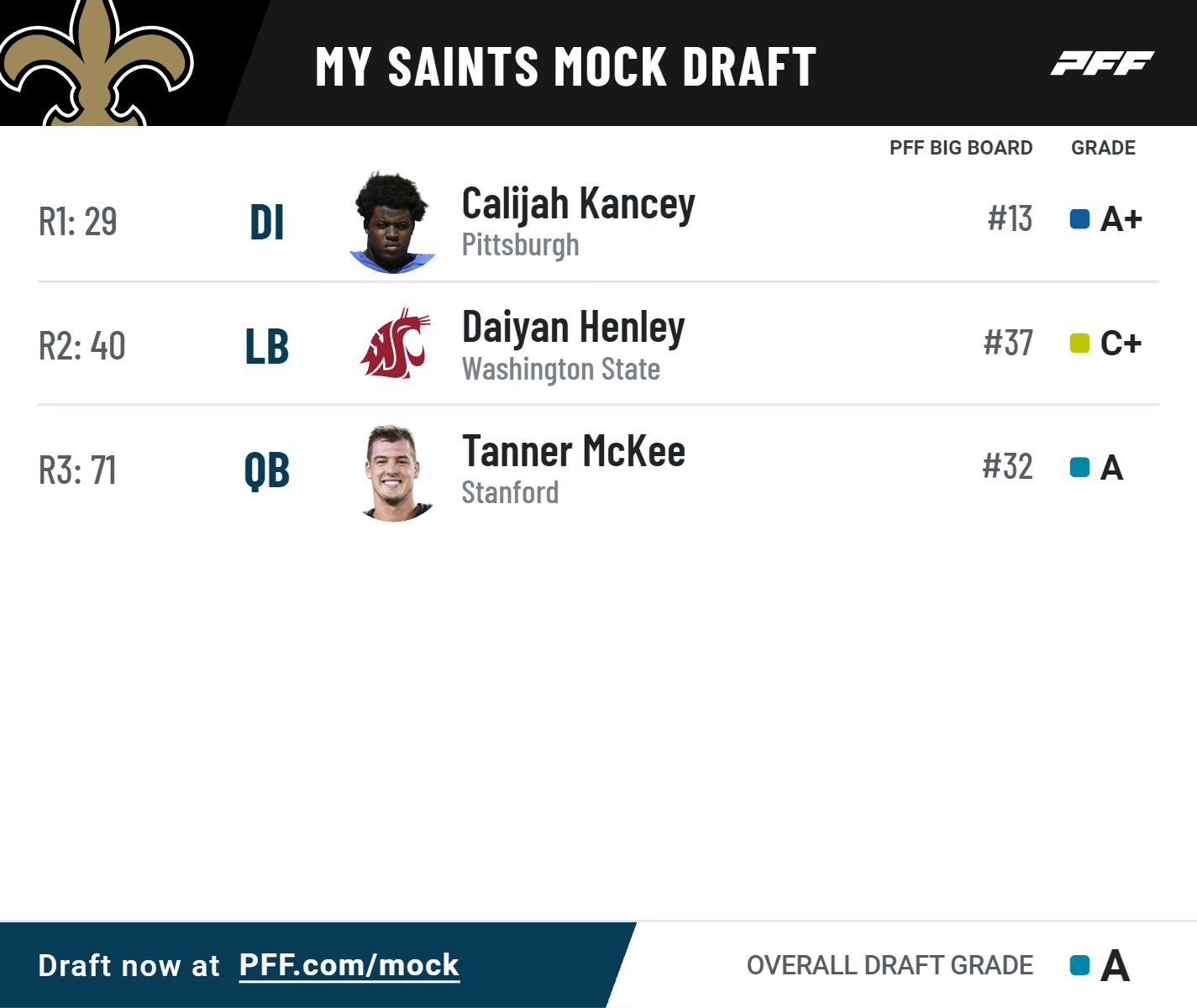 Round 1: OT Anton Harrison, Oklahoma
Round 2: QB Hendon Hooker, Tennessee
Round 3: TE Luke Schoonmaker, Michigan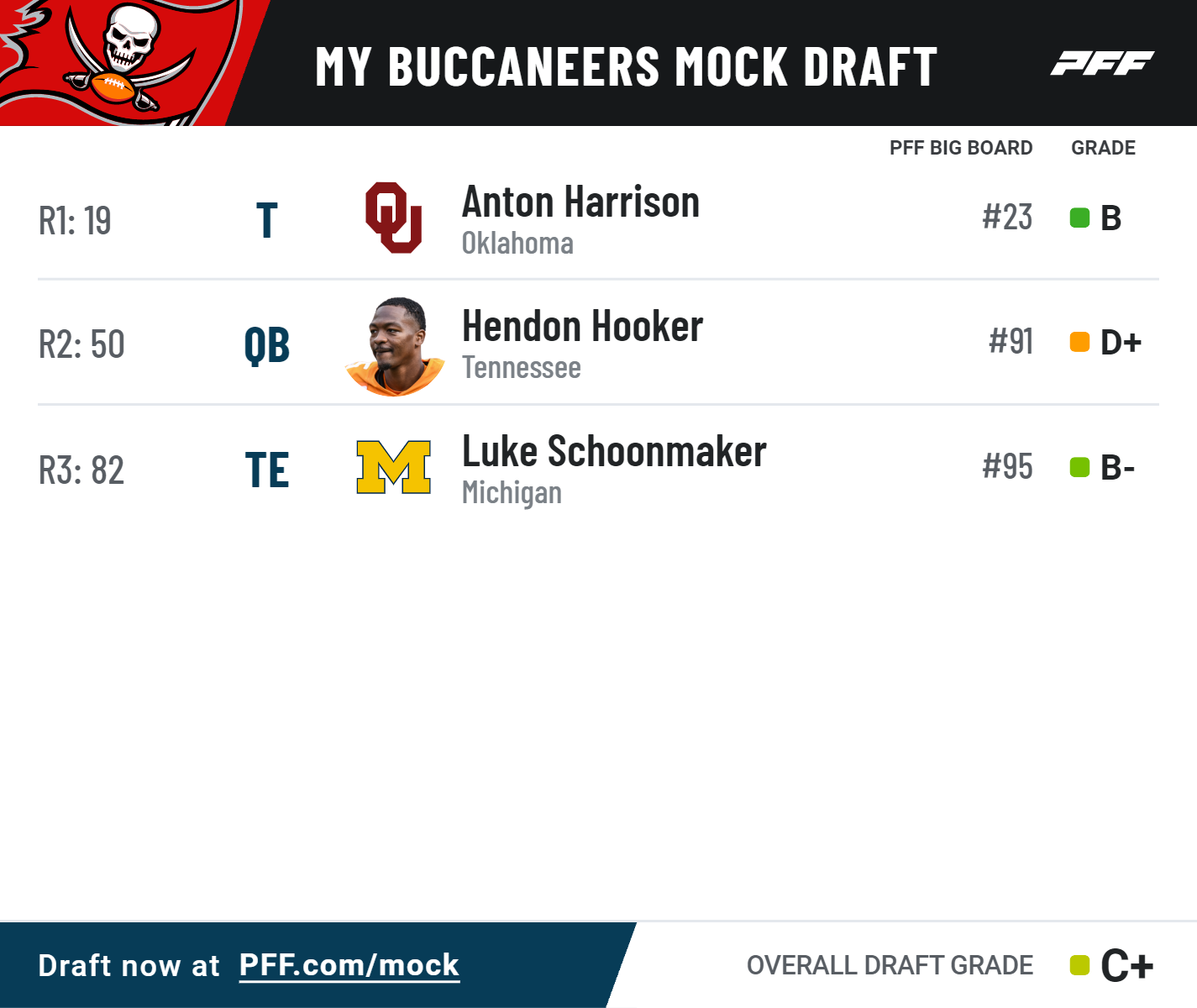 ---
Round 1: DI Mazi Smith, Michigan
Round 2: RB Zach Charbonnet, UCLA
Round 3: TE Luke Schoonmaker, Michigan
Round 1: WR Jordan Addison, USC
Round 2: C Luke Wypler, Ohio State
Round 3: CB Tre'Vius Hodges-Tomlinson
Round 1: WR Jaxon Smith-Njigba, Ohio State; G Steve Avila, TCU
Round 2: S Sydney Brown, Illinois
Round 3: DI Moro Ojomo, Texas
Round 1: TE Dalton Kincaid, Utah
Round 2: CB Tyrique Stevenson, Miami (FL)
Round 3: WR Parker Washington, Penn State
---
Round 1: EDGE Will Anderson Jr., Alabama
Round 2: C Joe Tippmann, Wisconsin
Round 3: CB Garrett Williams, Syracuse; WR Kayshon Boutte, LSU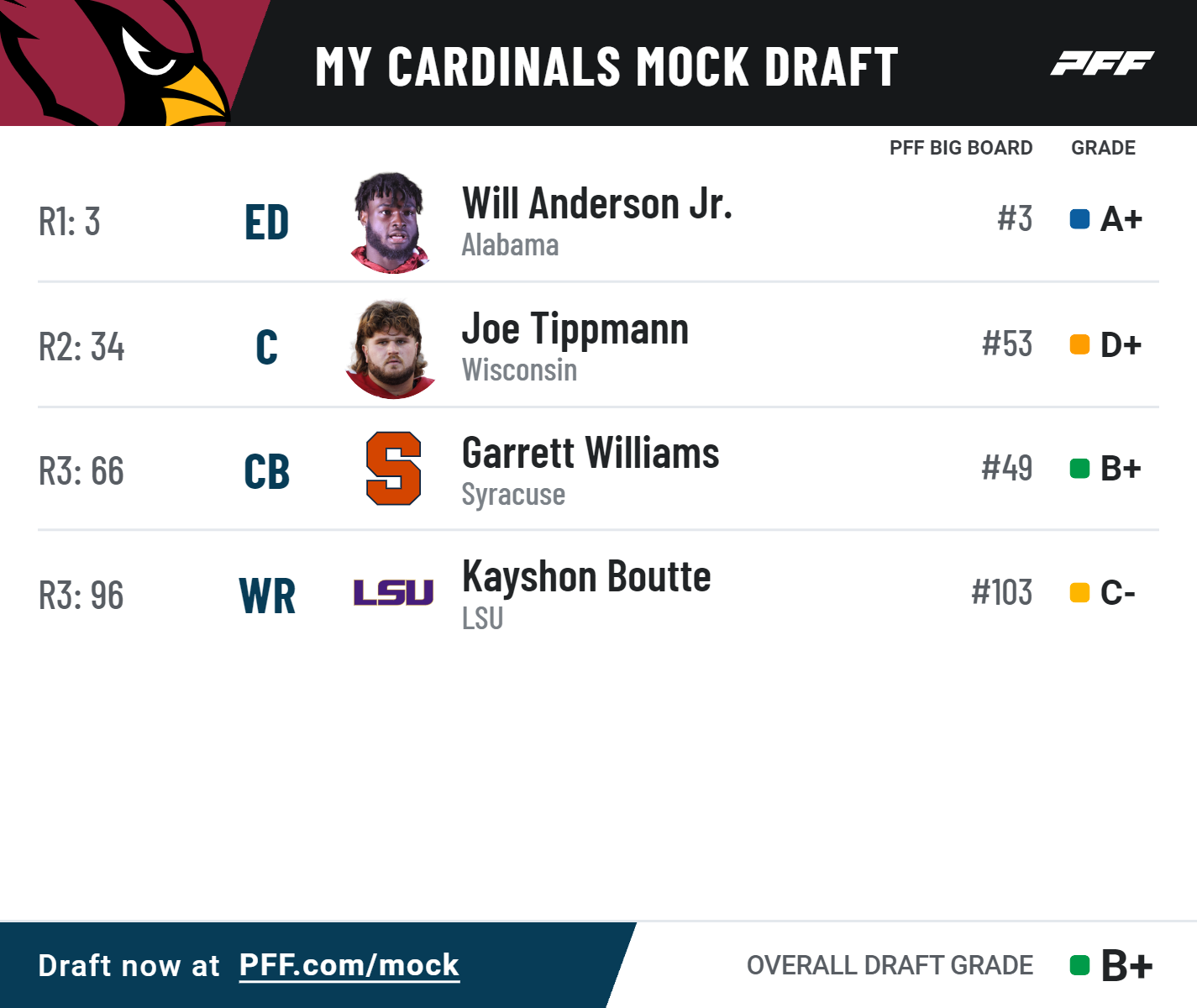 Round 2: CB Cam Smith, South Carolina
Round 3: S Sydney Brown, Illinois; WR Michael Wilson, Stanford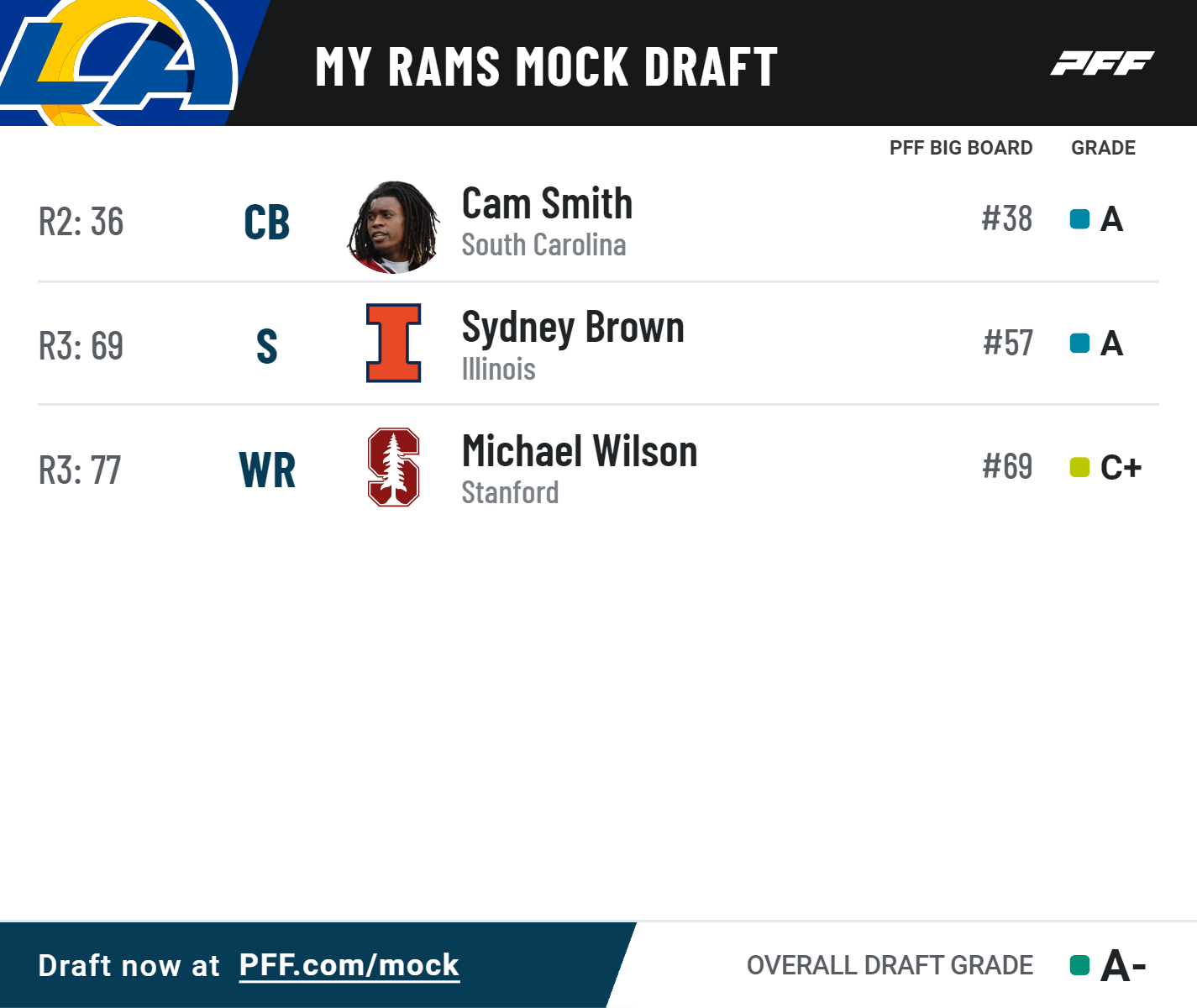 Round 3: CB Tre'Vius Hodges-Tomlinson, TCU; EDGE Isaiah McGuire, Missouri; OT Tyler Steen, Alabama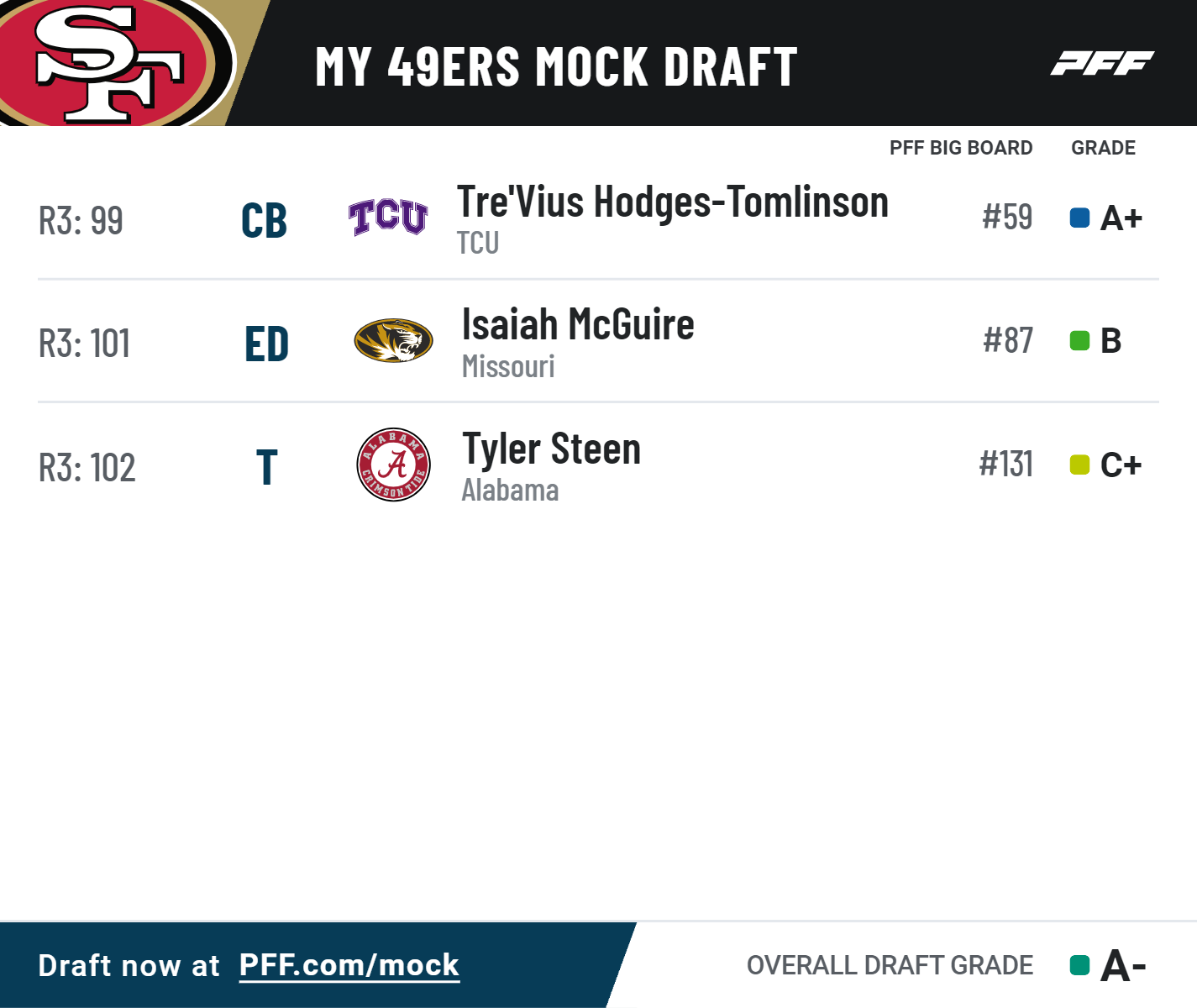 Round 1: QB Anthony Richardson, Florida; Quentin Johnston, WR, TCU
Round 2: EDGE Felix Anudike-Uzomah, Kansas State
Round 3: C Luke Wypler, Ohio State