Before the 2020 NFL Draft started, I wrote a piece detailing five teams that needed to nail the draft given the situation they were in, and the Minnesota Vikings were one of the teams in most-need of immediate reinforcements. With the holes on the roster created from purging their cornerback depth chart, along with the Stefon Diggs trade, the Vikings had an incredibly small landing pad on which to bring this draft in and not suffer a significant step backwards from the 2019 team. Through the first two days of the draft, I'm not sure things could have unfolded for them much better, and they still have 13 (!) selections on Day 3.
[Editor's note: Check out PFF's 2020 Mock Draft Hub, NFL Draft Big Board and NFL Mock Draft Simulator. PFF Elite subscribers can also download the 1,250-page 2020 NFL Draft Guide. For extensive coverage of the 2020 NFL Draft, check out all of PFF's 2020 NFL Draft coverage in one place.]
The first order of business for Minnesota was damage limitation. The Vikings traded away Diggs; whether their hand was forced or not, the fact remains that one of the team's best players from 2019 would be playing elsewhere in 2020. The position group he departed wasn't nearly strong enough to cope with that loss without reinforcements. One of the team's two first-round picks likely had to be spent on receiver, and that player will be expected to have a significant role immediately, lest the team be forced to rely on Tajae Sharpe, whose NFL career has averaged a PFF grade of 64.9. 
Justin Jefferson  to the Vikings was one of the most common player-team matchups on the PFF Draft Sim all through the pre-draft process, and it was a combination that made a lot of sense. Jefferson has the size (6-foot-2, 192 pounds) and route-running savvy to be successful from day one. While the PFF Big Board didn't love him (he was No. 32 overall, behind a couple of receivers that lasted into the second round), he was a player who had an extremely staunch support base within the NFL — someone who was always going to go higher than his ranking. Jefferson's grade improved in each of the past two seasons, landing at 85.3 overall in 2019. He brings experience playing both outside and inside in the slot, exactly as Diggs did. This first pick was about damage limitation, and this succeeded in limiting the damage as much as they could.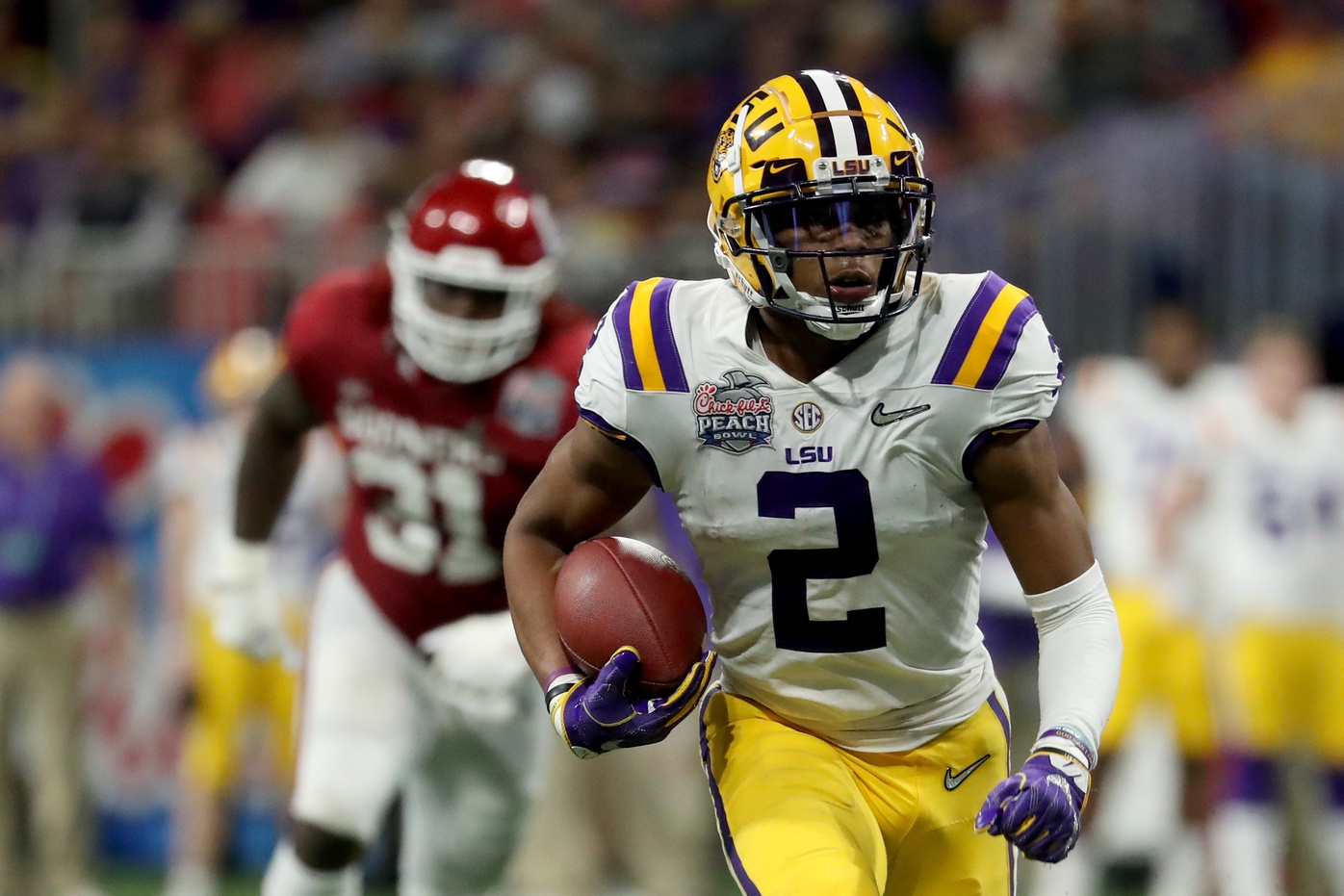 The second first-round selection is where the Vikings could start making gains, and they came away with a player at not just their greatest position of need, but one who is also the perfect schematic fit for Mike Zimmer's defense. 
At TCU, the defense ran quarters coverage the majority of their coverage snaps (51.2%, almost 35 percentage points higher than any other coverage shell). While the Vikings defense is significantly more diverse than that, they operate within that split-safety family of coverages extensively, and many of the principles will be immediately familiar to Gladney.
Gladney is also by far the most battle-hardened of any of the top cornerback prospects, having played almost 1,500 snaps in coverage in his college career and targeted more than 200 times (232). Over those targets, he allowed just 47% of them to be caught for only 6.2 yards per reception and forced an incompletion on an incredible 21.1%.
Getting a cornerback at the top of the draft was almost an imperative for the Vikings, and they not only secured one but were able to trade back to collect assets before doing so. They still came away with one of the two best stylistic fits for their defense, a player who should perform right away.
After the first round, the Vikings still had plenty of needs but could better afford to play the value of the draft and select players they bought in on rather than forcing a pick at their next-greatest need. They did exactly that with Boise State's Ezra Cleveland, who had been getting significant pre-draft hype — his draft stock according to GrindingTheMocks.com was creeping into the bottom of the first round.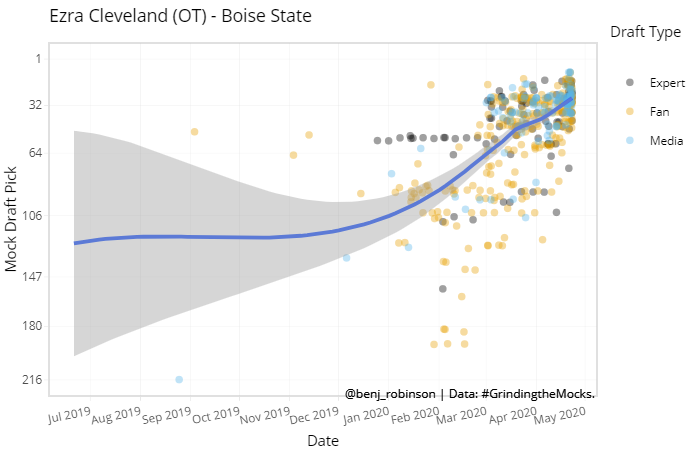 Cleveland recorded 81.0-plus PFF pass-blocking grades in each of his past three seasons, and his run blocking took a major step forward over the past two. Strength of competition is of course a question mark coming out of the Mountain West Conference, but all you can do is evaluate him against the players he did go against — and he performed well. Cleveland has impressive movement skills and the size and technique to succeed immediately at the next level. His weaknesses on tape are almost all strength-related, so the Vikings will likely be hoping they can add some power to his game in an NFL strength and conditioning program.
Tackle wasn't necessarily the biggest weakness on this team, but it does give them some flexibility at the position and allow the line as a whole to creep back to, or even above, average going forward. Cleveland is a pick for the future but could potentially make an impact right away. 
Pick 89: Cameron Dantzler – CB, Mississippi State
While Cleveland was a prospect whose stock only seemed to be going up as the draft neared, Cameron Dantzler was suffering the opposite fate. He is evidence of what a poor pre-draft process can do to a player's stock. Dantzler's tape at Mississippi State spoke for itself, and he was one of the only players to have any kind of success going against the best receiver in college football last season, Ja'Marr Chase. Dantzler allowed just two catches for 13 yards in that game, notching a pass breakup and holding Chase to his lowest catch rate of the season and lowest yardage figure of the regular season.
Dantzler's coverage numbers in college are extremely impressive. For his career, he allowed just 42.7% of passes thrown his way to be caught, for an NFL passer rating of just 43.8, and he surrendered only one touchdown. He has sticky coverage skills and more than enough feistiness to cause problems for receivers, as well as back-to-back seasons of top grading. His issue is size and a strange body-type. Though he stands 6-foot-2, his arms measured less than 31 inches at the NFL Combine. In an attempt to show he could pack on weight, he ended up running just a 4.64 40-yard dash at 188 pounds and recording the highest body-fat percentage of any cornerback in Indianapolis. Dantzler isn't a 4.64-speed player, but unfortunately for him neither is he 188 pounds. As PFF's lead draft analyst Mike Renner put it in the PFF Draft Guide, "If you could guarantee me Dantzler could add 15 pounds of muscle, he'd likely be the second cornerback on our draft board." 
His slight frame will be a concern and was what caused him to slip as far as he did, but at some point you need to trust the tape. Dantzler's tape is as strong as any corner in this class outside of Jeffrey Okudah — to snag him as low as they did represents a relatively low risk with a potentially huge payoff.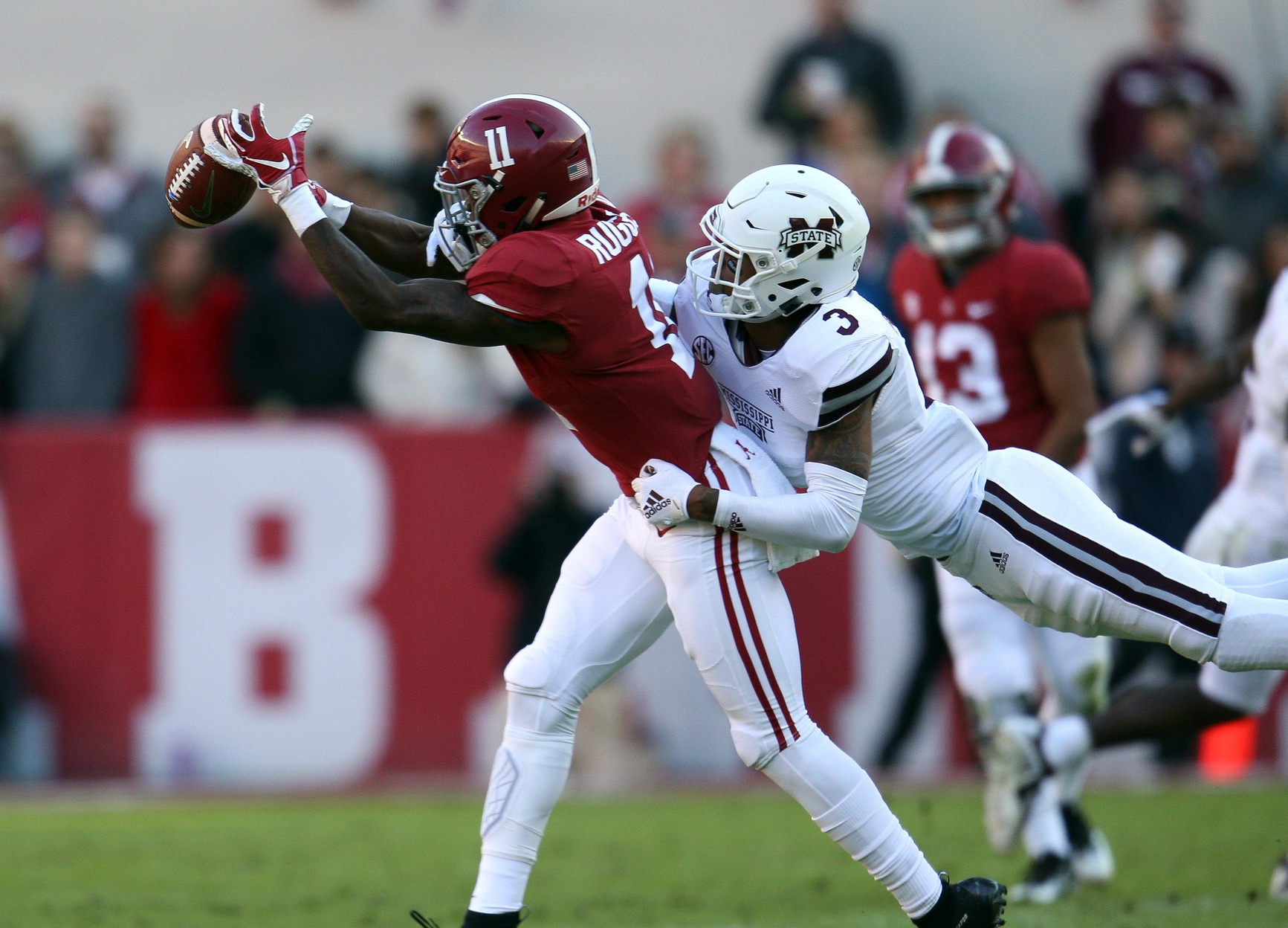 Trades
The four players the Vikings selected were all very nice moves according to PFF's evaluation, but the team sweetened the pot by executing multiple trades to collect more assets. They now enter Day 3 with more lottery tickets than anybody (13 picks), giving them the flexibility to move around for players they like or to parlay those for future assets in 2021.
According to PFF's Trade Simulations, the Vikings won both of their trades handsomely, winning the trade with San Francisco (pick 25 for picks 31, 117 and 176) 59% of the time and the swap with New Orleans (pick 105 for picks 130, 169, 203 and 244) 62% of the time based on the 35,000 simulations PFF runs to calculate. Effectively, the Vikings significantly improved their chances of gaining more PFF Wins Above Replacement (PFF WAR) by accumulating draft assets and did so without major sacrifices in terms of the players they were able to land.