Corner is yet another position that has some pretty legit depth in the 2020 class. Nine players below make the PFF top-50 and a handful more were within the top-100. The second round looks like it will be the sweet spot in this class as there aren't too many complete prospects after Jeffrey Okudah.
[Editor's Note: PFF's 2020 NFL Draft Guide is LIVE and available to all EDGE and ELITE subscribers. Download your copy today!]
1. Jeffrey Okudah, Ohio State
Quite easily the most complete corner in this class. Okudah simply didn't get beaten at Ohio State. The longest catch he allowed in his entire career went for only 38 yards; the longest he allowed all last season went for only 28. He didn't allow more than half of his targets to be completed in any of his three seasons for the Buckeyes. The junior has the type of statistical profile you dream of at the position.
Oh, and he also has the physical profile. At The Opening back in high school, Okudah ran a 4.49 40, had a 4.03 short shuttle, and a 41.6" vertical. Those are freakish numbers that were good enough to give him the highest SPARQ score of any defensive back prospect in the 2017 class. Hailing from a very translatable scheme in Ohio State, it's difficult to find too many question marks about Okudah's play on tape.
2. Kristian Fulton, LSU
Fulton's speed may be a concern and he has only average size, but he's graded out at a level we've seen few match at the position in our six years of college grading. He earned an 89.7 coverage grade in 2018 and 86.8 this past year. He allowed only 48 catches over that span and broke up 20 passes. Fulton is one of the most experienced press corners in the nation with 323 such snaps in 2019.
The worry is that while he never really got exposed for a whole game, he was far from lockdown over the course of the season. He still allowed 453 yards on 31-69 targets this past season. Fulton is often too content out of phase with receivers or doesn't quite have the make up speed when quicker receivers get a step on him. He gave up five catches that went for more than 30 yards this past season. Even with teams often forced to pass a lot from behind against LSU, that's more than you'd like to see from a top prospect. I'll take his 43.6% career completion percentage allowed though any day.
3. C.J. Henderson, Florida
After Okudah, Henderson has the best man cover corner traits in this class. He's just such a smooth, gifted athlete that he can stick in the hip pocket of even the shiftiest of wide outs. His best season came as a sophomore in 2018 when he allowed only 18 catches and zero touchdowns on 365 coverage snaps. Opposing quarterbacks really didn't even test him with only 36 targets on the year.
Henderson gets into trouble trusting his own athleticism. It's rare to see him play with any sort of physicality along the route and it led to some big plays in 2019. In only nine games, Henderson allowed five catches that went for 40-plus yards. Some were mental lapses, but his passiveness hurt him on others. That step back in performance after a dominant 2018 sophomore campaign will need to be vetted.
4. Jaylon Johnson, Utah
Johnson may have the best instincts for the position of any corner in this class. He's made some extremely impressive reads over the past couple years to pick off six passes over that span. He had a five game stretch in Pac-12 play this year where he was targeted 10 times and allowed only two catches for five yards. He showed more than capable of locking down season side of the field as a true junior for the Utes.
Johnson simply doesn't have the size of some of the other corners in this class though. Listed at 6-0, 195 pounds, those numbers may very well be generous. He didn't have near the press prowess as the guys ahead of him on this list, allowing 20-39 targets for 205 yards in press last year. Off-zone heavy defenses should very much covet Johnson's skillset.
5. A.J. Terrell, Clemson
The last time we saw Terrell, things didn't go so well. Terrell yielded 5-8 receiving for 143 yards and two scores against LSU in the National Championship Game. It was a far cry from his previous performance in the National Championship against Alabama that was right up there with some of the most impressive single-game tape of any corner in the class. Terrell has some silky movement skills for a 6-1 corner and mirrored DeVonta Smith perfectly on an out-and-up in that game. While the results against LSU were ugly, he was still at the catch point for all of the big plays he allowed. Losing at the catch point is going to happen, and with his length and production over his career, I'm not going to worry too much about losing a few of them.
6. Trevon Diggs, Alabama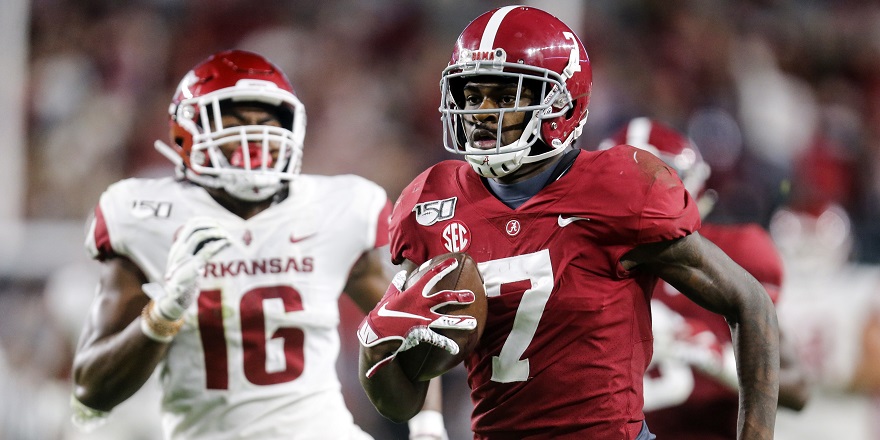 Diggs is about as long of a corner prospect as I can remember. At 6-2, 207 pounds, Diggs doesn't cede an inch physically. After an injury-shortened 2018 season, the Alabama corner looked fully recovered earning a 90.1 coverage grade in 2019. He was one of the most difficult corners to target all season long …except when he faced Joe Burrow and LSU. In that game, Diggs allowed 9-13 targets for 133 yards and a score. In all other games, Diggs allowed 13-39 targets for 176 yards, no scores, and 11 combined picks and pass breakups.
That length I brought up earlier plays extremely well at the line of scrimmage. On 224 snaps in press this year, Diggs was targeted 33 times and only allowed nine catches. His ability to consistently disrupt the timing of routes should be coveted in any press-heavy scheme. The perfect fit for him is likely any Seattle cover-3 type team where his instincts in zone coverage come in handy as well.
7. Jeff Gladney, TCU
Gladney has serious speed to burn and it showed up when opposing quarterbacks tried to test him downfield. On targets 20-plus yards downfield the past two seasons, Gladney has allowed only 10-46 receiving for 333 yards. That target number was considerably higher than any other cornerback on this list, as it's often trial by fire in the Big-12. The fact that he only allowed 690 yards on 130 targets over the past two seasons is a massive difference from your average corner in the Big-12.
Even though Gladney is a senior, he's still very slightly built for the position. Even his own school lists him at 6-0, 183 pounds. That's 10 pounds away from the baseline for the position and 20 pounds from ideal weight. Proving he can still move with more mass on his frame will be big for him at the combine.
8. Bryce Hall, Virginia
Hall's calling card is undoubtedly his ball skills. He led the nation with 23 forced incompletions back in 2018 before teams stopped throwing his way in 2019. In half a season's worth of work before hurting his ankle in 2019, Hall was targeted only 22 times and allowed 11 for 119 yards. In none of Hall's four seasons did he ever allow a passer rating against over 75.0.
The biggest question mark Hall needs to answer has to deal with his athleticism. Playing as much off-zone as he did at Virginia, Hall still needs to prove he's fast and agile enough to stick with opposing receivers in man coverage. He's great at the line of scrimmage, but that will only get you so far in the NFL.
9. Cameron Dantzler, Mississippi State
All Dantzler has done over the past two seasons has been the stingiest cornerback in the SEC from a statistical perspective. He's allowed only 36 receptions 80 targets over that span for 459 yards, one score, and four picks. For his career, Dantzler has yielded a passer rating against of 43.8. He also owns the title of the only cornerback not to get torched by LSU this season as he allowed 2-of-4 receiving for 13 yards in that game.
Dantzler simply has to get stronger. He was exceptional at press for the Bulldogs the past couple seasons, but will get bodied at his size in the NFL. He's easily the skinniest corner on this list at 6-2, 185 pounds. Skinny, press corner is almost an oxymoron. It just rarely works out well. He's only a true junior, so there's still hope an NFL weight room can get him up to a place where his natural coverage ability can shine.
10. Noah Igbinoghene, Auburn
Igbinoghene has some of the best athletic tools of any corner in this class. He wasn't scared of any wideout that lined up across from him this season and didn't allow a single completion longer than 34 yards on the year. Still, Igbinoghene was far from lockdown as his hands and feet were often sloppy around the line of scrimmage. He ended up allowing 35-68 receiving on the year for 431 yards. With as athletic as he is, I thought Igbinoghene could have benefited massively from coming back to school and having a big redshirt junior season. Instead, his inconsistency and only one career interception are a tough sell early.