The second day of on-field drills at the 2020 NFL Scouting Combine was an exciting one. With the help of PFF's advanced database, top-150 big board and 2020 NFL Draft Guide, let's look at some of the prospects who stood out last night along with a few who threw out some dud performances.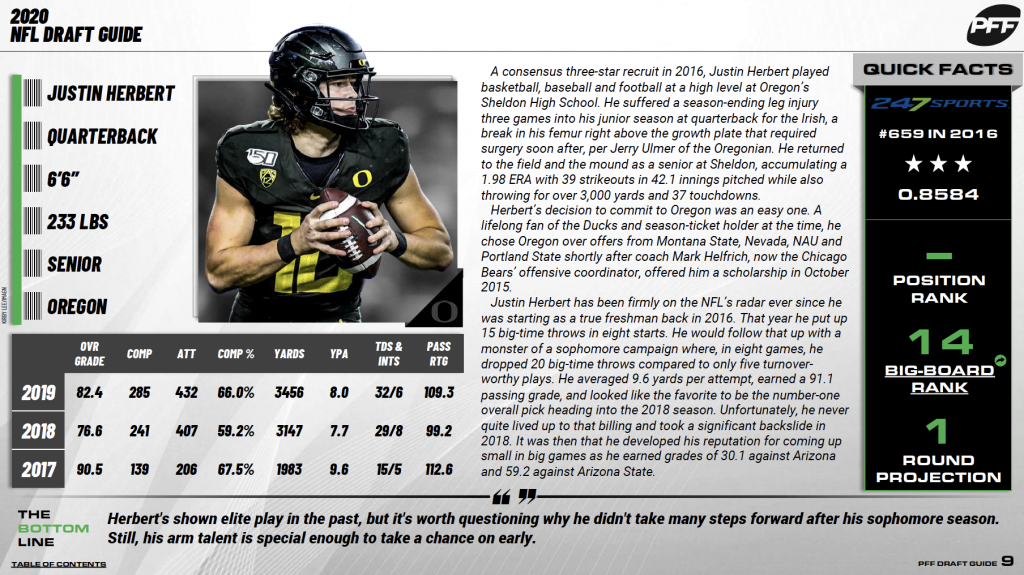 Risers
T Ezra Cleveland
Cleveland quietly put together an all-time performance at the 2020 NFL Scouting Combine on Friday night. He had not only the fastest three-cone (7.26) of any offensive lineman in attendance but also the quickest shuttle (4.46). That shuttle is the exact same time that electric TCU wideout Jalen Reagor ran, despite being over 100 pounds lighter. Cleveland has been a plus pass protector at Boise State for three straight seasons and obviously possesses some athletic mirroring ability that can't be coached. There's no way he slips out of the second round at this point.
OL Tristan Wirfs
In an offensive tackle group filled with physical freaks, Wirfs proved that he's the freakiest on Friday night. His 36.5-inch vertical and 10-foot-1 broad jump were not only the tops of all the linemen in Indy, but they were also the highest of any offensive linemen since they started formally keeping records in 2003. Oh yeah, and he did it all at 320 pounds.
His build is unlike any lineman's I can remember; he has an upper body that could pass for a tight end's and two tree trunks for thighs. Any talk of moving him to guard needs to be shut down immediately. He laid a strong claim to being the first lineman taken come April.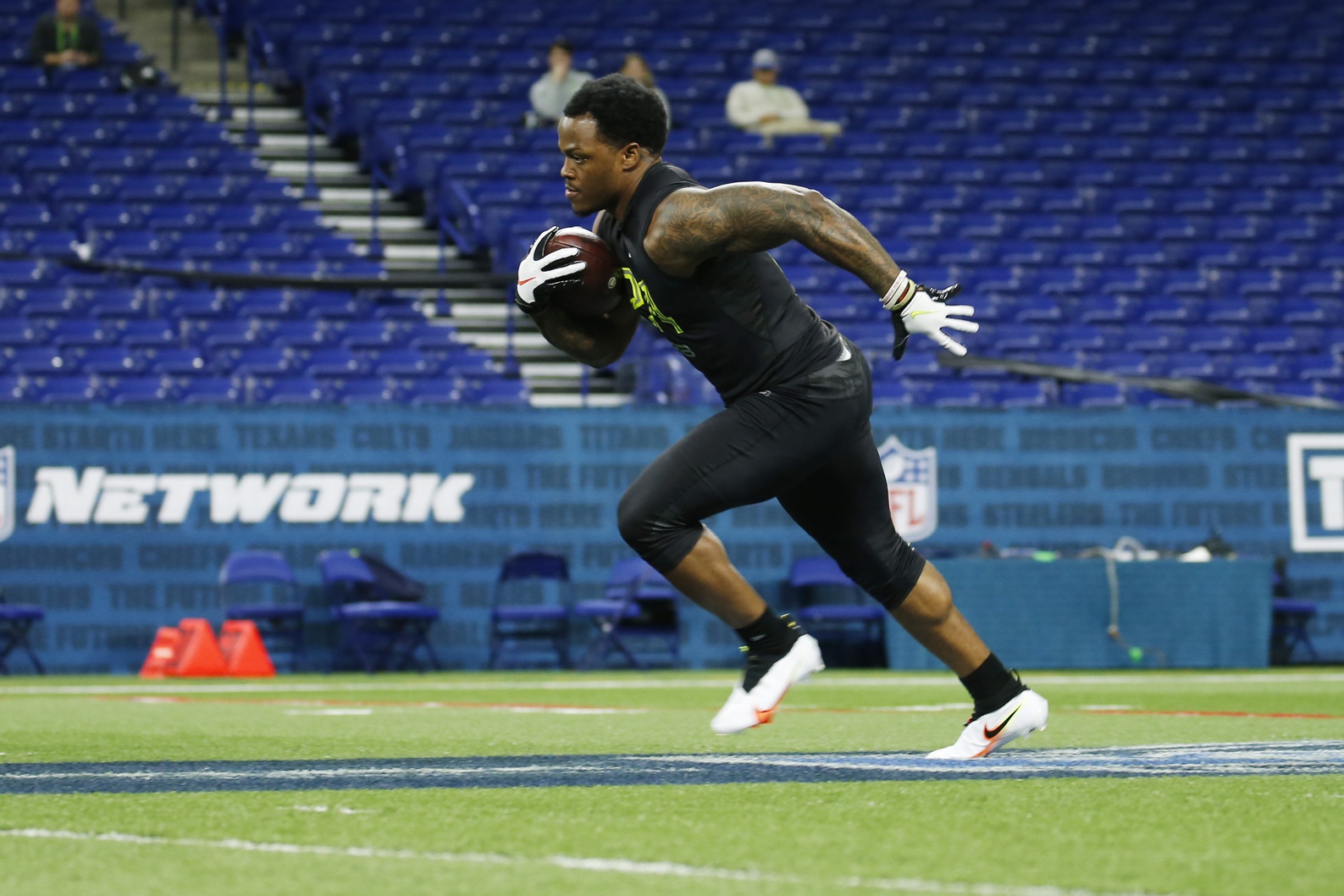 RB James Robinson
The 4.64 40-yard dash that he put up obviously isn't great, but all that means is he might get caught in the open field. His 40-inch vertical and 10-foot-5 broad jump suggest that he's far more explosive than he is fast, which is a trait that usually helps the player to break more tackles at the NFL level. He backed up his showing in the vertical and broad jump with an impressive performance in the change of direction drills (which have historically led to more success than speed in the NFL) — his 7.03 three-cone and 4.19 shuttle were both legit times for a 219 pound back.
RB Jonathan Taylor
Taylor is quite easily the biggest "winner" of the week at the running back position. Not only did he blaze the fastest 40-yard dash (4.39) of any back in attendance — even though he checked in at 226 pounds — but he also had a solid showing in the change of direction drills with a 7.01 three-cone and 4.24 short shuttle. If you watched him in the open field, the speed was never the question mark, but his agility was not quite as sure a thing, but he certainly answered those questions on Friday night.
Fallers
RB Zack Moss
Moss came into the week as PFF's top-ranked running back, and while we never expected him to be a burner, a 4.65-second 40-yard dash is still disappointing. While it was reported afterward that Moss tweaked his hamstring on the vertical jump and decided to power through the rest of the workout, I'd claim the same thing if my numbers were a good way off from the other top backs in the class. Moss' 33-inch vertical and 4.37 shuttle were none too impressive, either. While his game is more predicated on balance than anything else, if it doesn't come with some athleticism, it won't translate as effectively to the league.
RB Javon Leake
Leake was a big-play machine in his limited time at Maryland, averaging over 8.0 yards per carry on 146 career carries. However, he came out and ran the 40 in only 4.65 seconds. While his 34-inch vertical and 10-foot-5 broad jump were more respectable, Leake's athletic testing was only the tip of the iceberg. He was stiff and showed off unremarkable ball skills in the on-field drills, where there was a noticeable gap between him and any of the top backs.
OL Calvin Throckmorton
You can get by with subpar overall athleticism on the interior of the offensive line more than any other position on an NFL field, but you'd still rather not subject yourself to such outlier risks. Throckmorton's 8.07 three-cone, 4.98 shuttle and 5.57 40-yard dash were all dreadful movement drills for the position. He also didn't help his case with a below-average vertical (27 inches) and broad jump (8-foot-1). He was the 87th-ranked player on PFF's draft board prior to the combine, but he could be taking a tumble here soon.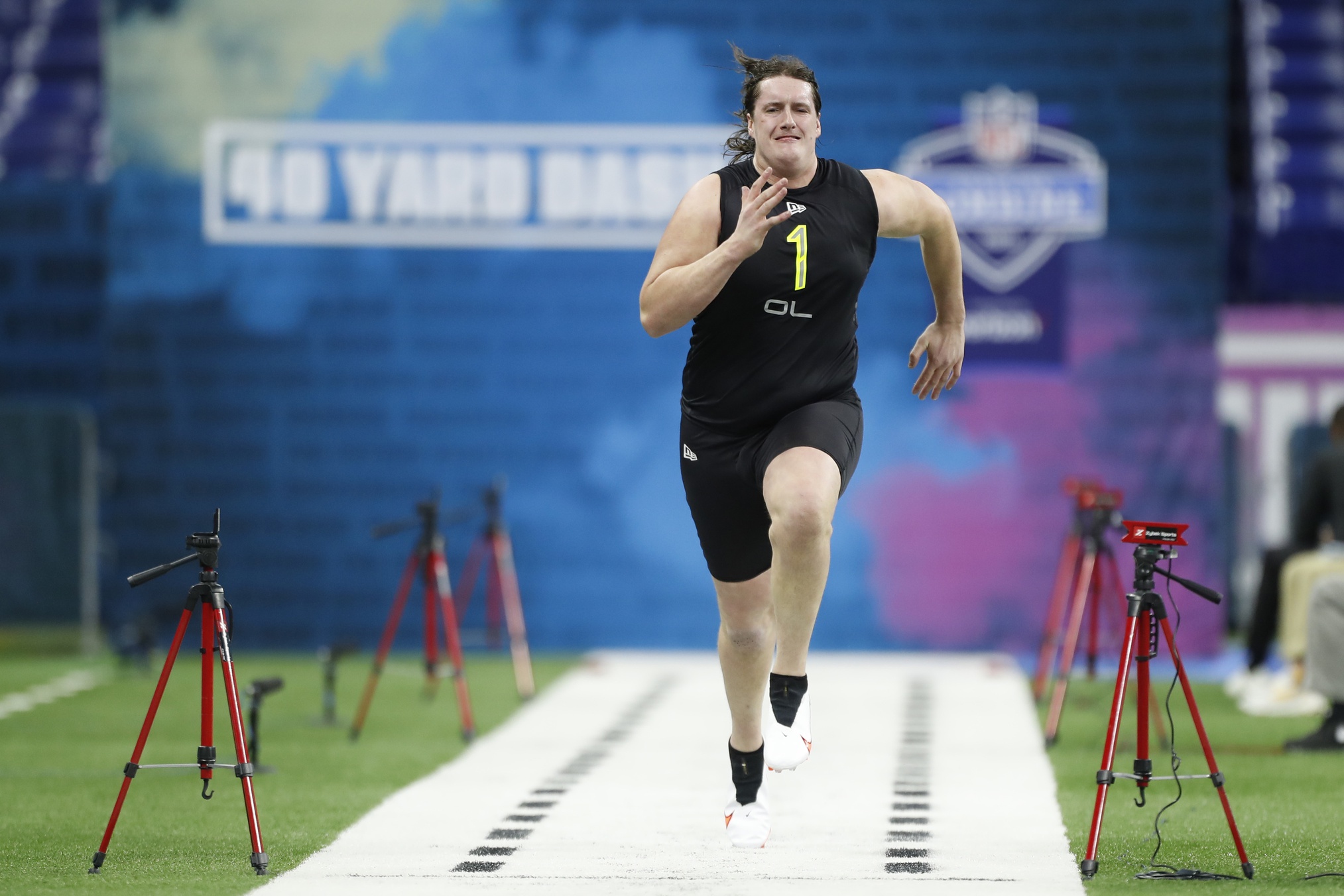 OL Trey Adams
The caveats mentioned above for Throckmorton on the interior aren't quite as prevalent for tackles. There simply aren't a lot of bad athletes on the edge who consistently hold up in pass protection in the league. And there's no way to sugar coat it, Adams' testing was bad. He 'ran' the slowest 40 (5.6 seconds) and had the worst vertical (24.5 inches) and broad jumps (7-foot-8) of anyone in attendance. After those three, he packed it in for the day. Adams already comes with massive health concerns, and his on-field performances did little to help his draft stock.
More from the 2020 NFL Scouting Combine: