The 2021 quarterback class was heralded as an all-timer.
The first three picks of the draft were all used on quarterbacks for only the second time in NFL history, the first occurring in 1999. And by the end of the first round, five signal-callers had heard their name called within the first 15 picks.
After one season, the enthusiasm surrounding the class has waned, with bad situations and poor performance dooming many of the players who once brought so much hope. But, it's only one season; Matthew Stafford had one of the lowest-graded rookie seasons we've ever graded, and Baker Mayfield had one of the highest — we see where both of those quarterbacks are right now. 
Before we re-rank the class, let's look at how they initially stacked up on the pre-draft big board:
This class was tight at the top before last April. And as such, there's been a bit of shakeup after Year 1.
Click here for more PFF tools:
Rankings & Projections | WR/CB Matchup Chart | NFL & NCAA Betting Dashboards | NFL Player Props Tool | NFL & NCAA Power Rankings
Best Bets Tool
---
You saw "it" in Week 18, and that is why he won't be falling from this top spot this offseason. The former No. 1 overall pick showed more high-end quarterbacking plays than anyone else in the rookie class by some margin. He avoided sacks well and made plays inside and outside of structure.
Trevor Lawrence is playing ridiculously good today pic.twitter.com/SbZwaa1KE3

— Laurie Fitzpatrick (@LaurieFitzptrck) January 9, 2022
Really, he was just a victim of quicksand. His tape is littered with games that had so evidently snowballed on him when nothing seemed to go right. He had a bottom-five group of receivers, a bottom-10 offensive line and a coaching staff with no earthly idea how to scheme around either.
Still, he stuck it to one of the hottest teams in the NFL in a meaningless Week 18 game with a near-flawless performance. Expect big things in Year 2 with more help around the young Clemson product.
As the saying goes, "a bird in the hand is worth two in the bush." With Jones, we've already seen what he is, and it was the 12th-highest-graded quarterback in the NFL in 2021. You can debate his avenues for growth compared to the rest of the class, all you want, but Jones is already playing at a franchise-quarterback level. With four more seasons of cost control, that has a ton of value.
Mac Jones was outstanding on the first drive, executing on the higher-difficulty throws BUF dared him to make and showing off his improved mobility

Been pretty good at extending plays since Bama, but the rookie really flipped switch late in the season pic.twitter.com/4zx5GDv7GF

— Taylor Kyles (@tkyles39) January 16, 2022
The former Alabama quarterback showed exceptional command of the little things right out the gate. His footwork and timing are built to operate the Patriots offense, and it was difficult not to harken back to images of Tom Brady running the show with the way Jones spread the ball out so swiftly underneath. Jones' 2.6-second average time to throw was by far the quickest of any of the first-round quarterbacks, and he still finished with the most big-time throws among the rookies with 24. The scary thing is the Patriots still haven't surrounded him with much in the way of receiving talent to take this offense to the next level.
We need to see what he can do with more volume before we crown him, as he took the fewest dropbacks of any quarterback who started every game this season.
At an absolute minimum, Fields is still one of the most dynamic runners at the quarterback position in the NFL. The crazy thing is, Matt Nagy & Co. refused to tap into that ability this season. The Ohio State product's 420 rushing yards ranked fifth among all quarterbacks in 2021, with only 59 of those yards coming on 19 designed runs.
Justin Fields scored more points against the Niners than the Cowboys did ????pic.twitter.com/KnOTDmuAuk

— DaWindyCity Productions (@dwcprodz) January 17, 2022
We saw the high-end arm talent with him, as well. His 6.1% big-time throw rate was the fourth-best of any quarterback in the league. That part of his game translated nicely from Ohio State. 
However, the one thing that has to change is his proclivity for taking bad sacks. His 3.06-second average time to throw was the second-highest in the NFL, and his 23.8% pressure to sack conversion rate was the sixth-worst. Those numbers have to improve to keep the Bears' offense on schedule.
Picking between Lance and FIelds for the No. 3 spot came down to splitting hairs, but the fact that we only got to see limited action from the third overall pick made this difference. Lance's bouts with inaccuracy were still apparent in the two starts he did make as a rookie. That being said, so were his prodigious physical tools.
Do you view Trey Lance as a QB1 heading into #FantasyFootball drafts this year?

If so, how high are you willing to draft him?pic.twitter.com/nxLTCau36X

— Moody (@EricNMoody) January 14, 2022
The most encouraging thing was the growth between his first start in Week 5 and his second start in Week 17. The second half of that Week 17 game against the Texans showed a man in complete control of the offense. Lance had the advantage of landing in easily the best situation of any first-year passer, but he also helped himself by avoiding sacks with a low 11.1% pressure to sack conversion rate. Given that he won't turn 22 until May, Lance has a lot of room for growth.
Wilson's fall is emblematic of two things:
How close this QB class was to begin with

How ugly his rookie season was
It's definitely not an apples-to-apples comparison, though — Wilson was playing without his franchise left tackle all season, and Braxton Berrios was his de facto top receiver by the end of the year.
With Wilson, you saw the tremendous arm talent, and you saw it repeatedly. His ability to make plays out of structure was truly jaw-dropping at times.
Zach Wilson's rookie highlights: but only drops

Some of Zach's absolute best dimes of the year have been forgotten because they fell incomplete#Jets pic.twitter.com/GLHWG9FoMV

— Michael Nania (@Michael_Nania) January 15, 2022
The problem is that that's where nearly all his impressive plays came. A distinct lack of confidence marred his play from the pocket. But, again, it's impossible to measure how much of that is due to the offensive line in front of him and the lack of playmakers on the outside.
Wilson's near-upset win against the Bucs in Week 17 was about the only full game in which he looked confident playing in the rhythm of the offense. This ranking isn't writing him off by any means; it's simply saying others flashed more frequently.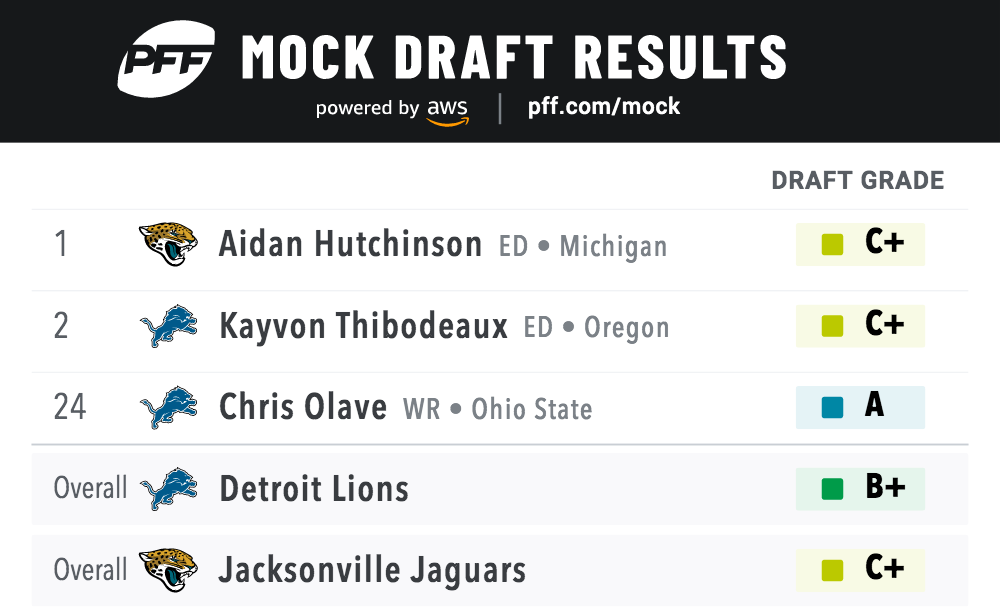 Mills is the only other quarterback from the class worth noting, as second-rounder Kyle Trask didn't take a snap, and fellow third-rounder Kellen Mond took just three. The reason I'm not ready for Mills to jump others on this list, despite a better statistical performance, comes back to the pre-draft evaluation. 
Davis Mills layering this ball over the linebacker to the deep dig on a dagger concept is absolutely beautiful. pic.twitter.com/ApyrZgnUNt

— Nicholas Martin (@themicknartin) January 12, 2022
It's not the simple fact that PFF's board had Mills much lower than he appears here, but rather the fact that his college tape suggested he was NFL-ready. Mills displayed the footwork, fakes and processing speed quarterbacks need to play in the league when he was at Stanford. It was the bouts of ugly decision-making, inconsistency and limited physical ability that dropped him down the PFF draft board.
So, if I'm going to change my opinion of him as a player, it would be because those attributes materially changed. And that was not the case for Mills as a rookie. His 4.3% turnover-worthy play rate was the highest in the rookie class, as his grade fluctuated weekly. I'd need to see that change before talking myself into him as the Texans' quarterback of the future.