No athletic testing drill in the 2022 NFL Combine will move draft stock more than the 40-yard dash. Teams are looking to add speed across their roster but especially at wide receiver, and the newest prospective members of the NFL receiving corps realize that. 
The 40-yard dash was a common theme connecting the media sessions for wide receiver prospects available in the 2022 NFL Draft.
Click here for more PFF tools:
Draft Guide & Big Board | Mock Draft Simulator
Dynasty Rankings & Projections | Free Agent Rankings | 2022 QB Annual
Player Grades
---
Penn State's Jahan Dotson said he's been working to improve his time for the last two years. 
Penn State WR Jahan Dotson says he's been working to improve his 40-yard dash time for 2+ years

Still watches Penn State's loss to Minnesota in 2019 when he got caught from behind, may have cost the team a chance to make the CFP. Broncos WR KJ Hamler still reminds him of it

— Brad Spielberger, Esq. (@PFF_Brad) March 2, 2022
Ohio State's Garrett Wilson called out that he's seen estimates in the 4.55-second range for him this week and that he was going to come in below that time. 
"I've heard some people saying 4.55, so I'm just going to say it's going to be below that." – Garrett Wilson on his 40 time pic.twitter.com/c2KTqxrCcZ

— Ben Linsey (@PFF_Linsey) March 2, 2022
Georgia's George Pickens said he was targeting the 4.3-4.4 second range for his 40-yard dash time when asked at the podium. 
#UGA WR George Pickens was asked about his target 40-yard dash time:

"Probably 4.3-4.4, and people don't really know that" pic.twitter.com/9n4Qr1GAgP

— Trevor Sikkema (@TampaBayTre) March 2, 2022
There's good reason for the questions about how fast these prospects are going to run and the emphasis placed on lowering that time during training leading up to the combine. Running a fast or slow 40-yard dash can make or lose these players a significant amount of money in the coming weeks. But should it?
PFF's Kevin Cole recently looked at the impact of various athletic testing drills and their results on both draft position and NFL performance in the form of PFF's Wins Above Replacement (WAR) metric. The tallest blue bar on the chart below showing those results for wide receivers highlights that fast 40-yard dash times get wide receivers drafted early.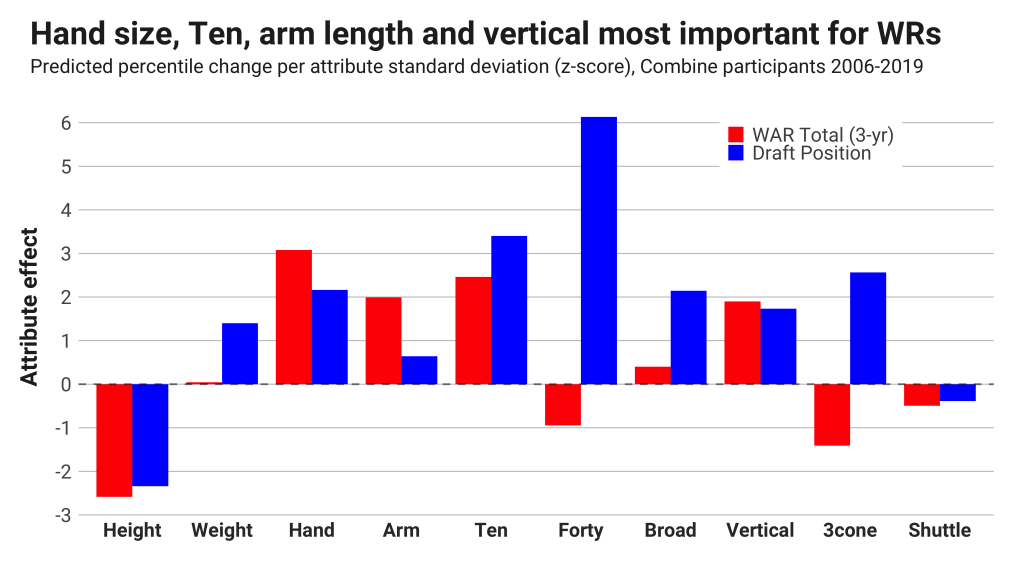 It's interesting to note that the 40-yard dash's outsized impact on draft position isn't matched by PFF WAR. In fact, there isn't any correlation with NFL value. Instead, it's burst (10-yard split) and explosiveness (vertical) that end up carrying more weight. 
That isn't to say that speed doesn't matter. The ability to create separation downfield and challenge a defense vertically brings a lot of value to an offense, and it becomes more difficult to win consistently outside of the slot with bottom-tier speed at the position. 
There are just seven wide receivers who ran the 40-yard dash in 4.6-plus seconds and have run at least 500 routes over the past three seasons, and most of the names at the top have done a large chunk of their damage in the slot. 
WR to run a 4.6s or slower 40-yard dash and 500+ routes over past three seasons
However, there are multiple ways to win. Someone like Kupp can overcome a lack of high-end long speed with his short-area quickness, route running, etc. Speed is important, but there is data that points to the idea that it is being overvalued by NFL teams. That creates value opportunities in prospects who run slower 40-yard dashes with otherwise strong production and measurable profiles. 
The likes of Dotson, Wilson and Pickens are right to be concerned about how fast they run. It's likely going to have a real impact on where they end up in the 2022 NFL Draft and how much money they'll be making over the course of their rookie contracts. It just shouldn't have quite as big an impact as it currently does.
---
2022 NFL Draft position rankings:
Top 10 players at every position