NFL Draft season is nearly upon us. And with that comes the PFF NFL Draft Guide, which comes loaded with scouting reports and advanced data on the class' top draft prospects.
Very few draft prospects are perfect and come with a collection of pros and cons, crucial evaluation points when it comes to projecting the players to the NFL.
Here are the pros and cons for PFF's top five cornerbacks.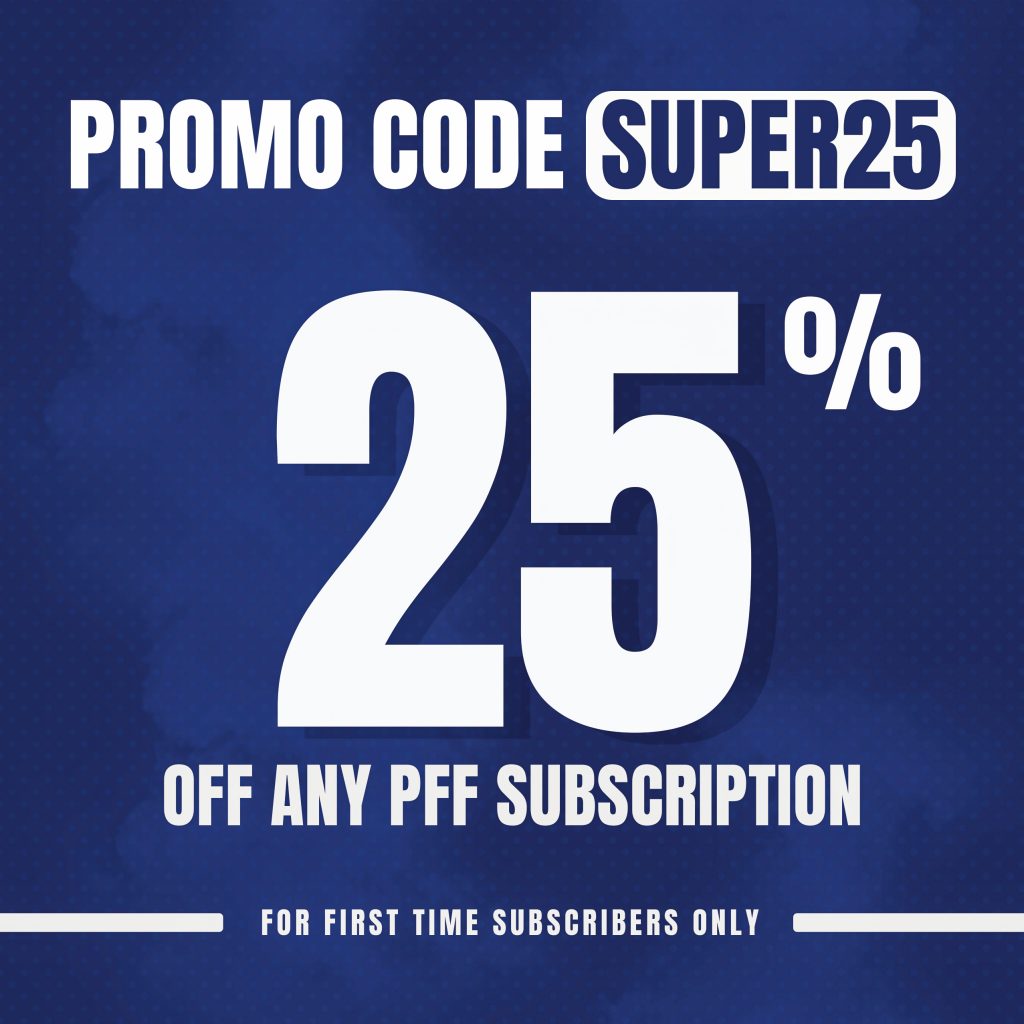 Click here for more PFF tools:
Rankings & Projections | WR/CB Matchup Chart | NFL & NCAA Betting Dashboards | NFL Player Props Tool | NFL & NCAA Power Rankings
Best Bets Tool
---
PROS:
Stingley has first-class speed. He has no fear of getting beaten deep.
He also has a press-man pedigree. He lined up in press-man on 49% of his career coverage snaps.
The former Tiger has the kind of feet and hips you don't see every day for a tall corner.
CONS:
He has an extensive injury history. He missed time with leg (2020) and foot (2021) injuries.
His tackling is an afterthought to his game. He missed 17.9% of his career tackle attempts.
Too often, he lost when passing receivers off into zone coverage.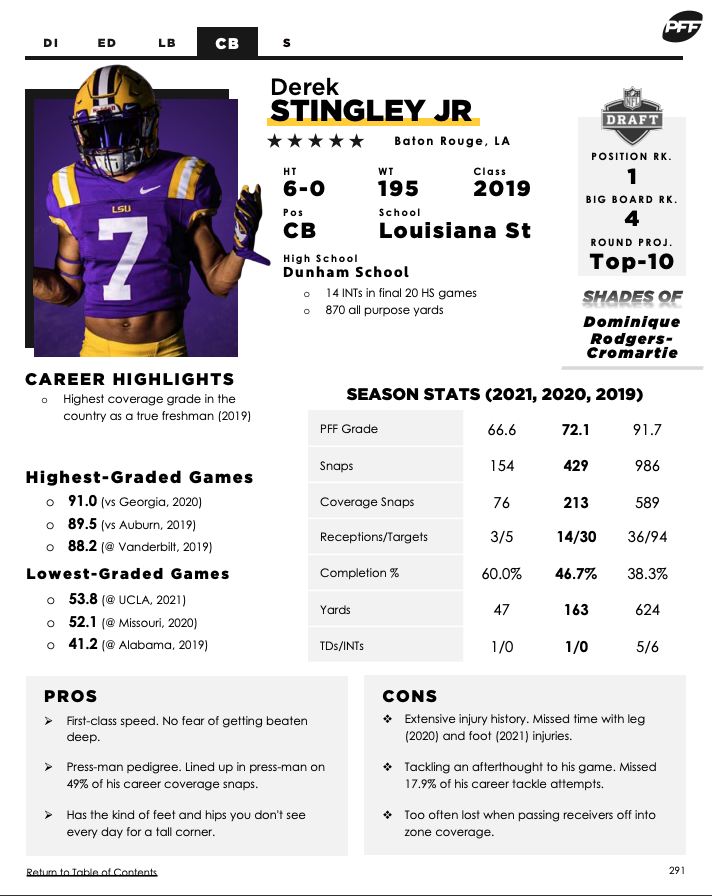 PROS:
The Cincinnati star has a Pterodactyl build with a massive wingspan for a corner.
He ends routes before they start and knows he can play "bully ball."
It feels like he was built in a lab to play press with a ton of experience — he played 851 press-coverage snaps in his career.
CONS:
Gardner has a tendency to get a little tall when flipping his hips, which slows his transitions.
His speed is nothing special. The foot race isn't his game.
He only had a few games against top competition in his career.
---
2022 NFL Draft position rankings:
Top 10 players at every position
QB | RB | WR | TE | iOL | OT | DI | EDGE | LB | CB | S
---
PROS:
McDuffie accelerates like a Tesla. he can get moving in a hurry.
He's the best tackling corner in the class and comes in with uncoachable ferocity.
He may be short, but he isn't small. he has a stout build with strength throughout.
CONS:
McDuffie may not meet height or length thresholds for some teams.
He has played so much spot-drop zone coverage and has limited press-man experience.
Ball production is nowhere close to that of his peers, with only nine pass breakups on 100 targets.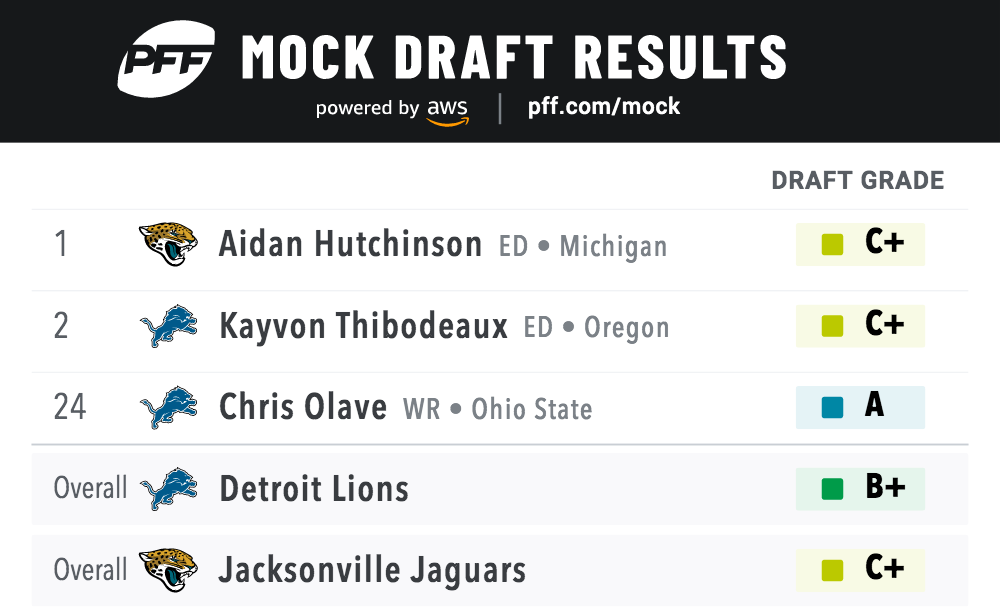 PROS:
The former Gator has a long, sturdy frame that everyone wants at the corner position.
He gets into shoulder pads consistently at the line of scrimmage, which is deadly.
Elam has vast experience against SEC competition, with nearly 1,000 career coverage snaps.
CONS:
He is needlessly grabby at the top of routes and has been flagged seven times in 10 games.
Elam struggles to throttle down and break back downhill on balls in front of him.
He missed three games with a knee injury suffered against Alabama in 2021.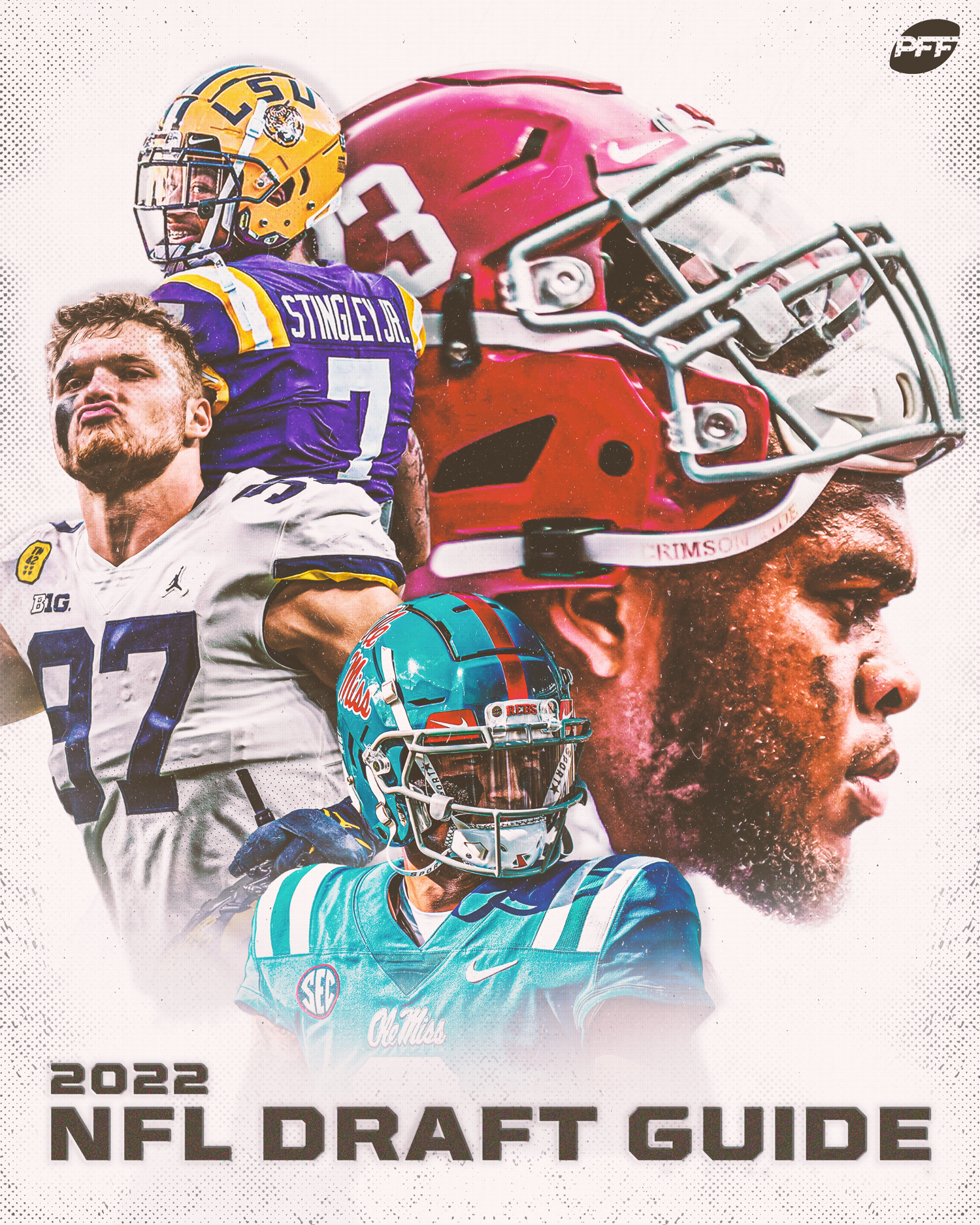 PROS:
Booth has patient, quiet feet. He's not a guy who takes the bait on double-moves.
He drives out of his pedal with top-tier explosiveness.
The Clemson corner has strength throughout his frame and long arms for his height.
CONS:
He leaves his feet with reckless abandon as a tackler.
His long speed doesn't match his short-area burst.
Booth doesn't have a ton of experience. This past season was his first year as a full-time starter.