PFF's analysts highlight their favorite prospects in the 2020 NFL Draft, including Louisiana Tech's Amik Robertson, TCU's Jalen Reagor, among others.
[Editor's Note: Learn more about PFF's favorites and the rest of the draft class by downloading the 2020 NFL Draft Guide. All EDGE and ELITE subscribers have access to the draft guide, all of PFF's premium article content and more. Subscribe today to gain access!]
Muti is just a different breed — he was just built to move the line of scrimmage in the NFL. At no point during his college career was he ever overpowered, and that includes his time starting as a redshirt freshman.
Honestly, just watch the highlight tape. Brute strength is one thing, but Muti finds guys in space, stays on balance in pass protection and plays far more "under control" than you'd expect for a man with his power. He's a long-term starter in the NFL if he stays healthy.
It's hard not to love Robertson when watching him play, as he attacks opposing wide receivers with the ferocity of a linebacker, despite standing just 5-foot-9. Overall, Robertson had the highest coverage grade in the class last year at 91.2, but his size is still an issue against bigger bodies down the field.
Most NFL teams will project Robertson into the slot. That's fine, though, as he earned a 93.6 grade on a limited sample in that role last season. His aggressive mentality should fit nicely on the inside at the next level. When you combine that projection with his outstanding production, Robertson should be coveted by all 32 teams in the middle rounds.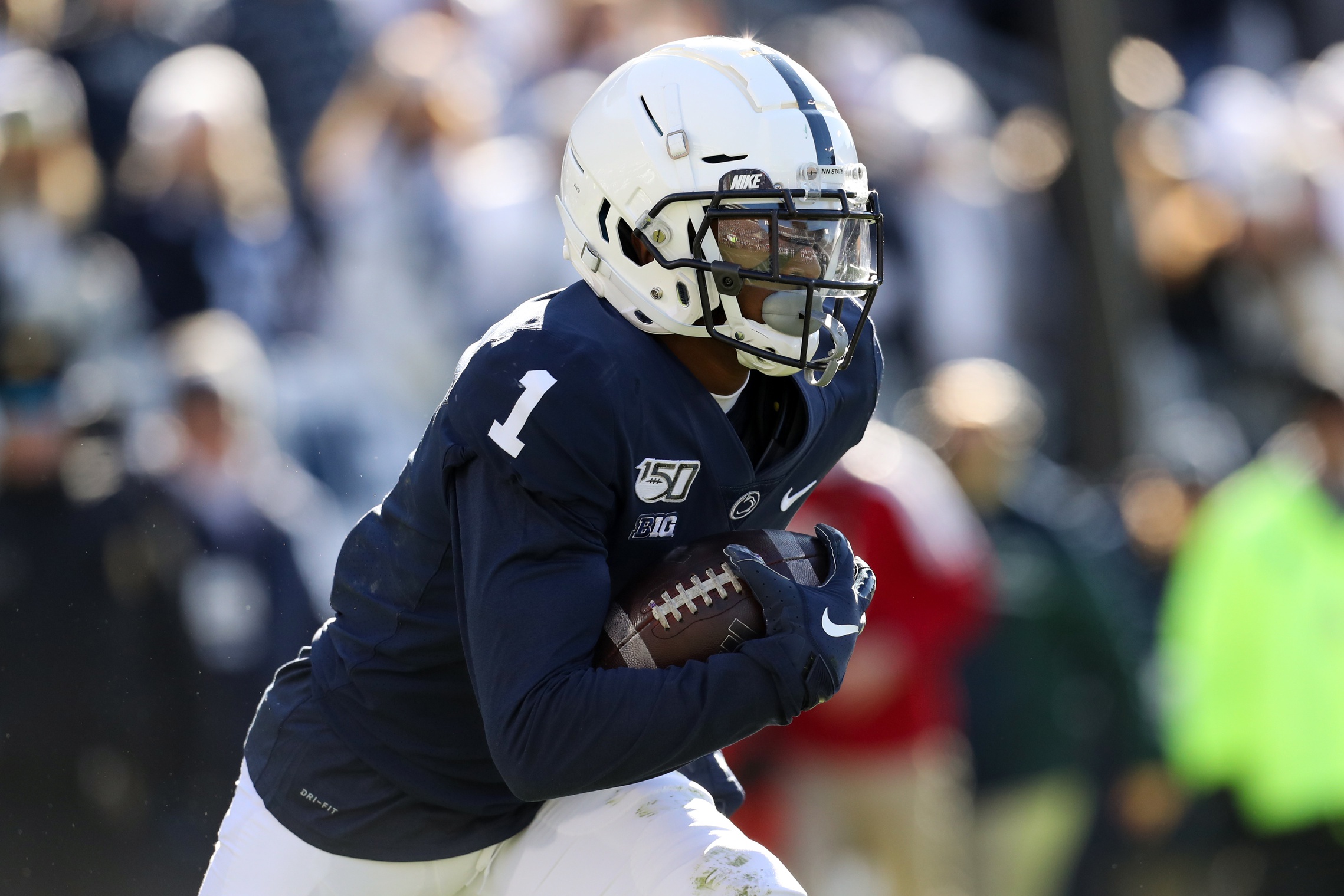 I've had Hamler's name written on the corner of a whiteboard in my office since his first college game, where he single-handedly prevented an upset late in the game with a spectacular kick return and then touchdown catch that sent the game to overtime.
Hamler has flaws, but he's an electric playmaker, and he has been since the second he stepped on a college football field. You may have to tailor a role for him at the NFL level, but I have zero doubt that if you do, he will reward you for it and be a game-changing force at the next level just as he was in college.
First off, I can't pick Henry Ruggs III here, no matter how much our mathematical projection system likes him (it's why we mocked him so high). This is because I just know some people will cheat and take obvious first-round talents, but I am not that guy. Secondly, it is only right that I make a "running back" my guy, given how much I spend my time trying to convince people not to pay the position while also not sounding like I hate each running back personally.
Gibson is exactly what you want at running back — he's actually a wide receiver. He lined up at receiver (either slot or out wide) on 547 plays last season at Memphis compared to just 75 in the backfield. I want a pass-catcher first, and if we must run, I'm happy to let him do that too. Gibson brings some freakish athleticism to the table with a 4.39 40-yard dash and a 39-inch vertical. I'm not saying you take him early, but when it is finally time to take a running back, take a wide receiver and convert him.
This one is a bit out there, but we did put him in the first round of both of our analytics mocks for a few reasons. Firstly, his measurables are pretty darn good for an off-the-ball linebacker, where he tested out with a 4.49 in the 40-yard dash and produced a 35-inch vertical leap. Our college-to-pro projection system likes him in coverage and as a blitzer, and our text analytics work has his two closest comps as Devin White and Deion Jones.
At first glance, Reagor isn't a prospect who numbers-based analysts love. He averaged fewer than 50 receptions per year and never surpassed 1,000 receiving yards in a single season. However, adjusting Reagor's numbers for poor quarterback play reveals an elite prospect: he led his team in receiving yards and touchdowns as an 18-year-old true freshman and accounted for over 40% of his team's receiving production his sophomore season.
Reagor looked like a plus athlete on the field, and despite a "disappointing" 4.47-second 40 at the combine, his performance ranked second among top prospects according to my projected WAR model. A receiver with Reagor's versatility and production belongs in the top tier with Jerry Jeudy, CeeDee Lamb and Henry Ruggs III.
Having a consensus top-10 (if not top-five) player as a "my guy" isn't exactly a bold choice. But for me, he will be just that important not only to the team that drafts him but to the idea of defensive football as a whole.
With his elite athleticism and prototype frame, he has shown he can do it all, lining up in the box, as a free safety, as a slot corner or on the defensive line on a regular basis. More importantly, he does everything well, earning 80.0-plus grades in all three facets of defense.
The Achilles heel of defense in today's NFL is two-fold: During a game, defenses have a hard time reacting to offenses creating mismatches. And over the course of a season, losing players to injuries can cause an exploitable weak link at a defensive position. A player like Simmons is the obvious answer to both.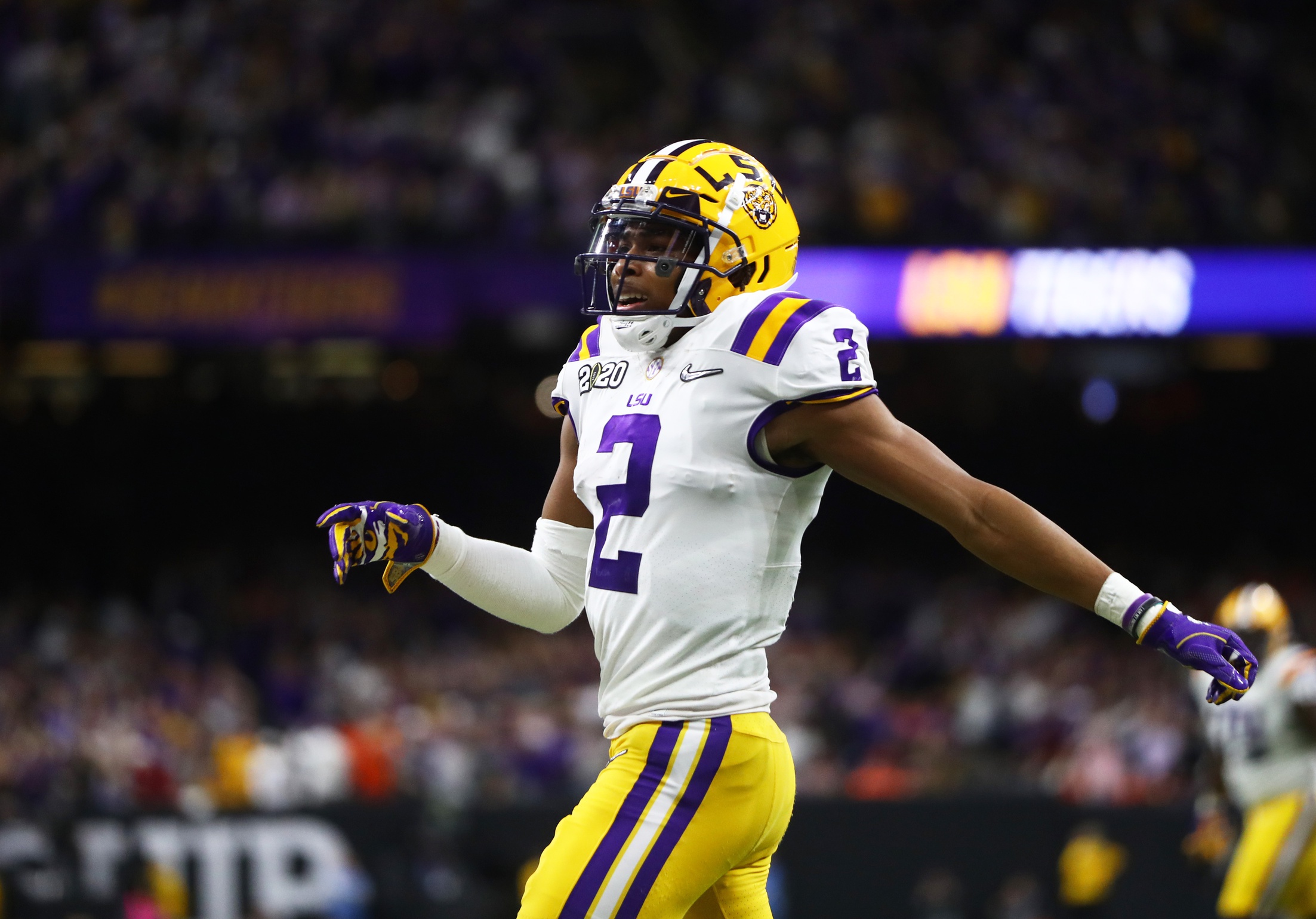 In a draft class loaded with talented wide receivers, Justin Jefferson stands out as the most productive slot receiver on the draft board. In 2019, Jefferson played 78% of his 937 snaps from the slot, where he led the nation with 109 slot receptions and 1,518 receiving yards.
The LSU product is a fearless receiver who attacks the slant route by going into the teeth of the defense, and his 25 missed tackles forced ranked fourth-best in the nation a season ago. His coverage recognition and route conversion in LSU's pro-style system make him an NFL-ready commodity.
With an FBS-leading 92.3% contested-catch rate, Jefferson has shown a willingness to compete for the ball and win against tight coverage. His 25 touchdowns over the last two seasons is just the beginning of what should be a highly productive NFL career.
Being the son of a former NFL lockdown cornerback and coming off back-to-back medical redshirt seasons, Antoine Winfield Jr. had more to prove than any other player in college football in 2019. And not only did he prove he could stay healthy, but he proved he has the traits to be as impactful in the NFL as his father once was.
Winfield started all 13 games for Minnesota, recording an 88.1 overall grade that ranked eighth among FBS safeties. He intercepted seven passes and forced two incompletions and two fumbles. I don't care if he isn't the most physical or "long" safety — no other safety in this class has better instincts than Winfield.
Wallace checks all the boxes on what you want from a slot cornerback. He's unafraid to mix it up with blockers, undaunted by the prospect of attacking screen passes and shows no fear when trying to make plays in the run game. His testing numbers at the combine show a player who is quick and explosive, and he has physical traits that really shine in the slot.
He's also very instinctive, both as a tackler coming down to make plays on underneath targets (where he rarely misses) and as a playmaker in coverage. The interception numbers might not lead you to believe that, but Wallace has put himself into position to make plays on the ball — he just needs to convert at a higher clip after dropping an FBS-high eight interceptions over the last two seasons. Draft Wallace on Day 2 and profit.
Only three FBS cornerbacks have played more coverage snaps (1,487) or seen more targets (232) over the past four seasons than TCU's Jeff Gladney, PFF's seventh-ranked cornerback and No. 34 overall player in the 2020 NFL Draft. His career coverage grade (89.8) ranks ninth among all FBS cornerbacks with at least 1,000 coverage snaps played over the past four collegiate seasons (2016-19). He also ranks first in completion percentage allowed (47%), third in forced incompletion percentage (21.1%) and seventh in passer rating allowed (72.3) among the same group of cornerbacks.
And he's only gotten better with experience. Among the 143 FBS cornerbacks with at least 600 coverage snaps played in 2018 and 2019 combined, Gladney ranked sixth in PFF coverage grade (90.4). He allowed just 54 receptions for 690 yards, 27 first downs and four touchdowns from 130 targets. He ranked third in completion percentage allowed (41.5%), sixth in forced incompletion percentage (24.6%) and eighth in passer rating when targeted (59.5) over that span.
Gladney's physical, aggressive approach to the position, instincts and ball skills should all translate to early success in his NFL career. He's also an underrated match-and-mirror cornerback with better scheme versatility than he's given credit for despite his small frame (5-foot-10, 191 pounds).
Look, I get it, he throws to the other team too often and he throws the ball like he's throwing a grenade. But if you're looking for a quarterback who understands timing, footwork and anticipation, he could be a late steal. His accuracy is still fine for how wonky his mechanics are, but the way he understands the position is his best trait. He's one of the best quarterbacks in this class when it comes to going through progressions. He also comes loaded with reps after playing in Hawaii's Run N' Shoot system.