NFL draft season is always full of debate. Obviously, not everyone is going to agree when it comes to draft prospects. We all assess traits, pro-day data, production and positional value differently, which is why no two big boards or mock drafts are identical.
With the draft now just over two months away, we here at PFF created a list of players we feel are being misvalued by other analysts and media outlets. Today, with the help of PFF's Top 300 2021 NFL Draft Big Board, we will be addressing the 2021 draft prospects who are being underrated by scouts, executives and draft analysts across the country.
Subscribe to
Many expected Barmore to follow in Quinnen Williams' footsteps and dominate during his final season at Alabama, lofty expectations to say the least.
Barmore ultimately wasn't as destructive as Williams was week after week, but he still had an exceptional year, putting up a pass-rush grade of 91.5 to lead all Power 5 interior defenders by a considerable margin. More importantly, he showed up when it mattered most in the College Football Playoff, generating a 91.3 pass-rush grade, 12 pressures, a 23% win rate and 10 defensive stops against Notre Dame and Ohio State, two of the best offensive lines in the country.
The 6-foot-5, 310-pounder has the size, burst, length and flexibility you want at the position. Sure, he may have had a couple of dud performances this past season, but the Barmore we saw in the CFP is the player NFL teams should expect at the next level.
There is a lot of potential at the top of this edge class, but there are still quite a few question marks. With Oweh, it's a matter of tools versus production and technique.
Oweh's explosiveness and speed have never been in question; his athletic potential is absolutely off the charts. It's been reported that the 6-foot-5, 252-pound Nittany Lion ran the 40 in just over 4.3 seconds, a staggering number for a player at his position.
His get-off is every tackle's worst nightmare. His pass-rush toolbox, however, is not. There were few moves to speak of last year, and he was shut down on contact far too often. His pass-rush production from 2020 backs this up.
Oweh destroyed Indiana's tackles in the season opener, racking up 10 total pressures. But he recorded just 10 pressures over the following six games combined.
On the bright side, Oweh looked like a completely different player against the run. He was a constant disruptor in the backfield, and that led to an 89.7 run-defense grade for the year, well above the 59.5 mark he posted in 2019.
Oweh is only scratching the surface of what he can become. He's not going to have a Chase Young-esque impact right away, but he can get there with time with the right coaching.
The discrepancy with Moore is due to his absence over the last few years. He has hardly played since his true freshman season in 2018; he appeared in just four games in 2019 and three games in 2020.
Still, what a healthy Moore did in his first year on campus is too good to ignore, as it was one of the three most valuable seasons we have recorded by a true freshman non-quarterback in the seven years of PFF College's existence.
Moore is a freak athletically. He clocked a 4.33-second 40 coming out of high school to go with a 42.7-inch vertical and 4.01-second short shuttle. Since his arrival in Lafayette, videos posted to social media show the 5-foot-9, 180-pound receiver benching over 400 pounds and squatting over 600. That elite-level explosiveness and strength will make him one of the most dangerous after-the-catch weapons in the NFL early in his professional career. He broke an astonishing 37 tackles back in 2018 alone, which still stands as the PFF record for most broken tackles after the catch by a Power 5 receiver in a single season.
There may be some concerns about his playing time as well as his limited route tree and schemed production at Purdue, but this uber-athlete is worth betting on early.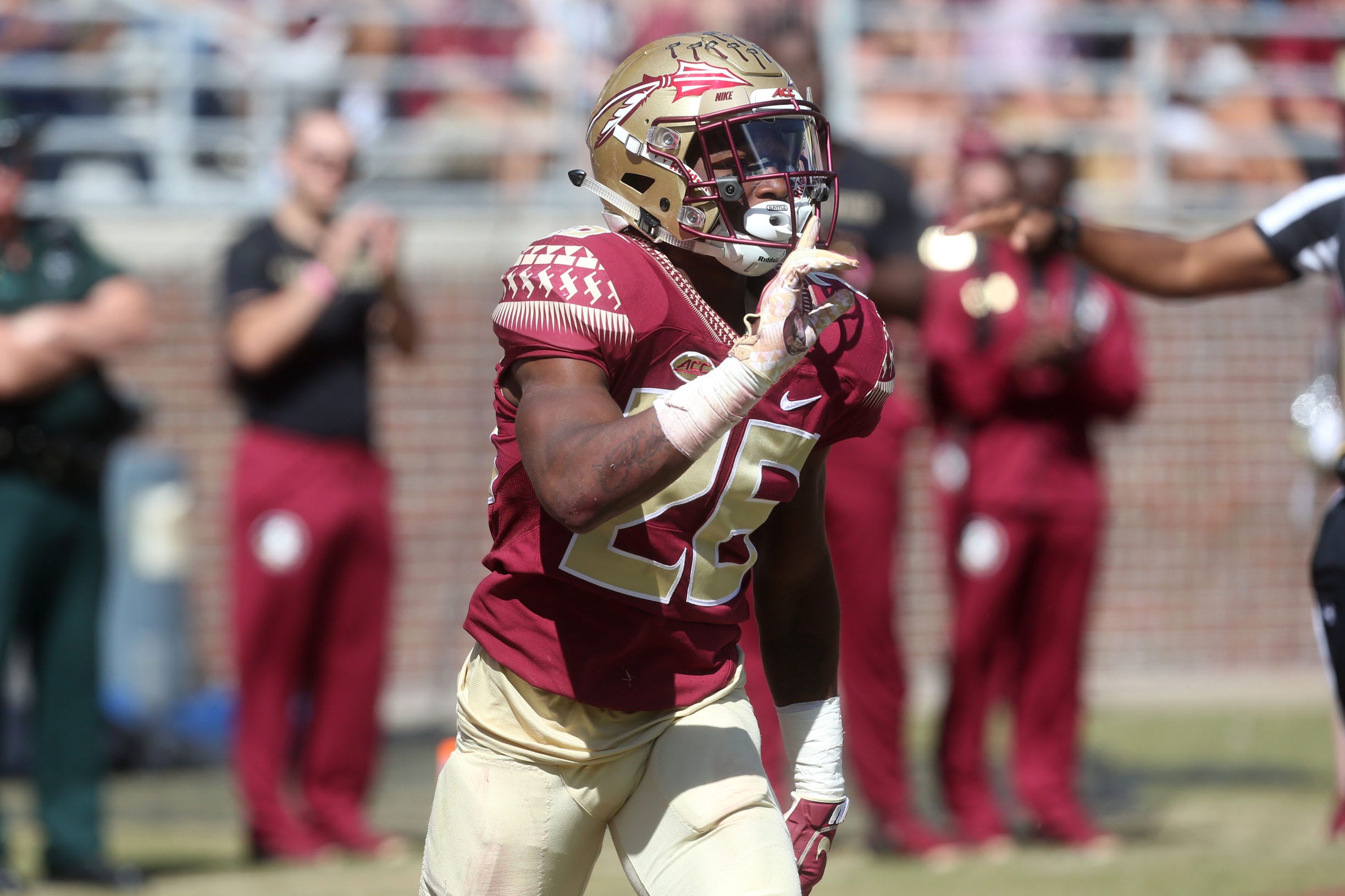 The sole concern with Samuel is his size. At 5-foot-10, 184 pounds, Samuel did get pushed around by the bigger receivers in the collegiate ranks. There are also question marks around his ability to handle press coverage in the NFL.
Taking size out of the equation, Samuel has precisely what you want in a cornerback prospect. He has outstanding quicks and was one of the more instinctive corners college football had to offer. He was also one of the nation's most prolific playmakers, with a whopping 30 forced incompletions over the last three seasons, second-most in the Power 5.
We feel as though Samuel can handle an outside job at the next level despite his size, but at the very least he should be an effective slot defender. And that is not a bad thing.
In this deep tackle class, Cosmi could be among the few that slide far further than they usually would. Cosmi was excellent in his first two years as a starter at tackle in 2018 and 2019, earning PFF grades of 79.7 and 83.9, respectively. He then took his play to elite status this past year, earning a 90.5 PFF grade in the process.
When projecting offensive linemen from college to the NFL, we at PFF like to isolate their performance to true pass sets (i.e., no play action, screens, rollouts, RPOs, quick throws, three-man rushes). Cosmi was the sixth-highest-graded tackle in the FBS on those plays this season.
Physically, Cosmi is all there. He is a remarkable athlete for the position. However, he still plays too high in his pass sets and is often late to get out of his stance. Cosmi can be a quality starting tackle at the NFL level with a little polish.
Like Samuel, size concerns could cause Washington to slip later into the draft. But look past his 5-foot-8 stature; there isn't a more instinctual safety in this entire class. Washington also possesses elite change-of-direction ability and strength that is almost hard to believe.
Weighing in at under 180 pounds, he can still bench 370 pounds and squat 640 pounds. That landed him on The Athletic's Bruce Feldman's Freaks List last summer. With the help of his many top-notch traits, Washington generated a top-three coverage grade among FBS safeties over the past two years.
Regardless of which defense Cox is plugged into at the next level, he'll be a difference-maker in coverage. His coverage ability was put on full display at both the FCS level with North Dakota State and at the Power Five level with LSU. Cox posted coverage grades of 87.4 and 85.2 at NDSU in 2018 and 2019. He then transferred to LSU for the 2020 season, notching an 83.5 coverage grade with seven combined pass breakups and interceptions and zero touchdowns allowed.
Cox isn't going to be much of a playmaker against the run and isn't the most explosive or powerful off-ball linebacker in the class, but teams can count on him to be a top-notch coverage defender.
McNeill came to NC State as a four-star defensive tackle recruit who played linebacker and running back in high school. Yes, running back — and he was damn good carrying the rock with how explosive he is.
The 6-foot-2, 320-pound interior defensive lineman has a ridiculous get-off that few interior offensive linemen could handle. McNeill moved to 0-technique in 2019 and produced a 79.4 PFF grade. He then broke out to elite status in 2020 with a 90.7 grade in the same role. He was a constant force against the run, earning a 92.1 grade in that facet. And despite playing almost exclusively at heads-up nose, McNeill generated good pass-rush production (77.5 pass-rush grade). That output won't hold in the NFL unless McNeill can improve from a technical standpoint, though.
Some view his pass-rush move repertoire, or lack thereof, and rawness as big weaknesses, but we don't think this should be viewed as negatively. McNeill was one of college football's most dominant nose tackles over the past few years, and yet, there's still so much more room for him to grow. The sky's the limit. In due time, he's going to be an impact player at the next level.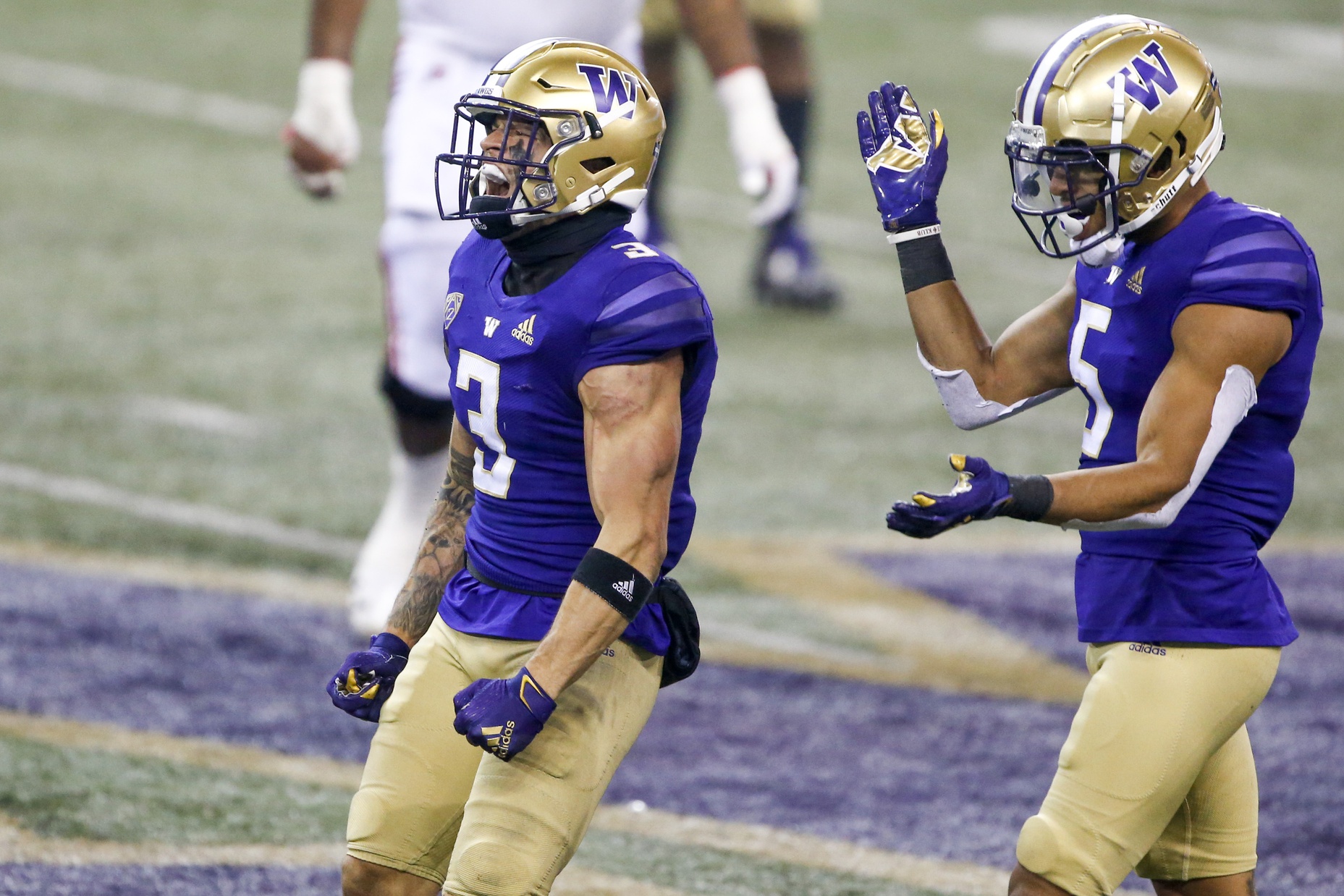 Molden was in an exclusive relationship with the slot throughout his college career at Washington, and he'll likely fit into the same role at the next level. As a result, NFL teams may pass on him early in the draft because slot defenders aren't valued as highly in the league. However, slot defender is actually one of the most valuable positions on the field; the NFL just has yet to recognize that.
In the case of Molden, he was one of the best slot defenders we have seen in the PFF College era, and he has all the traits to make us believe he will find similar success in the NFL. In other words, whichever team lands Molden will be getting a massive steal.
Of all the Power Five defensive backs to log at least 500 snaps in the slot in the PFF College era (since 2014), no one recorded a higher slot coverage grade, more forced incompletions or more passing stops than Molden. At 5-foot-10, 190-pounds, he is one of the most physical tacklers in the class. And he pairs that with short-area quickness and fantastic eyes in coverage. There's no reason to think Molden won't be a quality slot corner at the next level.
Nickel is the new base. Molden may be pigeonholed to the slot, but that doesn't mean his value is any less than that of the guy covering the outside beside him.
Perkins checks the flexibility, explosiveness and overall athleticism boxes with flying colors. Those traits were key reasons why he finished 2020 as the only edge defender in the FBS with 90.0-plus grades in run defense and as a pass rusher. The only question is: Will he be able to hold up against NFL tackles at 6-foot-3, 247 pounds? He played bigger than his size suggests in college and, as stated in PFF's 2021 NFL Draft Guide, worked speed to power as well as anyone in the country.
But as we all know, it's a different ballgame in the big leagues. In our eyes, Perkins will eventually be an impact player in the NFL.