Welcome to the first-ever PFF NFL Podcast mock draft, featuring the hosts of the PFF NFL Podcast, Steve Palazzolo and Sam Monson. We went back and forth to make our picks for the 2020 NFL Draft while adding in a few of our own rules to spice things up. For the most part, this draft is what we would do with each pick, but in a few instances, we deferred to what looked like a reasonable outcome from a team perspective. We also worked tirelessly to come up with an innovative, three-way trade at the top of the draft. It was a move that actually makes sense for all parties involved, an actual win-win-win. 
You can listen to the entire process for each pick, or tune in for PFF draft analyst Mike Renner's take on all of our picks. 
Here is the PFF NFL Podcast Mock Draft 1.0.
[Editor's note: Check out PFF's 2020 Post-Free Agency Mock Draft and NFL Draft Big Board. PFF Elite subscribers can also download the 1,100-page 2020 NFL Draft Guide.]
SP: While the Bengals could certainly listen to offers that would completely change the course of their franchise with three or four first-round picks, they'll hold onto No. 1 overall and go with Burrow, who makes the most sense at the top of the draft. His 2019 season is one of the best in college football history, as he dominated wire to wire and showed off his accuracy, pocket presence and poise in every projectable facet. Burrow's 2019 campaign is the highest graded we've seen in PFF history, and he has the best pro prospects of any player in the draft class. 
TRADE:
Let's get a little crazy. A three-way trade in the NFL is almost unheard of, but this is a deal that makes sense for all parties involved. Essentially, the Miami Dolphins will move from No. 5 overall to No. 2, and they'll give up picks No. 5, No. 18, and No. 39 to do so (fair deal to select a quarterback). The Redskins will pick up those picks, at least for a moment, until they realize the Lions are willing to trade down from No. 3 to No. 5 while picking up that No. 39 overall pick in the process. The Redskins are still able to get their guy in Chase Young, while the Lions are gambling that Jeffrey Okudah will still be there at No. 5 and pick up another potential starter at No. 39. Here's how it all shakes out:
Miami Dolphins receive: No. 2 (from WAS)

Washington Redskins receive: No. 3 (from DET), No. 18 (from MIA)

Detroit Lions receive: No. 5 (from MIA), No. 39 (from MIA)
Now back to the draft:
SM: There are reports the Dolphins are going to try and get all the way to No. 1 for Joe Burrow, but that's too rich for my blood. Instead, they go hard after the next-best quarterback, and one after whom there is a significant drop-off. Tagovailoa is the only quarterback in this class — including Burrow — to have posted back-to-back college seasons with a PFF grade north of 90.0, and if his medical checks out, he should be a franchise quarterback to build around for a team searching for its identity on offense. They snag him here and still retain one of their extra first-round picks.
SP: The gamble pays off for the Redskins, who essentially move down one spot to secure Young while adding another first-rounder along the way. Young is the best pass-rusher in the draft, dominant off the edge and capable of moving around the defensive line to create havoc for opposing offenses. His 96.1 overall grade is the highest from an edge defender since 2014, and it included an impressive 56 pressures — 18 of which were sacks — on just 320 rushes last season. Washington continues to load up on defensive linemen, and if this scenario plays out, they add another top-20 talent in what could make them the biggest winners in the draft.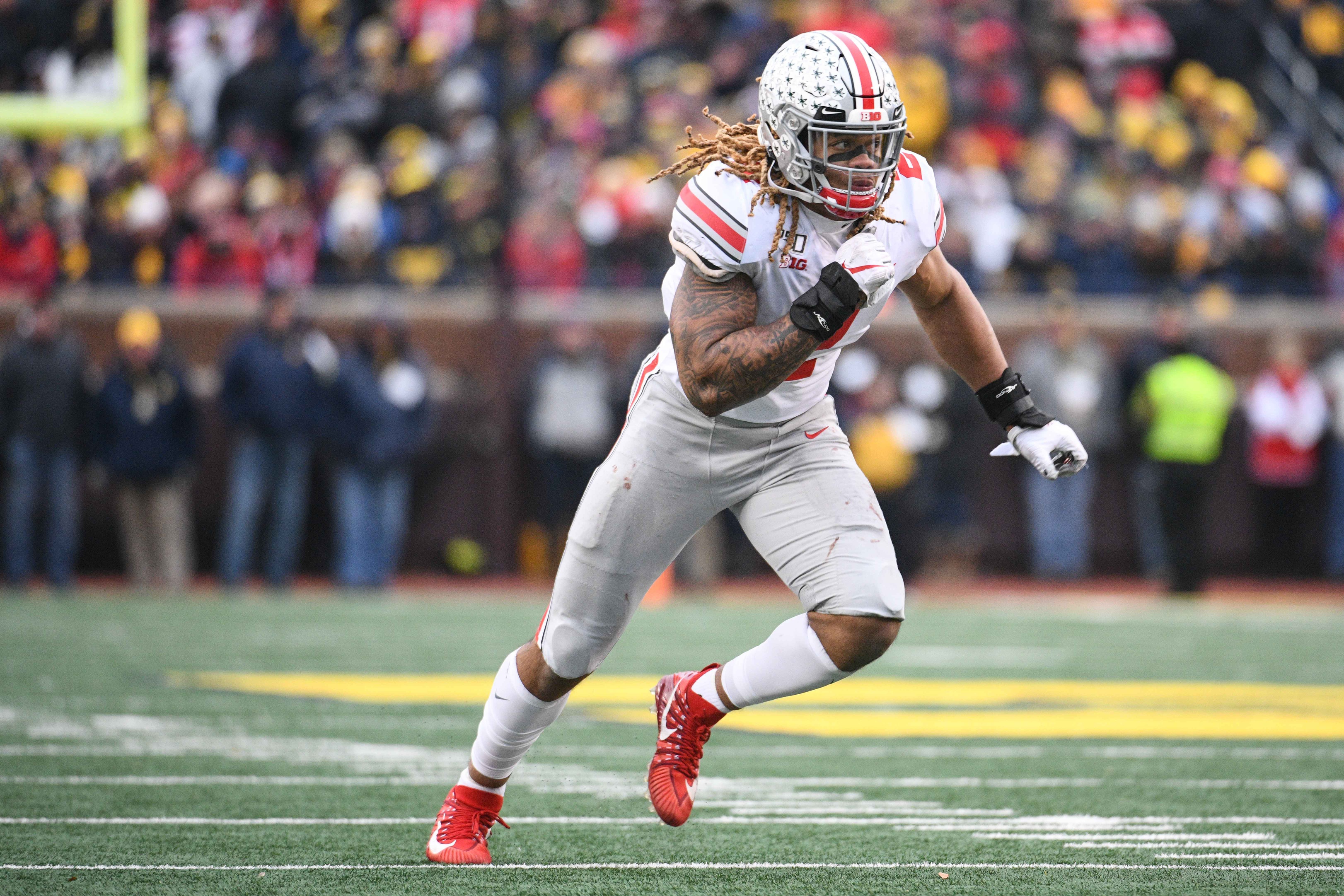 4. New York Giants — OT Andrew Thomas, Georgia
SM: This mock was mostly what we would do, as most PFF mock drafts are, but we decided there was only so much rushing water we can swim against, so we decided to incorporate what teams will do in some places. The Giants want a tackle, and they're likely to grab one atop this draft, but we can at least influence which one they take in our mock. Andrew Thomas is being overlooked in this draft because others (Wirfs, Becton) are physical freaks and impress with measurables. But Thomas was the best football player of the group, and at some point, that's still pretty important.
SP: There is an argument to be had that Okudah is a better fit for the Lions than Young, as their man-heavy scheme needs one more strong coverage player. Their gamble pays off with Okudah still on the board, and they secure the No. 39 overall pick to add another potential starter into the mix. Okudah has the footwork and ball skills to play any coverage, and he has No. 1 cornerback potential to give Detroit a formidable look in a secondary that needed multiple pieces coming into the offseason. 
SM: This is the first pick of the draft where I think the team that's on the clock is in a tricky situation. The Chargers can't (or shouldn't) love Justin Herbert enough to take him here, and a player like Isaiah Simmons is a touch redundant in their defense. But they still have holes on the offensive line, so they try and solve their left tackle situation with Tristan Wirfs. Few players have had the kind of Combine performance that Wirfs did. He also showed a steady improvement in PFF grade in college, culminating in an overall mark of 91.8 last season for the Hawkeyes.
SP: One of the best fits in the draft, Simmons adds a much-needed defensive playmaker to the Carolina back seven. Whether playing a true linebacker position or a safety/linebacker hybrid, Simmons adds speed and versatility to a Carolina unit that just lost one of the best playmakers in the league in Luke Kuechly. Simmons had an outstanding 88.2 coverage grade last year at Clemson while playing in every conceivable role on the defense. 
8. Arizona Cardinals — DI Javon Kinlaw, South Carolina
SM: One of the biggest curveballs in this mock, the Cardinals gave themselves the freedom to avoid chasing needs with the highway robbery of the Texans in the DeAndre Hopkins trade, and as such, they're going to target one of the most disruptive players in the draft. While Derrick Brown is disruptive in the run game, Javon Kinlaw disrupts the pass, and that's what's most valuable in today's NFL. This may seem like a reach now, but it won't in a couple of years when Kinlaw is causing constant problems for opposing passing attacks.
SP: While the Jaguars could consider Justin Herbert in this spot, they go with one of the top receivers on the board in Jeudy. He adds outstanding route-running and after-the-catch ability to pair with emerging wideout D.J. Chark. Jacksonville is in dire need of receiving and coverage playmakers, two crucial roles on any winning team, and Jeudy adds a weapon who can dominate from the slot and produce on the outside. Jeudy graded just under 90.0 overall on both 10-plus and 20-plus yard throws last season, a part of the field where quarterback Gardner Minshew shined as a rookie.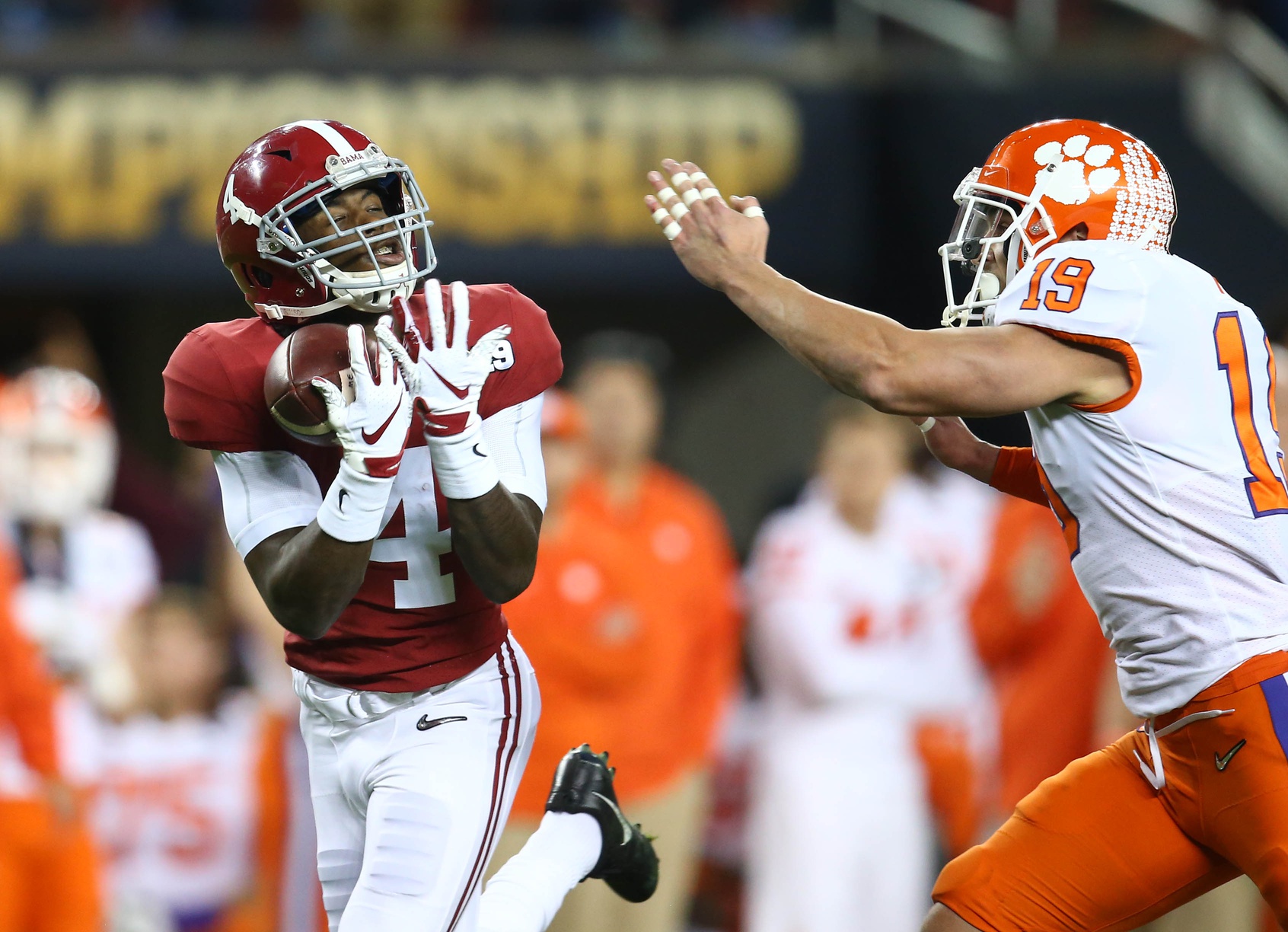 SM: One of the most obvious need-picks in the draft, the Browns have a hole at left tackle, and that influences where they are likely to go with this pick. They could take Jedrick Willis from Alabama and ask him to flip sides, but there's no reason to mess with that added complication if you don't need to. Instead, they take Jones, who has pretty much shut down all of his opponents in pass protection, including against superior competition at the Senior Bowl. The Browns secure their left tackle of the future and could still talk Jason Peters into giving them one year of superior play as a stopgap. 
11. New York Jets — OT Jedrick Wills, Alabama
SP: There's no question the Jets have to add more to their offense to help quarterback Sam Darnold, but even with their active free agency bringing in a plethora of offensive linemen, they can still attack the position further in the draft. Wills is the top offensive tackle on the board and is an explosive run blocker to go with projectable skills in pass protection, where he's a step behind some of his peers in the class. For the Jets, the offensive line rebuild continues — they're banking on the wide receiver and cornerback depth to round out their draft on Day 2. 
SM: One of my favorite picks in the entire mock, the Raiders strike gold with the way this first round has fallen so far and get CeeDee Lamb. I think even if the Raiders had their pick of all the receivers, Lamb might be the one they would go for anyway, so to get him as the second guy off the board is a jackpot result. Lamb is the most complete and 'clean' prospect at the position and should give them the kind of legitimate No. 1 that elevates the impact of everybody in the receiving corps and hopefully coaxes the best play out of quarterback Derek Carr.
SP: The 49ers were one of the fastest teams in the NFL last season and they add the fastest player in the draft in Ruggs. Head coach Kyle Shanahan knows how to get his playmakers in space, and he'll use Ruggs' 4.2 speed down the field, on deep crossers and in the jet-sweep/end-around game. Ruggs has more polish to his game than most speed receivers, but he's still a tick behind some of the others as far as well-roundedness goes Still, his speed is a game-changer for opposing defenses, and the pairing with Shanahan is one of the best in the draft. 
SM: This is another spot I'm not in love with from a value standpoint, and the Buccaneers have an interesting decision to make here. Ultimately, as much as they're talking up the prospects of Joe Haeg at right tackle, I'm not risking Tom Brady to that kind of assault, so the Mekhi Becton pick is to prevent that. Becton's pass protection is a question mark, but it's one of his unknowns rather than outright flaws or red flags. Regardless, his upside is too much to turn down for Tampa Bay, and if nothing else, he's a long way to run around to get to Brady.
15. Denver Broncos — CB Kristian Fulton, LSU
SP: Denver has several coveted players off the board, but they still need help at cornerback and Fulton is a great fit for head coach Vic Fangio's zone-heavy scheme. Fulton pairs with newly caquired cornerback A.J. Bouye on the outside, bringing his ball skills that forced incompletions on 27.4% of his targets over the past two years — the best rate in the draft class. Overall, Fulton had the fourth-best coverage grade in the class last season (86.3), and he's put together two strong seasons at LSU despite getting second-round hype from many prognosticators.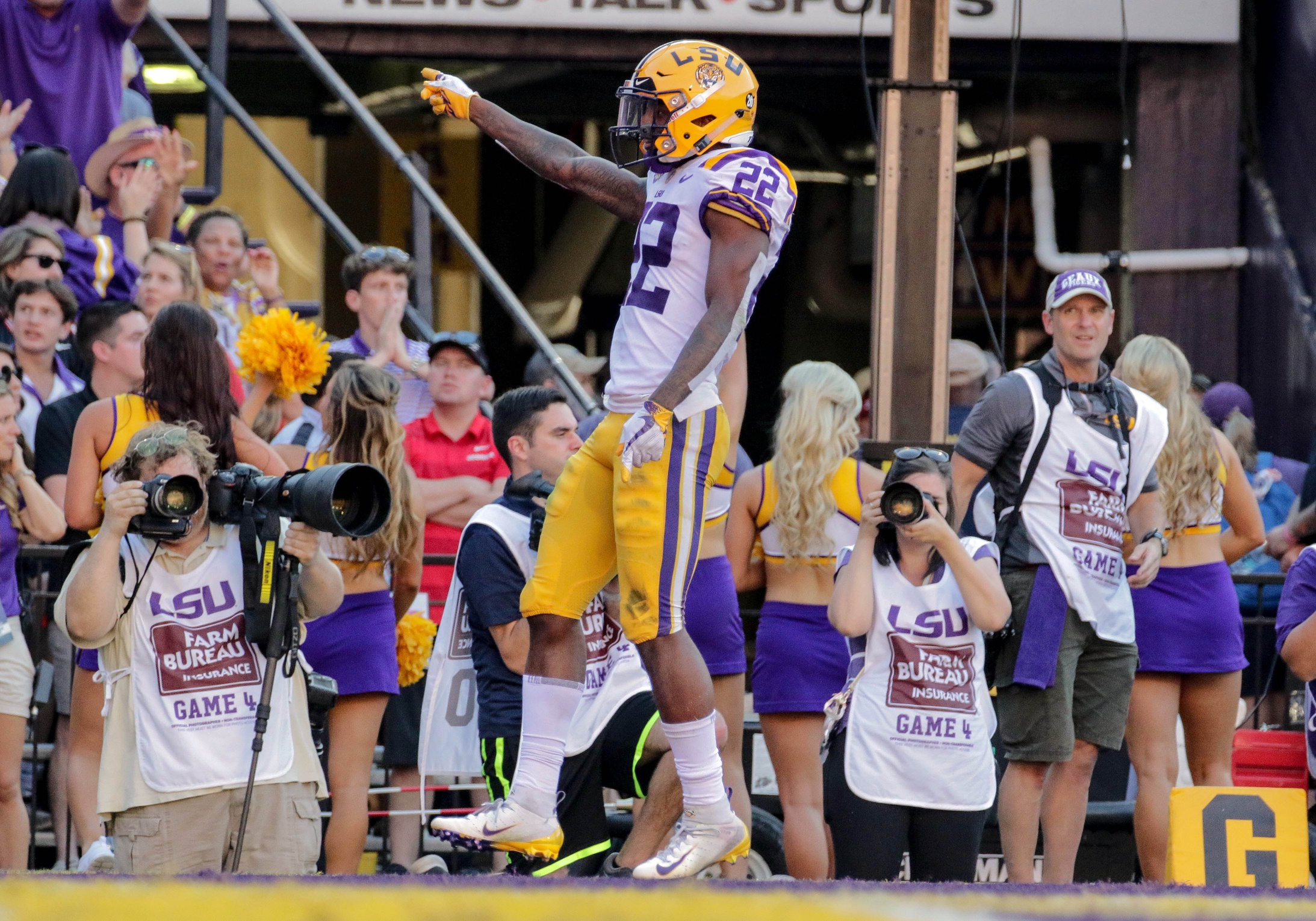 SM: If there's a player who could end up going significantly higher in the draft than expected, I think it could be Utah's Jaylon Johnson. He fits perfectly in this scheme and showed up well in a lot of advanced numbers that could see him leap over players such as Florida's CJ Henderson. The Falcons need coverage help, and Johnson has some real physicality and feel for the position that can't be said about some of the other options. This is a pick that may be seen as a reach, but I would wager there are multiple teams preparing to take him within 10 picks after it.
17. Dallas Cowboys — CB C.J. Henderson, Florida
SP: The current depth chart doesn't make cornerback look like a huge need for the Cowboys, but Chidobe Awuzie and Jourdan Lewis are both free agents at the end of the year, so that position should be in play in the middle of the first round. Henderson can step in right away on the outside with his excellent athleticism and ball skills that helped him break up 21.8% of his targets over the past two years — 11th-best in the class. Henderson wasn't great last season, but he had a strong 2018 and has the tools to play off coverage or mirror opposing receivers in man coverage. 
SM: The winners of the first round become the Washington Redskins, who parlayed the extra first-round pick they got from Miami to drop down and still draft Chase Young into Denzel Mims, a player whose stock has been skyrocketing in the pre-draft process. Mims can be a legit star at receiver, and the Redskins get to pair him with Terry McLaurin and give Dwayne Haskins more than one quality receiving option, a far better decision than chasing his replacement at quarterback.
SP: Few safeties patrol the middle of the field quite like Delpit, who made game-changing plays throughout his LSU career. He has both center-field range and short-area zone potential while also showing the ability to cover tight ends in man coverage. Delpit adds great coverage versatility, but the big question will be his tackling — he's missed 36 tackles over the past two years, about twice as many as you'd expect from your average college safety. 
SM: I wasn't willing to pull the trigger on Herbert in the top 10, and to be honest, I don't even love doing it at No. 20. But if any team is going to take that risk, it should be one with multiple first-round selections to play with. Herbert would be able to sit behind Gardner Minshew for a year with no expectations of playing time, and if Minshew kicks on and becomes a star quarterback, Herbert would be trade collateral down the line. His physical tools are special, but there is a lot to work on before he becomes a viable NFL starter.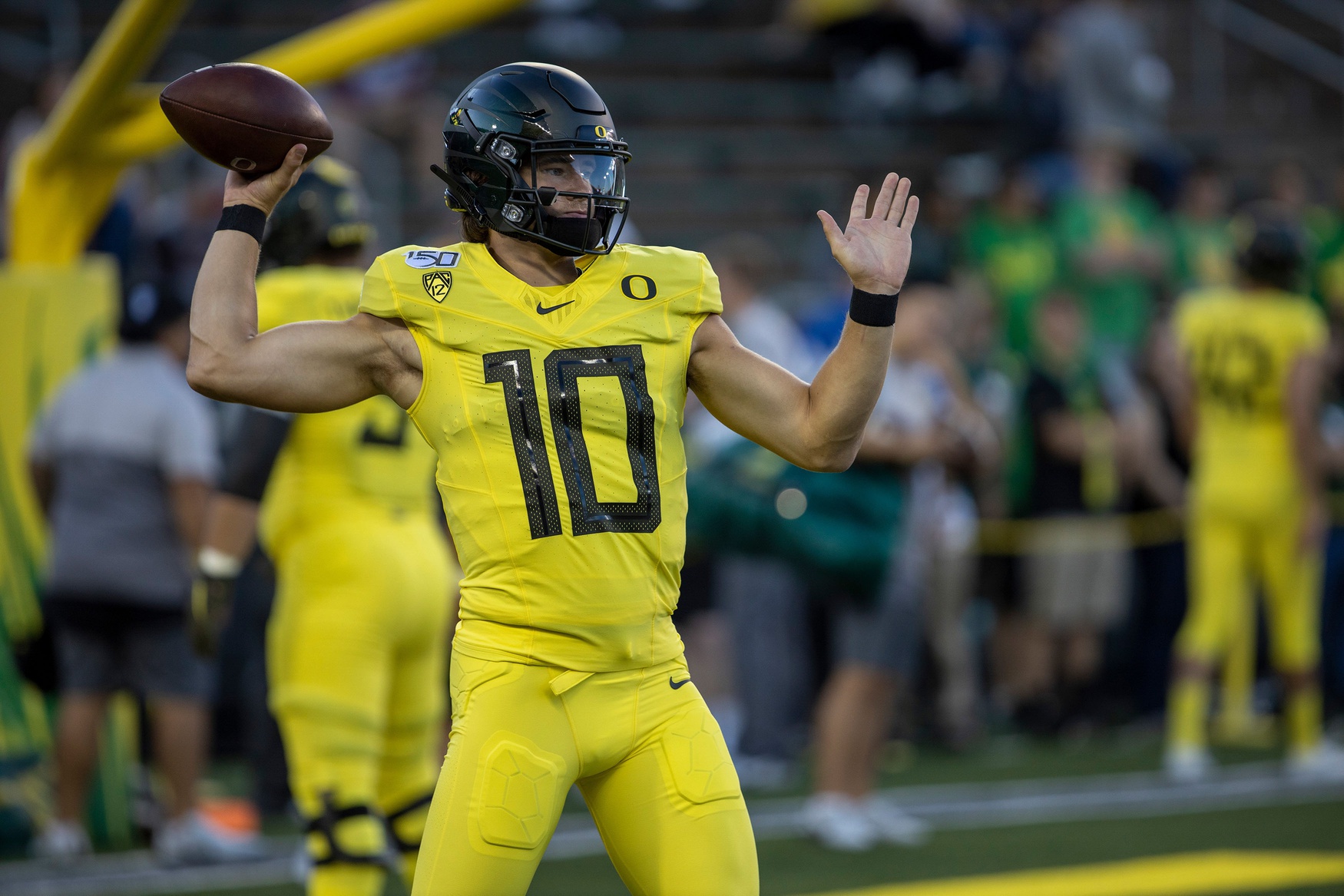 SP: The Eagles don't have to force a receiver in the first round, but Reagor adds a vertical threat to the offense to open up the downfield passing attack for quarterback Carson Wentz. Wide receiver DeSean Jackson is nearing the end of his career, and Reagor can step in with his incredible acceleration and big-play ability that saw him average 15.1 yards/catch despite poor quarterback play in college. 
SM: The Vikings have put themselves in a rough spot heading into the draft with several glaring needs they need to address with multiple first-round picks. They attack the first one with Jeff Gladney from TCU. Gladney is a great fit in Minnesota's secondary, coming from one that employs a lot of the same coverages in college. His tape against another top-pick in Denzel Mims is one of the best battles in college football. And for his entire career, he allowed a completion rate lower than 50%.
SP: While the Patriots would love to add a quarterback, we see quarterback Jordan Love as more of a Day 2 pick. He could be worth a look in the first round, but in this iteration, we go with more of a Patriots-type pick in Brown, who is going lower than many expect. We value Brown's skillset less than others, as he's a powerful run defender with good, not great, interior pass-rushing ability. Brown finished with the No. 4 pass-rush grade in the class last year (90.4), and he's a classic Patriots pick who can play up and down the defensive front while winning with power and technique. 
SM: The Saints have arguably the best roster top to bottom in the entire league, and with Drew Brees back for another go around, they can think more to the future than other teams and can afford to draft players who will have their fullest impact in a year or two. Xavier McKinney will get snaps right away but is a long-term succession plan to Malcolm Jenkins in the secondary. One of the most versatile players in the draft, McKinney had an 88.4 overall PFF grade in 2019.
SP: While the Vikings could fill their other major need with a wide receiver, they'll trust the depth at the position and fill another void along the defensive line. Elliott immediately upgrades their pass rush with his 91.1 grade in that facet last year — the top mark in the class at his position. He can win all over the defensive interior using good burst, pad level, and intricate hand usage on his way to one of the best two-year samples of production among a strong group of interior defensive linemen. 
SM: Having snagged their quarterback at the top of the draft, the Dolphins now need to desperately address his supporting cast. They hit offensive line a little in free agency, but this was a historically bad unit a season ago that needs more help than that. Jonah Jackson is a player who should have a significantly higher stock than he has right now and would immediately upgrade this team's pass protection up front, giving their quarterback a little more breathing room to work with. He allowed just one sack on over 1,000 college pass protecting snaps.
27. Seattle Seahawks — RB Jonathan Taylor, Wisconsin
SP: Here's one of the picks in which we projected a team decision. The Seahawks love building their running back depth, and Taylor is the best early-down runner in the class, capable of working behind both gap and zone schemes. Taylor was a workhorse at Wisconsin and a coveted player in Seattle's run-heavy attack. We would not take a running back in the first round, but Seattle may go this route if the right option falls to them at No. 27. Taylor ranked third in the nation both in missed tackles forced (87) and yards after contact (1,257) last season.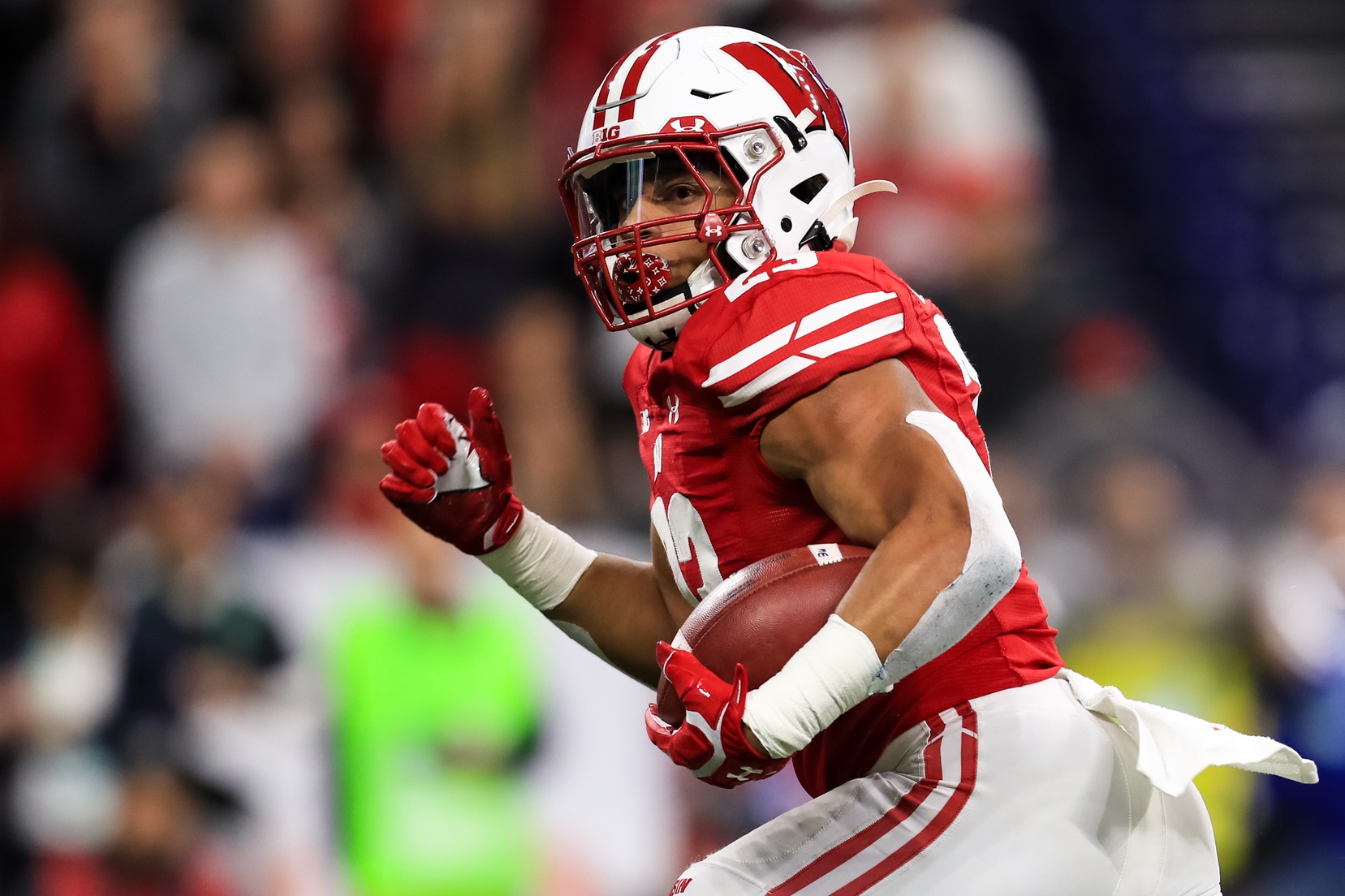 28. Baltimore Ravens — WR Laviska Shenault, Colorado
SM: Finding a role within an NFL offense for Laviska Shenault is a challenge in my opinion, and that's without getting into his medical issues. But if there's a team with the will and creativity to do it, it's the Baltimore Ravens. Even with Shenault's truncated playing time due to injury, his 44 broken tackles still led all draft-eligible receivers, and he is so special with the ball in his hands that our lead draft analyst Mike Renner's comp for him is Saquon Barkley. This is a pick the rest of the NFL would collectively groan at seeing if it's made.
SP: The Titans must make life as easy as possible for quarterback Ryan Tannehill, and adding Higgins has both short and long-term implications. Wide receiver Corey Davis is nearing the end of his rookie deal, and this allows the Titans to pair Higgins with emerging star wideout A.J. Brown for years to come. While Davis is still on the roster, the Titans are rolling four deep with Higgins, Brown, Davis, and Adam Humphries — a recipe for passing success that is needed if the Titans are going to extract another high-end season out of Tannehill. Higgins has the best catch radius in the draft class and had the seventh-best receiving grade when targeted against single coverage last season.
SM: The Packers could easily take a linebacker here, but linebackers make less of an impact than they used to, and so they're looking to the defensive line, instead. A.J. Epenesa probably consigned himself to life inside at the NFL level with a pedestrian Combine performance, but that shouldn't worry anybody because he has the skills to be very effective there. He has the skillset that compares well to players like Trey Flowers, who was also very underrated coming out of college, and he could slot in next to Kenny Clark and be a real difference-maker for the Packers up front.
SP: The 49ers add cornerback depth with Diggs, who fits their system that covets long corners on the outside. He had some ups and downs at Alabama, but he finished with the second-best coverage grade among cornerbacks when targeted in single coverage last season — an important grade when looking to project corners to the NFL. Diggs doesn't have to play right away, but he provides immediate competition for incumbents Emmanuel Moseley and Ahkello Witherspoon. 
32. Kansas City Chiefs — EDGE Curtis Weaver, Boise State
SM: The Chiefs have big money tied up in Frank Clark, but there's little outside of him when it comes to pass rush, particularly if they trade away Chris Jones. Weaver has back-to-back seasons with an overall PFF grade above 90.0 and ranked inside the top 10 at the position. He's got awesome physical skills to generate pressure around the edge, which he did on around 20% of his pass rushes over the past two seasons despite playing through a high ankle sprain for a period.