These are the 10 prospects, who, for one reason or another, have a serious red flag in either their grading or statistical profiles. By no means does this imply that we're writing these guys off, but many of these players will be lower on our board than most because of those concerns.
Edge K'Lavon Chaisson, LSU
Buyer beware of: Middling grades
Chaisson is such a head-scratching prospect. The reason being was that he was rarely completely blanked by even the best tackles he faced. He had four pressures against the Georgia offensive line, five against Texas and two against Alabama. But even with big second-half leads and an elite athletic profile, Chaisson never came close to dominating. He finished the year with a 78.9 pass-rushing grade and only 35 pressures on 370 pass-rushing snaps in 2019. Nothing about those numbers screams "first-round pick," and they don't get any better when we try to isolate for obvious pass-rushing situations. Chaisson rushed the passer on 65 third-and-longs last season when LSU brought at least four defenders. He collected only seven pressures on those pass-rushes for a 66.9 pass-rushing grade.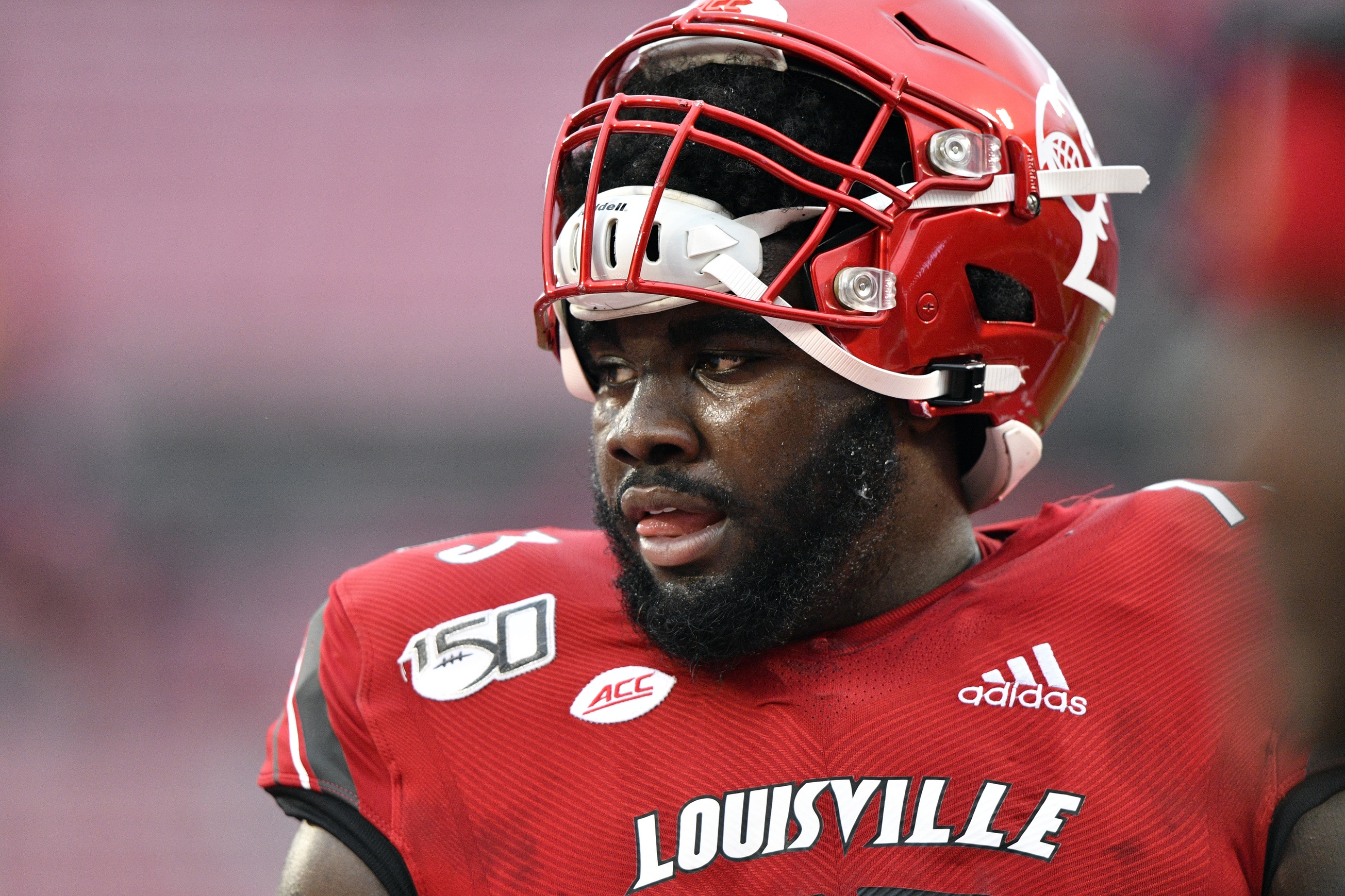 T Mekhi Becton, Louisville
Buyer beware of: Poor true pass sets
Playing tackle in the NFL is about one thing and one thing only: pass protection. Pass protection, more so than almost any other job in the NFL, is a learned skill. With any skill, practice and repetitions matter. Louisville changed to a much more run- and play-heavy offense this past season. As such, Becton took only 73 true pass sets (plays with no play action, no RPO, with deep drops and at least four pass-rushers) in all of 2019. That's the fewest of any tackle that made our top five tackle prospects. For comparison, the Falcons' Jake Matthews led all NFL tackles with 390 last year, and the 32nd most at the tackle position was 250. What I'm trying to say is, if Becton starts all season long next year, he'll get tested around four times more than he did at Louisville last season. 
It's not only that he doesn't have the practice, but also that he's been bad on them. Becton has allowed eight pressures on those 73 sets for a 64.7 pass-blocking grade. Only Washington's Trey Adams had a worse grade among the tackles that made our top-10. That doesn't scream first-round type prospect to us. 
QB Jordan Love, Utah State
Buyer beware of: Turnover-worthy plays
If you look at Love's stats and grades from this past season, turnover-worthy plays aren't the only red flag, but they fly the highest of the bunch. Love committed 26 turnover-worthy plays this past season — fourth most in college football. The closest corollary we can remember from a top pick was Sam Darnold, who heaved 30 turnover-worthy plays his junior season before going top five. Darnold offset that number with 35 big-time throws compared to Love's 31 and did it against a little stiffer competition. Even though Darnold was a top-five pick, he hasn't exactly been a success story in the NFL.
QB Jacob Eason, Washington
Buyer beware of: Play under pressure
While we've found performance from a clean pocket is more stable year on year, it's still very concerning when a college prospect completely crumbles under pressure. That's especially true for a prospect like Eason, who we have limited data on. You can see for yourself in the chart below depicting passing grade and EPA/play of our top-10 quarterback prospects when pressured.
| | | |
| --- | --- | --- |
| QB | Passing grade under pressure | EPA/Play |
| Joe Burrow | 80.5 | 0.137 |
| Josh Love | 68.6 | -0.071 |
| Jalen Hurts | 68.5 | 0.012 |
| Jake Fromm | 63.6 | -0.367 |
| Justin Herbert | 57.9 | -0.371 |
| Tua Tagovailoa | 50.7 | -0.284 |
| Jordan Love | 48.4 | -0.49 |
| Anthony Gordon | 46.6 | -0.419 |
| Jacob Eason | 37.6 | -0.626 |
| Cole McDonald | 37.4 | -0.450 |
Eason wasn't just bad under pressure, he completely fell apart unlike any other top prospect in the class. That's coming behind one of the best offensive lines in college football last year, as he'll only be under more pressure in the NFL. 
The overarching issue here is pocket presence. Navigating a pocket doesn't come naturally to Eason, and it not only showed in his performance under pressure, but in the pressures we charged to him. Eight of his 22 sacks were deemed to be Eason's fault this past season, a ridiculously high rate.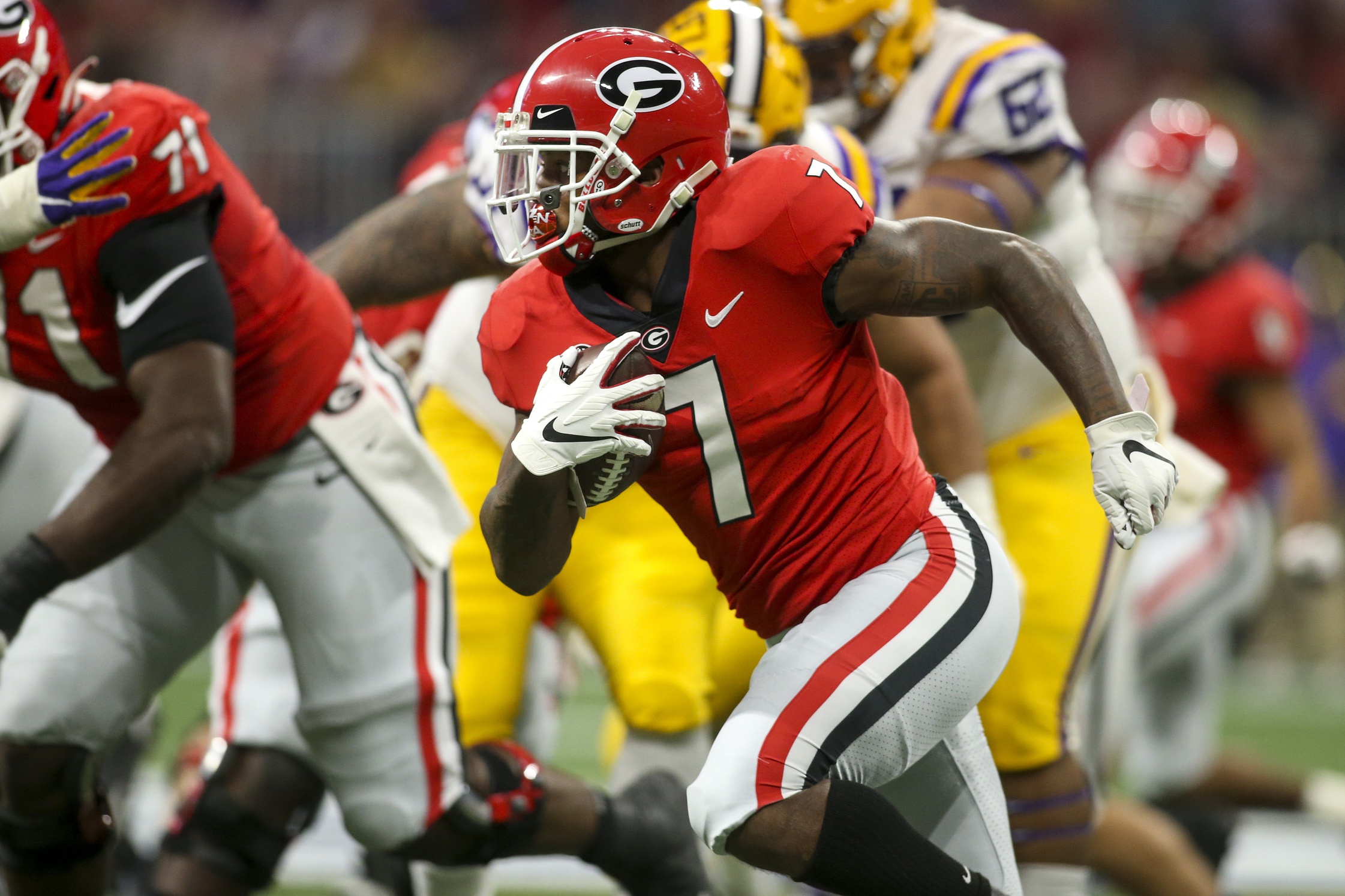 RB D'Andre Swift, Georgia
Buyer beware of: The lack of elite-level play
Swift notched his career-high rushing grade of 83.8 as a freshman on 81 carries. His highest for a full season was an 80.3 this past year. Below is the highest full-season rushing grade for every running back that's been drafted in the first round since we started grading players prior to the 2015 draft.
| | | |
| --- | --- | --- |
| 2019 | Josh Jacobs | 85.2 |
| 2018 | Saquon Barkley | 84.3 |
| 2018 | Rashaad Penny | 88.2 |
| 2018 | Sony Michel | 85.6 |
| 2017 | Leonard Fournette | 91.5 |
| 2017 | Christian McCaffrey | 85.5 |
| 2016 | Ezekiel Elliott | 92.1 |
| 2015 | Todd Gurley | 83.0 |
| 2015 | Melvin Gordon | 90.0 |
While PFF grade is obviously not the be-all and end-all for the position, it's still a significant concern. Swift's broken tackle and yards after contact rates don't necessarily scream first-round prospect, either.  Add in the fact that Georgia had the best team run-blocking grade in the Power-5, and you can see why we'd be lower on Swift that most. 
S Grant Delpit, LSU
Buyer beware of: Missed tackles
We're still higher on Delpit than anyone else on this list, but we'd be lying if we said the missed tackles didn't terrify us. Here's his whiff stats over the course of his career:
| | | | |
| --- | --- | --- | --- |
| Year | MTs | MT Rate | Tackling Grade |
| 2019 | 20 | 25.6% | 44.5 |
| 2018 | 16 | 19.8% | 59.8 |
| 2017 | 8 | 12.1% | 60.9 |
There's no sugar-coating it: those numbers are ugly. Them getting worse this season is a tad misleading, as he missed a ton of tackles after a mid-season ankle injury had him hobbling around the field. Still, the fact that they're not getting better is very concerning. It's something any team drafting Delpit will have to live with early on in his career.
Edge Yetur Gross-Matos, Penn State
Buyer beware of: Lack of dominance
Saying a prospect 'looks the part' isn't necessarily a pro or a con, but there's no denying Gross-Matos 'looks the part' at 6-foot-5, 259 pounds. For someone with a near-ideal build to rush the passer in the NFL, though, it's curious why he never did so at a high-level in college. On 1,442 snaps over three years at Penn State, Gross-Matos' single highest pass-rushing game grade was an 80.1 as a freshman against Georgia State. His next highest was a 78.7 against Idaho in Week 1 of this past season. It's not as if Gross-Matos was run-reading every snap the way A.J. Epenesa often did at Iowa. The Penn State scheme affords it's defensive linemen considerable freedom to attack the passer, and Gross-Matos still never took over. 
DI Raekwon Davis, Alabama
Buyer beware of: Davis offering nothing as a pass-rusher
'Nothing' is obviously hyperbole, but with Davis' physical gifts, it feels that way at times. The 6-foot-7, 312-pound defensive tackle earned a 62.7 pass-rushing grade in his first season of playing time as a sophomore in 2017. From there, he earned a 68.5 mark in 2018 and 71.1 grade this past year. He finished with 87 career pressures on 1,025 pass-rushing snaps. Those are objectively average numbers by college standards and bad numbers by NFL prospect standards. His length still plays in the run game, but that doesn't quite move the needle for us at PFF as much.
C Lloyd Cushenberry III, LSU
Buyer beware of: The massive step backward he took in 2019
Cushenberry came into 2019 as one of the highest-graded returning interior offensive linemen in the country. Early on, you could tell things were different. He gave up six pressures against Northwestern State in Week 3 after only allowing eight all last season. Joe Brady's new offense — with its emphasis on empty sets — put Cushenberry on an island more than ever before. He was one of the most tested centers in the country with 256 true pass sets (third most among centers in the FBS), and the results went south. His 34 pressures allowed in 2019 were the most of any center in the country. Cushenberry redeemed himself to a degree by winning 75% of his reps at the Senior Bowl one-on-ones — the highest rate of any interior lineman in attendance. But that was only 12 reps over the course of the week compared to the hundreds we saw on tape this past season.
TE Brycen Hopkins, Purdue
Buyer beware of: Drops
They're bad, and it's not like it flared up in one year or one game. Hopkins' hands have been consistently bad throughout his entire career, as you can see below.
Brycen Hopkins: Drop rate and rank since 2016
| | | | |
| --- | --- | --- | --- |
| Season | Drops | Drop rate | Drop rate rank |
| 2019 | 8 | 11.6% | 95/130 |
| 2018 | 4 | 10.5% | 78/110 |
| 2017 | 7 | 21.9% | 99/106 |
| 2016 | 3 | 23.1% | 89/91 |
Of the tight ends who were targeted at least 65 times this past season, none dropped over 10% of their catchable passes. There's really not much more to add here — it's now going to be up to personal preference. Do you want a guy who will get open consistently but will have a ton of drops, or a more reliable tight end who might not separate well?