One of the most exciting things about any NFL draft is not just the influx of new talent, but the prospect of unique, mold-breaking players.
As much as everybody is trying to create player comparisons for each new draft class, the most exciting players aren't the next Michael Thomas or Julio Jones — they're the first Tyreek Hill or Darren Waller. Those are players with some real X-factor to their game, and they are the players who always intrigue me the most each season.
So, who in the 2021 NFL Draft sticks out in that "X-factor" group?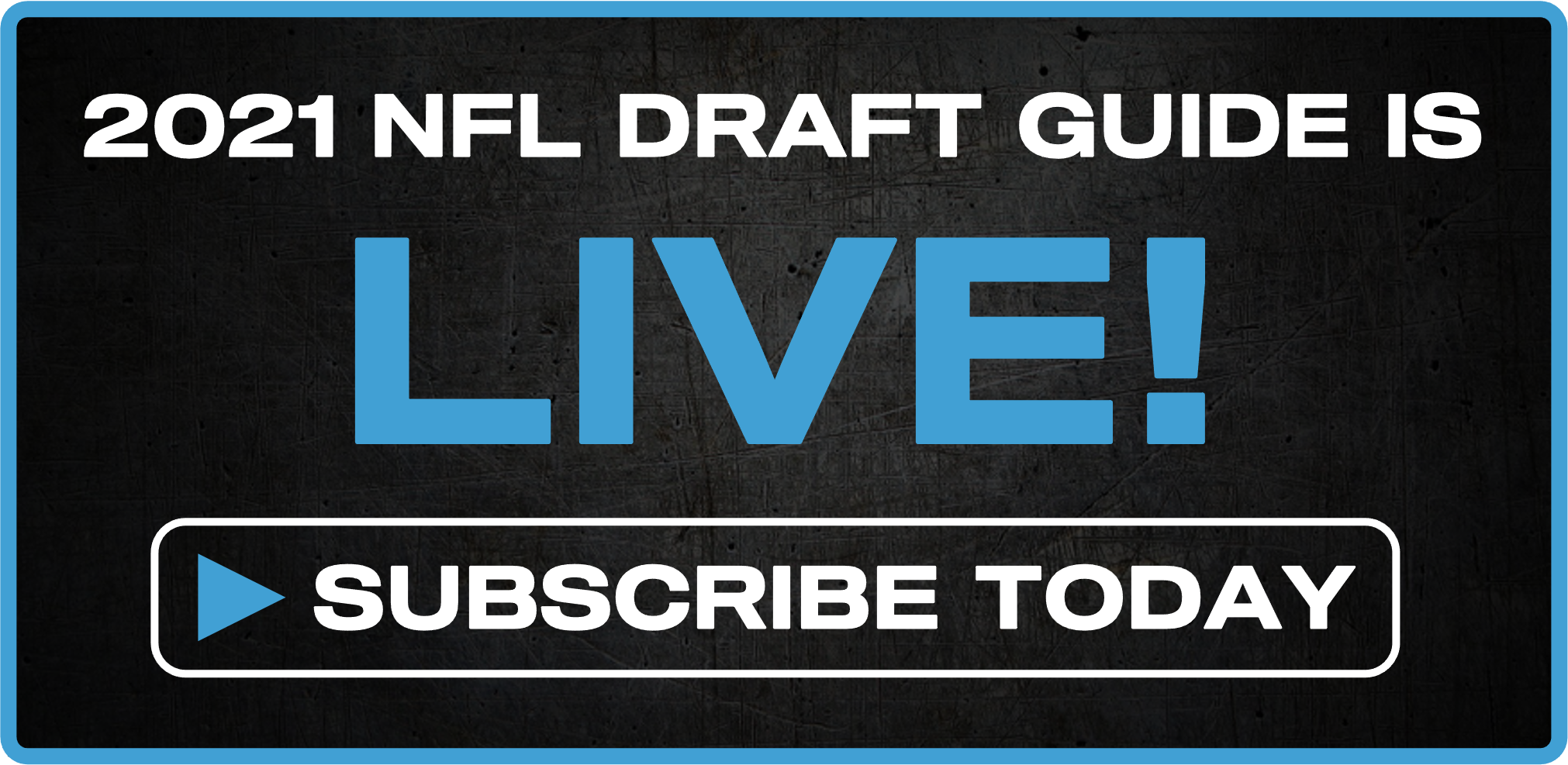 Kyle Pitts is the best tight end prospect to come along in years, but what gives him the X-factor is his potential to be so much more. At 6-foot-5 and 245 pounds, Pitts enters the league with a record-breaking wingspan for a receiver, 4.4-second speed and extensive experience in lining up in the slot and out wide.
In fact, when he lined up in the latter spot and faced a cornerback, he earned a 92.0 PFF grade looked like a dominant playmaker. Pitts may be the first player to enter the draft with enough talent to be a top-tier receiver at any receiving position and the body type and athleticism to be a matchup problem for any player. As his own college coach said, "[Pitts] is a unicorn, and the only way you can defend a unicorn is with another unicorn."
Defensive unicorns are something most teams simply don't have, so Pitts gives a creative offense a genuinely unique opportunity to create mismatches in terms of personnel on every snap, regardless of where he lines up. 
It doesn't take long to see that Rondale Moore is a special athlete. His true freshman season at Purdue saw him become the first freshman in Big Ten history to win consensus All-America honors after catching 114 passes for 1,258 yards and a dozen touchdowns. Between COVID-19 and injury, he didn't come close to matching that total in the next two seasons combined, but his dynamic ability in that first year keeps him in the first-round pick conversation on many draft boards.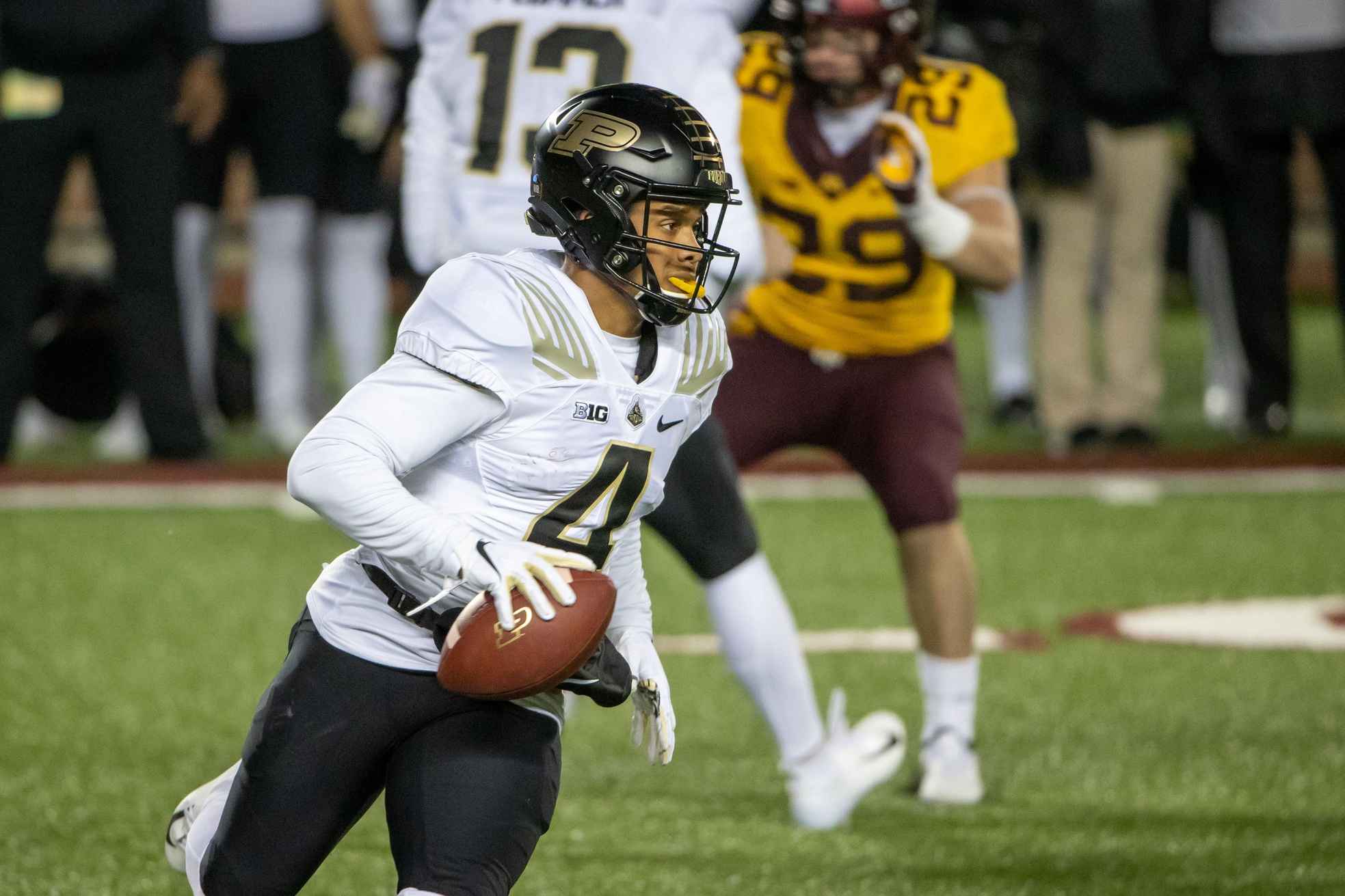 That is complicated further by Moore's official measurements. He checked in at just 5-foot-7 (having been listed at an already short 5-foot-9) and 180 pounds. Moore did post a 40-yard dash time under 4.3 seconds, however, showing the kind of athletic trade-off you get. His route tree was exceptionally rudimentary, and his role never really progressed beyond a contrived way of getting the ball into the hands of the team's best playmaker.
To be as dominant in the NFL as he was in college, Moore will likely need to develop more to his game. Just five of his targets in 2020 went 10 or more yards past the line of scrimmage, but you did see flashes of his ability to dominate there, as well.
You just don't see many players who move like Kadarius Toney. When I first watched his tape, I kept thinking, "What if Dante Hall — 'The Human Joystick' — had been 6-foot tall?" The former Chiefs superstar return man was never able to make quite the same impact as a receiver in that offense, but the league is better clued in with how to use players like that now, and Toney's extra size gives him the potential to be so much more than just a gimmick slot weapon.
His unique movement gives him a Stevie Johnson-like potential to cause even elite No. 1 cornerbacks issues off the line. Toney barely lined up out wide in his college career (110 total snaps), and was less effective when he did, but he was such a new player to playing receiver at all that his 2020 tape shows a really impressive growth curve if you follow it chronologically.
Toney is already one of the most unique athletes in the draft, but I like him to quietly become a much better NFL player than he ever was in college.
NFL teams have a far better idea of how to maximize the potential of athletic quarterbacks now than they used to, even for elite college playmakers. Gone are the days when a dynamic ball carrier like Michael Vick was just expected to run the West Coast offense with very little adjustment made for the fact that he was one of the most devastating athletes the game has ever known.
Trey Lance is the most dynamic ball-carrier in this draft class, averaging 7.3 yards per attempt in his college career, with 5.1 of that coming after contact. He broke 50 tackles on just 154 carries and racked up more than two times the rushing yards on designed carries than he did as a scrambler, a profile that matches Lamar Jackson's rushing numbers.
Lance is the type of athlete and ball-carrier who would deserve an offense being built around him exactly as the Ravens have done for Jackson, and while he may succeed and even thrive within a relatively normal NFL offense, he could be a superstar within one that is prepared to tailor it to his strengths.
The North Dakota State product may have the broadest range of outcomes of any top quarterback in this class, but his potential within an offense that wants to play to his strengths could be off the charts.
One year ago, I wrote about the dynamics at play when it comes to wide receiver/running back hybrids. They have the potential to be real matchup problems for defenses on every snap because they force the unit to make a decision from a personnel standpoint. The defense has to make that decision and declaration, which gives an offense the potential to counter and subsequently catch them sleeping.
UCLA's Demetric Felton was a former slot receiver who moved into the backfield, and while his PFF grades were only in the 50s when playing receiver, he has enough skill in that area to be a true threat compared to other running backs.
Felton is a talented back in his own right and could simply be a quality third-down running back at the next level, but that experience as a slot receiver full-time gives him X-factor potential to be a real matchup weapon for an offense looking to stress out defenses every time he lines up.
Lastly, we'll look at a potential X-factor player on the defensive side of the ball. Micah Parsons is seen as the best linebacker prospect in a number of years, but there are still some concerns about his ability and versatility in coverage, while his size and athleticism give him effectively the body of an edge rusher.
Parsons was used a lot as a blitzer in college, generating 36 total pressures on 135 pass-rush snaps, while his best PFF coverage grade in a season was just 68.5. Parsons has a profile reminiscent of Dont'a Hightower, another off-ball linebacker with an unconventional skill set that the Patriots have deployed on the blitz or even as a true edge rusher at times while minimizing how much he is exposed in coverage.
Hightower has been one of the most important players on that defense for years, and he was a major loss after opting out of the 2020 season. Parsons could be a player following in his footsteps in terms of an NFL role.
---
View PFF's 2021 NFL Draft position rankings: