Following the Carolina Panthers' blockbuster trade to acquire the No. 1 overall pick, the Arizona Cardinals' No. 3 selection suddenly becomes the most intriguing trade-up spot for quarterback-needy teams in the 2023 NFL Draft.
Here, we use PFF's Mock Draft Simulator to imagine what that could look like for the Cardinals.

---
Option 1: Indianapolis Colts move up to secure pick No. 3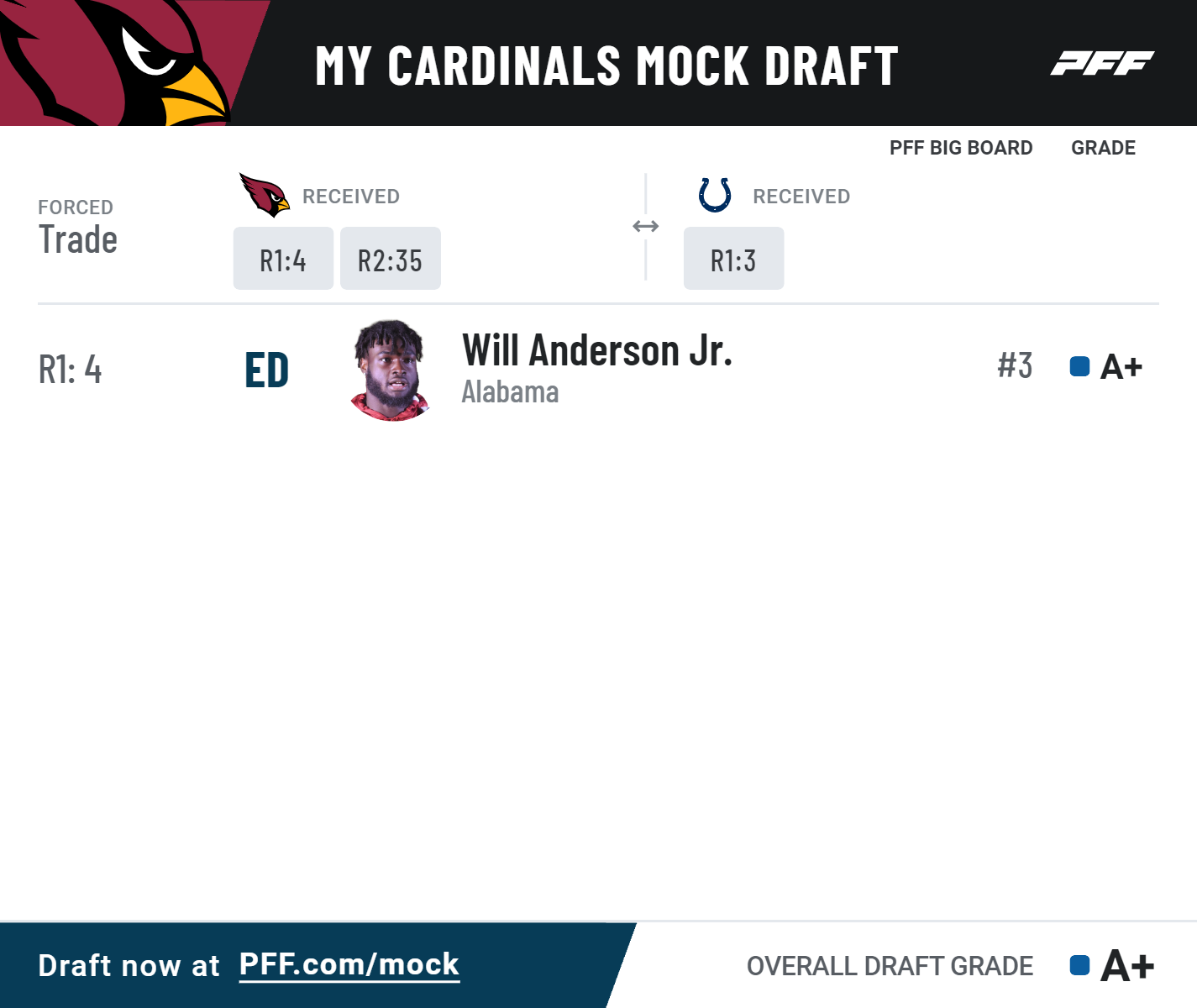 The Colts are arguably the biggest loser in the Bears-Panthers trade, sealing off any possibility for them to move ahead of the Houston Texans for a particular quarterback. The threat of the Cardinals moving down means that the Colts could be faced with a scenario where they are left with their fourth-ranked quarterback at the No. 4 spot in the draft, so perhaps they would consider dealing a second-round pick to ensure they get their pick, likely Florida's Anthony Richardson or Kentucky's Will Levis.
The Cardinals could then target the top non-quarterback on the board, presumably Alabama edge defender Will Anderson Jr., who racked up 65 total pressures on 382 pass-rushing snaps in 2022.
---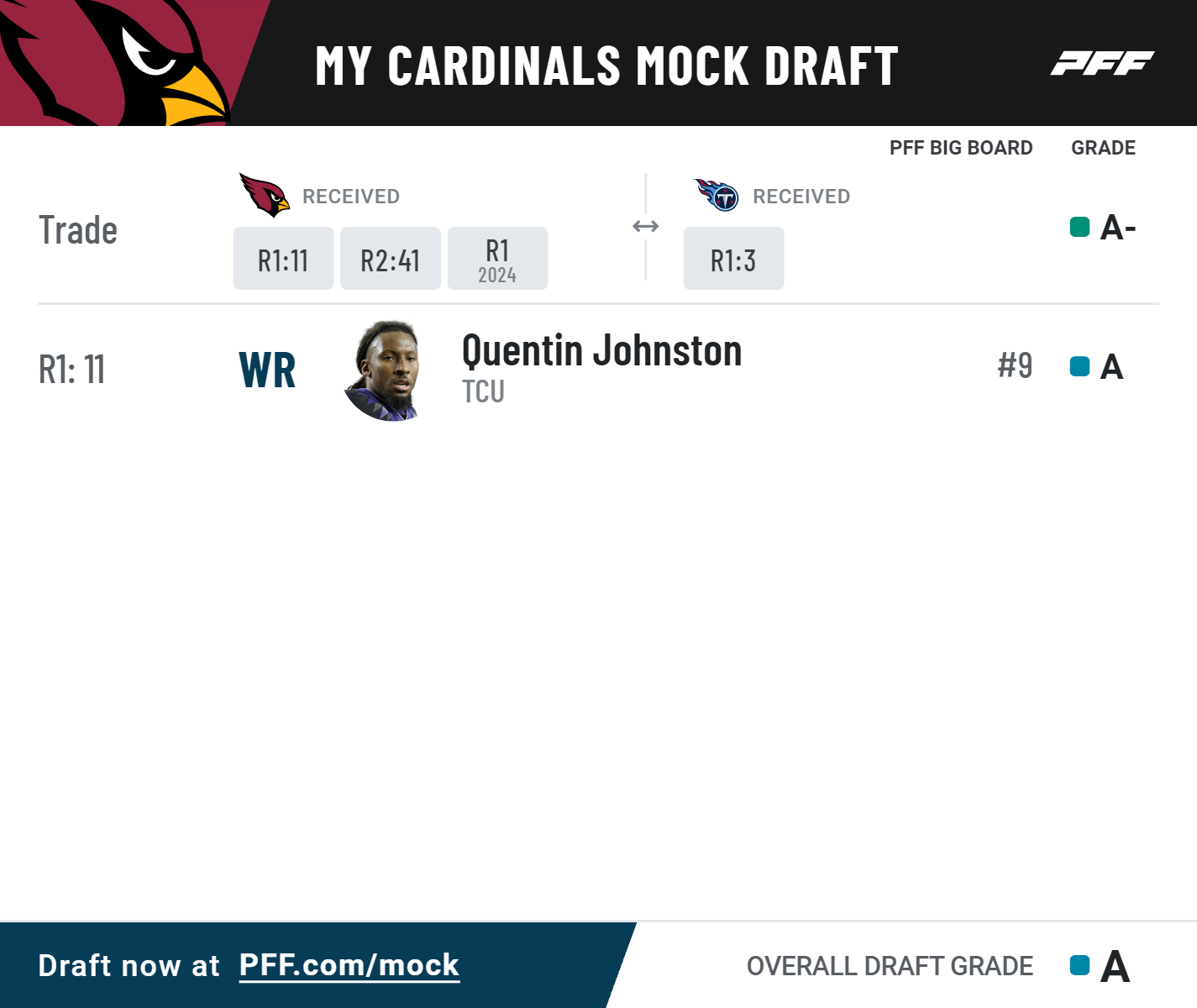 As was the case with the Bears dropping from No. 1 overall to No. 9, the further the Cardinals are willing to move back, the bigger the return haul. The premium attached to a draft pick meant to be used on a quarterback could help Arizona land a first-round pick next year from the Raiders or Falcons while dropping down only a handful of picks. Moving down to No. 11 with the Titans could see them land a second-round pick this year and a first next year.
And with the 11th pick, the Cardinals could target a wide receiver like TCU's Quentin Johnston — a perfect replacement for the potentially departing DeAndre Hopkins, who seems destined to leave via trade this offseason. Johnston forced 19 missed tackles on 60 receptions this past season.
---
Option 3: Why not both?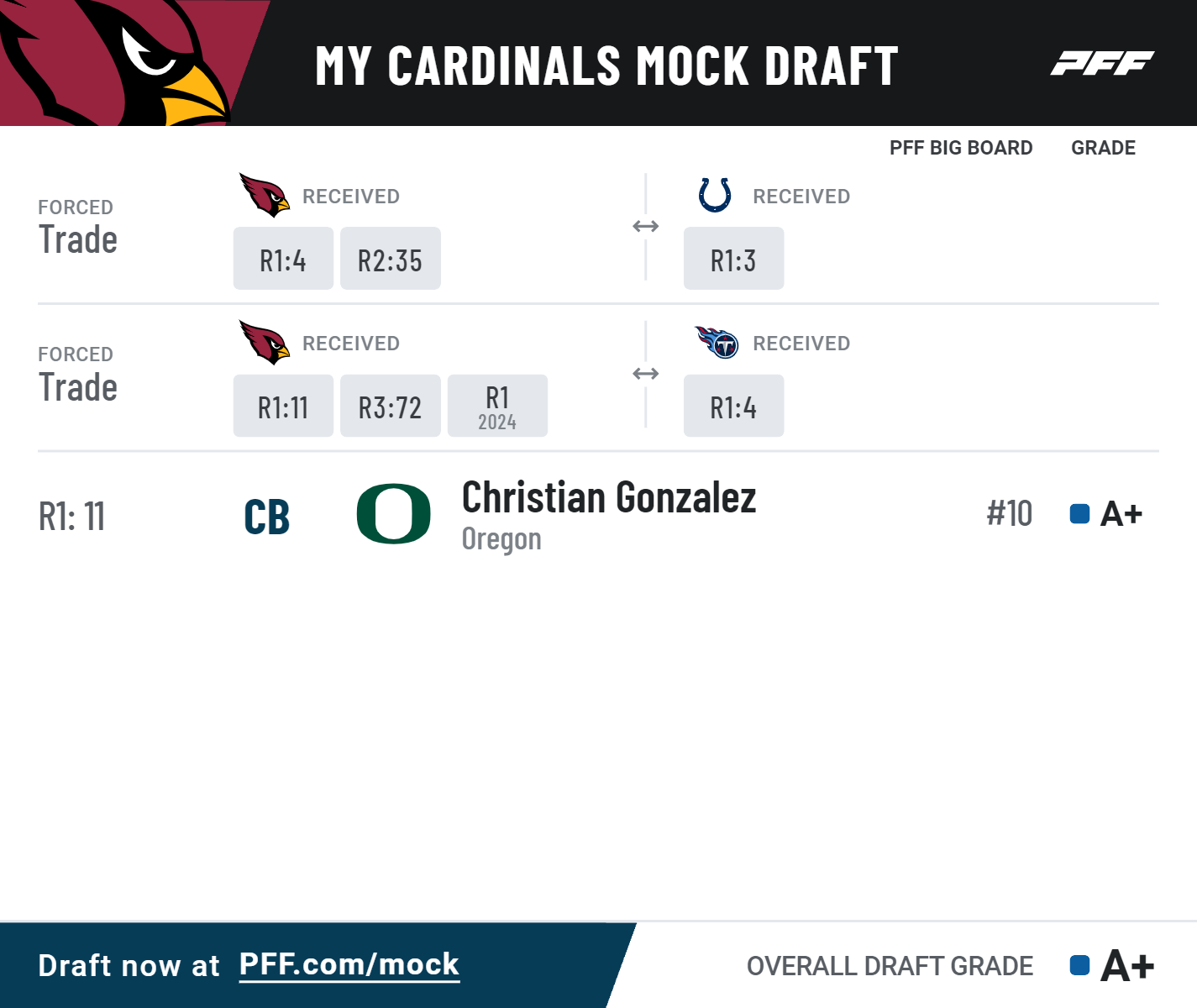 Moving down twice would net the Cardinals even more draft ammo. First, they could swap pick Nos. 3 and 4 with the Colts and get No. 35 in return, and then they could allow the Titans to move up for the last of the top four quarterbacks and gain a third-round pick this year and a first-round pick next year.
Arizona could then target the best player available at No. 11, be that Johnston or Oregon cornerback Christian Gonzalez. Gonzalez finished the 2022 season with an 81.4 PFF coverage grade, recording four interceptions and six pass breakups.