Every so often a tweet comes along that's thought-provoking enough to inspire an idea for an article, which is exactly what happened when I came across this tweet from the NFL Network's Daniel Jeremiah:
Interesting opinion from a scouting buddy-
10 players from 2021 draft would be first overall in 2022 draft.

— Daniel Jeremiah (@MoveTheSticks) November 9, 2021
While I may disagree with the sentiments, it made me think: What would a combined 2021 and 2022 draft board look like? While PFF's 2022 draft board isn't set in stone at this point, we still have a good feel for who the blue-chip players are in the class. Nonetheless, one thing is clear, 2021 had the quarterbacks and offensive weapons, but 2022 has the defensive talent.
---
Click here for more PFF tools:
Rankings & Projections | WR/CB Matchup Chart | NFL & NCAA Betting Dashboards | NFL Player Props tool | NFL & NCAA Power Rankings
---
No surprise here. If we did a combined PFF draft board of every year we've been grading college football prospects (2015-2022), Lawrence would still be at the top.
Wilson had the highest passing grade we've ever seen at BYU but is now an inconsistent mess with the New York Jets— such is life going from a Group-of-Five schedule to facing AFC East defenses. Nevertheless, it's still far too early to make any definitive declarations about Wilson's career trajecory.
We were much higher on Fields than many in the NFL, apparently. Even though he's had a rocky transition from his cushy situation at Ohio State to his not-so-cushy one in Chicago, we were reminded of his immense talent last Monday night against the Pittsburgh Steelers.  
Sewell was so physically dominant at such a young age that it was only a matter of time before he transitioned to the NFL. He's hit his stride of late, allowing only five pressures on 129 pass-blocking snaps in his last three games. Oh, and Sewell only turned 21 years old a month ago.
While Pitts initiated some debate over positional value on the PFF draft board, his skill set isn't less valuable than a wide receiver despite being labeled a tight end. There's even an argument that he could be more valuable because he isn't always treated like one. Either way, he had the highest-graded tight end season we've ever seen at Florida in 2020 and is on pace for over 1,000 yards this season with the Atlanta Falcons.
Chase has been a bit inconsistent as a rookie, but I don't think Cincinnati Bengals fans are too upset. We called him the best receiver prospect since Amari Cooper, and it looks like that will hold up. He has the most deep receptions (nine) and deep yards (375) of any NFL receiver this year.
So while it wasn't 10 players, the 2021 class did still have the blue-chip stronghold over 2022. Thibodeaux has improved his overall grade each season at Oregon and currently boasts an elite 91.2 pass-rush grade in 2021.
Before a knee injury that's kept him out the past two games, Hamilton firmly reinforced why he's a special prospect for the safety position. Through his three seasons at Notre Dame, quarterbacks have a 25.9 passer rating when targeting Hamilton in coverage. 
While two cornerbacks went top 10 a year ago, neither held a candle to Stingley when healthy. The "when healthy" part will obviously be huge for him, as he's played all of 154 snaps this season. On 129 career targets at LSU, Stingley has allowed only 53 catches for 834 yards while recording six interceptions and 20 pass-breakups.
We had Chase as the clear WR1 last year while Smith and Jaylen Waddle were in a pick-your-poison tie for WR2. Smith's do-it-all route-running ability has been on full display in the NFL despite a middling Philadelphia Eagles passing attack.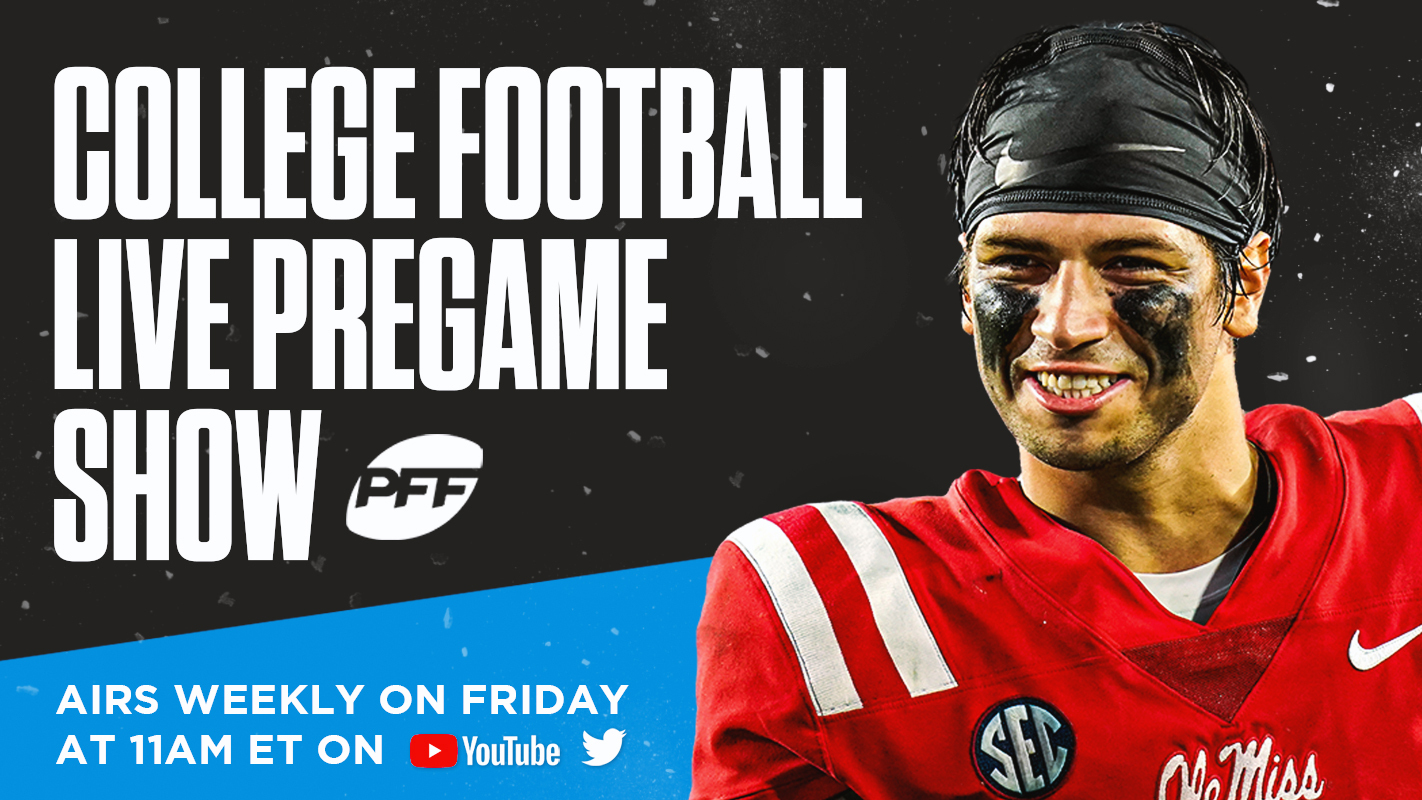 The Miami Dolphins simply haven't given their quarterbacks enough time to take advantage of Waddle's speed as a deep threat. Even still, his 31 combined touchdown and first-down receptions are the most among rookies.
We called him the best linebacker prospect we've scouted, and he has not disappointed. Parsons has to be considered the front-runner for the NFL's Defensive Player of the Year at this point. His lack of playmaking ability in coverage has been mitigated by the fact that he's arguably the best blitzing off-ball linebacker in the NFL already, recording a 90.5 pass-rushing grade and 27 pressures with the Dallas Cowboys this season.
Hutchinson is truthfully still working his way up this list. He was No. 2 on Bruce Feldman's Freak's List during the preseason and is now PFF's highest-graded college edge defender (93.6) — that combination usually translates well to the NFL.
Lance was always going to have a bumpy transition to the NFL given his competition level and lack of experience. Nevertheless, he's still only 21 and has plenty of time to figure things out.
In retrospect, Slater wasn't rated high enough coming out of Northwestern. After opting out of 2020, Slater has shown no signs of rust for the Los Angeles Chargers this season, recording an 81.9 overall grade, which is the fifth-highest among NFL tackles.
Related content for you: 2022 NFL Mock Draft: Kayvon Thibodeaux goes No. 1 to Detroit Lions, Ole Miss QB Matt Corral lands in Washington at No. 5 via Michael Renner
Neal is a special physical specimen, as he plays with incredible power for a true junior. He's not the most technically sound prospect, but some of that can be attributed to playing three different positions in three years.
Ekwonu is neck-and-neck with Neal for OT1 in the 2022 draft class. While Neal was No. 1 on Bruce Feldman's Freak's List, Ekwonu's tape is somehow more physically dominant. He doesn't possess Neal's quickness, but he plays with more brute strength than any lineman in the country as only a true junior.
Barmore endured one of the more head-scratching falls during the 2021 NFL Draft, which benefitted the Patriots, who selected Barmore 38th overall. He was a little inconsistent early in the season, but his playmaking ability is obvious, as his 23 pressures rank 13th among all NFL defensive tackles. 
As the CB1 in 2021, Surtain was a safe bet to transition smoothly to the NFL, which is exactly what has happened. He's only allowed 27 completions on 51 targets for 310 yards thus far this season with the Denver Broncos.
No rookie quarterback has been more consistent this season than Jones, whose 83.0 overall grade and 75.4 adjusted completion percentage are easily the best figures among the rookie quarterback class. A lot of people are probably kicking themselves for ranking Jones too low.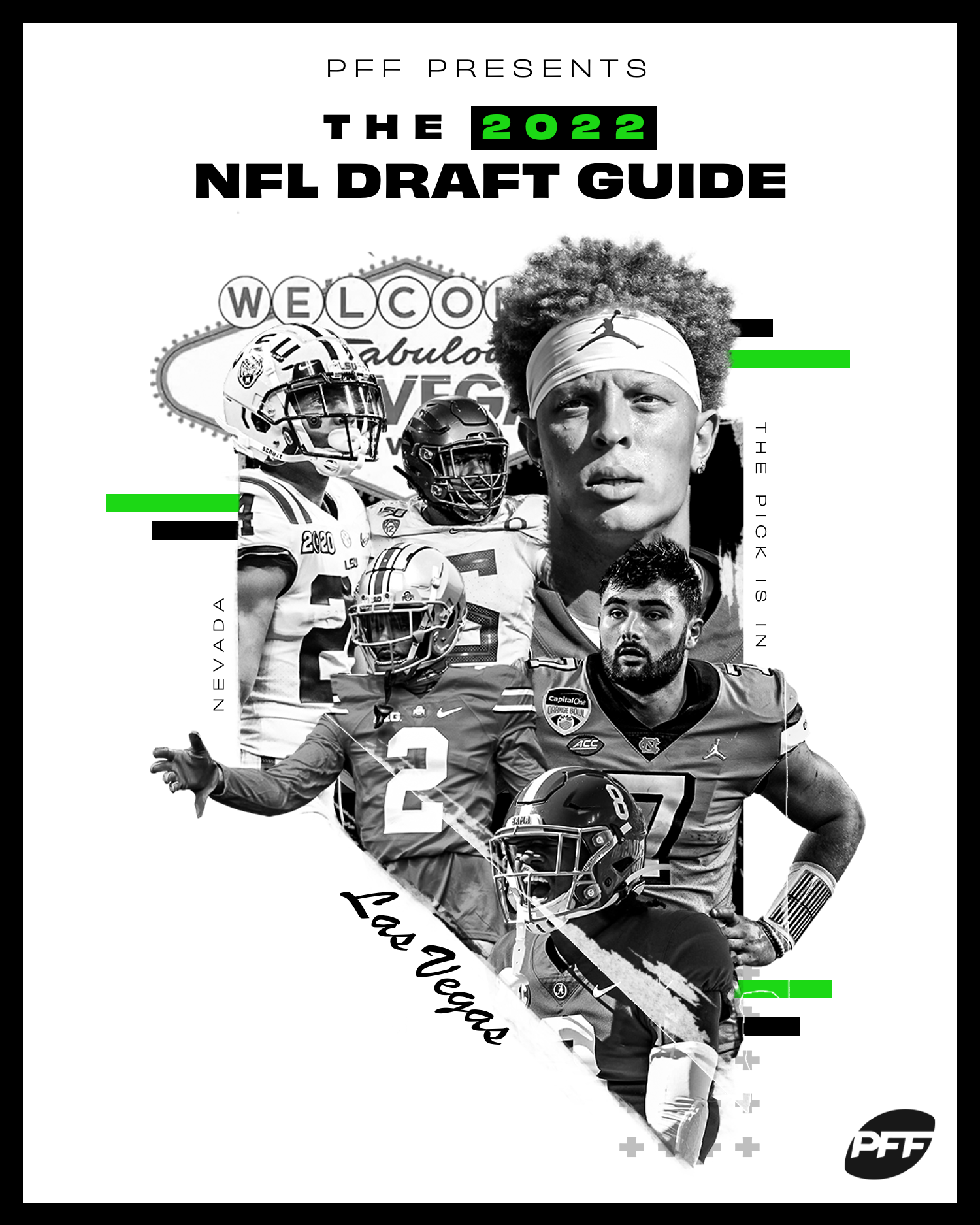 The redshirt sophomore has taken the proverbial leap in his second year as a starter. After giving up 44 pressures and earning a 64.4 overall grade last year, he's allowed only 14 pressures on 553 pass-blocking snaps for an 85.6 overall grade this year.
If positional value wasn't a thing, Linderbaum would be in this list's top-five players, as he's the best center prospect PFF has ever graded (2014-present). Linderbaum will enter the 2022 NFL Draft as college football's highest-graded center in 2020 and 2021. 
We were exceedingly high on Darrisaw's talents compared to many other draft analysts. At Virginia Tech in 2020, he posted the highest overall grade of any Power Five tackle. Since returning from an injury in Week 5, Darrisaw hasn't looked like a rookie at all in 2021. On 143 pass-blocking snaps, he's only allowed four pressures for the Minnesota Vikings.
Karlaftis is one of the most versatile and consistent defensive linemen in the past two draft classes, and he never comes off the field. He's averaged over 50 snaps per game for the Boilermakers this season and still earned a 90.8 pass-rushing grade.
Wilson is the lone receiver represented from the 2022 class. While it's not on the same level as the past two receiver classes, it's far from a down receiver class. Expect Wilson — as well as his teammate Chris Olave, USC's Drake London, Arkansas' Treylon Burks, Alabama's Jameson Williams and Penn State's Jahan Dotson  — to be in the first-round mix.