Estimated reading time: 6 minutes
---
On the heels of the first wave of NFL free agency, PFF's Sam Monson and Steve Palazzolo host a live 2023 NFL mock draft using PFF's mock draft simulator.

---
An offensive coordinator will have to do some things to scheme around Young's height, but it's a small price to pay for everything else he brings to the table.
---
High-end play wins Super Bowls, and no one has a higher end in this class than Richardson. Now, what are the chances he reaches that or even comes close?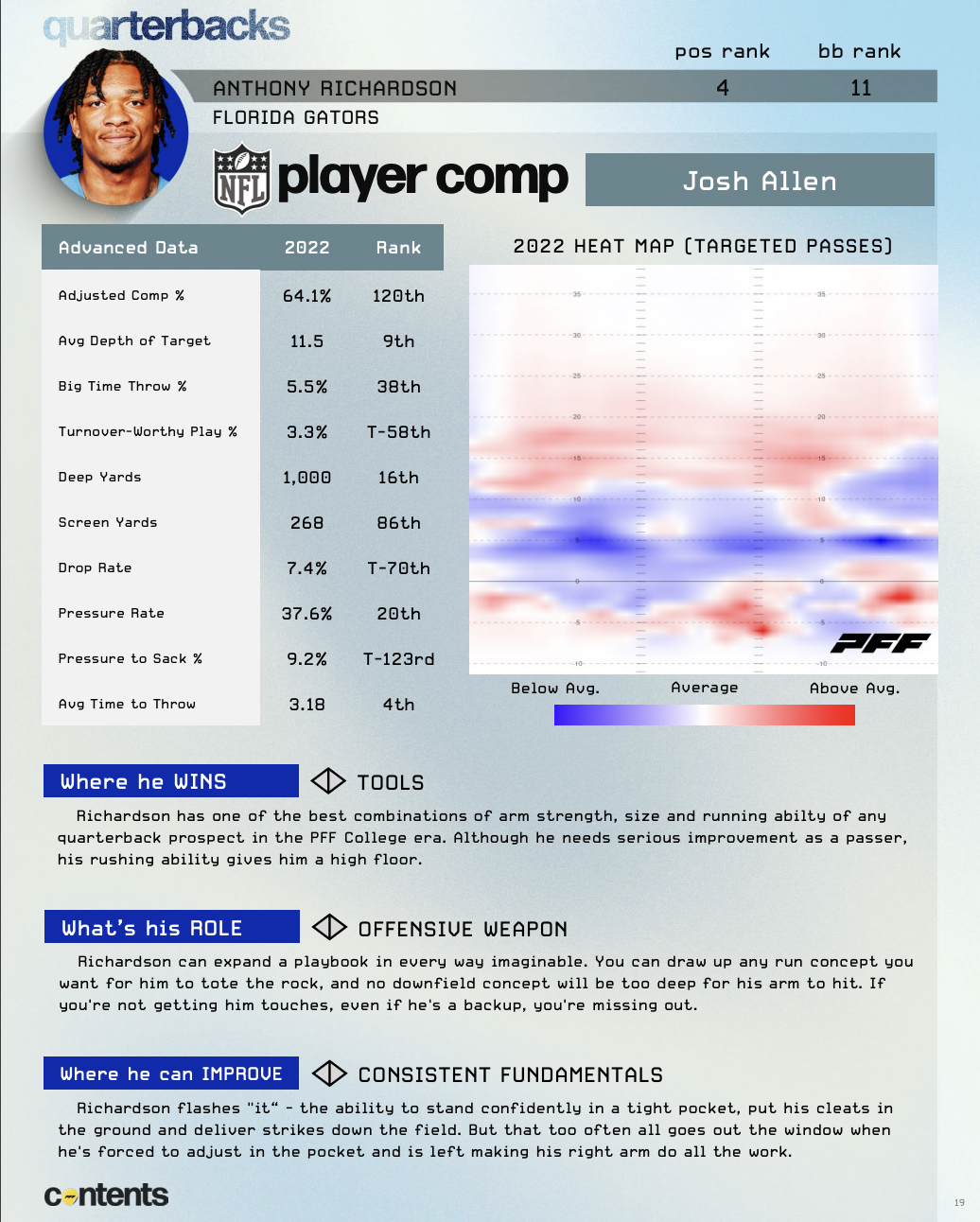 ---
(Trade: Arizona sends No. 3, Las Vegas sends Nos. 7 and 100) 
As a passer, Stroud is nothing like the other two first-round quarterbacks who came out of Ohio State before him. And that bodes well for his NFL prospects.
---
Levis' tape has so much to like from a tools and NFL-readiness standpoint, but his accuracy – or lack thereof – is borderline untenable at this point.
---
Elite production and elite tools. That's an easy combination to draft highly.
---
Carter is as good a DT prospect as we've seen since we started grading college in 2014. A complete prospect.
---
(Trade: Arizona sends No. 3, Las Vegas sends Nos. 7 and 100) 
Gonzalez is the total package physically. He's got all-pro tools but just needs a little refinement to get there.
---
Witherspoon may not have an elite physical skill set for the position, but his senior year tape was as good as we've seen in our nine years of college grading.
---
Skoronski has the highest floor of any offensive lineman in the draft class. It may just come at guard, though.
---
He may have to start off as a designated pass-rusher, but he can truly excel in that role. There's little doubt he's going to impact QBs at the next level.
---
If you don't have a well-defined slot role in your offense, JSN isn't worth a first-rounder. If you do, he should be your WR1.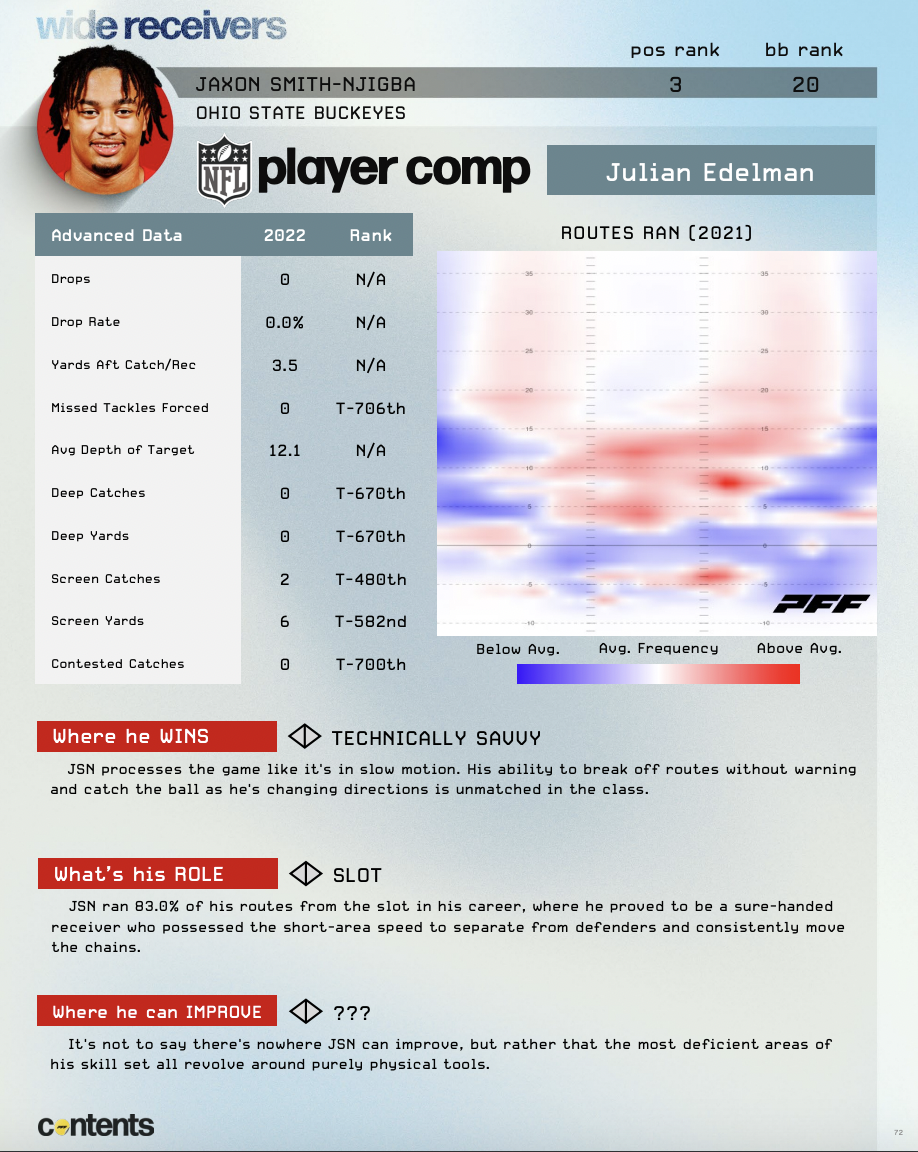 ---
It's all there. Every uncoachable physical tool – Johnston has.
---
You can expect some growing pains early on due to Johnson's limited experience, but that's the nature of the tackle position. If he's dedicated to his craft, he'll be a stud.

---
Porter is a high football IQ cornerback with the kind of size and physicality everyone is looking for. If he was a slightly better athlete, he'd be a top-10 pick.
---
You'd like him to be a little bigger to make defenses respect him as a blocker, but he's the best receiving tight end in the class.
---
Branch is a very high-floor defender with a skill set that can fit into every defense in the NFL.
---
(Trade: Pittsburgh sends No. 17, Buffalo sends Nos. 27 and 91)
No edge prospect manhandled offensive tackles more than Wilson last year. That's a defensive lineman who can play for any scheme.

---
Banks has all the physical traits of an All-Pro cornerback. He just needs to be more consistent with his technique.
---
Harrison could have really upped his draft stock with another year in a college weight room. He may have to be "redshirted" out the gate, but I'd bet money on him being a plus pass protector in time.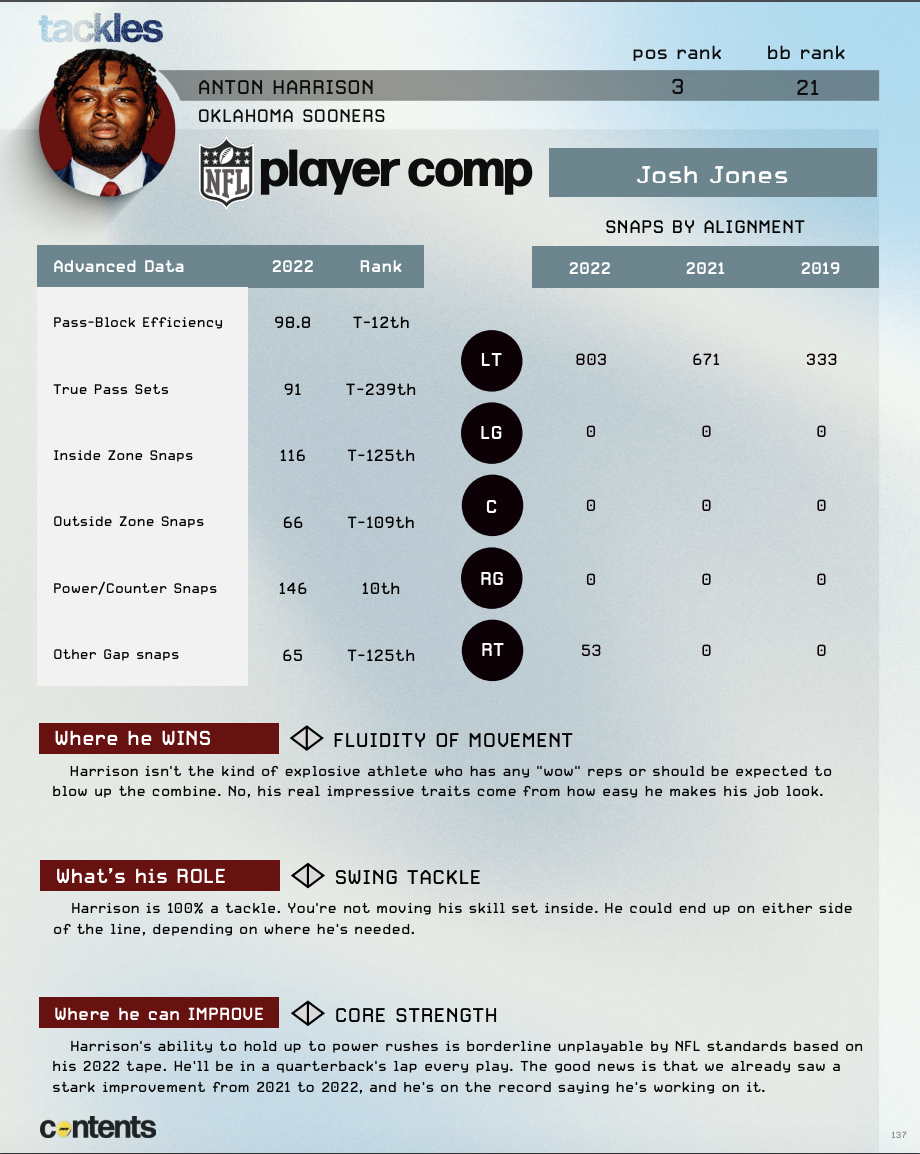 ---
Addison has one of the higher floors among receivers in the draft class due to his blend of route-running chops and all-around athleticism.
---
Robinson is about as well-rounded a back as you'll see in the draft. He's one of the highest-floor players in the class.
---
Van Ness has one of the weirder prospect profiles in the draft class, but it's one I'm willing to bet on.
---
(Trade: Minnesota sends No. 23, New Orleans sends Nos. NOS. 29 and 115)
The guy we saw as a freshman was a lock top-10 pick. Where'd he go?
---
Another year of seasoning could have made Jones a top-five pick. He still may end up close to that range with his dominant physical skill set.
---
Smith is unique in so many ways with a lot of projectable NFL traits. He'll likely be a more productive pass-rusher in the NFL than he was at Georgia.
---
Mayer is one of the highest-floor players in the draft. You know you're getting a complete, productive tight end at the next level. However, can he separate enough to be a true difference-maker?
---
(Trade: Pittsburgh sends No. 17, Buffalo sends Nos. 27 and 91)
Forbes has some boom-or-bust aspects to his game but has the kind of athletic traits that can make up for misreads.
---
He has to be put in a certain role, but in that he could dominate. If you have a mobile quarterback, this is the guy you want at right tackle.
---
Bresee is a bit more of a project than you'd like at the top of the draft, but he wasn't put in much of a position to succeed in Clemson's scheme. His physical skill set is special.
---
Torrence is a plug-and-play guard who's best suited for gap schemes, but I wouldn't pigeonhole him by any means.
---
Anudike-Uzomah has really easy tape to project to the next level. He's one of the higher-floor pass rushers in the class.