What takes a defense from good to great — or great to elite — are the athletes that make their money out in space and in one-on-one matchups. With that, it's only fitting we wrap up this three-part series with a focus on the defensive backfield, featuring the six most talented/intriguing prospects in the 2022 NFL Draft, and slot them into a role in PFF's hypothetical depth chart.
---
Click here for more PFF tools:
Draft Guide & Big Board | Mock Draft Simulator
Dynasty Rankings & Projections | Free Agent Rankings | 2022 QB Annual
Player Grades
---
As the NFL continues its evolution/return to more odd fronts and two-high coverages, the archetypes for the roles each player is being evaluated for are ever-changing. For cornerbacks, the ability to stand tall in tight man coverage will always be king, but the growth of Quarters coverage means that the zone coverage profiles will shift to a focus on performance in split-safety shells.
In the slot, the nickel cornerback has to be comfortable with playing varying leverage in space: inside when it's time to add into the run fit, and outside when it's time to play Cover 1 or bracket receivers up the seam.
For our safeties, we're dropping guys into particular spaces. Our strong safety needs to roll down into the box as an extra run fitter at times and, more importantly, erase slots and tight ends in the passing game. The free safety will spend much more time in the middle of the field or on the hash, protecting the seams of the defense and eliminating big plays. Lastly, the "dime backer" or "big nickel" role is important for matching up with versatile personnel groups and offensive playmakers, helping to fit the run in the box and deal with backs and tight ends in coverage.
As a refresher, we'll lay out the rest of the lineup to this point. For more analysis on each of the particular players, take a look at why each linebacker and defensive lineman was chosen.
| | | | |
| --- | --- | --- | --- |
| Base 3-4 Interior DL | Defensive Tackle | Nose Tackle | Defensive Tackle |
| Player | Devonte Wyatt, UGA | Jordan Davis, UGA | Logan Hall, UH |
| PFF Defensive Grade | 89.2 | 80.1 | 85.8 |
| Key Stat #1 | 18 Run Stops | 19 Run Stops | 20 Run Stops |
| Key Stat #2 | 13% Pass-Rush Win Rate | 8% Pass-Rush Win Rate | 16% Pass-Rush Win Rate |
| | | |
| --- | --- | --- |
| Nickel 4-2-5 Edge Rushers | Rush Edge | Drop Edge |
| Player | Kayvon Thibodeaux, Oregon | Drake Jackson, USC |
| Defensive Grade | 86.5 | 82.1 |
| Key Stat #1 | 23% Pass-Rush Win Rate | 19% Pass-Rush Win Rate |
| Key Stat #2 | 19 Run Stops | 10 Run Stops |
| | | |
| --- | --- | --- |
| Base Linebackers | Inside Linebacker | Inside Linebacker |
| Player | Devin Lloyd, Utah | Channing Tindall, UGA |
| Defensive Grade | 90.1 | 84.9 |
| Key Stat #1 | 37 Run Stops | 17 Run Stops |
| Key Stat #2 | 72.8 Passer Rating Allowed | 23% Pass-Rush Win Rate |
| | | |
| --- | --- | --- |
| Nickel Backers | Inside Linebacker | Inside Linebacker |
| Player | Chad Muma, Wyoming | Nakobe Dean, UGA |
| Defensive Grade | 90.3 | 92.1 |
| Key Stat #1 | 50 Run Stops | 21 Run Stops |
| Key Stat #2 | 77.5 Passer Rating Allowed | 22% Pass-Rush Win Rate |
Cornerbacks
| | | | |
| --- | --- | --- | --- |
| | Outside CB | Outside CB | Slot/Nickel CB |
| Player | Derek Stingley, Jr. | Ahmad Gardner | Jalen Pitre |
| Defensive Grade | 72.0 | 87.1 | 86.9 |
| Key Stat #1 | 47 Yards Allowed | 26.1 Passer Rating Allowed | 59.5 Passer Rating Allowed |
| Key Stat #2 | 4 Open Targets Allowed | 3.3 Yards Allowed Per Target | 34 Run Stops |
Derek Stingley Jr. is a victim of his own success and some general overexposure that comes with being touted as a top draft prospect. Since LSU's 2019 win over Texas, everyone from anonymous social media accounts to ESPN's College Gameday cast has been acutely aware of all things Stingley. Injuries kept him out of a large portion of the 2020 season, and 2021 felt more up and down than it actually was, which plays a part in why his breakout freshman campaign feels like half a lifetime ago. Take his career on the whole, though, and it's hard to argue against him standing atop the cornerback hierarchy.
In his 27 career games against SEC opponents, Stingley gave up a catch on just 43% of targets into his coverage, all while hauling in as many interceptions as touchdowns allowed (5) and allowing just 13 of his 97 targets to go to an open receiver. Projecting him into the NFL, the star cornerback allowed only four receptions for 28 yards when playing in a split-safety zone coverage, and 20% of his 235 Cover 1 snaps ended in a pass breakup or a pick. In a deep cornerback class, Stingley's ability to track the football and make plays at the highest point still separates him from most of the pack.
Ahmad Gardner was built in a man coverage lab with the specific intent of erasing the best wide receiver on the field. Holding down a starting role since Day 1, Gardner didn't let Group of Five competition define his production: In his seven career games and 146 coverage snaps against Power Five opponents, Gardner allowed just 48 yards and had as many interceptions and pass breakups as first downs allowed (4).
Cincinnati played a great deal of man coverage, but Gardner can make a smooth transition to an NFL relying more on Quarters on early downs. In his 237 career snaps in two-high zone looks, he allowed just 95 yards. When he did play Cover 1, 31% of Gardner's coverage targets resulted in a deflection or interception, and only 17% of them were thrown to an open receiver. On tape, Gardner's length and athleticism give him a coveted combination of press technique and recovery speed, no matter what route or receiver he's up against.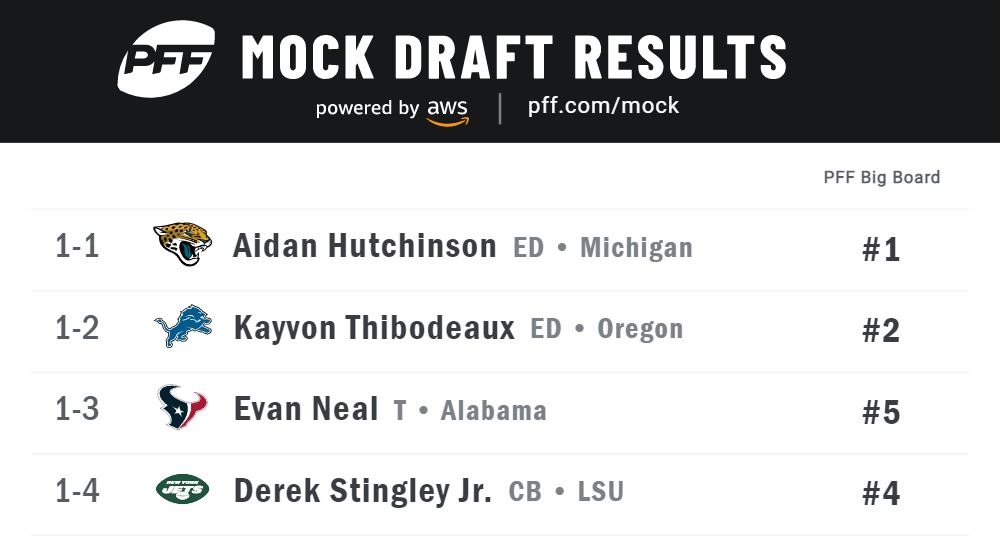 The slot defender today exists on a thin line between the third linebacker and third cornerback, and Jalen Pitre has played in both of those roles in his career at Baylor. He collected 59 career run stops (29 tackles for loss or no gain) and received a positive grade on 12% of his 678 run-defense snaps. For reference, linebacker prospects Channing Tindall, Chad Muma and Christian Harris each logged a positive grade on 14% of their career run snaps.
Playing for Dave Aranda/Ron Roberts and Phil Snow, Pitre spent much more time in split-safety coverages than single high, but he has a keen sense of route concepts and how to get into throwing windows, allowing a 56.0 passer rating in two-high zone coverages and getting his hands on 16% of his coverage targets.
Safeties
| | | | |
| --- | --- | --- | --- |
| | Strong Safety | Free Safety | "Big" Nickel/Dime |
| Player | Kyle Hamilton | Kerby Joseph | Lewis Cine |
| Defensive Grade | 79.4 | 90.2 | 83.3 |
| Key Stat #1 | 36% Open Target Rate | 47% PBU + INT Rate | 6.6 Yards Allowed Per Target |
| Key Stat #2 | 42.3 Passer Rating Allowed | 66.4 Passer Rating Allowed | 11 Run Stops |
Kyle Hamilton can do just about everything at a high level, and the best application of his versatile skill set comes when he can roll down to the second level and play closer to the football. Hamilton has 309 career run-defense snaps in the box or slot, and he logged a tackle on 10% of those plays. When offenses pass, Hamilton turns into a mismatch eliminator, with a 93.3 coverage grade when aligned at the second level.
A ridiculous 37% of those coverage targets were a pass breakup or an interception, and only 32% went to an open receiver — a number typically between 50%-60% given the underneath routes and checkdowns thrown to inside receivers. With a 36% completion rate allowed and an average of three yards allowed per target, Hamilton will step right into the league with an ability to erase slots or tight ends.
Kerby Joseph's 2021 film displays his pop, and he is a prime example of hidden gems in the college ranks who have to develop before stepping into the best version of themselves. His coverage grade jumped significantly in each season, from 44.6 in 2019 to 68.5 in 2020 to 90.4 in 2021. His wingspan resembles that of a shooting guard or small forward, and his range is that of an outfielder. He has logged the reps needed to apply his athletic gifts to his understanding of how to defend the pass, making him an ideal fit in this defense as a "high/deep" safety.
Across 299 career snaps aligned in the middle of the field or on the hash, 39% of his coverage targets resulted in a forced incompletion or a turnover, and only three turned into completions of 15-plus yards. Joseph has never allowed a touchdown in this position, and college quarterbacks generated a lowly 23.4 passer rating whentargeting him deep down the field. Joseph doesn't carry the same kind of cache as the other defensive backs at the top of the draft, so don't be surprised if he blows up in the regular season and people discuss him as one of the biggest sleepers in this class.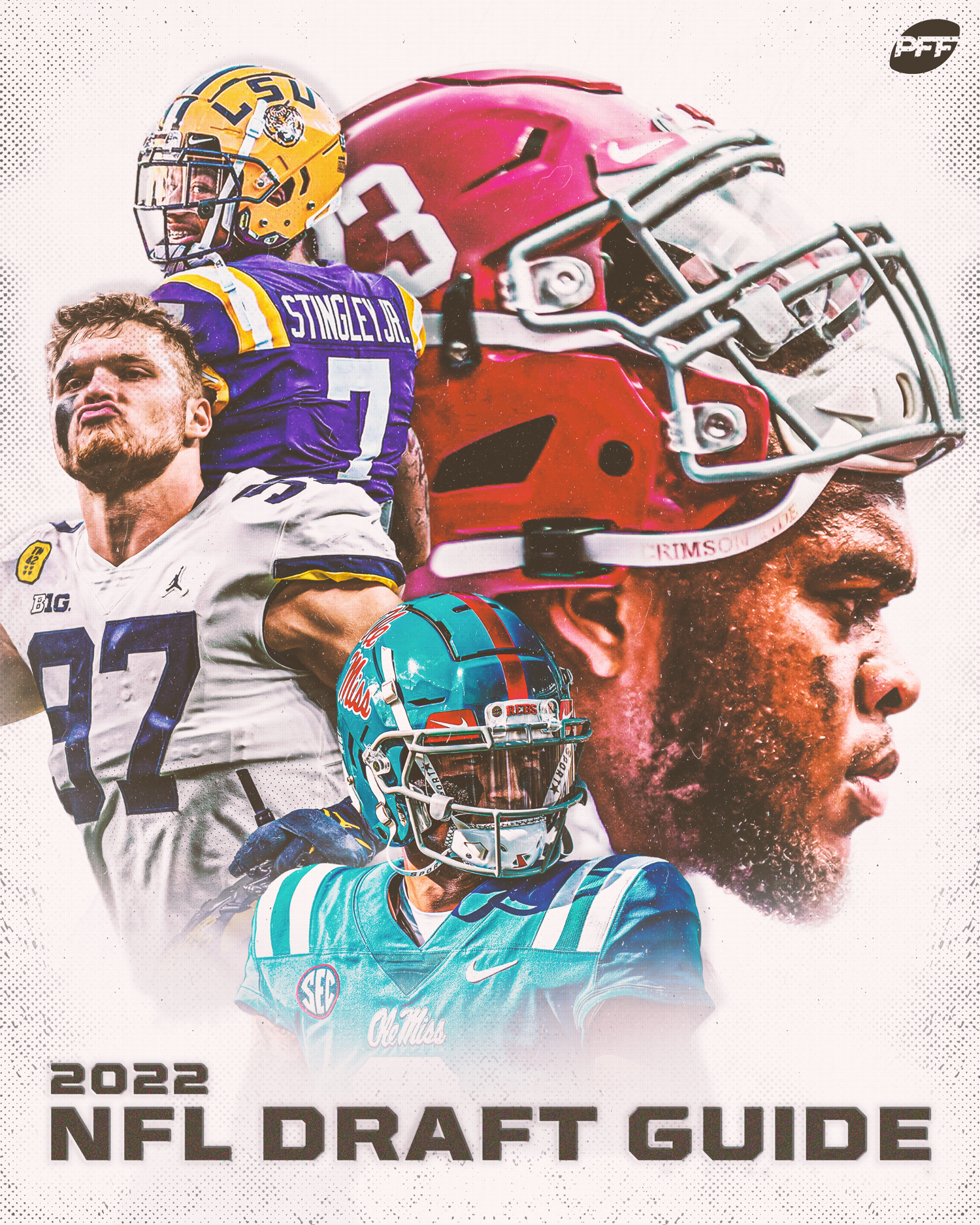 Lewis Cine is a personal favorite, in production and play style. There's a dearth of enforcer-type safeties in football, and while Cine may not look the part, his contact stops all forward progress from ball carriers. He can extend his ability as a tackler and coverage defender to the perimeter or deep down the field, but in this exercise, he's ideally cast as a "dime backer," spending the majority of his time in the box.
Across 124 career run-defense snaps in the box, he missed only one tackle and received a positive grade on 10% of those snaps. His tackling abilities extend beyond the run game, with no misses in coverage on his 194 snaps as a box defender. If Cine needed to push out into the slot, he can handle the job, recording a 79.2 passer rating allowed and no touchdowns. He flies around the field with reckless abandon and has enough of a refined skill set to be utilized in whatever role is necessary, from the box out to the sidelines.