We're in the dog days of June right now. And while we're many, many months from the 2021 NFL Draft, there are a number of teams that, after a month or so of the 2020 season, will be looking ahead to building their roster for the following season and beyond.
As evidenced by our recent NFL redraft, we are taking our recent research — that coverage is the most important aspect of defensive play — very seriously. The majority of the defensive players selected this past week played in the secondary, with cornerback Jalen Ramsey being the first defensive player off the board at pick No. 29.
Thus, when looking forward to next April, a good question to ask is, who is 2021's Jeffrey Okudah? Who at the cornerback position is worthy of being selected in the top-five of a draft and has the potential to turn a defense around immediately?
[Editor's note: Subscribe to PFF ELITE today to gain access to PFF's Premium Stats and new Player Grades experience in addition to the 2020 NFL Draft Guide, 2020 Fantasy Rookie Scouting Report, PFF Greenline, all of PFF's premium article content and more.]
While he's probably not the best cornerback in college football — that distinction goes to LSU's Derek Stingley Jr. — Virginia Tech's Caleb Farley is the best draft-eligible cornerback ahead of the 2021 NFL Draft.
After missing the 2017 season due to a knee injury and logging 731 snaps in 2018, Farley turned in one of the best performances we've seen in some time in 2019. He allowed a completion on only 18 of the 50 passes directed his way, breaking up nine passes and intercepting another four while generating eight defensive stops and two pressures. That kind of productivity caught my eye initially, and I think it is cause for a further look.
Thanks to the machine learning capabilities of AWS, we at PFF have built a college-to-pro projection system for each facet of play. It takes a player's NCAA data, adjusts it for context and opponent strength, and then projects how a player will do at the NFL level. Farley has some data missing (he hasn't worked out at the combine yet), but given the information we have on him, let's look at early projections.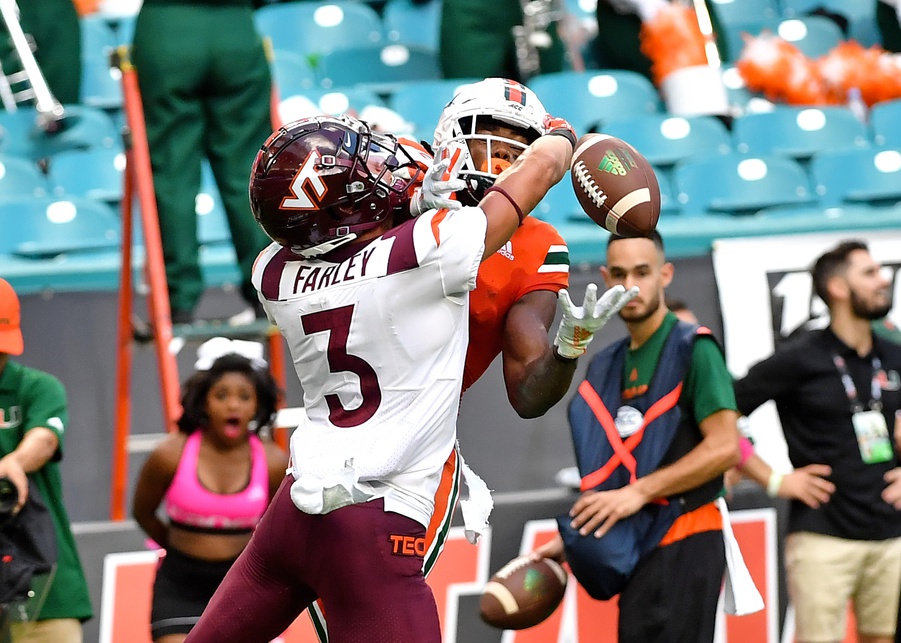 How Farley Projects as a Coverage Player
Assuming that Farley, who is long (6-foot-2) and relatively big (207 pounds), tests out in the 60th percentile as an athlete next February, he already projects to be a pretty solid cornerback at the NFL level, with a projected playmaker rate (rate of interceptions and pass breakups) near 11%.
Subscribe to PFF Edge to continue reading
Already have a subscription? Sign In