The 2021 NFL Draft is mere weeks away, and for the city of New York, it might just be the most important three days of picks in quite some time.
Ever since the New York Giants took down the New England Patriots in Super Bowl XLVI in February 2012, New York City has endured some brutal football seasons. Since then, the Giants have made the playoffs just once (lost in the 2016 wild card). And the franchise is 18-46 over the past four years.
Meanwhile, the Jets were a game away from reaching the Super Bowl in 2009 and 2010 for the first time since Super Bowl II, but both AFC Championship games ended in disappointment. Since then, the team has failed to make the postseason. Over the past five years, the Jets own a 23-57 record.
New York football since 2017
| | | |
| --- | --- | --- |
| New York Giants | | New York Jets |
| 29th | Non-QB WAR  | 30th |
| 28th | EPA per pass generated | 32nd |
| 28th | 15+ yd pass plays | 29th |
| 27th | EPA per pass allowed | 28th |
| 25th | 15+ yd pass plays allowed | 30th |
| 27th | Pass-rush grade | 25th |
| 28th | Pass-block grade | 30th |
| 24th | Run-block grade | 29th |
The above chart isn't comprehensive, either. It just goes to show how poor both New York teams have been over the past four years (minus Buffalo, of course). There is hope for the big city, though. We could see a significant reversal for both the Giants and Jets within the next couple of years, and the 2021 NFL Draft is going to play a massive part in the possibility of that occurring for two different reasons.
For the Giants, it's all about putting quarterback Daniel Jones, who showed some notable growth in 2020, in a position to succeed in what will be a pivotal Year 3 for the 2018 No. 6 overall pick. The team was a big winner in free agency after signing one of the top players on the open market, wide receiver Kenny Golladay, but still has a couple of notable holes it needs to fill on offense.
For the Jets, it's about taking advantage of their premium draft capital. They own three of the first 35 picks in the 2021 NFL Draft and trail only the Jacksonville Jaguars in total pick value from start to finish. Entering the offseason, the Jets' roster had more holes than a slice of swiss cheese. They helped themselves in free agency, but there is still plenty of work to do —including at one of the most important positions on the field.
Both New York teams have a lot riding on the upcoming draft and need to nail it in order to bring their franchises back into the competitive landscape. And here's how each can accomplish that.
View PFF's 2021 NFL Draft position rankings:
QB | RB | WR | TE | T | iOL | DI | EDGE | LB | CB | S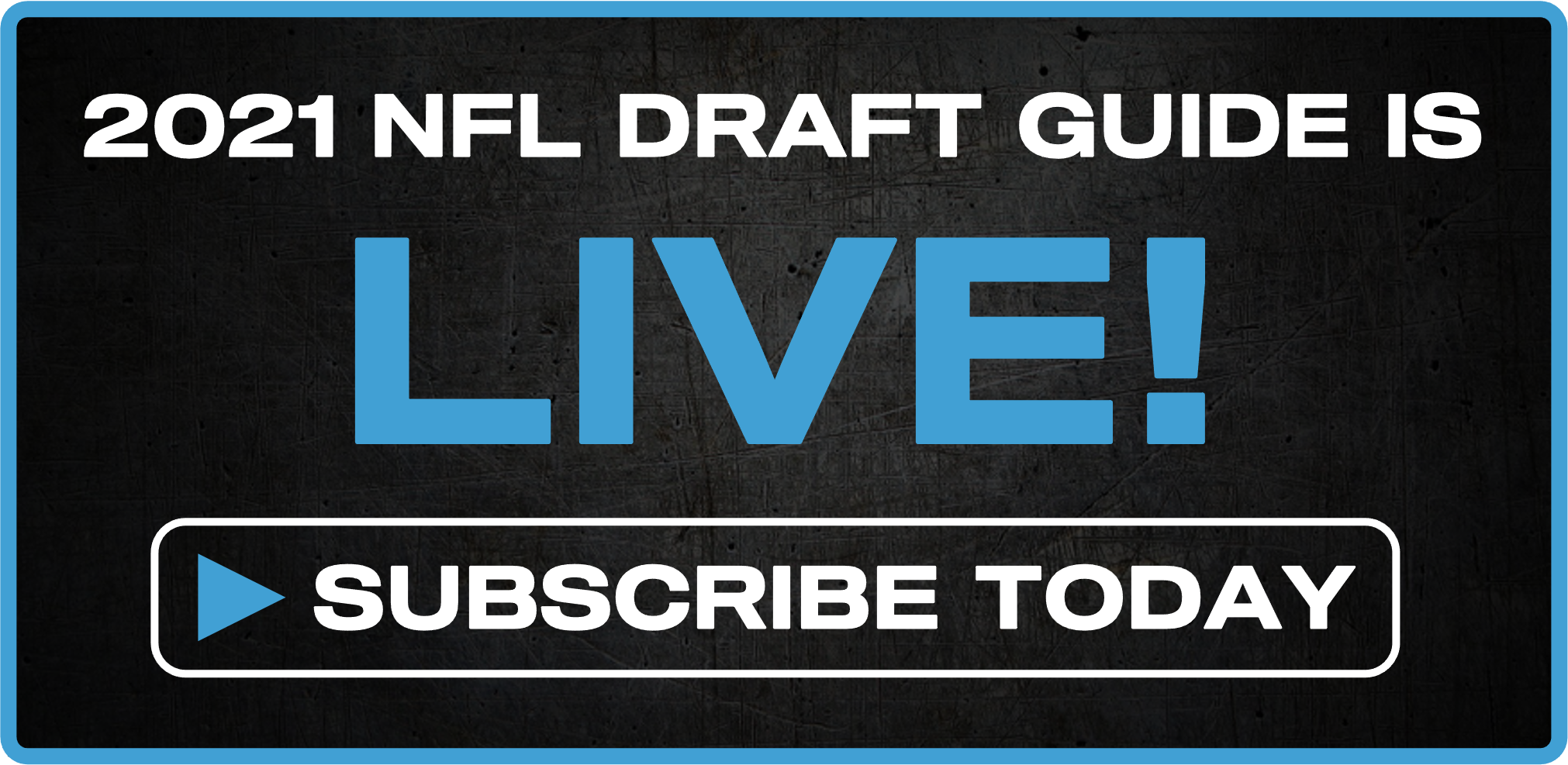 Let's start with the Giants' most important player: Daniel Jones. He showed some growth after a disappointing rookie season in 2019, raising his 65.5 passing grade from that year to 74.4 in 2020. Pocket awareness issues still continued to plague him, including a league-high fumble total in collapsing pockets and a 21% pressure-to-sack conversion rate.
But when Jones was kept clean from pressure — the most stable area of quarterback play — he looked better than expected. His 90.5 clean-pocket passing grade ranked 12th among starting quarterbacks and was the fourth-best mark we have on record by a second-year starter, behind only Patrick Mahomes, Deshaun Watson and Russell Wilson. Jones' deep ball volume numbers weren't stellar, but when he did let it rip, he impressed; his passing grade on 20-plus-yard throws ranked third in the NFL.
Does that mean Jones is a franchise quarterback? Not entirely. It makes sense to be cautious with the hype, as Nick Foles' 2013 campaign was one spot behind Jones in that clean-pocket passing grade metric among second-year starters. We still need to see a lot more from Jones in 2021 before we can call him the savior, but it was a promising year, especially considering what he had to work with. The Giants' wide receivers and tight ends last season combined for a receiving grade that ranked 24th in the NFL, and they finished fifth-to-last among the 32 units in WAR generated. Jones' set of pass-protectors also were of no help. The offensive line produced the worst pass-blocking grade in the NFL.