Of all the superlative breakdowns, this one very well may be the most boring.
There is one linebacker in this class who does a lot of things at an elite level, and it's why he's far and away tops on the PFF 2021 NFL Draft Big Board. Behind him, there are a number of unique skill sets in the class, as it's one of the deeper linebacker classes in recent memory.
View PFF's 2021 NFL Draft position rankings:
QB | RB | WR | TE | T | iOL | DI | EDGE | LB | CB | S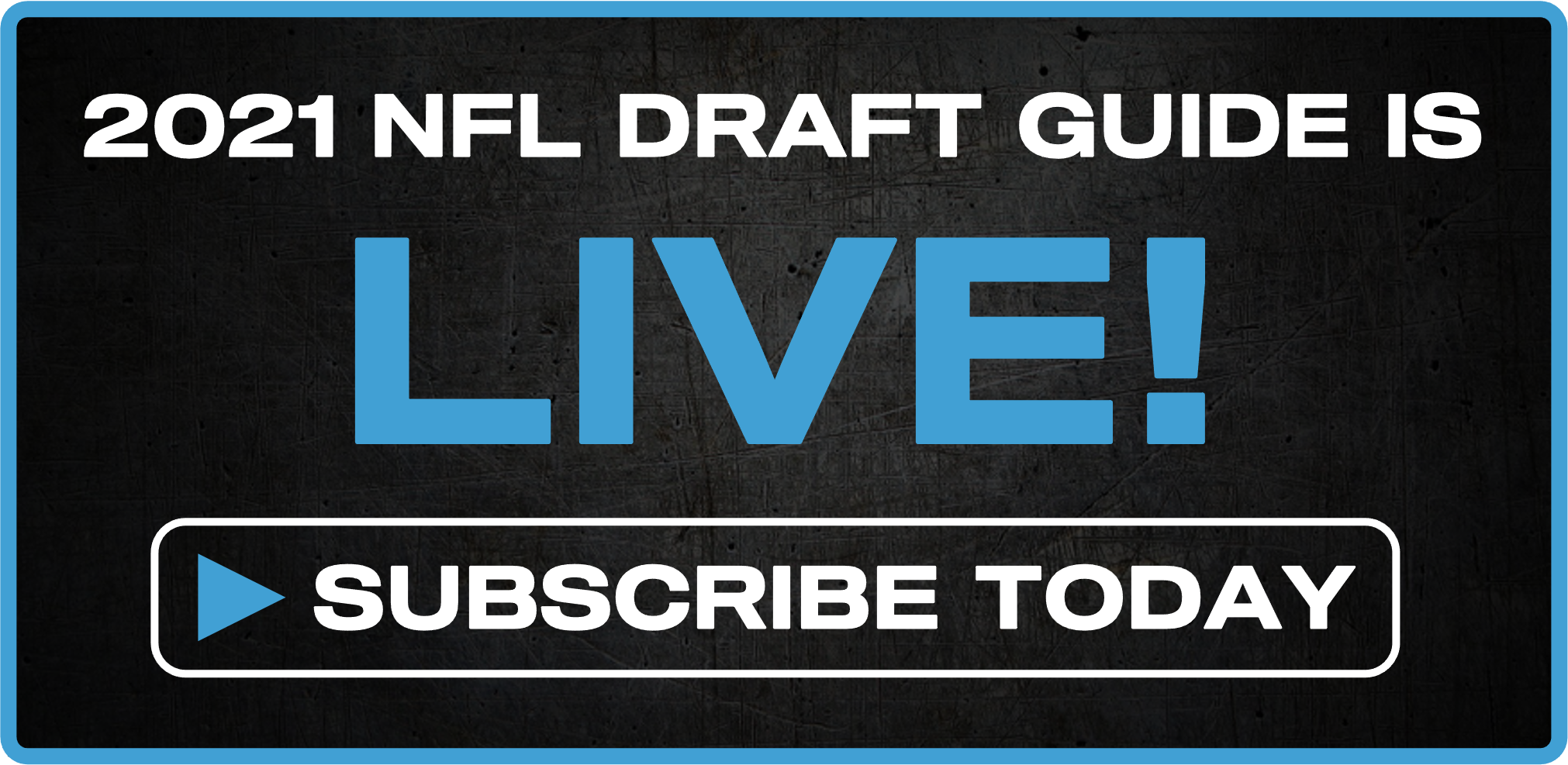 Last year we debated what Isaiah Simmons would look like between the tackles, but there's no such worry with Parsons. He sheds blocks so well on tape that oftentimes he treats them like afterthoughts. He can stack and shed, dip and rip and make offensive linemen miss altogether. It's why he earned the second-highest run-defense grade we've ever given to a linebacker (94.8) as a sophomore back in 2019.
@McShay13 on Micah Parsons: pic.twitter.com/IJBx58uSQI

— Raiders Beat (@RaidersBeat) April 10, 2021
These first two superlatives go hand in hand, so this shouldn't be too surprising. If the 246-pound linebacker were classified solely as an edge defender, he'd likely be EDGE1 in the draft class. He's racked up a ridiculous 36 pressures on 135 pass-rushing snaps in his career for a 91.4 pass-rushing grade. Unsurprisingly, that's the highest career pass-rush grade in the draft class, with only three other linebackers even above 80.0.
This is why JOK is likely to be a top-20 selection come April 29. At only 221 pounds, he's not the prototype for the position by any means. But when you watch him routinely make special plays in coverage, you throw any possible block-shedding issues to the wayside. JOK spent 328 snaps in the slot and 215 snaps in the box last season for the Irish. Even at his size, he still earned the second-highest coverage grade in the slot of any player in college football.
My god Jeremiah Owusu-Koramoah might be the most fun draft prospect to watch this year.

He (#6) lines up as a Nickel/SAM most of the time and runs this route for the slot WR. I'd let Lovie Smith shave his beard for a chance at drafting him, and Lovie probably would too. pic.twitter.com/QiSUGxe1p2

— Jordan (@Texans_Thoughts) April 11, 2021
His tape is littered with lightning-quick reads from pretty much any alignment. His ability to line up anywhere over the middle of the field and still be an impact player in coverage will be coveted highly.
Big time play by JOK…

He's in man coverage, but rules change on the jet motion…. CB then takes first to flat, JOK must redirect and sink with corner route from YTE

Gets eyes back, while getting depth… Makes play on ball. Beautiful.

This a safety to you @EaglesXOs ? pic.twitter.com/Yzhe2nK7pt

— Ben Fennell (@BenFennell_NFL) February 18, 2021
Cox is a former quarterback turned linebacker, and it's very clear he sees the field like the former. Between North Dakota State and LSU, Cox earned coverage grades of 87.4 in 2018, 85.2 in 2019 and 83.5 in 2020. That's multiple different schemes and roles with the same result.
He racked up three picks and four pass breakups from multiple different coverage types this past season for the Tigers. He may not be the super-elite athlete that others on this list are, but he continually gets the job done.
I'll take LSU LB Jabril Cox on day 2 all day over Notre Dame LB JOK in round 1.
✅Nose for the ball:9 Ints & 23 Pass Breakups
✅Best Coverage LB in CFB(+90th percentile coverage grade)
✅ Versatile:900+snaps at slot corner
✅Lives in the backfield:15 Career Sacks/39 TFLs pic.twitter.com/TZxGBClm2S

— Nathan Coleman (@JHawkChalk_) March 7, 2021
This is where Bolton thrives. He's the second-highest-graded linebacker behind Micah Parsons since 2019, and he's led the SEC in stops in both of the past two regular seasons. There are so many plays on Bolton's tape where he knows where the ball is going before it even gets there. He may not be the most agile, but he can certainly hunt down ball carriers sideline to sideline.
Nick Bolton's my guy. pic.twitter.com/DD9ZOnRpaS

— Jeff Cavanaugh (@JC1053) December 14, 2020
Yet another appearance — and it is very well deserved.
The fact that he made 177 tackles between his freshman and sophomore seasons yet missed only 11 is nothing short of absurd. That's a 5.9% missed tackle rate for a player in his first two seasons of college football. Parsons has massive 11-inch hands (the largest ever recorded for an off-ball linebacker) that won't let go once they latch on. He also packs a punch at over 240 pounds with the ability to run a 4.39 40-yard dash.
LB1 Micah Parsons running downhill is a scary sight

(h/t @Hugorso) pic.twitter.com/CL4bnpHi4K

— PFF Draft (@PFF_College) April 13, 2021
This is why Davis may very well be a first-rounder despite having only one season of starting experience in his four years at Kentucky. He put up an eye-popping 4.48-second 40 with a 1.53-second 10-split at his pro day, pairing those numbers with a 42-inch vertical, 11-foot broad jump and 21 bench reps with 33-inch arms. That vertical tied former Georgia linebacker Boss Bailey for the highest ever recorded from a linebacker. That's the type of juice every NFL team is looking for at the position.
If the #Patriots are looking for a coverage LB on day two, Kentucky's Jamin Davis is a dude. Great athlete and feel for man/zone coverage.

Nice recovery to drop underneath Pitts's over route (1st clip), running the seam with the RB (2nd clip), low zone (3rd clip). pic.twitter.com/WyMiloiZxR

— Evan Lazar (@ezlazar) April 7, 2021
---
More of PFF's 2021 NFL Draft tools here: 
2021 NFL Draft Big Board | 2021 NFL Draft Guide | 2021 NFL Draft Stats Export | NFL Mock Drafts | NFL Mock Draft Simulator