Every roster is constructed differently, and there's no one correct way to go about it. However, there are some general principles that tend to translate to success. NFL teams should aim to maximize the value of their rookie-contract players and supplement their roster with important veteran pieces. 
At this point, everyone understands the value of a rookie-contract quarterback. They enable clubs to spend excess cap dollars elsewhere to potentially create a contender if the quarterback severely outperforms a rookie deal. Since 2002, 11 of the 20 Super Bowl-winning quarterbacks were under rookie contract years, and the other nine were won by Tom Brady (x4), Peyton Manning (x2), Drew Brees, Aaron Rodgers and Eli Manning (2011).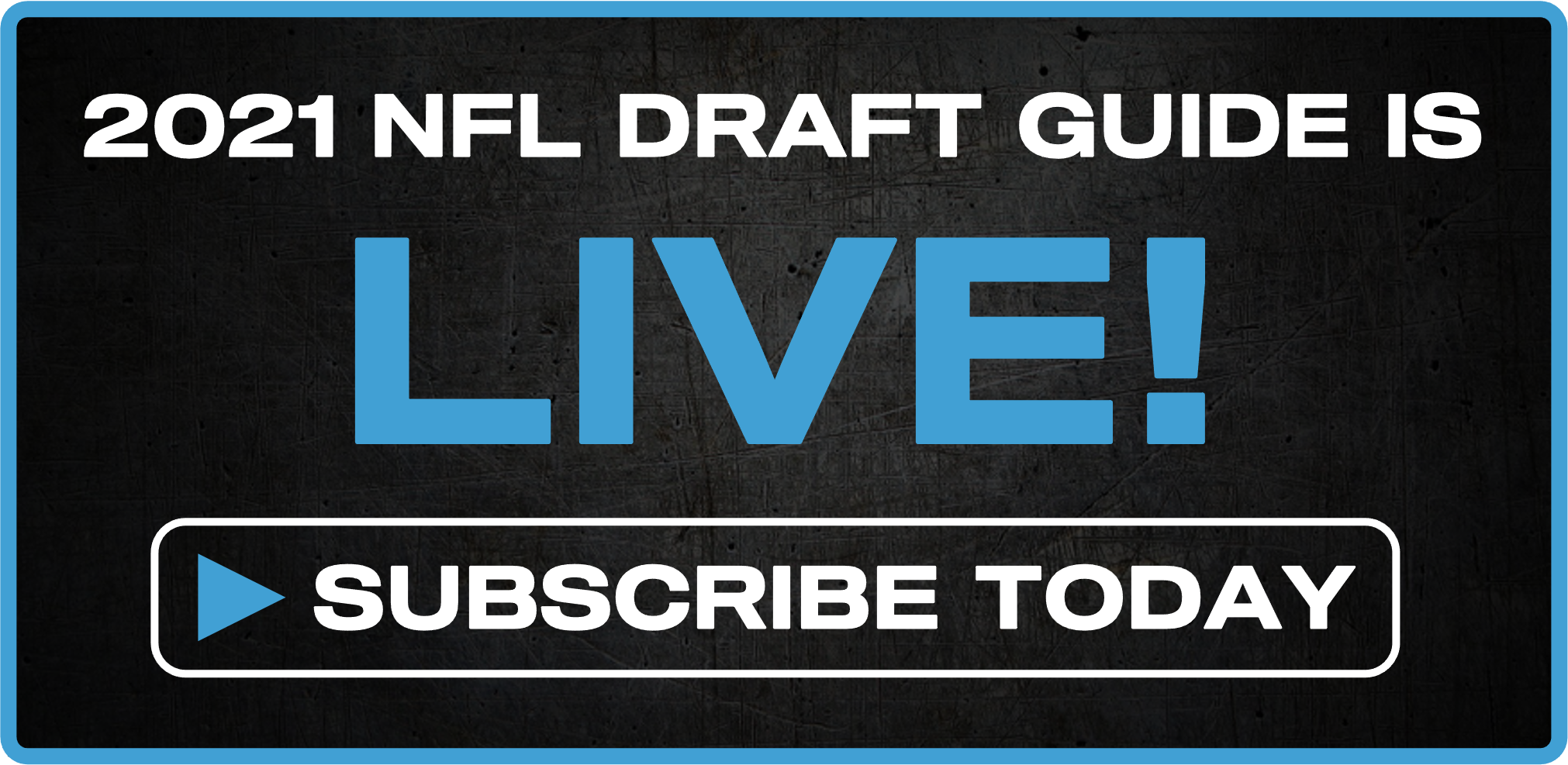 Of course, Super Bowl titles aren't everything, and a very expensive Matt Ryan is not the reason the Falcons blew a 28-3 lead (in fact, he's a big reason they built said lead). To reach the playoffs or make a deep postseason run, having a good quarterback no matter the cost is still the best way (we're arguably working toward this being the only way). Since 2011, the NFC Championship game has featured an expensive Aaron Rodgers four times, Matt Ryan twice and Carson Palmer and Jimmy Garoppolo once each. In the AFC, it's been a pricier Tom Brady eight times, Peyton Manning twice and Ben Roethlisberger twice. 
It is a complete and total fallacy that you cannot win in the playoffs with a high-priced quarterback; you can't win with a bad quarterback, and your margin for roster construction errors becomes a bit thinner with an expensive one. When you do have to pay up for your signal-caller, great young talents at other positions take on an even greater importance.
Look no further than the 2019 San Francisco 49ers with an expensive and average quarterback in Garoppolo: TE George Kittle, ED Nick Bosa, DI DeForest Buckner, WR Deebo Samuel, T Mike McGlinchey and LB Fred Warner were all quality starters on rookie contracts. The 49ers' two leading receivers and two defensive linemen worth $20 million-plus per year pushed them to the top, alongside important veterans like CB Richard Sherman and WR Emmanuel Sanders.
We broke down each roster by age (as of February 1, 2022) and looked at the wins above replacement generated in 2020 as well as the cap charges in 2021 to get a better picture of how each club is built. The bars illustrate WAR, and the lines reflect the cumulative cap allocation to each age. Quarterbacks will of course skew both figures, but the charts provide a good illustration of where teams are spending and from where they're getting their production.
There is, of course, still the NFL Draft in a little over two weeks, which will provide an infusion of young talent. Before those players arrive, here is how each NFL team looks after most of free agency has been completed.
ARZ | ATL | BLT | BUF | CAR | CIN | CHI | CLE | DEN | DAL | DET | GB | HOU | IND | JAX | KC | LVR | LAC | LAR | MIA | MIN | NE | NO | NYG | NYJ | PHI | PIT | SF | SEA | TB | TEN | WFT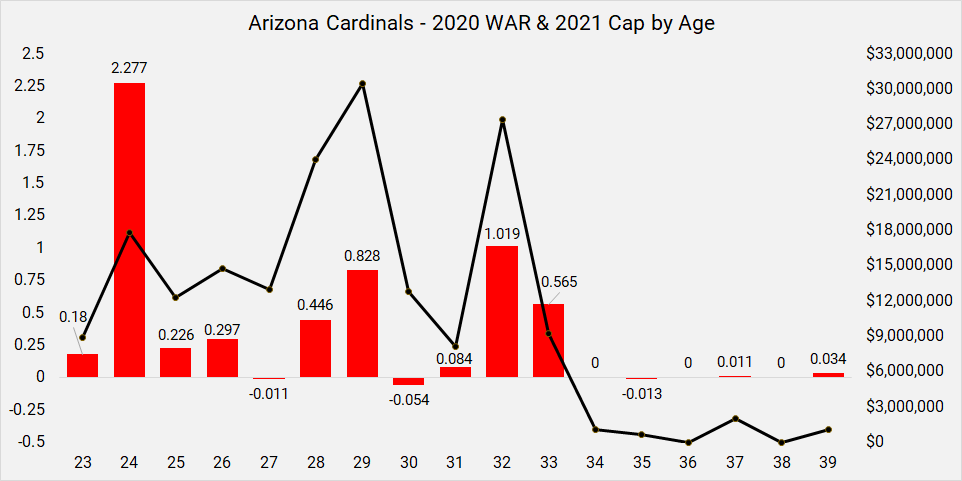 The Cardinals loaded up on older veterans this offseason, adding ED J.J. Watt, WR A.J. Green, C Rodney Hudson and CB Malcolm Butler, among others. The combination of QB Kyler Murray still on his rookie contract along with a handful of proven veteran players that have made big plays in big playoff moments is Arizona's recipe to get over the hump and make the playoffs out of the daunting NFC West in 2021.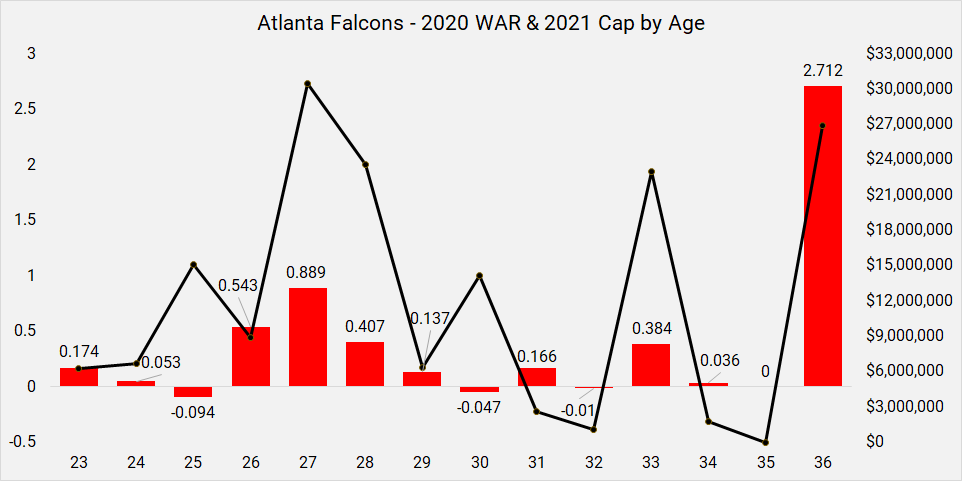 New general manager Terry Fontenot has his work cut out for him in Atlanta, and he knows it, which is why the Falcons largely sat out of free agency this year. They have not drafted particularly well in several years, and this chart illustrates a big reason why the Falcons must look to trade down and add several young contributors if they aren't going to select a quarterback with the No. 4 overall pick.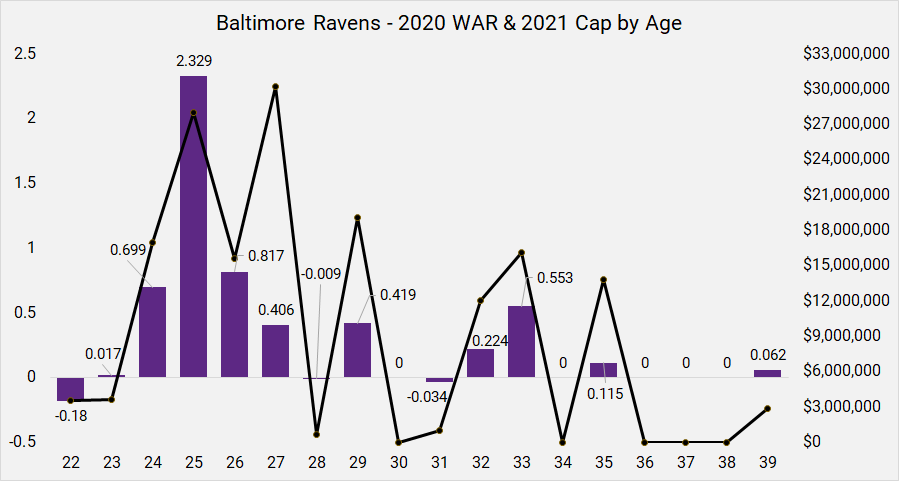 Big paydays loom for QB Lamar Jackson and TE Mark Andrews, but Baltimore already ponied up huge money for LT Ronnie Stanley and CB Marlon Humphrey. They are one of the better-run organizations in the NFL and look pretty healthy in the short- and long-term.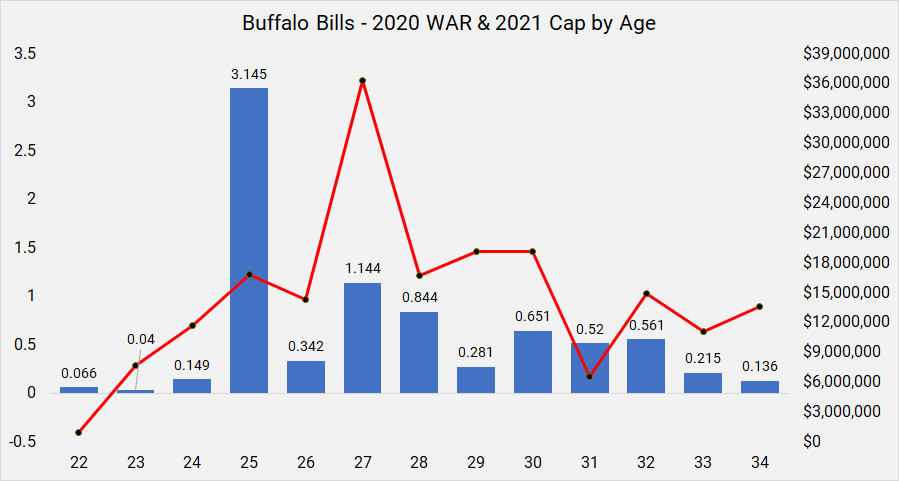 Buffalo has also paid the majority of its primary contributors, including extensions this offseason for LB Matt Milano and T Daryl Williams, but a huge extension for QB Josh Allen is coming soon. They've done well to pay a lot of their veterans mid-tier deals and keep together one of the league's strongest rosters headed into 2021.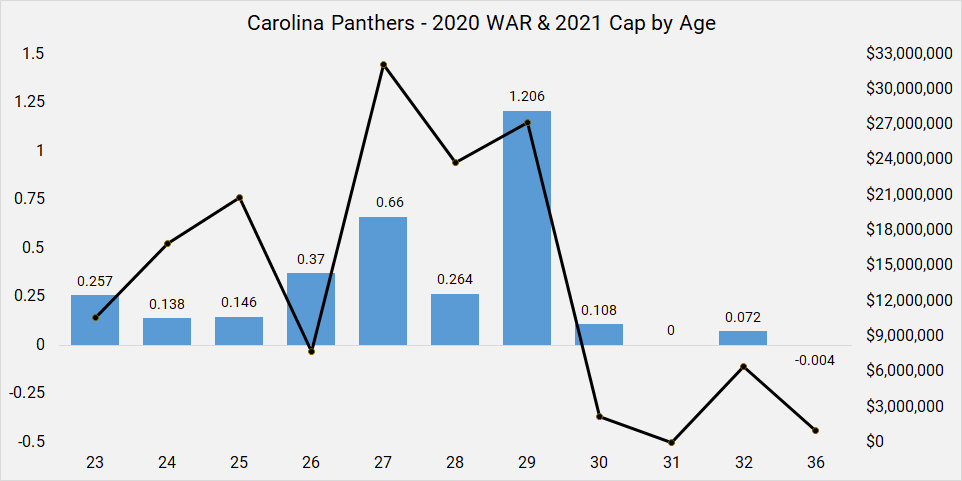 Carolina's spending in the 2020 offseason was ill-advised, but they added a handful of solid contributors on defense in the 2020 draft, headlined by DI Derrick Brown and S Jeremy Chinn. New QB Sam Darnold is only cheap for one more year before an $18.858 million fifth-year option hits the books in 2021. New general manager Scott Fitterer has work to do as Carolina looks to attack a window in the aftermath of Drew Brees, Tom Brady and eventually Matt Ryan.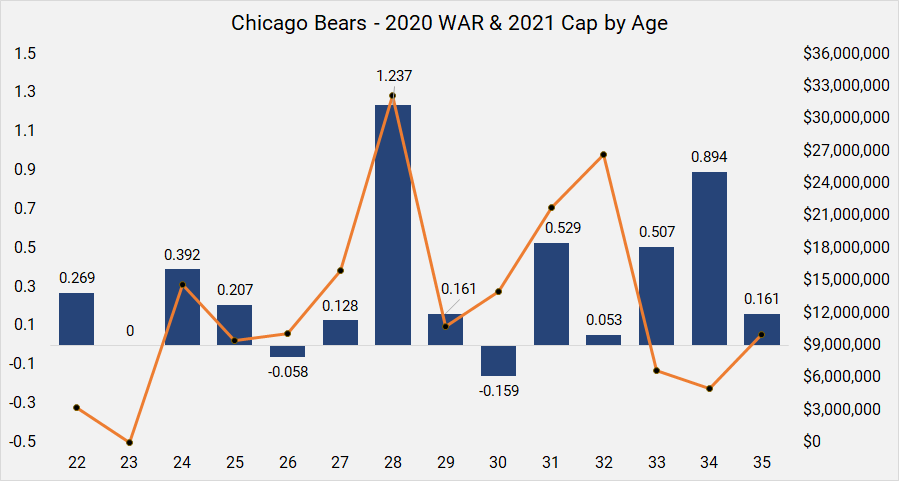 The Bears have a relatively old and expensive roster, with no quarterback on the books who costs anything of significance (Andy Dalton and Nick Foles have a combined $11.66 million 2021 cap hit). This roster is headed for a complete teardown in the very near future, which already began with the release of CB Kyle Fuller that was necessitated by poor salary cap management.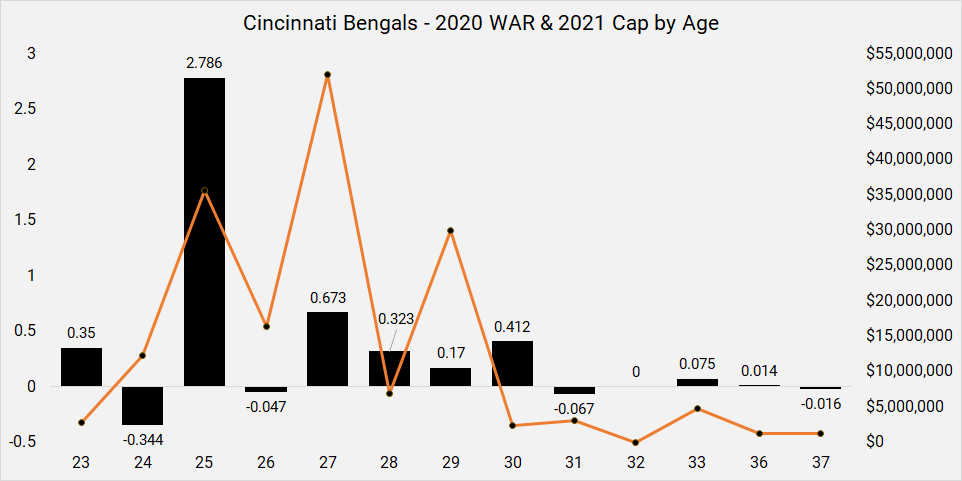 QB Joe Burrow headlines a pretty young roster with a handful of key veterans like recently signed T Riley Reiff. Cincinnati has approached free agency much differently the last two offseasons than it had for many years beforehand, with big spending sprees to add players like CB Trae Waynes (3/$42 million), DI D.J. Reader (4/$53 million) and ED Trey Hendrickson (4/$60 million). The No. 5 overall pick in this year's draft could be the final piece that propels this roster back into contention, much like when the Bengals reached the playoffs in each of the four years of Andy Dalton's rookie contract.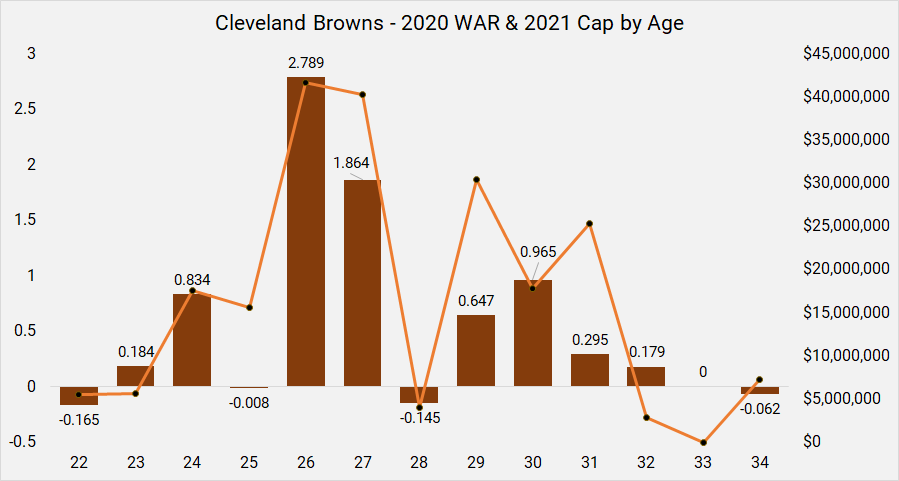 The Browns have one of the more complete rosters in the entire league, with some important veteran contributors added the last few offseasons in WR Odell Beckham Jr., T Jack Conklin, TE Austin Hooper and S John Johnson III. Going forward, Cleveland's success rides on the shoulders of recent draft picks like QB Baker Mayfield, CB Denzel Ward and LT Jedrick Wills.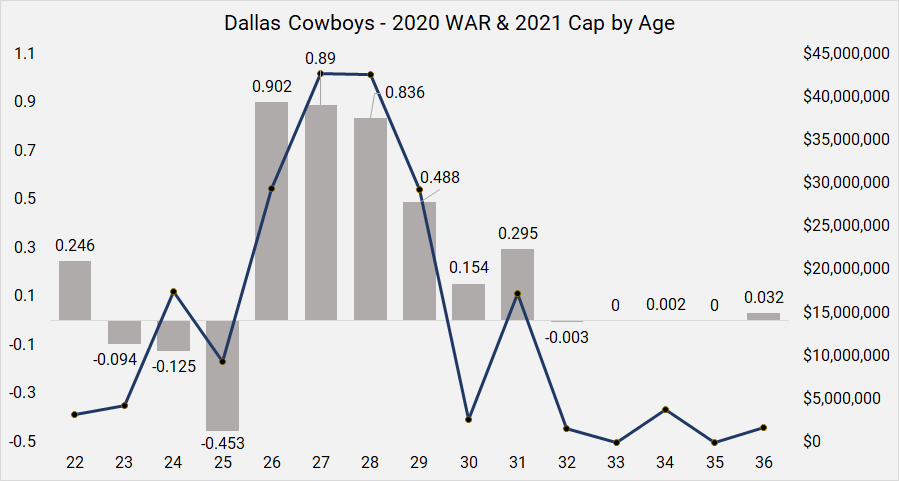 The NFL's newest $40 million man — QB Dak Prescott — has his work cut out for him with a lot of the Cowboys' premier talent on the wrong side of 30. LT Tyron Smith and RG Zack Martin have been leading the way for the better part of a decade, but recent draft picks like WR CeeDee Lamb and CB Trevon Diggs need to take their game to another level to counterbalance big deals for guys like WR Amari Cooper, RB Ezekiel Elliott and LB Jaylon Smith, among others.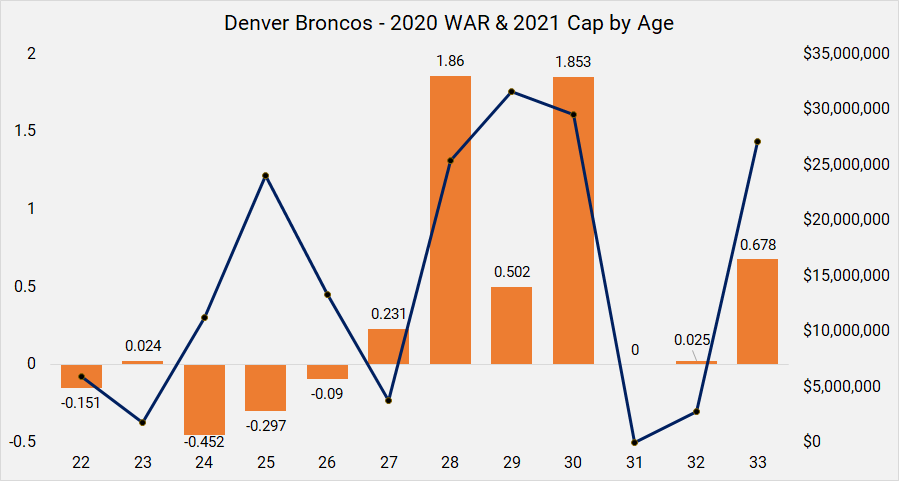 There's a legitimate case to be made that, outside of the quarterback position, the Broncos have one of the best-positioned rosters in the NFL. Their offensive line is relatively set if the return of RT Ja'Wuan James is successful, and they have WRs Courtland Sutton, Jerry Jeudy and K.J. Hamler on rookie deals along with TE Noah Fant, ED Bradley Chubb and DI Dre'Mont Jones. New general manager George Paton knocking this upcoming draft out of the park starting with pick No. 9 could go a long way toward getting the Broncos back in contention in a gauntlet AFC West.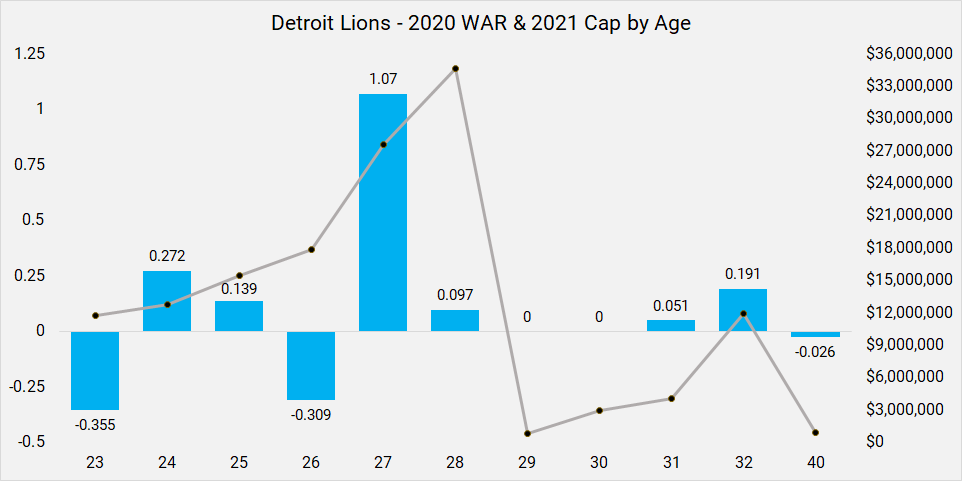 The Lions are in the midst of a complete and total teardown under new general manager Brad Holmes. They'll look for development from young players like CB Jeffrey Okudah, TE T.J. Hockenson and RB D'Andre Swift along with whoever they add in the upcoming draft starting with pick No. 7. Detroit has extra first-round picks in 2022 and 2023 and will look to completely overhaul their roster the next few years.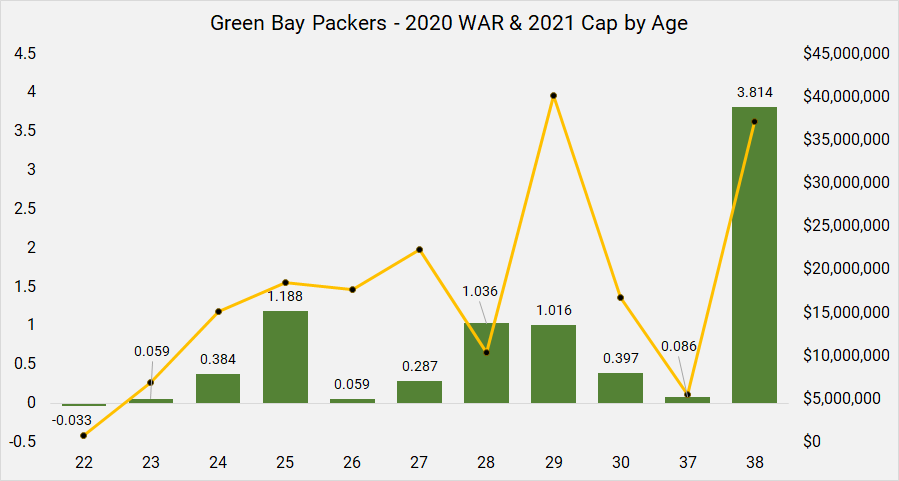 The Packers very quietly have a bit of a nightmare salary cap situation the next two years, but they'll find a way to navigate it as they have always been able to do. Aaron Rodgers' MVP performance took Green Bay by surprise and has shifted their timeline as they look to finally reach a Super Bowl after back-to-back NFC Championship game appearances in 2019-20. The Packers have yet to do anything to Rodgers' contract, avoiding a restructure which would push cap into the future — a future they'd hoped to see 2020 first-round pick QB Jordan Love play in at some point. An extension for star WR Davante Adams may come first, which will lower his cap hit in 2021 but add big numbers in 2022 and beyond.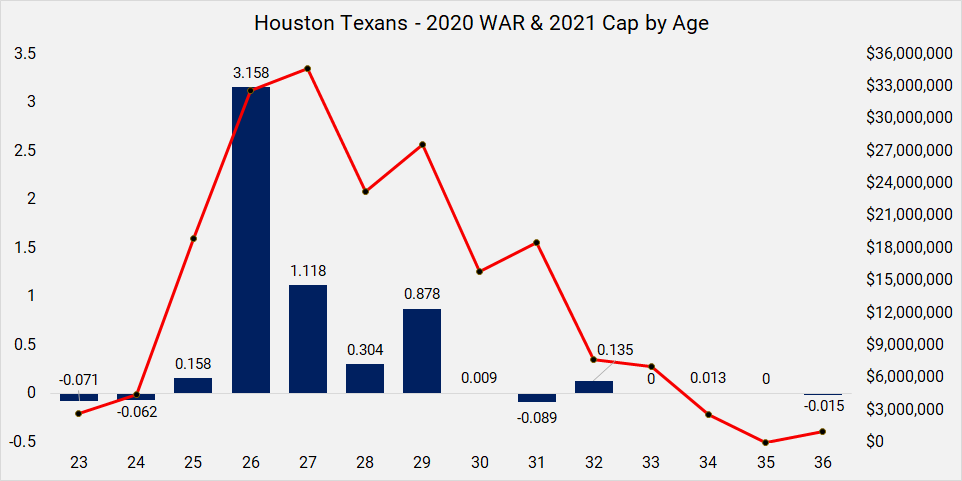 Houston has added over 30 free agents with relatively minimal prior contributions wherever they came from. New general manager Nick Caserio is working to turn over the roster entirely. However, a trade of LB Benardrick McKinney for ED Shaq Lawson was a solid move this offseason.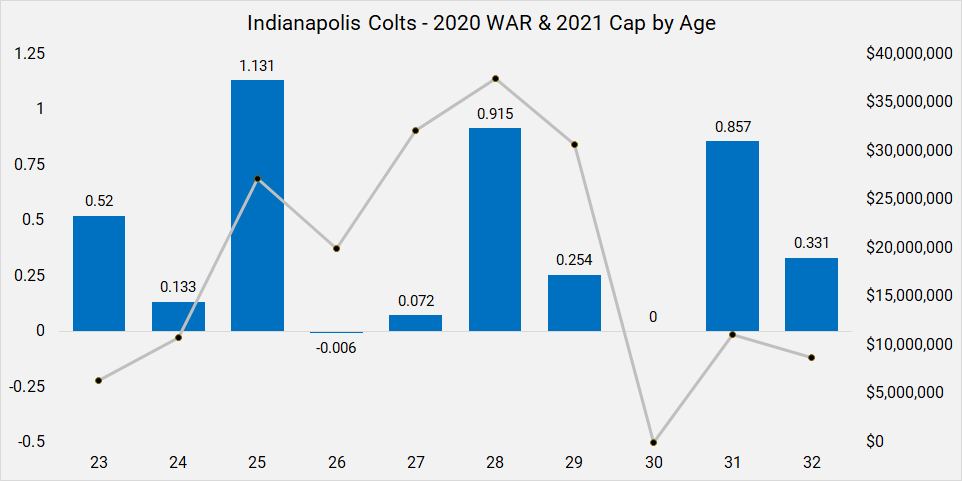 The Colts finally made their big splash move sitting on a ton of cap space, trading with the Philadelphia Eagles for QB Carson Wentz. Wentz goes from one of the oldest rosters filled with back-loaded contracts to a young roster with excellent cap health in the near future. Nevertheless, the Colts' phenomenal 2018 draft class started off with three players that are all now looking for top-of-market extensions: G Quenton Nelson, LB Darius Leonard and T Braden Smith.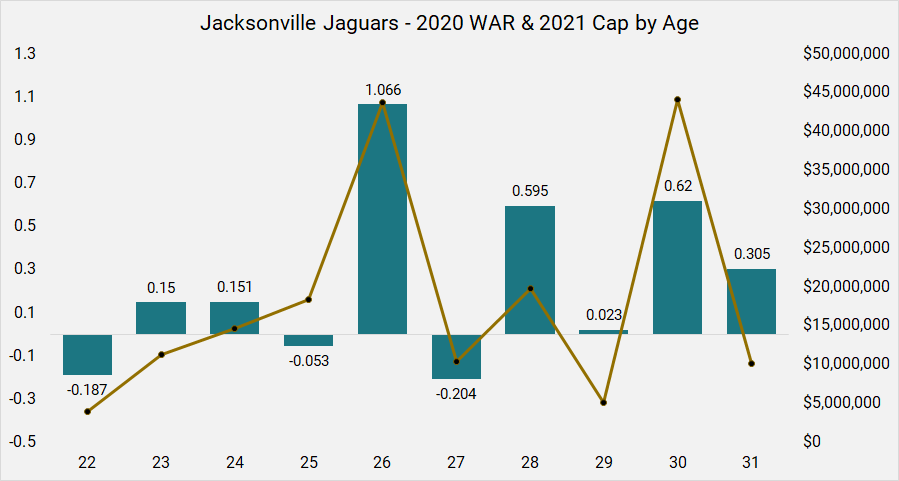 The new regime in Jacksonville led by head coach Urban Meyer and general manager Trent Baalke made a host of additions to fill out a depleted Jaguars roster, headlined by CB Shaquill Griffin, S Rayshawn Jenkins, DI Roy Robertson-Harris and WR Marvin Jones Jr. Outside of Griffin, Jacksonville still needs to find difference-makers at several spots on their roster. Fortunately for them, they'll add phenom QB Trevor Lawrence to get the 2021 NFL Draft underway, and they pick again at No. 25 and No. 33.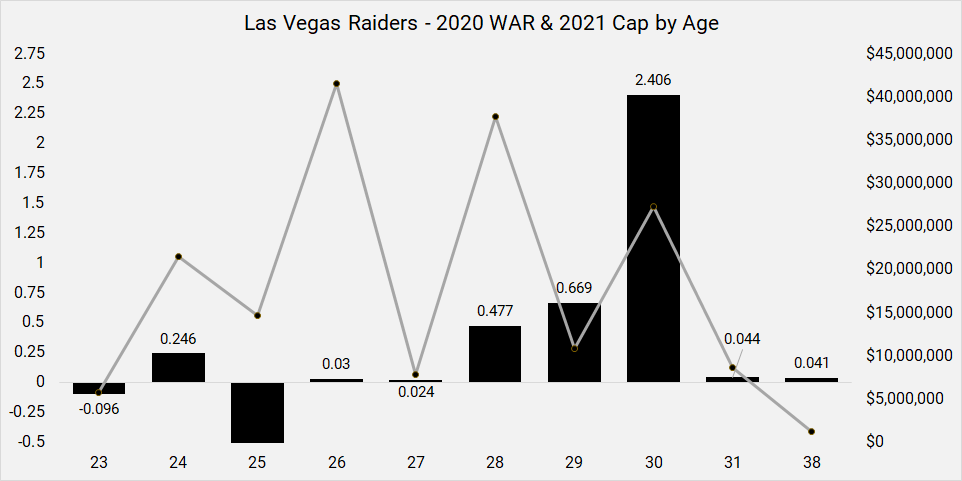 No one is exactly sure what the Raiders' plan is, but entering Year 4 of Jon Gruden's 10-year mega deal, they still have a lot of holes to fill on a roster that benefitted from five first-round picks in 2019-20. It's been a shaky start for the most part, but there's still time for things to turn around. The team's 2018 first-rounder, LT Kolton Miller, just inked a massive extension good for $18 million per year, but he must now anchor an offensive line that lost longtime leader C Rodney Hudson along with RG Gabe Jackson and RT Trent Brown. The Raiders were able to acquire a third-round pick for Hudson and a fifth for Jackson, and they need to have themselves a very strong draft in 2021.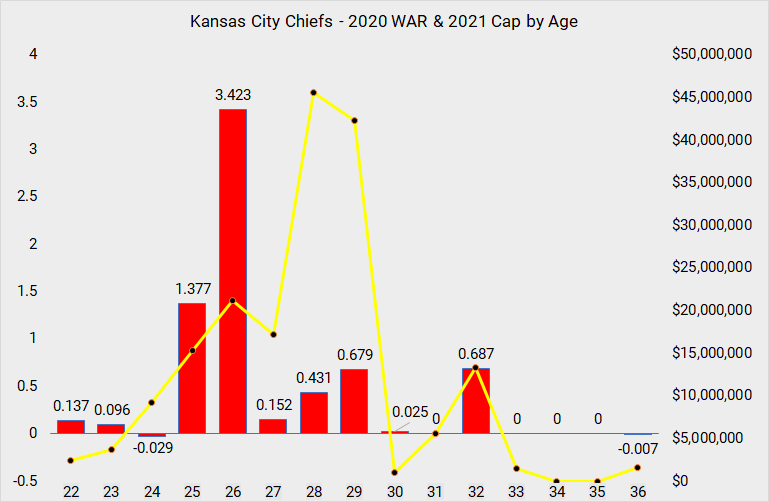 The Chiefs were able to capitalize on QB Patrick Mahomes' rookie contract to the tune of three-straight AFC Championship appearances and back-to-back visits to the Super Bowl, but 2021 marked the first year where his larger cap hits began. Kansas City restructured Mahomes' deal this offseason, dropping his 2021 cap hit all the way down to $7.433 million, but that of course comes at a future expense. Mahomes' 2022 cap hit is currently $35.793 million, and every year after that is above $40 million. 
The record-shattering 10-year, $450 million extension was designed with this idea in mind, but eventually Mahomes will eat up a substantial chunk of the cap by himself as Kansas City looks to retain S Tyrann Mathieu (free agent after 2021) and WR Tyreek Hill (free agent after 2022), while eventually finding a replacement for TE Travis Kelce. The simple fact of the matter is that the Chiefs can never be in too bad of a position as long as they have Mahomes under contract, but they had to cut both starting offensive tackles this offseason for a reason, and they'll have to continue to find creative ways to fit everyone on the books.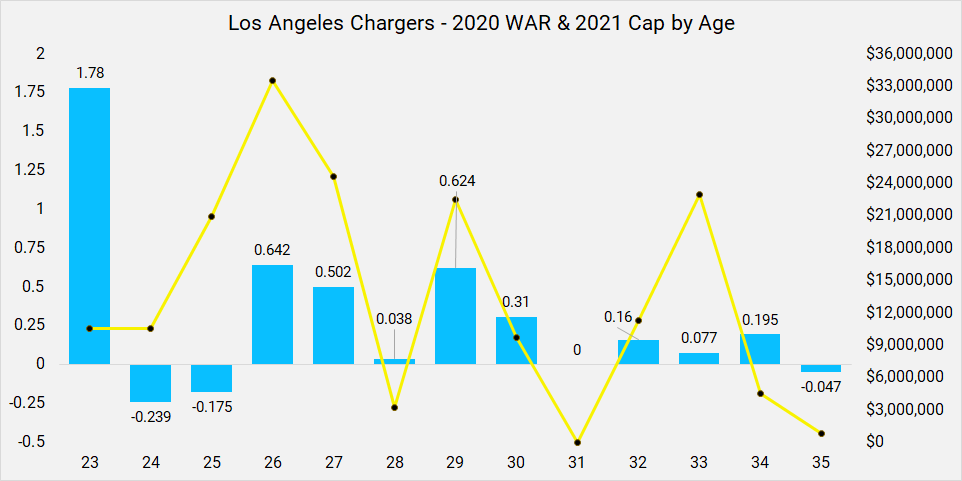 QB Justin Herbert burst onto the scene in 2020 and should have the Chargers very optimistic about what they can accomplish in the three remaining years of his rookie deal. New head coach Brandon Staley is a defensive mastermind who led the Rams' No. 1 unit in 2020, and he inherits a roster with dynamic playmakers like ED Joey Bosa and S Derwin James. Still, there are a handful of weak spots on the Chargers roster, with an incomplete defensive front, an offensive line that was dramatically improved but could still use a few more pieces and a group of weapons that is scary thin after WR Keenan Allen.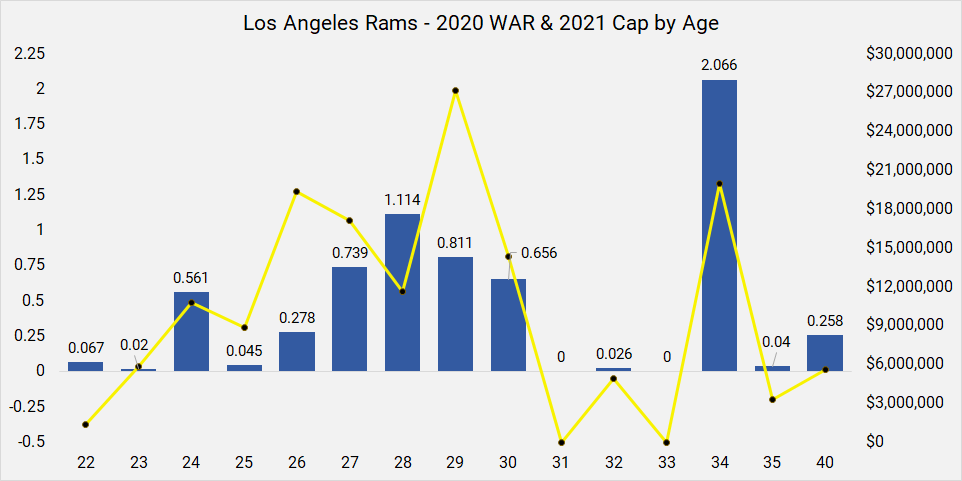 The Rams' super-team approach finally made its biggest move yet, acquiring QB Matthew Stafford for multiple first-round picks. L.A. will now go at least seven consecutive drafts without a first-round pick, dating back to 2017 and continuing through 2023. Nevertheless, general manager Les Snead has managed to find valuable contributors in the later rounds and in undrafted players like CB Darious Williams. It may not be too long before this roster undergoes bit of an overhaul.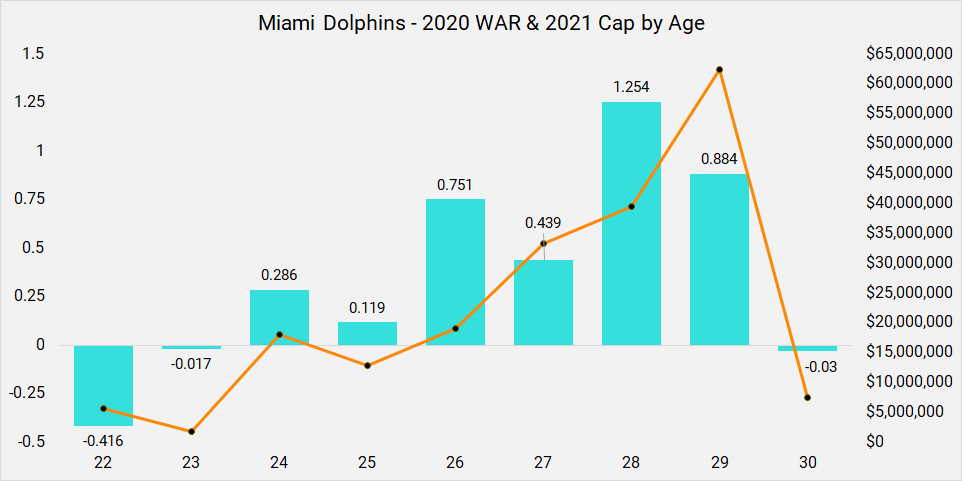 Miami has one of the youngest rosters in the entire NFL, and they have four top-50 picks in the upcoming draft thanks to the Houston Texans from the Laremy Tunsil trade. A trade down with the 49ers from No. 3 to No. 12 netted them two more future first-rounders, but the Dolphins then moved back up to No. 6 with the Eagles. Miami missed the playoffs in 2020 even with a 10-6 record, perhaps exceeding expectations for a young group. It's now time for QB Tua Tagovailoa and a bevy of other young players to propel this team into serious contention the next few years.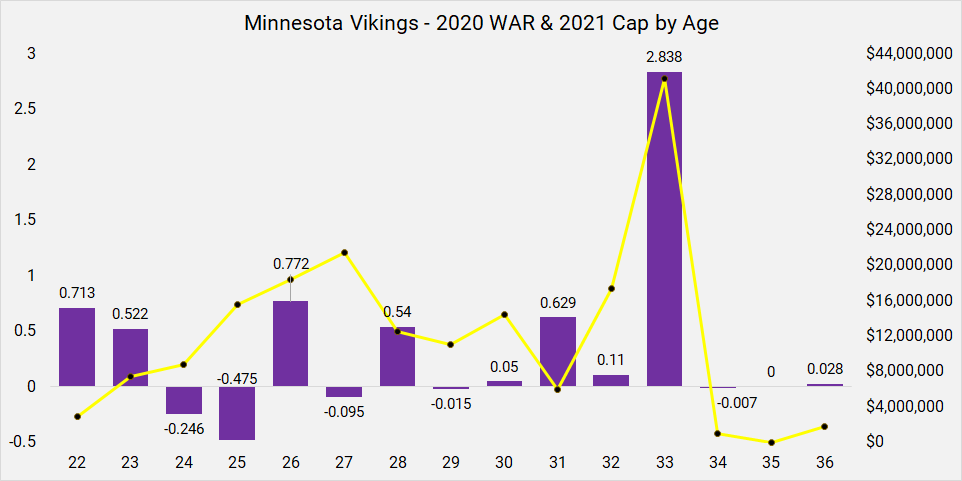 Minnesota took a step back in 2020 after a big playoff win in New Orleans in 2019 had them bullish on their short-term outlook. A blockbuster trade of WR Stefon Diggs to the Buffalo Bills landed the breakout star of the 2020 class in WR Justin Jefferson, but their generally ferocious defense offered little resistance against anyone. Free agent additions DI Dalvin Tomlinson and CB Patrick Peterson are hopefully the veteran defensive pieces they need to return to form, along with star ED Danielle Hunter's return from injury. The Vikings also have their standard arsenal of 10 draft picks to work with to add some more young contributors.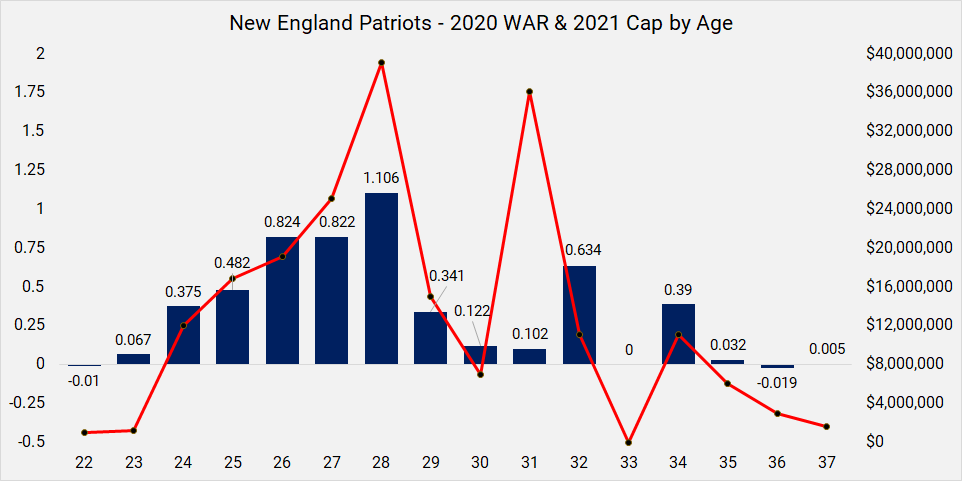 New England had an offseason unlike any they've had in two decades, emptying the bank account on players like TEs Jonnu Smith and Hunter Henry (now both the third-highest paid TEs in the NFL), along with ED Matt Judon, WR Nelson Agholor and several other mid-tier additions. The $168 million in fully guaranteed dollars they doled out is over $50 million more than the next-highest club as they look to get back into the playoffs. As we know, teams are able to (or perhaps need to) spend like this when they don't have many of their own drafted players in need of extensions. After an uncharacteristic drought in the draft — which probably should be expected when your first two picks are generally in the range of 30 and 60 — the Patriots' first-round selection will be in the top half of the round for the first time since 2003 (unless they trade back, which shouldn't be ruled out).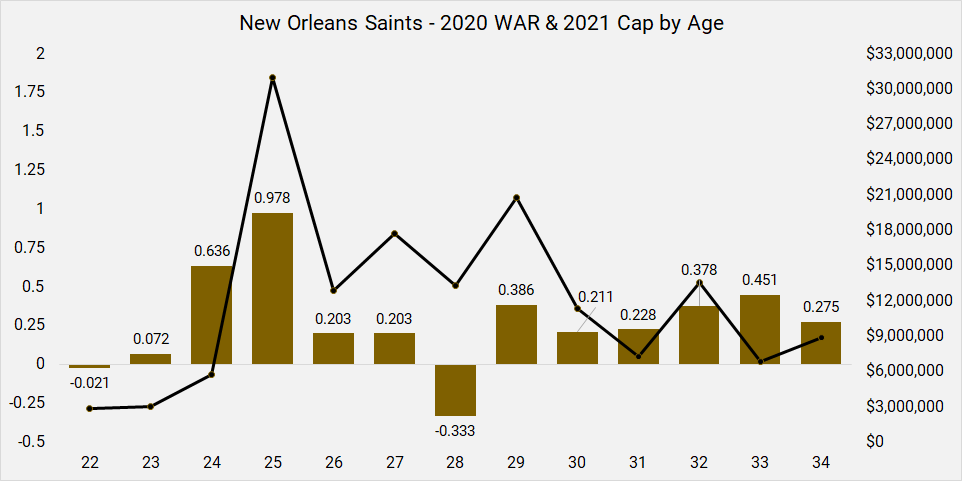 These charts don't account for dead money cap charges, so while Drew Brees is technically still on the roster as of this writing, his bar at age 42 with a $12.225 million cap hit has been removed. Additionally, while almost every team has added void years to push cap hits into the future this offseason, few have done it at the scale of the New Orleans Saints over the last few years. This graph also doesn't capture $36.5 million in cap charges that will hit the Saints' books in 2022 for pending free agents (Brees, T Terron Armstead, QB Taysom Hill and QB Jameis Winston). 
With all of that said, the Saints have gotten much younger this offseason following the departure of players like TE Jared Cook, CB Janoris Jenkins and WR Emmanuel Sanders. Furthermore, New Orleans has eight draft picks in the upcoming draft, getting rewarded with third-round compensatory picks for QB Teddy Bridgewater and GM Terry Fontenot. They haven't made eight draft picks since 2015, but perhaps they pivot a bit to emphasize volume as they need to address several spots on their roster.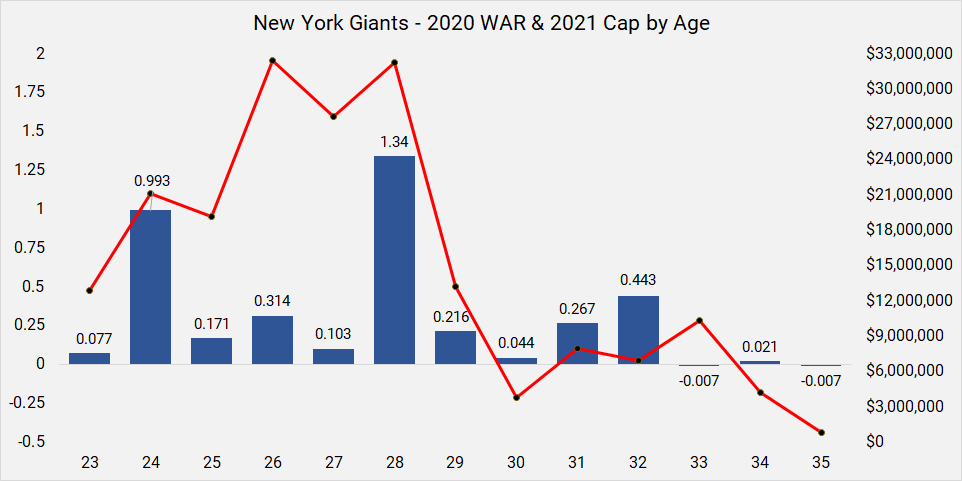 The Giants had two of the biggest free agent signings of 2020, extending DI Leonard Williams for three years, $63 million and adding WR Kenny Golladay on a four-year, $72 million pact. They also made a pretty big splash in the second wave of free agency, agreeing to terms on a three-year, $39 million deal with CB Adoree' Jackson after the Titans cut him to avoid paying his fifth-year option. The Jackson deal presents a great risk/reward, as he is a very good player so those extra years of control could prove to be extremely beneficial, but he's also dealt with injuries and odds are his market outside of New York consisted of one-year prove-it deals.
New York needs to hit a home run with the No. 11 pick in the upcoming draft, and it appears they may be getting the sixth non-quarterback prospect, which could end up being a really good player. The NFC East is wide open, and if their additions this offseason pan out, the Giants may have a winning record for the first time since 2016.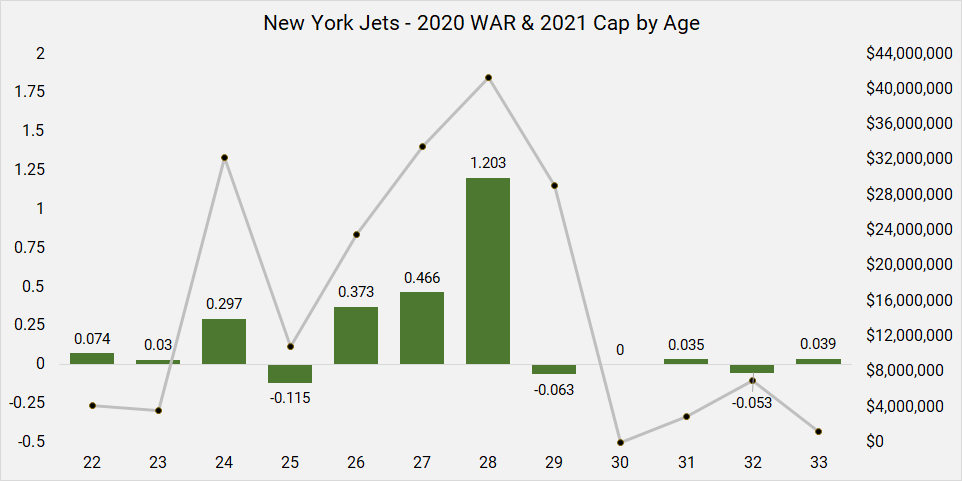 With new general manager Joe Douglas completely purging the roster heading into his second year in charge, he should have the benefit of patience from ownership. A blockbuster trade of S Jamal Adams netted the Jets with extra first-round picks in 2021 and 2022, and they have five picks in the first 86 selections this year. QB Zach Wilson will take the helm of a significantly better roster than the one new Panthers QB Sam Darnold had, with WR Corey Davis the biggest addition on offense. After years of humongous overpays in free agency, the Jets were far more calculated with Davis and ED Carl Lawson followed by a lot of mid-tier/depth signings.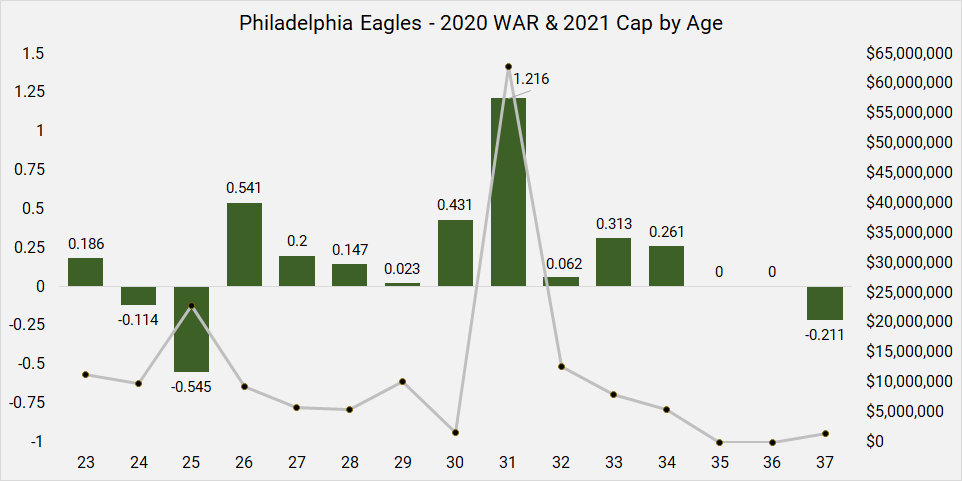 The Eagles' biggest cap hit for 2021 by about $10 million will be Indianapolis Colts QB Carson Wentz, as they work to completely overhaul their roster and pivot to the future with QB Jalen Hurts. A trade down from No. 6 to No. 12 with the Miami Dolphins was a very prudent idea, adding a 2022 first-round pick in the process and still positioning themselves with the ability to add a blue-chip prospect. There is still a bit of a cap crunch to navigate in 2022, but Philadelphia did well to not prolong the headaches and instead quickly rip the Band-Aid off.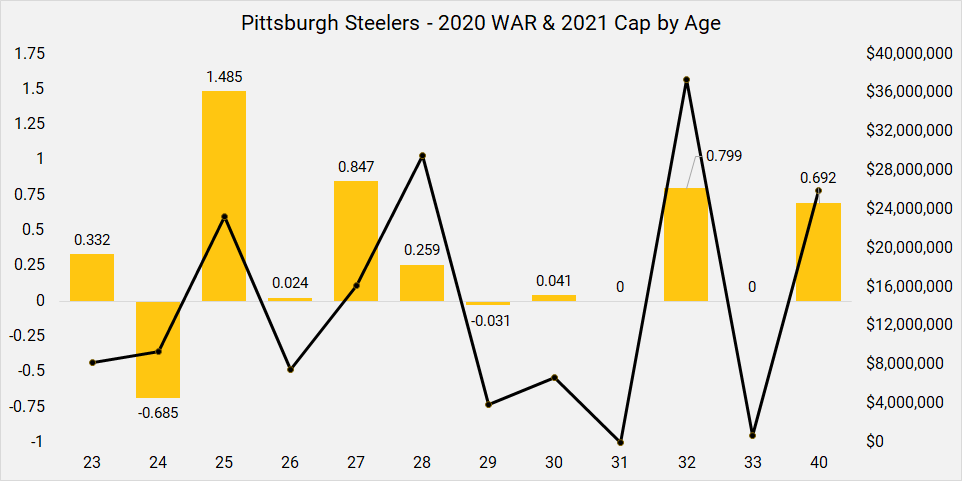 Pittsburgh is looking to run it back one last time with QB Ben Roethlisberger, also retaining WR JuJu Smith-Schuster and DI Tyson Alualu for the 2021 campaign. The AFC North has the potential to be one of the strongest divisions top-to-bottom in the NFL, but the Steelers are bullish on their chances to return to the playoffs once more. However, they also lost ED Bud Dupree, CB Mike Hilton and CB Steven Nelson among others. After 2021, the Steelers have their work cut out for them as they search for their next franchise quarterback, an endeavor they haven't had to worry about since 2004.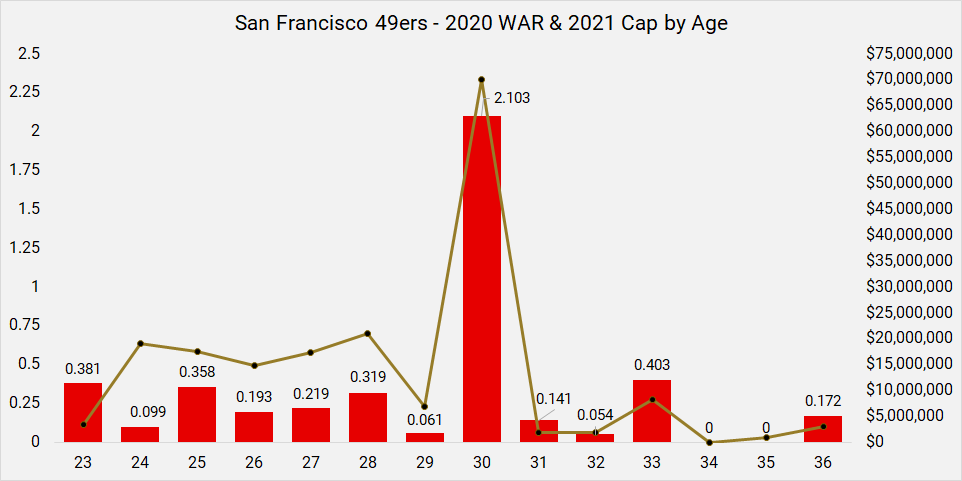 Smart money suggests that this extremely concentrated cap allocation at the age of 30 years old may be decreasing by a good chunk in the very near future. QB Jimmy Garoppolo has a $24.1 million base salary with none of that guaranteed, and after the 49ers made a massive trade up to No. 3 to select their franchise quarterback of the future, it stands to reason that San  Francisco may ask him for a pay cut that could potentially chop that salary number in half. 
Nevertheless, the 49ers otherwise have a pretty solid concentration of cap expenditure in their younger players. Some big extensions are also presumably on the way for young stars like LB Fred Warner, T Mike McGlinchey and others.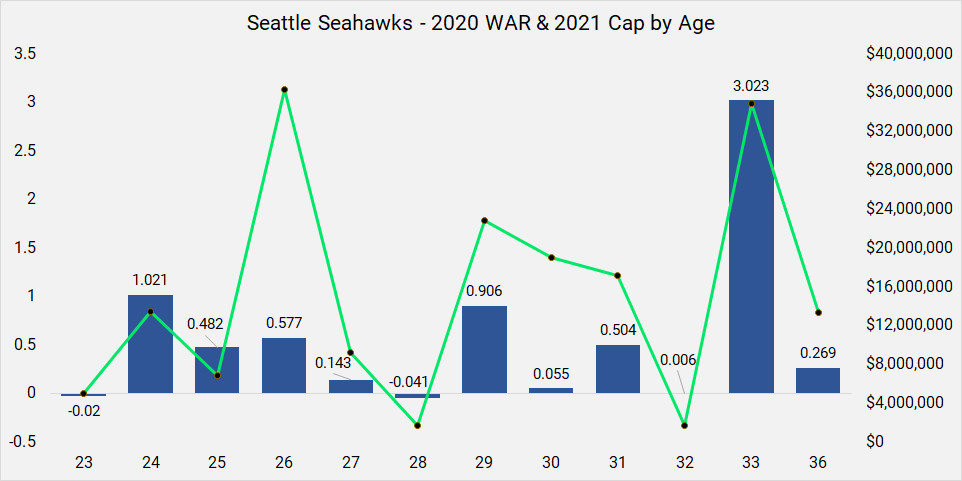 Seattle currently has just three draft picks for 2021 after acquiring S Jamal Adams with a package that included their first- and third-round picks and then adding G Gabe Jackson from the Raiders for their fifth-round pick. 
The Seahawks made at least eight picks in every draft the last decade and traded down at least once every single year, trading away a second-round pick seven times. The odds general manager John Schneider trades down from the Seahawks' second-rounder at No. 56 are probably decently high. QB Russell Wilson has carried a rather pedestrian roster the last several years, and they lost CB Shaquill Griffin and DI Jarran Reed. It's not great timing for Seattle to have the least amount of draft capital in the NFL.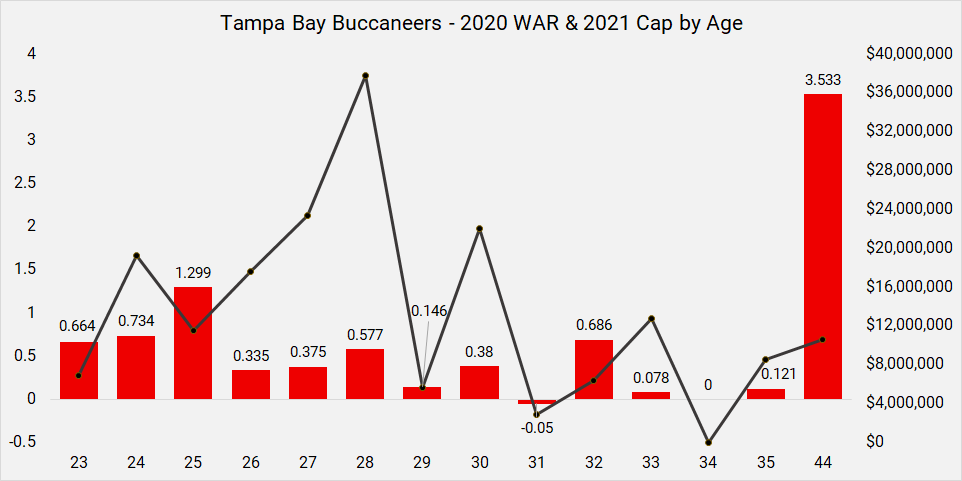 All 22 starters from the Buccaneers' 2020 roster are back for 2021 as they look to repeat as Super Bowl champions. The bar way on the far right here is, of course, the great Tom Brady, whose 2020 season was nothing short of spectacular in a brand new system with little to no offseason. Tampa Bay is playing with house money at this point after years of futility finally gave way to an epic run, but recent draft classes consisting of players like DI Vita Vea, CB Carlton Davis, LB Devin White, T Tristan Wirfs and S Antoine Winfield Jr. still form a solid foundation of youth with pricier veterans across the roster. The Buccaneers are well-positioned for the short and long term, though replacing Brady will not be an easy task.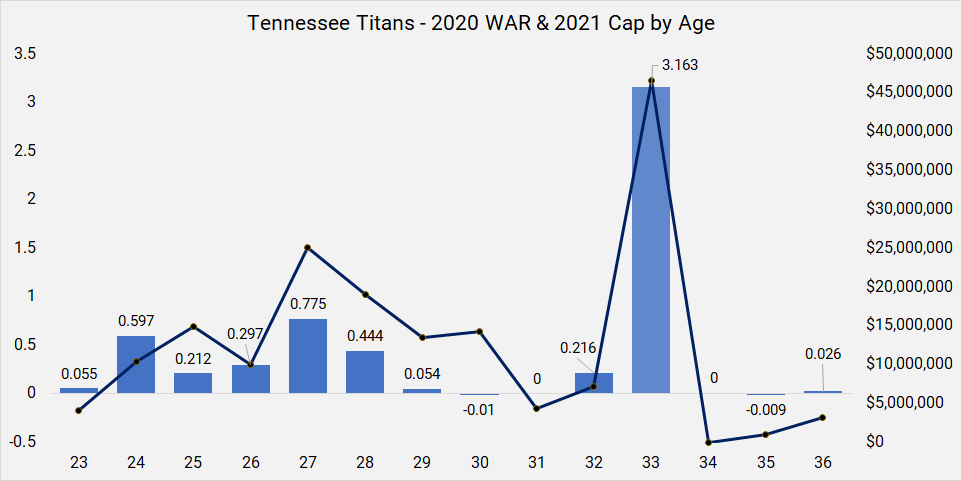 Tennessee's roster was absolutely gutted this offseason, providing one of the more underrated storylines of free agency. WR Corey Davis, TE Jonnu Smith and CBs Adoree' Jackson and Malcolm Butler departed for new opportunities. A splash signing of ED Bud Dupree gives the Titans hope they've finally found a dominant edge rusher they've been searching for, but he of course still needs to recover from a torn ACL suffered in 2020. After an AFC Championship game appearance in 2019, the Titans need to reload.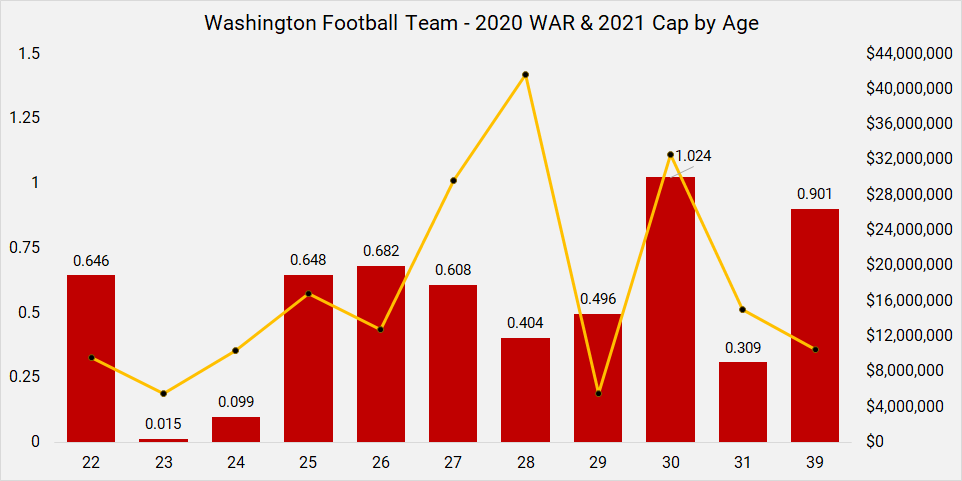 Washington had a strong free agency period on the heels of their first playoff appearance since 2015, adding CB William Jackson III, WR Curtis Samuel and QB Ryan Fitzpatrick. They should have one of the best defenses in the league again in 2021, and Fitzpatrick is a significant upgrade at the most important position in all of sports. A young core of players on the defensive line including DI Jonathan Allen, DI Daron Payne, ED Montez Sweat and ED Chase Young will all eventually need big-time extensions, but for now the Football Team has a window to repeat as winners of the pedestrian NFC East in 2021. 
Roster breakdowns by age group
Finally, here are the rosters broken down in terms of the percentages of WAR and cap expenditure making up each grouping of ages. 
Percent of 2020 WAR by age
| | | | | |
| --- | --- | --- | --- | --- |
| Team | 22-25 | 26-28 | 29-32 | 33+ |
| ARI | 45.60% | 12.40% | 31.90% | 10.10% |
| ATL | 2.50% | 34.40% | 4.60% | 58.50% |
| BAL | 52.90% | 22.40% | 11.20% | 13.50% |
| BUF | 42.00% | 28.80% | 24.90% | 4.30% |
| CAR | 16.80% | 40.20% | 43.10% | -0.10% |
| CHI | 20.10% | 30.20% | 13.50% | 36.10% |
| CIN | 64.50% | 21.90% | 11.90% | 1.70% |
| CLE | 11.50% | 61.10% | 28.30% | -0.80% |
| DAL | -13.40% | 82.90% | 29.50% | 1.10% |
| DEN | -20.90% | 47.80% | 56.90% | 16.20% |
| DET | 5.00% | 75.90% | 21.40% | -2.30% |
| GB | 19.30% | 16.70% | 17.00% | 47.00% |
| HOU | 0.50% | 82.70% | 16.90% | 0.00% |
| IND | 42.40% | 23.30% | 34.30% | 0.00% |
| JAX | 2.50% | 59.10% | 38.40% | 0.00% |
| KC | 22.70% | 57.50% | 20.00% | -0.10% |
| LAC | 35.30% | 30.60% | 28.30% | 5.80% |
| LAR | 10.40% | 31.90% | 22.30% | 35.40% |
| LV | -11.70% | 16.10% | 94.40% | 1.20% |
| MIA | -0.90% | 74.70% | 26.10% | 0.00% |
| MIN | 9.60% | 22.70% | 14.40% | 53.30% |
| NE | 17.30% | 52.20% | 22.70% | 7.70% |
| NO | 45.40% | 2.00% | 32.80% | 19.80% |
| NYG | 31.20% | 44.20% | 24.40% | 0.20% |
| NYJ | 12.50% | 89.30% | -3.50% | 1.70% |
| PHI | -18.80% | 35.40% | 69.00% | 14.50% |
| PIT | 30.10% | 30.00% | 21.50% | 18.40% |
| SEA | 21.40% | 9.80% | 21.20% | 47.50% |
| SF | 18.60% | 16.20% | 52.30% | 12.80% |
| TB | 30.40% | 14.50% | 13.10% | 42.00% |
| TEN | 14.80% | 26.00% | 4.50% | 54.60% |
| WAS | 24.10% | 29.00% | 31.40% | 15.40% |
Percent of 2021 cap by age
| | | | | |
| --- | --- | --- | --- | --- |
| Team | 22-25 | 26-28 | 29-32 | 33+ |
| ARI | 21.60% | 28.10% | 42.70% | 7.60% |
| ATL | 16.80% | 37.70% | 14.50% | 31.00% |
| BAL | 31.90% | 28.40% | 19.60% | 20.10% |
| BUF | 19.70% | 35.60% | 31.60% | 13.10% |
| CAR | 32.50% | 42.70% | 24.10% | 0.70% |
| CHI | 15.20% | 32.30% | 40.50% | 12.00% |
| CIN | 30.10% | 44.60% | 21.10% | 4.20% |
| CLE | 20.70% | 40.20% | 35.70% | 3.40% |
| DAL | 16.70% | 55.80% | 24.80% | 2.70% |
| DEN | 24.30% | 24.10% | 36.20% | 15.40% |
| DET | 28.40% | 56.90% | 14.10% | 0.70% |
| GB | 21.60% | 26.40% | 29.70% | 22.30% |
| HOU | 13.20% | 46.00% | 35.40% | 5.40% |
| IND | 24.10% | 48.60% | 27.40% | 0.00% |
| JAX | 26.60% | 40.70% | 32.70% | 0.00% |
| KC | 17.00% | 46.70% | 34.50% | 1.70% |
| LAC | 24.00% | 35.10% | 24.80% | 16.20% |
| LAR | 17.90% | 32.00% | 30.90% | 19.20% |
| LV | 23.70% | 49.20% | 26.40% | 0.70% |
| MIA | 19.20% | 45.80% | 34.90% | 0.00% |
| MIN | 19.30% | 29.10% | 27.10% | 24.40% |
| NE | 15.20% | 40.60% | 33.60% | 10.70% |
| NO | 27.40% | 28.30% | 34.10% | 10.20% |
| NYG | 27.60% | 47.90% | 16.60% | 8.00% |
| NYJ | 26.90% | 51.90% | 20.60% | 0.70% |
| PHI | 26.40% | 12.40% | 52.20% | 9.00% |
| PIT | 24.30% | 31.50% | 28.50% | 15.80% |
| SEA | 14.00% | 26.00% | 33.50% | 26.50% |
| SF | 21.30% | 28.10% | 42.80% | 7.80% |
| TB | 20.30% | 42.60% | 19.90% | 17.20% |
| TEN | 17.20% | 31.10% | 22.60% | 29.10% |
| WAS | 22.30% | 44.20% | 27.90% | 5.50% |