The first round of the 2021 NFL Draft certainly lived up to the hype, and as always, we bore witness to a number of draft-day steals. One of these steals might even end up as one of the most impactful draft picks of the PFF era.
Here, we use the information available in PFF's advanced database, big board and 1,283-page 2021 NFL Draft Guide to identify the NFL teams that got the best bang for their buck in Round 1 of the 2021 NFL Draft.
View PFF's 2021 NFL Draft position rankings:
QB | RB | WR | TE | T | iOL | DI | EDGE | LB | CB | S
It wasn't a dream, Chicago. The Bears actually made a power play and traded up from No. 20 to No. 11 to draft Ohio State quarterback Justin Fields, PFF's third-ranked prospect in the class and the fifth-best prospect PFF has ever evaluated.
Fields should have been the San Francisco 49ers' pick at No. 3, but then he was inexplicably passed over by many other quarterback-needy teams. Bears general manager Ryan Pace took advantage of the mistakes of others and finally got the Windy City the franchise quarterback it has been longing for.
According to PFF's wins above average metric (WAA), Fields has been the most valuable quarterback in college football over the last two seasons. He made plays both through the air and on the ground, posting a PFF grade of 91.5 in 2019 and 93.5 in 2020, both of which were top-five marks among FBS quarterbacks. He holds onto the ball too long against blitzes and does take more sacks than one would like, but his arm talent, accuracy, athleticism, judgment and rushing ability are extraordinary.
Fields may already be the best quarterback this franchise has ever had, and we haven't even seen him play at Soldier Field yet. Cheers to you, Bears fans — the wait is finally over.
---
This one comes with an asterisk because it could end up as a major steal if Farley's medicals check out. If it weren't for the March back operation — which made his already brutal medical report even worse than it was — there is no question that Farley would have been a top-10 pick. As long as the Virginia Tech product stays healthy and this back issue doesn't keep flaring up, this is a steal. He's that talented.
Farley checks everything the NFL is looking for at the cornerback position minus press-man experience, but he has the physical tools that make that a non-issue. The 6-foot-2, 207-pound corner is capable of running a sub-4.3 40-yard dash and was one of the best cornerbacks of 2019, as his 90.5 coverage grade from that season can attest. He averaged 1.5 catches allowed and 1.5 plays made on the ball against eight Power Five teams in 2019, both ranking inside the top five at the position.
Again, this is dependent on Farley's medicals, but the Titans got themselves a top-10 talent — if he's as healthy as reported — at Pick 22.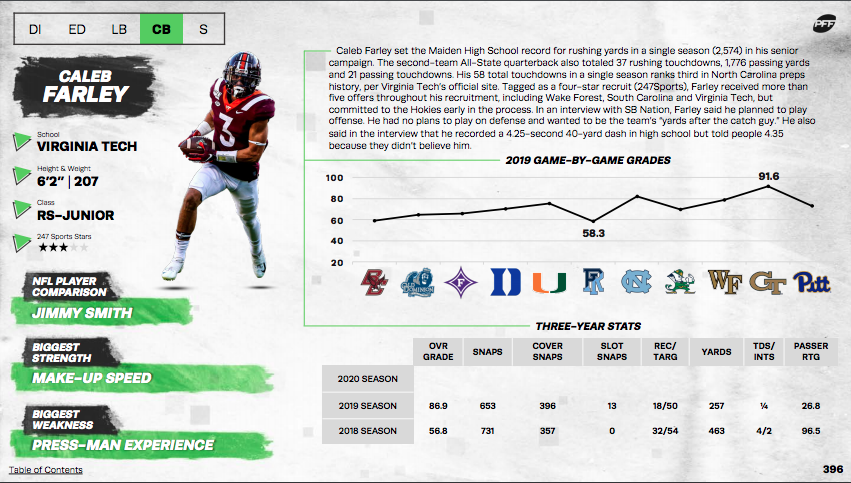 Outside of the Bears committing highway robbery, the Vikings were the biggest winners of the first round. They recouped more draft capital by trading back from No. 14 to No. 23 and still landed Christian Darrisaw, who would have been a worthy pick at Minnesota's original spot.
Darrisaw went up against some very talented defensive linemen during his time at Virginia Tech, but he proved to be a legitimately immovable force, a man among boys. When he landed his punch, he deadened the opposition.
His power and overall physicality are what NFL scouts and coaches dream of when evaluating offensive tackle prospects. It regularly showed up in both facets of play in 2020 when he generated more positively graded run blocks than any other Power Five tackle while also ranking second among that same group in PFF grade on true pass sets. Darrisaw finished with a 95.6 PFF grade in 2020, the second-best grade we have ever given to a Power Five tackle.
---
No team had a better free agency than the Cleveland Browns, and here they are showing up in the biggest Round 1 steals article. And that is because they have once again got themselves incredible value at one of the most crucial positions on the field. An analytically sound team doing intelligent things? Well, it warms our hearts over at PFF HQ.
We only saw Newsome play six games in 2020, but it was still pretty apparent that he was one of the best corners in all of college football. He allowed just 93 yards and five first downs on 223 coverage snaps for the Wildcats last year, all while making eight plays on the ball. Oh, and he did that despite seeing 34 targets over his first four games.
Newsome made plays from off-coverage and held up at the line of scrimmage on the few opportunities he had in press-man coverage. His feet are quite easily the best in the class. They are quick and balanced in his transitions, and his ability to change course swiftly is exceptional.
With the addition of Newsome to a secondary that already boasts Greedy Williams, John Johnson III, Troy Hill and Grant Delpit, Cleveland may challenge Denver for the title of best coverage unit in the NFL next year.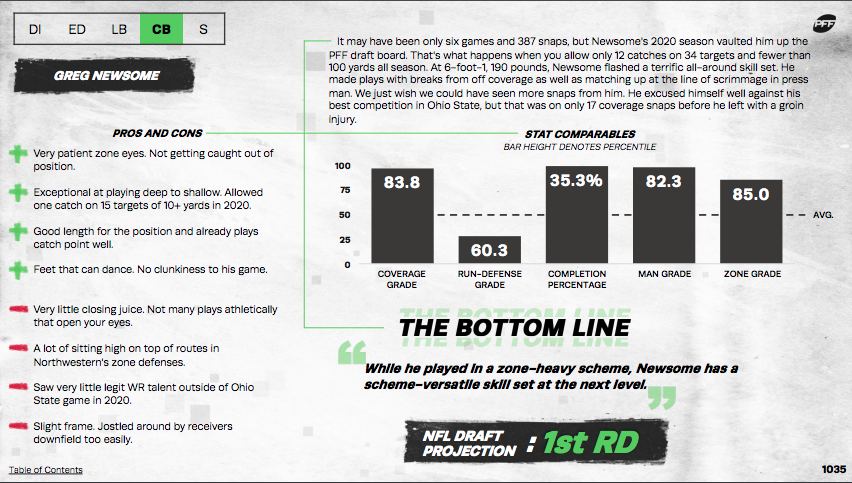 Lamar Jackson finally got his WR1 with Rashod Bateman, who really should have been the fourth wide receiver off the board. He should have been taken in the teens.
The new Ravens wideout may not be an all-around top-tier athlete, but he has route-running chops, release package and safe hands. He also offers a lot after the catch and has proven inside-outside versatility. Put simply, the Minnesota product has one of the highest floors in the entire class.
Bateman mainly worked on the outside in 2019 and generated 3.60 yards per route run on those reps, the fifth-most ever recorded by a Power Five wide receiver in our seven years of collecting college data. Bateman then transitioned to the slot for 2020. Despite catching COVID-19 and losing 10 pounds before the season, he was still uber-productive in his five games played, averaging 3.45 yards per route run and putting up an 81.9 PFF receiving grade.
---
Oweh is a risky prospect, but getting him here at No. 31 as the fifth edge defender off the board was great value for the Ravens. Oweh was the 25th-ranked prospect on our big board, the second-ranked edge defender in the class.
The Penn State product is one of the freakiest athletes you will ever see on a football field. He stands at 6-foot-5 and weighs 257 pounds and posted a 40-inch vertical, 134-inch broad jump, 4.39-second 40-yard dash, 4.15-second pro agility and 6.84-second three-cone at Penn State's pro day. Each of those marks ranks at or above the 95th percentile among edge defenders historically. It matches everything he showed on tape.
Oweh has all the physical tools to become an impact pass-rusher, but he is far from a finished product. His rushes die on contact, there's no violence in his hands and his pass-rush move arsenal is sorely lacking. He lit up Indiana's lowly tackles for a whopping 10 pressures in Penn State's season opener in 2020, but he generated just 10 total pressures over his next six games.
Still, we are talking about a guy who didn't play football until his junior year of high school, a guy who saw just over 400 career pass-rush snaps at the college level. Oweh is only scratching the surface of what he can become and is also a fantastic fit for Wink Martindale's defense. This blitz-heavy scheme is going to utilize Oweh's athleticism, and the Ravens will reap the rewards.
---
More of PFF's 2021 NFL Draft tools here: 
2021 NFL Draft Big Board | 2021 NFL Draft Guide | 2021 NFL Draft Stats Export | NFL Mock Drafts | NFL Mock Draft Simulator