The first day of combine workouts was spicy and featured some electric performances from guys such as Jalen Hurts, Chase Claypool and Henry Ruggs III.
Day 2 isn't nearly as exciting given that offensive linemen, running backs and specialists are set to take the field, but this offensive tackle class is one of the best in recent memory, and we could very well see PFF's top five tackles taken off the board by pick 20.
[Editor's note: Available to all of PFF's EDGE and ELITE subscribers, PFF's 2020 NFL Draft Guide consists of over 750 pages loaded with background information, analysis, advanced statistics, grades, round projections, player comparisons and more on over 250 NFL draft prospects in the 2020 class.]
Jedrick Wills is going to shine and perhaps solidify himself as a top-10 pick
Guys who are 6-foot-4, 312 pounds aren't supposed to be as agile and explosive as Jedrick Wills. The athleticism has helped him to pick up stunts and blitzes in pass protection, but his bread and butter is his run blocking. He's one of the best in the class in that facet and posted the sixth-best run-blocking grade among all FBS tackles in 2019. Wills has been a relatively good pass-blocker but still could improve a tad in that aspect of play. Still, with his tools, he can plug into any scheme in the NFL — and he'll show that Friday night.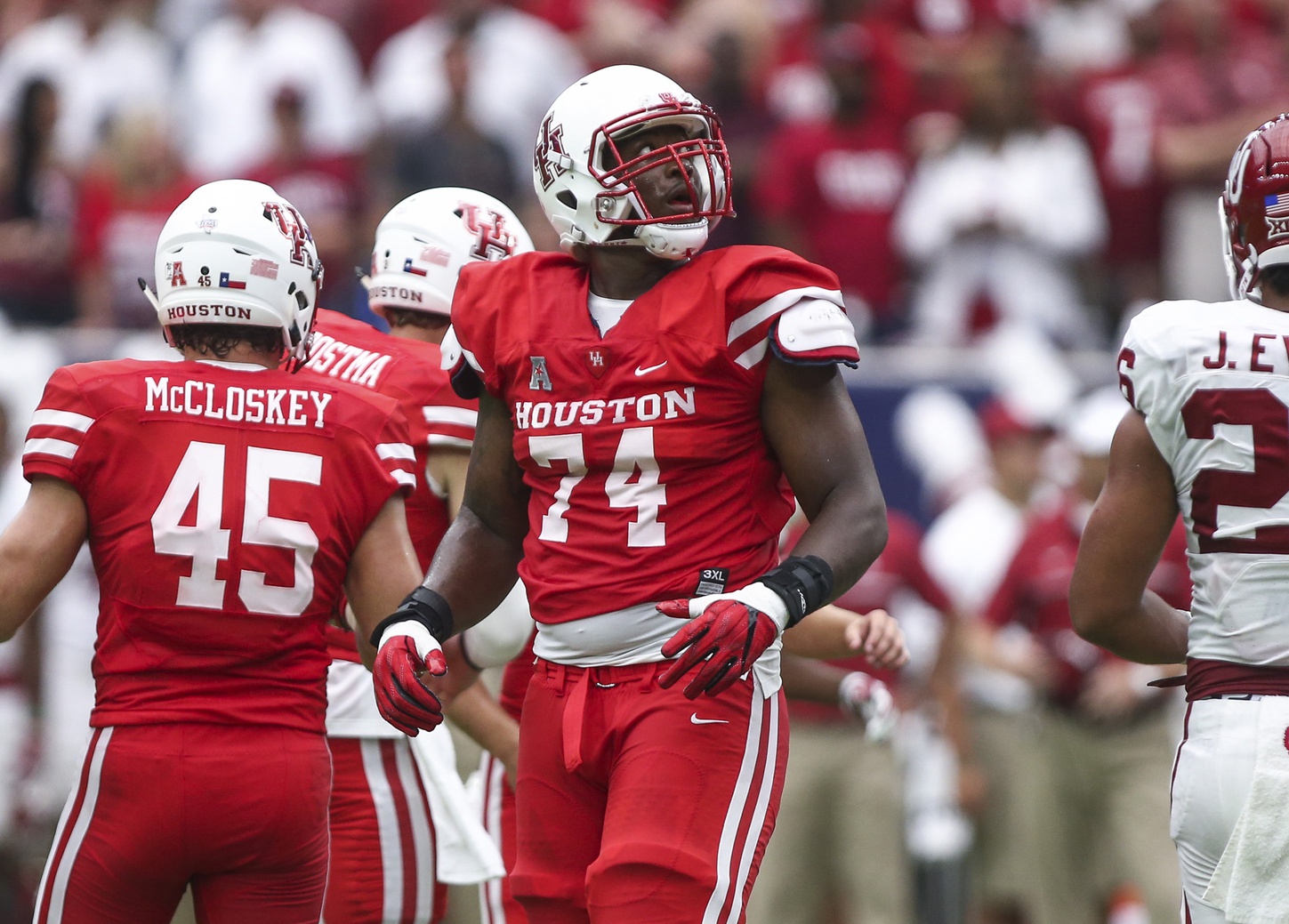 Josh Jones will show that he is one of the best tackle prospects in the class
Prior to the 2020 Senior Bowl, a prominent draft analyst caused a stir when he claimed that Houston's Josh Jones wasn't even a top-200 prospect. In our eyes, he is one of the 15 best in this class — he showed it at the Senior Bowl, and he'll show it again at the Combine.
Jones posted the highest overall grade we have ever seen from a Group-of-5 tackle in 2019 (93.2), excelling in both pass protection and as a run-blocker. His run-blocking grade was the second-best in the FBS in 2019, behind only Penei Sewell, and he allowed just four total pressures on his 298 pass-blocking snaps. He's just a natural athlete and an elite-level prospect.
Lloyd Cushenberry III has won over scouts' hearts, but he's not won over PFF's
Some see Lloyd Cushenberry III as the best interior offensive lineman in this class. PFF, however, has him as the 10th best. He has some athletic limitations that caused him to lose some reps in 2019, which helped lead to just an 89th-ranked 61.0 overall grade and a pass-blocking grade that didn't even crack the top 100. Cushenberry has excellent strength, but you need more than that to succeed along the interior of an NFL line.
Jonathan Taylor is going to fly in the 40, and he'll fly up some draft boards as a result
Jonathan Taylor was a track star in high school before he settled into football. In his three-year career at Wisconsin, Taylor produced 183 rushes of 10 or more yards, which were 70 more than any other running back. If you give him an open hole, he's going to take full advantage of it with his elite speed. There are question marks in other areas, such as his elusiveness and receiving ability, so while a great 40 time won't necessarily push him up our board, he may climb on a few others.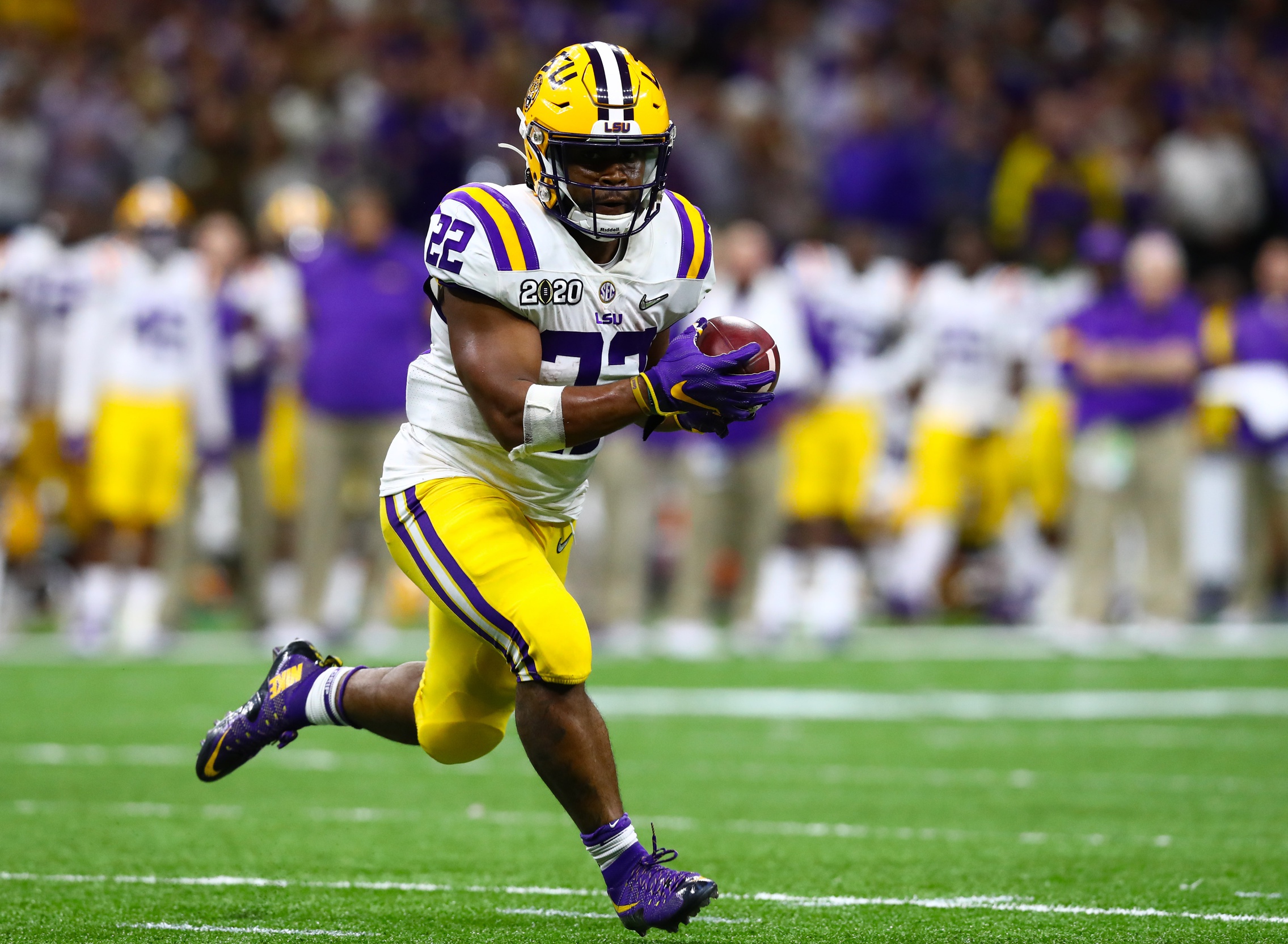 As we said yesterday, Clyde Edwards-Helaire was asked to work out at wide receiver because of his superb receiving ability. NFL teams see him in a role similar to what the Chicago Bears do with Tarik Cohen, as he was used extensively in the receiving game at LSU and was highly successful — he caught 55 of his 64 targets for 453 yards while breaking 14 tackles on those catches.
Edwards-Helaire will be working out with the running backs tonight, and it's understandable why he wants to emphasize his rushing ability over his receiving ability. He posted one of the highest rushing grades in college football last year at 92.0 and was one of the most valuable non-quarterbacks overall, per PFF WAA.
MORE FROM THE 2020 NFL SCOUTING COMBINE: