PFF's new 2020 NFL Draft Big Board is live. The 2020 NFL Scouting Combine is underway. The latest version of PFF's 2020 NFL Draft guide is live. It only makes sense to run through all 32 first-round picks again and issue another 2020 NFL Mock Draft.
[Editor's Note: This 2020 NFL Mock Draft is NOT a prediction mock draft. This is a mock draft that represents what PFF would do if we were GMs of all 32 NFL teams. This is what we would do, not what we think will happen.]
Bengals' faithful can go to the nearest Queen City tattoo parlor and ask for a Burrow chest piece at this point. No NFL team is going to trade a king's ransom for the top pick in April's draft, and the Cincinnati front office would be foolish to take anyone else at No. 1 overall. Burrow broke single-season PFF records in overall grade, PFF passing grade, clean-pocket passing grade, downfield accuracy, among several others in 2019. He's the top choice in this year's draft; there is no discussion.
There's an argument that Clemson off-ball linebacker Isaiah Simmons is the more valuable selection at No. 2 overall for Washington considering just how impactful Simmons could be in coverage at the next level, but Young's premier pass-rushing ability will likely be too hard for the Redskins' brass to overlook. The former Ohio State standout nearly broke PFF's grading system at the college level with his 96.5 pass-rushing grade this past season. Young turned in the best single-season pass-rushing performance we've ever seen at the collegiate level, and he's still just scratching the surface at 20 years old.
3. Detroit Lions – CB Jeffrey Okudah, Ohio State
Not only is Okudah a former five-star recruit with top-end athleticism, size and length, but he also has the best man coverage skills in this year's class. Matt Patricia should sprint the card in if upper management isn't given an offer they can't refuse to trade down with a team moving up for Tua Tagovailoa at No. 3 overall.
Giants' faithful is begging for the team to address the pressing need at offensive tackle at No. 4 overall in the 2020 NFL Draft, but Jeudy is a better prospect than every offensive tackle in this class. Rookies, especially rookie offensive linemen, don't fill pressing needs. Over the past five NFL seasons, only nine rookie offensive tackles have played 400-plus snaps and earned overall grades above 70.0. None have earned an overall grade above 82.0. Don't address pressing needs in the draft; just draft the best players available.
5. Miami Dolphins – QB Tua Tagovailoa, Alabama
Miami may need to trade up in April's draft to land Tagovailoa, but if the Alabama standout does fall to No. 5, the Dolphins should sprint the card in. Yes, the injury risk with Tua is a significant concern, but the reward outweighs the risk. Tagovailoa is the only quarterback in this class with back-to-back seasons of 90.0-plus PFF passing grades. He also owns two of the top 15 single-season PFF passing grades in the PFF College era (2014-19). Tagovailoa and Burrow are the only two SEC quarterbacks on the list.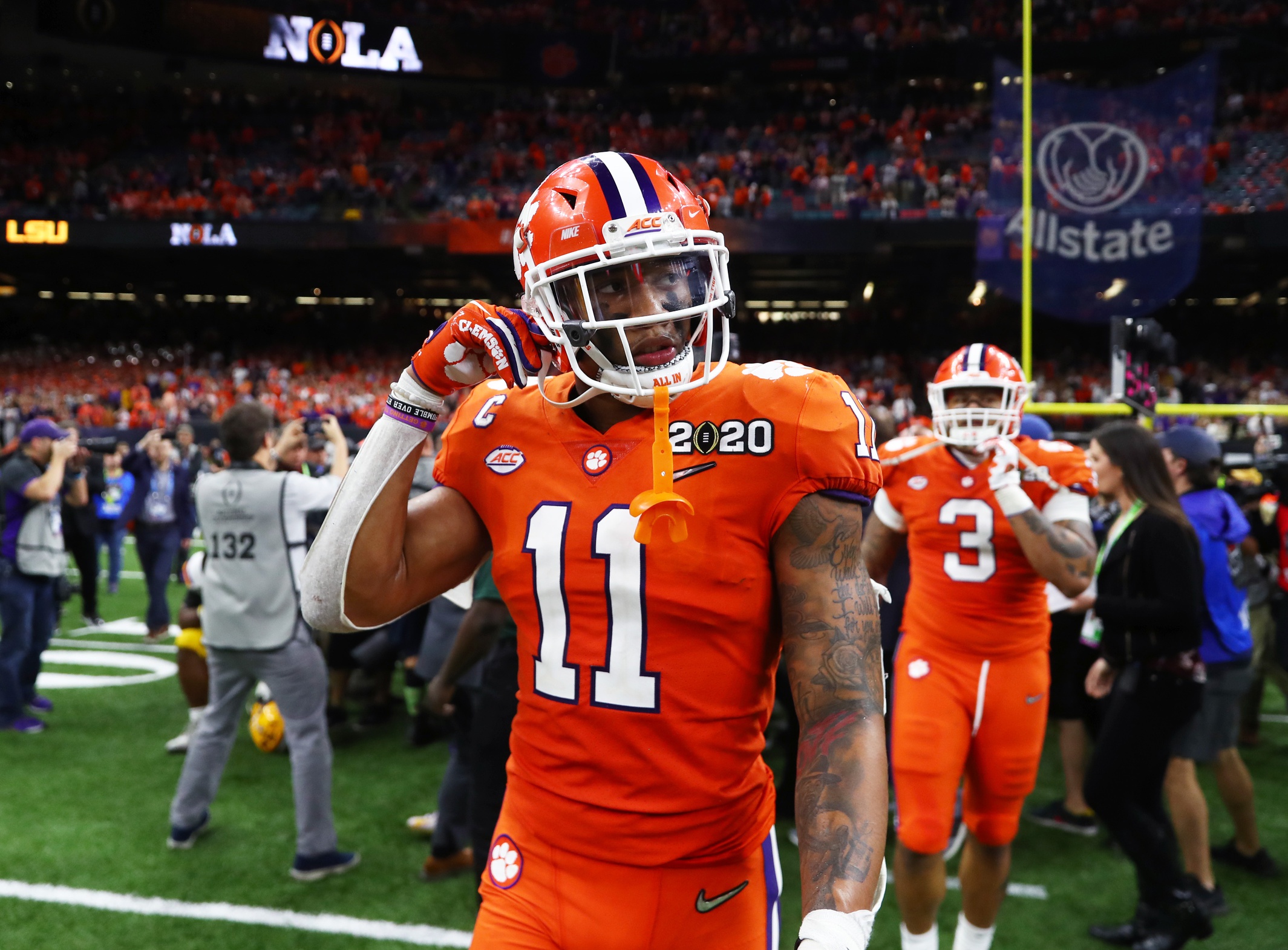 Justin Herbert likely doesn't make it past the Chargers at No. 6 overall in the 2020 NFL Draft, but if PFF was pulling the strings as GM for the Bolts and the 31 other teams, the Oregon product falls a bit farther in the draft. The concerns with Herbert (e.g., play against top defenses and gamer mentality, or lack thereof) are significant enough for him to land outside of PFF's top-25 players in April's draft. Simmons ranks seventh overall on PFF's latest big board, and for good reason. The Clemson off-ball linebacker can play any position on the defensive side of the ball and serves as the perfect fit for modern NFL defenses with his coverage ability.
Likely the consensus top interior defensive lineman in the 2020 draft class, Brown possesses absurd strength and projects as a high-floor, destructive defensive tackle prospect at the next level. He finished the 2019 season ranked third in overall grade (90.8) and fifth in PFF pass-rushing grade (90.4) among FBS interior defensive linemen with 400-plus defensive snaps played.
The reunion of Lamb and Kyler Murray is just too good to pass up for Arizona at No. 8 overall. The former Oklahoma standout wide receiver is currently ranked as the sixth-best prospect in the 2020 class after earning the eighth-best overall grade (90.0) of any qualifying FBS receiver in 2019.
At 6-foot-5, 315 pounds, Kinlaw possesses elite size and length for the defensive tackle position. He is a bit raw from a technique standpoint, but he still managed to produce at a high level against SEC competition in each of the past two seasons. He earned PFF pass-rushing grades above 88.0 in 2018 and 2019.
Thomas is currently PFF's top-ranked offensive tackle in the 2020 NFL Draft. His grades improved in every year of his career at Georgia, and Thomas' 92.4 overall grade in 2019 was the highest of any qualifying draft-eligible Power 5 offensive tackle.
11. New York Jets – OT Jedrick Wills, Alabama
While Thomas ranks first among offensive tackles on PFF's latest big board, Wills is right behind him at No. 9 overall and No. 2 among tackles. The former Alabama standout is expected to blow up the Combine from a testing standpoint considering his sheer athleticism and foot speed. Wills also recorded a 90.1 PFF run-blocking grade in the SEC this past season, a remarkable figure for an underclassman.
12. Oakland Raiders – WR Laviska Shenault Jr., Colorado
Shenault isn't a polished route-runner, nor is he a finished product at the receiver position. However, what he lacks in polish he makes up for in size and explosiveness. He is going to turn heads in Indianapolis with his testing at the 2020 NFL Scouting Combine and best projects as a moving chess piece for an offensive coordinator at the next level. Jon Gruden just needs to get the ball in his hands and watch him go to work.
After Thomas and Wills, Jones is PFF's third-best offensive tackle and No. 14 overall player in the 2020 NFL Draft. With Anthony Castonzo's future with the franchise in question, the time to invest in talented offensive tackles is now for Indianapolis. Jones finished the 2019 season ranked second among all FBS offensive linemen with 400-plus offensive snaps in overall grade at 93.2. He also put on a show while playing multiple positions in the practices leading up to the 2020 Reese's Senior Bowl.
Epenesa won't be coveted for his burst and short-area quickness like some of the other top edge defenders in the 2020 class, but his production at Iowa and consistency as a pass-rusher should draw considerable interest from the Bucs' brass at No. 14 overall. At 6-foot-6, 280 pounds, Epenesa wins with power and technique along the edge, a combination that should translate to production at the next level.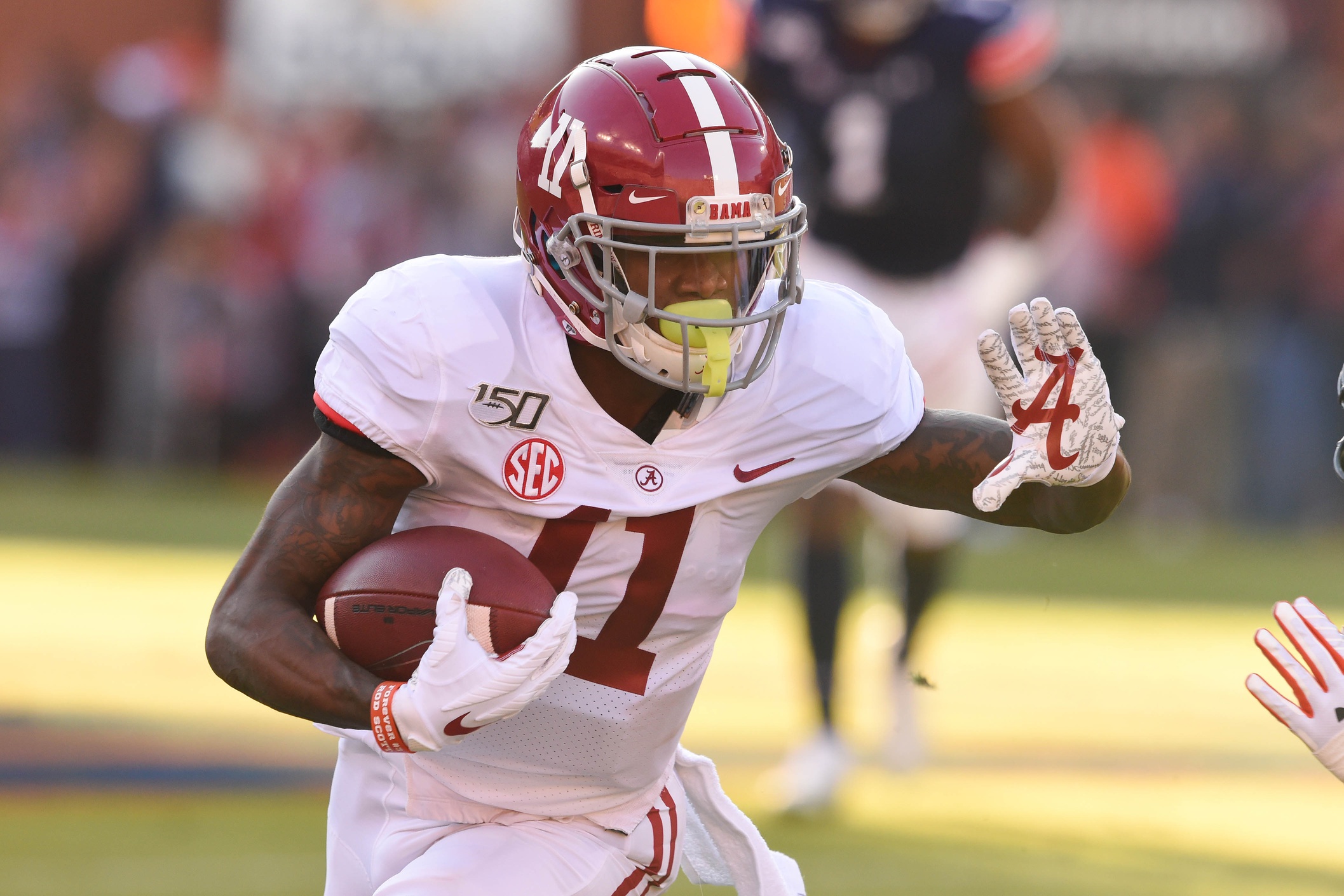 15. Denver Broncos – WR Henry Ruggs III, Alabama
More than just a deep threat, Ruggs brings legit 4.2 speed and strong route-running ability to the table as PFF's fourth-ranked receiver in the class. Playing at Alabama limited Ruggs from seeing the football as much as other top receivers in this class, but don't let his low market share keep you away. He's a difference-maker at the position who should provide value as a big-play threat early in his career.
Fulton is currently ranked as PFF's No. 2 cornerback and No. 17 overall player in the 2020 NFL Draft. He struggled a bit late in the season but put enough on tape across his 2018 and 2019 campaigns to warrant high praise. Among FBS cornerbacks with 500 or more coverage snaps played in 2018 and 2019 combined, Fulton ranks tied for third in PFF coverage grade at 92.0.
[Editor's Note: This 2020 NFL Mock Draft is NOT a prediction mock draft. This is a mock draft that represents what PFF would do if we were GMs of all 32 NFL teams. This is what we would do, not what we think will happen.]
Delpit's missed tackles over the course of his LSU career are a concern, sure. He, however, is still PFF's top-ranked safety in the 2020 NFL Draft due in large part to his ability to make splash plays in coverage and fly sideline to sideline. He'll miss tackles at the next level, but he'll also be in a position to make more tackles than most safeties with his combination of athleticism and instincts.
18. Miami Dolphins – Edge Curtis Weaver, Boise State
Few NFL evaluators will consider Weaver a top edge defender in this class because of concerns with his underwhelming body type and athleticism. Others will make the excuse that he rarely competed against NFL-level competition. But the bottom line is that Weaver was uber-productive at the collegiate level and even maintained high-level production through injury in 2019. He enters the 2020 NFL Draft with some of the best grading we've ever seen from an edge defender and will likely remain PFF's third-ranked edge defender in the class through the draft.
19. Oakland Raiders – Edge Julian Okwara, Notre Dame
There's currently not enough hype surrounding Okwara. The 6-foot-4, 250-pound Notre Dame product is a freakish athlete with absurd bend and flexibility that defensive line coaches salivate over at the next level. His technique will require improvement at the next level, but he still earned a 90.4 PFF pass-rushing grade before his 2019 season was cut short due to injury. His pass-rushing grade improved every year of his career with the Fighting Irish.
There's an argument for pushing McKinney ahead of Delpit as the class' best safety considering just how productive and versatile he was at Alabama. His overall grade and PFF coverage grade improved every year of his collegiate career, and he earned an impressive 88.4 overall grade and an 89.2 PFF coverage grade in 2019. He also logged over 500 defensive snaps played at free safety, box safety and slot cornerback over the past two seasons with the Crimson Tide.
Interior defensive line isn't a pressing need for the Eagles this offseason, but Elliott is a player the team should want if he falls to No. 21 in April's draft. The 6-foot-4, 315-pound Missouri product led all qualifying interior defensive linemen in overall grade (91.1) this past season. His first step and hand technique are among the best in the class. He wins in one-on-one situations at the line of scrimmage with great consistency and should offer value as an interior pass-rusher early in his NFL career.
22. Buffalo Bills – WR Tee Higgins, Clemson
Higgins should surprise some NFL talent evaluators with his straight-line speed at the Combine. The 6-foot-4, 210-pound Clemson product is coveted for his ball skills and contested-catch ability, but don't let his size convince you that he's a slow mover. He is currently PFF's fifth-ranked receiver and the 25th-best overall player in the class.
An NFL GM will fall too far in love with Herbert's size and arm talent to let him fall to the Patriots at No. 23 in the 2020 NFL Draft, but PFF simply doesn't see the Oregon product as a top-20 player in the class. The top-end traits aren't enough for us to throw him any higher than 28th on our latest big board. He struggled significantly against top defenses at the college level. In games against Auburn, Cal, Washington, Arizona State, Utah and Wisconsin in 2019, Herbert recorded just seven big-time throws, 10 turnover-worthy plays and a 64.0 PFF grade. There's enough to like about Herbert to warrant swinging the bat on him at the back end of the first round, of course.
Reagor's drop in production from 2018 to 2019 is overstated. He saw an accurate, on-target pass thrown his way on just 30.7% of his targets in 2019, a figure that stood as the fourth-lowest mark among qualifying FBS receivers this past season. Give Reagor an accurate NFL passer like Drew Brees and watch him prosper. The kid has legit 4.3 speed, solid ball skills for his size and game-changing ability after the catch.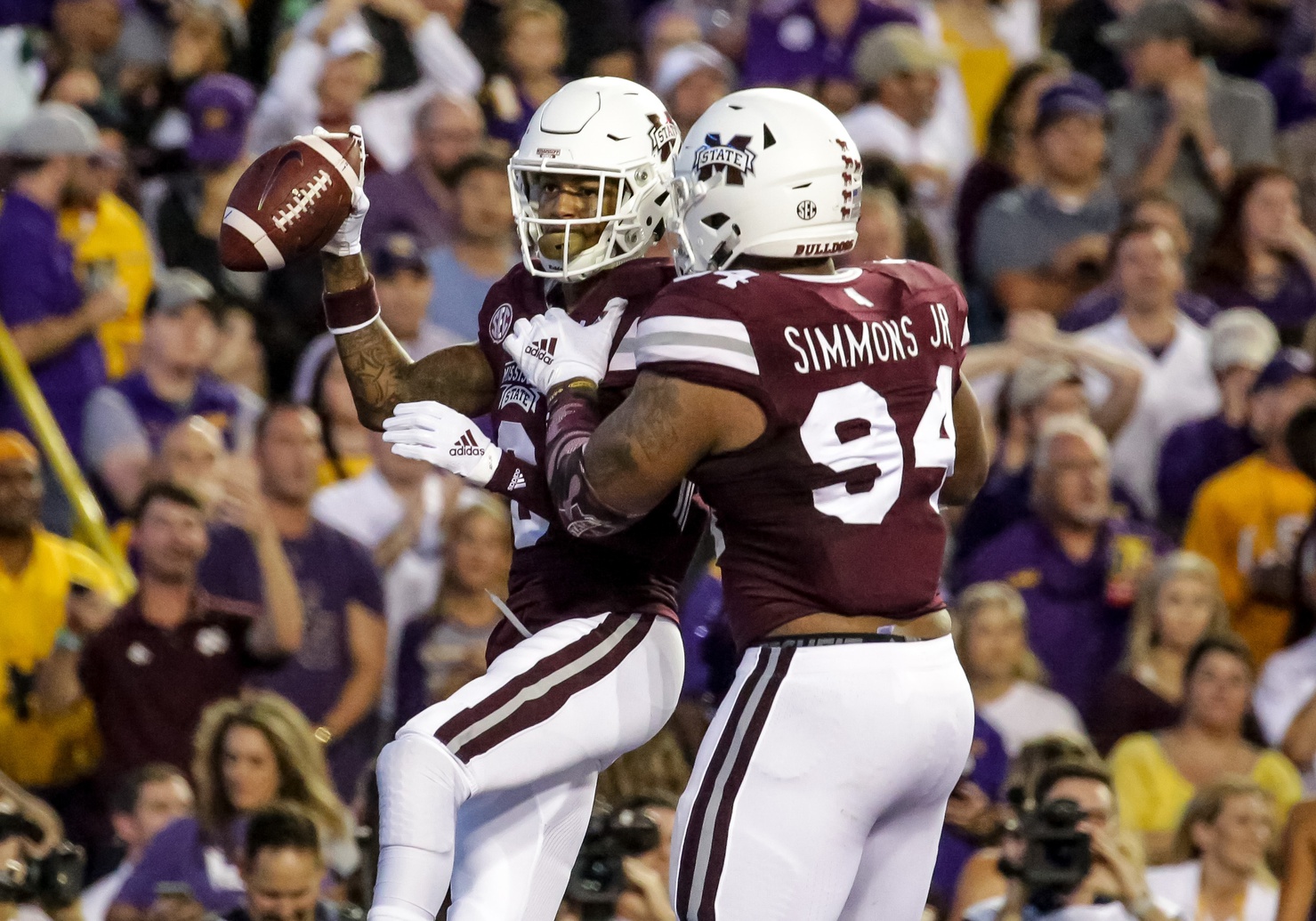 25. Minnesota Vikings – CB Cameron Dantzler, Mississippi State
Dantzler will get knocked in the pre-draft process for his slight frame. He showed up to Mississippi State's campus at 160 pounds as a true freshman and has worked his way up to 185 pounds leading up to the Combine. He, however, makes up for what he lacks in weight with strong man coverage ability and ball skills. He's aggressive at the line of scrimmage and can match-and-mirror with the best cornerbacks in this class. Also, a source close to the program said Dantzler could very well run in the low 4.4s and jump over 38″ in the vertical.
26. Miami Dolphins – OT Tristan Wirfs, Iowa
Wirfs is a freakish athlete with absurd strength for the offensive tackle position. He's a smooth-moving offensive tackle with great balance and control. Arm length might be a bit of a concern at the next level, but he can instantly add value at guard, if not tackle, early in his NFL career. Both his run- and pass-blocking grades have improved every single season of his career. In his final seven games of his college career, Wirfs allowed one lone pressure.
Seattle covets length at the cornerback position, and man does Diggs have it. The 6-foot-2, 207-pound Alabama product is built like a pterodactyl. He can clamp down on receivers at the line of scrimmage with great hand technique and uses his body well down the football field to limit separation at the top of his opponent's routes. His PFF coverage grade improved every year of his career, and he earned a 90.1 PFF coverage grade across 417 coverage snaps in 2019.
28. Baltimore Ravens – WR Brandon Aiyuk, Arizona State
Just because the Ravens already have absurd athletes like Lamar Jackson and Marquise Brown doesn't mean the team should turn their heads away from another at pick No. 28 in April's draft. Aiyuk flashed explosive athletic ability before and after the catch with the Sun Devils this past season and averaged over 10 yards after the catch per reception in the process. He is currently PFF's seventh-ranked receiver and 30th-ranked overall player in the 2020 class.
Cornerback is a need for every team in the NFL, including the Titans. Malcolm Butler turns 30 this offseason, Logan Ryan is an unrestricted free agent and Adoree' Jackson is the epitome of inconsistency. Johnson is PFF's sixth-ranked cornerback in the class, and for good reason. He simply doesn't give up big plays. Johnson has allowed just a 19.5 passer rating when targeted 10-plus yards downfield over the past seasons, the best mark by a Power 5 cornerback by a significant margin.
Mims quite simply put on a show at the Senior Bowl. After impressing on a very limited route tree at Baylor, Mims took it to the Senior Bowl cornerbacks in attendance across a very diverse route tree. He should also continue to elevate his stock with a strong performance in Indianapolis at the 2020 NFL Scouting Combine, as well.
A former track star turned highly productive safety, Davis brings high-end top speed and great range to the table at the back end of the first round. He's still learning the position, but his instincts improved with each week. And his range ranks among the best in the class at safety. He should wow scouts and talent evaluators at the Combine if he's indeed healthy after a groin injury kept him from participating in drills at the Combine.
Gladney is a physical, tough cornerback prospect with legit 4.3 speed. He can get a bit too aggressive at times but has the recovery speed to make up for it down the football field. He isn't afraid of getting beat deep, and his combination of confidence and athletic ability has translated to high-end production at TCU. He's recorded five or more pass breakups in each of the past four years, and he's allowed receptions on fewer than 50% of his targets in each of the past two.