The first day of on-field drills at the 2020 NFL Scouting Combine was an exciting one, and it was full of impressive performances. With the help of PFF's advanced database, top-150 big board and 2020 NFL Draft Guide, let's look at some of the prospects who stood out last night along with a few who threw out some dud performances.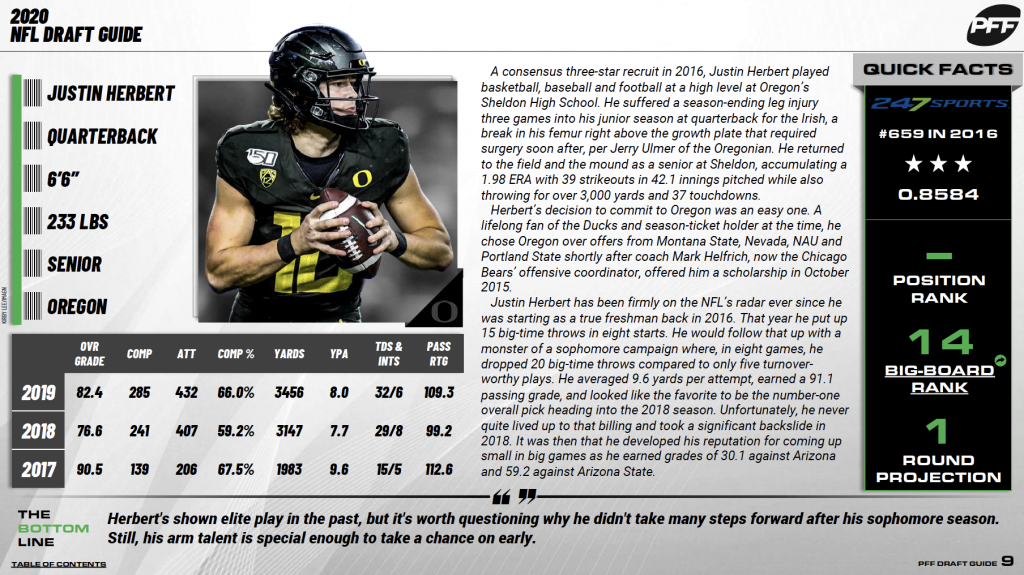 RISERS
Coming into the NFL Scouting Combine, Okwuegbunam was a projected sixth-round pick. After running a 4.49 40-yard dash last night, though, it's safe to say that he could be taken a lot earlier.
As you can see by our analysis in the PFF 2020 NFL Draft Guide, we knew Okwuegbunam had absurd straight-line speed; he just isn't quite a great route-runner and has some serious drop issues (10.3% drop rate in his career). Okwuegbunam was a solid player in 2017 and 2018, posting top-15 receiving grades at his position, but he took a massive step back in 2019 and didn't produce a receiving grade that even cracked the 50th percentile. He's no doubt going to rise up the boards after this week, though he won't rise too far on ours.
We knew Henry Ruggs III was going to run the fastest 40-yard dash of the night. Ruggs comes in at No. 16 overall on PFF's draft board; he is a crisp route-runner, and he is explosive after the catch. Over the course of his three-year career, Ruggs hauled in 98 catches and averaged 9.0 yards after the catch per reception, generating a passer rating of 151.4 and recording 44 explosive plays of 15-plus yards in the process. He isn't passing Jerry Jeudy or CeeDee Lamb, but he might have locked himself into being one of the first four receivers off the board, which is fair in our eyes.
Denzel Mims destroyed the Senior Bowl, and then he destroyed the Combine — he's proved that he is one of the most athletic big-body wide receiver prospects in this class. Mims was one of the best contested-catch receivers in the FBS last season, as his 90.2 receiving grade on such plays was one of the 15 best in the country. That being said, his route-running ability and hands are still causes for concern. He dropped a whopping 13% of his catchable targets over the last two years, and a lot of his production was built upon vertical routes. Mims was a top-32 prospect in our eyes entering the week, and he will most likely remain as one.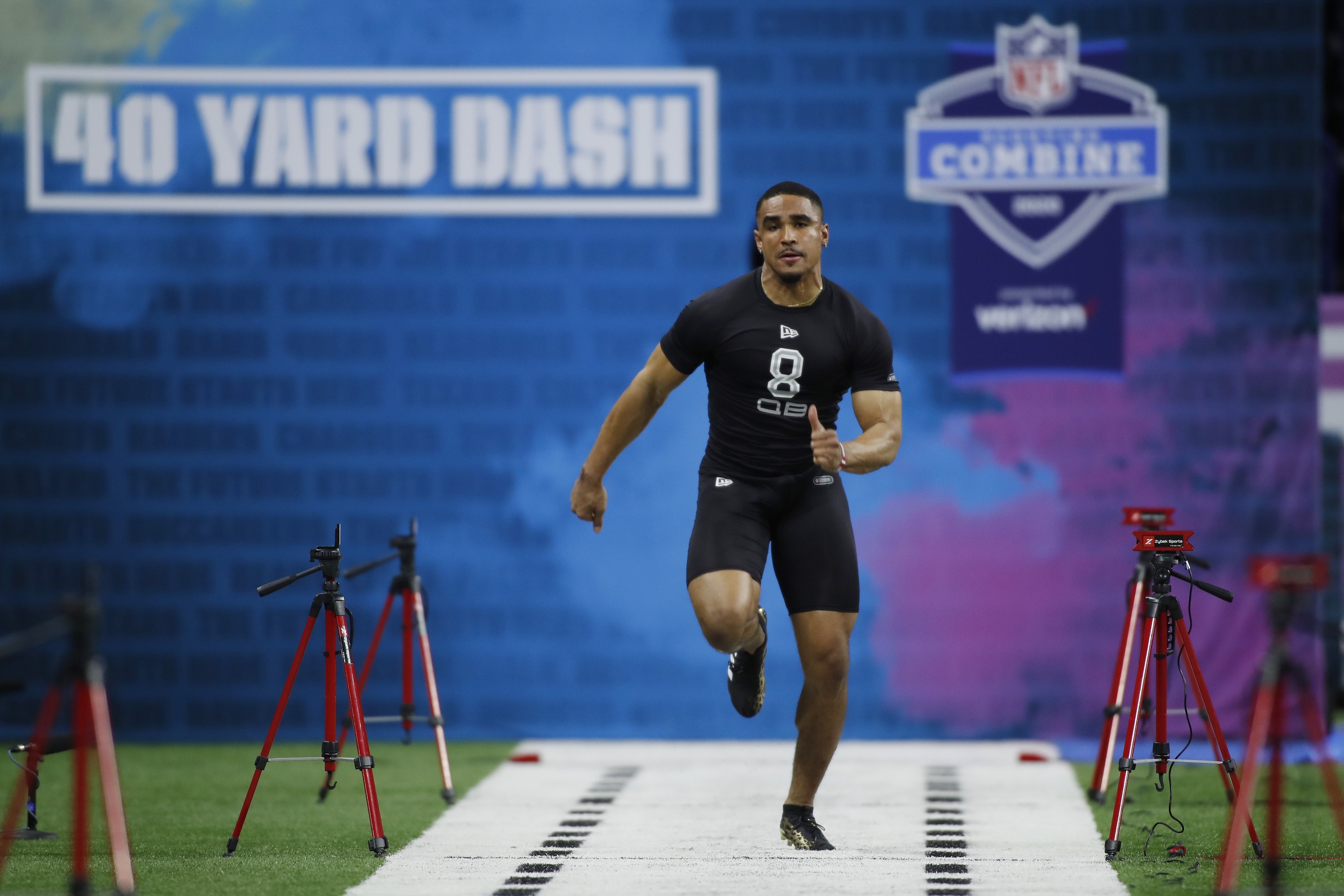 Earlier this month, we stated that Oklahoma's Jalen Hurts was the quarterback with the most to prove at the 2020 NFL Scouting Combine. For Hurts to succeed at the next level, his rushing ability will have to be incorporated into his offense, and he'll most likely require a scheme change. So, his athleticism needed to be on point during his testing, and it certainly was.
Hurts generated positive expected points added on 56% of his carries at Oklahoma this past year, a mark that was six percentage points higher than the FBS average, and on his scrambles from the pocket, he picked up an explosive play on over a quarter of his attempts. His passing is still shaky, but he bumped his stock on Thursday, and he will have made NFL teams feel more comfortable with the thought of investing in him.
You don't often see a 6-foot-4, 223-pound receiver run routes as well as Michael Pittman. And the same athletic ability that aids his route-running showed up on the field in Indy on Thursday night, as he posted the fourth-best three-cone and second-best 20-yard shuttle.
Entering the week, Pittman was among the 40 best prospects on PFF's big board, primarily because of his reliable hands and insane catch radius. Over the course of his career, Pittman dropped just five of his 176 catchable targets and showed the ability to bring in some off-target passes that others just couldn't. We knew that he had solid straight-line speed, and we figured he'd test well this week, but he still managed to exceed our expectations.
NFL teams wanted Chase Claypool to work out as a tight end, and he might very well still be changing his position when taken in the draft in April. If he does switch, he'd be arguably the most athletic tight end in the draft. At 6-foot-4, 238 pounds, Claypool was near the top of the wide receiver position in the 40-yard dash and vertical. His inability to separate and success in contested situations will make him an intriguing Darren Waller-type weapon on offense. Not to mention, he can create some magic after the catch. He broke 14 tackles on 66 catches in 2019 — and that's a great total for someone of his size.
FALLERS
No one has seen their draft stock plummet more over the last year than Jared Pinkney. Heck, even the Patriots told him that he had a "loser's mentality" when they met with him. The only timed drill Pinkney took part in was the 40-yard dash, and he had the slowest time of any other tight end and barely cracked 5.00 seconds.
Among the FBS tight ends who saw at least 40 targets in 2019, Pinkney had the third-lowest receiving grade. He dropped from 43rd on our big board prior to the Senior Bowl to outside the top 100 after the game had concluded. He had every opportunity to gain some ground on Thursday, but his drop only continued.
At 6-foot-3, 215 pounds, Jauan Jennings posted the second-worst vertical and second-slowest 40 time at his position on Thursday. Though, his greatest strength in college in 2019 was his after the catch ability — something that the drills can't really measure. Jennings broke an absurd 30 tackles on 59 catches last year, and he averaged a very impressive 8.0 yards after the catch per reception. The poor speed was expected, and while he might be on the cusp of getting removed from PFF's top-10 wide receiver prospect list, his after-the-catch ability is too good to ignore.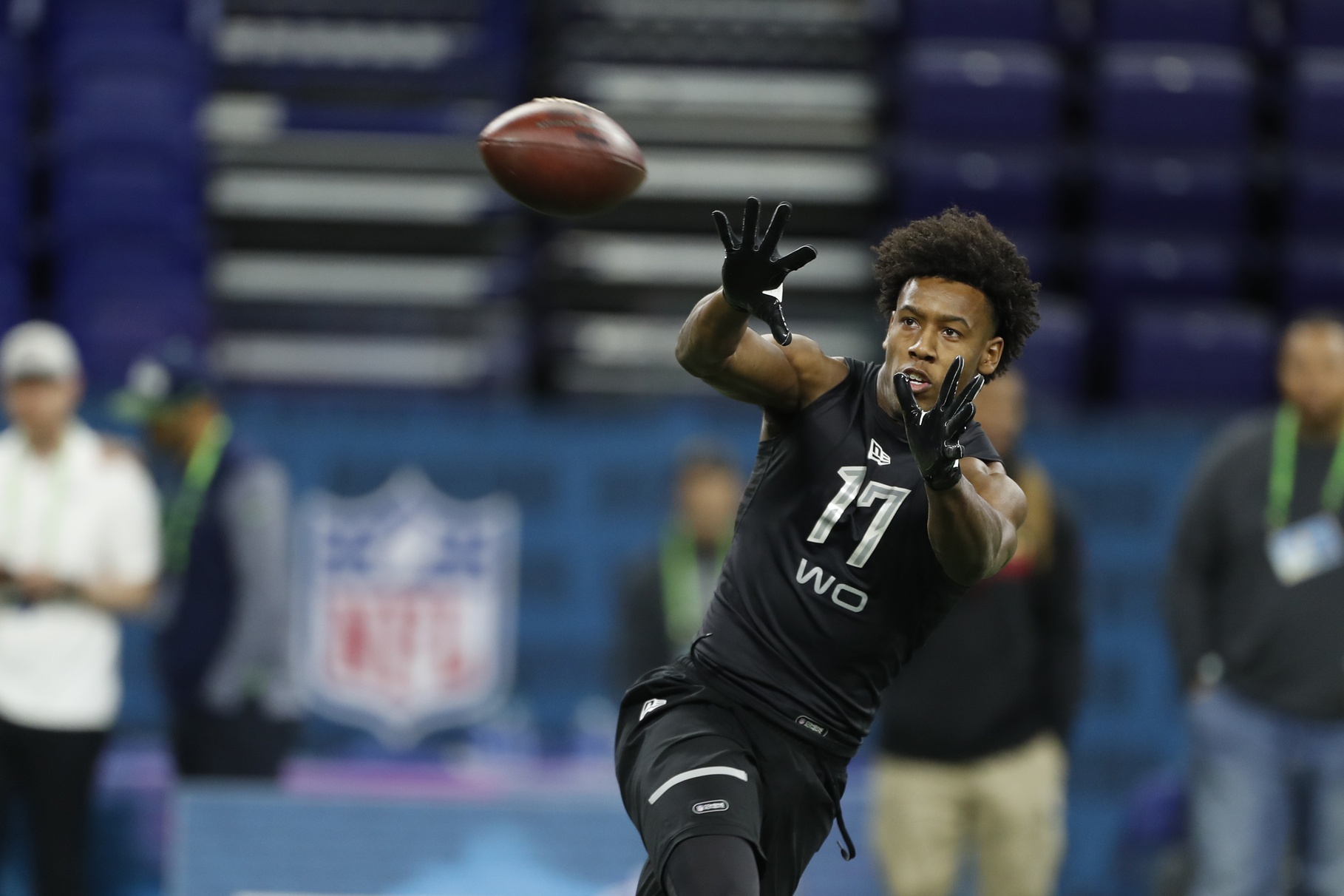 Antonio Gandy-Golden was one spot away from cracking the top 100 on the PFF big board, but his performance on Thursday means that he still has some work to do if he wants to make it into the double digits. The Liberty wideout produced one of the bottom 10 forty times at 4.60, and he also had the second-worst three-cone time at the position. Lack of speed and burst was his biggest flaw in college — he was used extensively on deep shots with his 6-foot-4 frame and large catch radius, and based on his agility testing, it's becoming increasingly likely that he will be limited to such a role at the next level.
More from the 2020 NFL Scouting Combine: