The 2019-20 NFL season has officially come to a close, but that just means we are a few weeks out from the highly anticipated combine, where the football world all comes Indianapolis to evaluate this year's NFL class. It's the most wonderful time of the year.
Over 300 prospects were invited to this year's combine almost every single one can make or break their draft stock with their performance. That said, we detail the ones that have the most to prove at every position in their week in Indy:
The athleticism is there with Hurts, and it was apparent whenever he was the ball-carrier in Oklahoma's offense. He finished the season with the third-most designed rushing attempts for a non-running back and had 56% of his carries generate positive expected points added, 6% higher than the FBS average. Hurts reportedly ran a 4.48-second 40-yard dash a couple years ago at Alabama, which was a huge weapon of his with his scrambling, as over a quarter of his scrambles this past year resulted in an explosive rush of 10-plus yards. The big question mark on Hurts' play on the field is what matters most for the quarterback position: passing.
Some of his college production came from a great supporting cast – he had the fourth-highest rate of passes to a receiver downfield with open separation (more than a couple steps of separation) this past year. His tight-window passing on shorter throws got ugly at times – particularly on horizontal routes – largely because of his poor anticipation and slow release. Hurts was a great collegiate player, but he'll be under a microscope during quarterback drills at the Combine.
Cam Akers, RB, Florida State
Akers has been forced to create after contact more than any other running back in college football running behind Florida State's poor offensive line. Over 76% of his total rushing yards in his career have come after contact, which is the highest among all draft-eligible running backs with at least 300 carries since 2017 (51 in total) and 15% higher than the average. As a result, his production has been rather poor with just 13.7% of his career carries going for 10 or more yards, ranking 27th of the 51 qualifying running backs. In the receiving game, Akers wasn't too hot, dropping 10.5% of his catchable targets in his career ranking 31st of 41 running backs in this class to see 50 targets.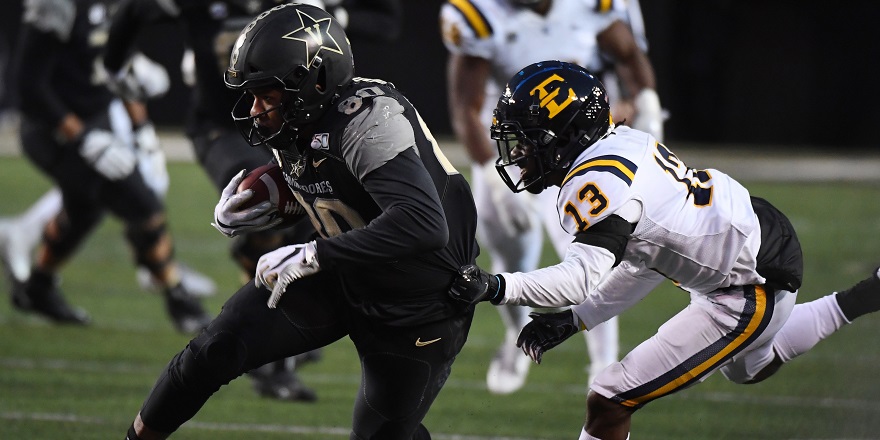 One of the players to hurt their draft stock the most from the start of the 2019 season to now is tight end Pinkney. His Senior Bowl made matters far worse, dropping his PFF big board rank from 43rd to out of the top 100. Pinkney lowered his 81.9 receiving grade from 2018 to 53.4 in 2019. He had poor production all-around by generating just 0.87 yards per route run, which was dead last among qualifying tight ends. The athleticism clearly has not been his strong suit and it showed on the field as he had 16 targets 10-plus yards downfield and not one had open separation. Pinkney's combine performance will impact his NFL future arguably more than anyone else in attendance.
The quarterback situation Reagor had in 2019 was flat-out bad. Among draft-eligible wide receivers, Reagor saw the fourth-lowest rate of catchable targets at 61.4% (for perspective, that's 12% lower than the average; the highest rate was Justin Jefferson at 89.6%). At the same time, he had his fair share of errors too by posting the 10th-worst drop rate in this year's class at 13%. His speed though is something rare, as Reagor reportedly ran a 4.29-second 40 last offseason. If he doesn't drop a ball and runs a time as quick as that, Reagor could secure a first-round spot – but at the same token, his stock could fall further down if his gauntlet drill is poor.
While it wasn't on the same levels of Pinkney's, offensive tackle Wanogho had one of the more disappointing 2019 seasons. After posting a 67.0 PFF overall grade in 2017, Wanogho improved that to 84.0 in 2018, then had it drop down to 77.0 in 2019. The biggest reason for the decline in play was because of his pass protection. Among 74 draft-eligible left tackles, Wanogho's pass-block grade was just the 32nd. He's slowly went down our draft board and in PFF's latest draft guide was slated as just a fifth-round pick. Not to mention, his athleticism is far from great.
The reason for Fresno State's Muti being on this list is because of the brutal injury history. Muti played in just five games over the last two seasons combined and missed all of 2016; most of his missed time was a result of two different Achilles injuries. Despite the injuries, he's still No. 1 in the class at his position in PFF's eyes. He's been great when healthy, recording a career PFF pass-block grade of 85.4 on his 697 pass-pro snaps and career PFF run-block grade of 82.2 on his 576 run-block snaps. Muti has allowed just one pressure in every 48 pass-block snaps in his career to which is insane. It's hard telling how much Muti will do at the combine as he said he's still at 70% last week, but the most important thing for him if he can partake in the drills is to show that he's healthy and still dominant.
One of the best run-defending interior defensive linemen college football has had these last few years is Davis from Alabama. In that facet, he has posted grades of 89.1 in 2017, 90.4 in 2018, and 87.9 in 2019. The big red flag on Davis is his performance in the most important role for a defensive lineman in disrupting the passer. Over the last three seasons, Davis has posted pass-rush grades of 62.7 in 2017, 68.5 in 2018, and 71.1 in 2019. He's generated just an 8% pressure rate in that timespan with nearly a quarter of his pressures being a cleanup. Davis looks the part physically, but his on-field pass-rushing hasn't taken the step we have all been waiting for.
The lack of production in college isn't the concern for Weaver – he's been one of the country's best pass-rushers over the last two seasons, right behind Ohio State's Chase Young.
PFF pass-rush grade
Win rate
Pressure rate
Chase Young

(Ohio State)

1st
22.5%
17.6%
Curtis Weaver

(Boise State)

2nd
26.2%
18.2%
(over the last two seasons)
That 26.2% win rate by Weaver was 3% higher than anyone else. Half of Weaver's games this season alone ended with him generating five or more pressures. When he's been on the field for Boise State, he was always one of the most dominant players on the field for either team, but the big question is whether he can produce even half this production against NFL tackles with his below-average athleticism. If Weaver balls out in Indianapolis, NFL teams will feel far more comfortable taking him early given the physical attribute question marks and track record on the field.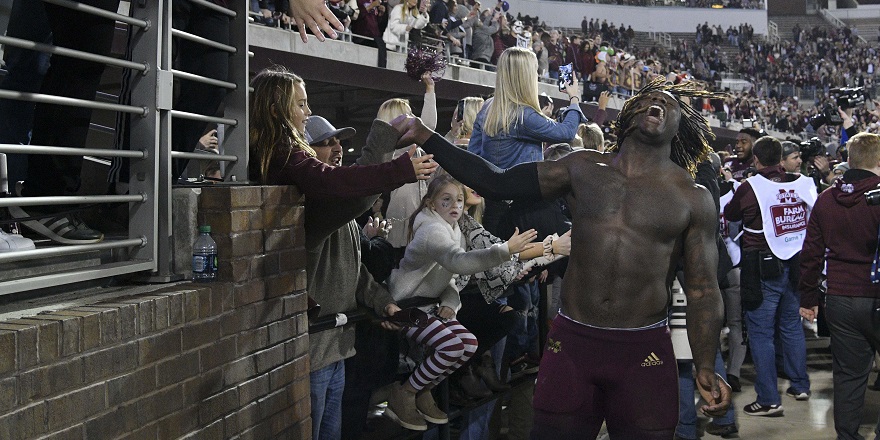 Gay will enter the combine process as one of the more intriguing off-ball linebackers available in this year's class. He has just six career starts in his three seasons with Mississippi State and missed over half of 2019 due to suspensions. When Gay was on the field, his coverage ability was recognizable instantly. Gay has played 293 snaps in coverage in his career and produced an elite 93.9 PFF coverage grade. On those limited snaps, Gay just allowed 21 catches for nine first downs and 183 yards with three interceptions and four forced incompletions. While the on-field workouts will be important, Gay's interviewing will be the biggest part of his week as team's breakdown the suspension history.
While at LSU the last couple of seasons, Fulton has been one of the best cornerbacks in PFF's grading system, producing a two-year coverage grade that was the second-best in college football. The most alluring quality of Fulton's is the fact he played press coverage the third most among those in this class and he did it at a high-level. In press, he allowed just 25 catches on 63 targets with 24 forced incompletions. That said, there have been numerous instances in general of Fulton giving up an explosive play due to his subpar speed as he isn't able to make up much ground when getting beat. On his 110 since 2018, just 48 have been caught but 16 of those resulted in an explosive play of 15 or more yards. He's still shown enough to be the second corner off the board but will need a big week in Indy to prove he owns the traits of an NFL shut down corner.
Winfield belongs to the "great if healthy" category of draft prospects. He was at Minnesota for four seasons and two of them ended with him obtaining a medical redshirt. When on the field though, he's been an absolute playmaker. In his first year back after those medical redshirts in 2019, Winfield produced the seventh-best coverage grade among draft-eligible safeties at 89.2 and forced as many incompletions and interceptions combined than total first downs allowed in coverage (nine each). Winfield's medicals will be the biggest things NFL teams will look at in Indianapolis, but again, if he is healthy there shouldn't be too many concerns with taking him considering his play on the field.