The 2020 NFL Scouting Combine is officially here, and PFF is in Indianapolis covering the event.
Cornerbacks and safeties addressed the media on Friday, and these were some of the notable quotes that followed. In this article, we'll analyze the key takeaways by using the advanced statistics that can be found in PFF's recently released and newly updated 2020 NFL Draft Guide.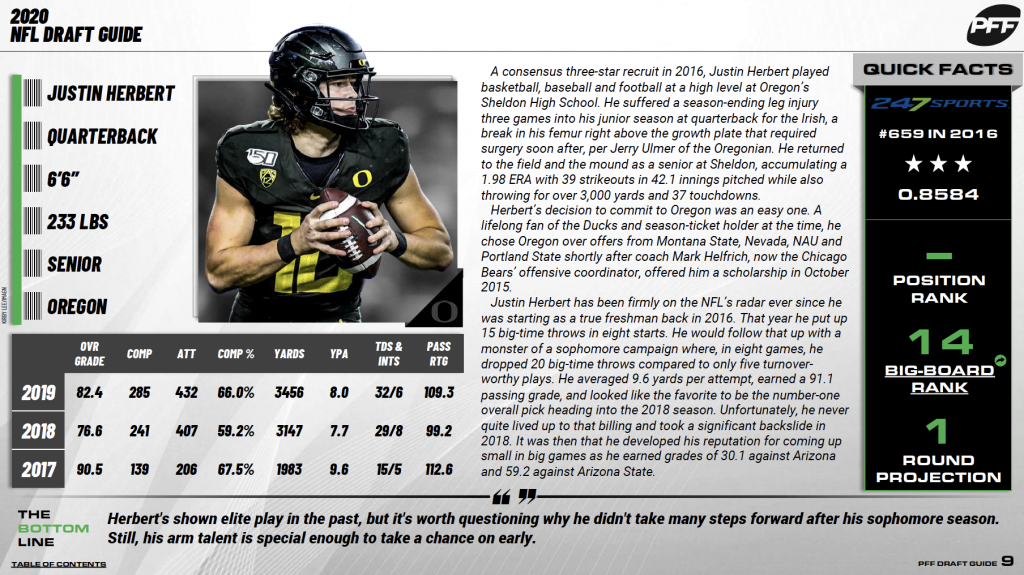 "I just like being up in somebody's face. I feel like that's mano a mano. We're right there together, so the best man wins." – Jeff Gladney on why he enjoys press coverage.
It's no wonder that Gladney enjoys press coverage given the kind of success he had in those alignments during the 2019 season. He forced incompletions on 11 of the 30 passes thrown his way after lining up in a press look, one of the best rates in the draft class. With the kind of recovery speed that Gladney has at his disposal, he can take some chances sitting on underneath routes without getting burned deep.
---
"I feel like it would be easy." – Trevon Diggs on how he thinks it would be to cover his brother, Stefon Diggs.
Diggs answered several questions about his relationship with his brother, and he dropped this one-liner that brought a few laughs. In his first full season as a starter for the Crimson Tide this past season, Diggs earned an elite coverage grade of 90.1. One season of elite grading in the SEC doesn't mean that he'll come into the NFL and lockdown high-level receivers like Stefon right away, but the matchup is one we want to see, whenever or wherever it takes place.
---
"Just watching film on him. I knew it was going to be a big matchup for me and a big game for me. Just watching film made it easier for me…his technique…what he likes to do…the routes he likes to run…sometimes his leverage gave up the route." – Cameron Dantzler on how he was able to have success against Ja'Marr Chase.
Ja'Marr Chase pretty much had his way with every defensive back he came across this season. That holds true even for top prospects like Clemson's A.J. Terrell in the National Championship game. Against Dantzler, though, Chase managed just one reception for six yards. His 48 receiving yards in total against Mississippi State was one of his lowest outputs of the season. Limiting a player as talented as Chase to those numbers is one of the more impressive achievements on Dantzler's resume.
---
"I had zero pass interferences and zero holdings. Cut the tape on that again." – Jeffrey Okudah responding to a question about what he has to say about criticisms of his "sloppy" play and penalties.
On top of putting up outrageous coverage numbers at Ohio State on an ideal frame for the cornerback position, Okudah wasn't flagged once for pass interference or holding in 2019. As PFF's lead draft analyst Mike Renner said in PFF's 2020 NFL Draft Guide, "He not only has a high floor but everything you want for a high ceiling."
---
"Just from a competitive standpoint. I feel like being in the SEC, I go up against the best receivers. You go and tell me who has put up numbers on me." – Kristian Fulton
There weren't a whole lot of players who put up big numbers against him in 2019, and no player had more than three receptions in a single game against Fulton all season. In all, he allowed less than 45% of the passes into his coverage to be completed, his second consecutive season doing so. From a pure production standpoint, there aren't a whole lot of players who have been at the same level.
---
"Ya know, I get a lot of hate and slander from the media and the experts. I just think that's going to make the glory so much better in the end. It's all about the approach and not trying to do too much. Just get them on the ground." – Grant Delpit on the negative perception of his tackling.
Delpit's issues as a tackler are well-publicized. Over the last two seasons, he has missed 36 tackles, one of the worst marks at the position. However, in the 2020 PFF NFL Draft Guide, our bottom line on Delpit states, "Missed tackles be damned, Delpit does things in coverage no other safety in this class can match." The tackling woes aren't ideal, but Delpit is still the top safety option in the class.
---
"Over the years, our relationship has grown. At first, it was a little rough. My freshman year, I used to think he didn't really like me, but over the years, we've grown, and he's come to trust me and have a lot of faith in me." – Xavier McKinney on his relationship with Nick Saban.
After playing only 97 snaps in his freshman year back in 2017, McKinney emerged in a full-time starter's role in 2018. Over the last two years, he was a crucial part of the Alabama defense, playing over 800 snaps and grading out at 80.0 or better each year. He has one of the best grading profiles in the class, and he can fit in several roles in the defense.
---
"He [coach] was down at the cornerback position. He asked me to do it. I did it. After six practices I was starting. I'm here now, so I'm blessed." – Noah Igbinoghene on his switch to the cornerback position. 
Coming to Auburn with an impressive track background, Igbinoghene began his career on special teams and at wide receiver with the Tigers before switching to cornerback prior to his sophomore season. His traits are right up there at the top of the class, but there are still some questions surrounding his ball skills and instincts at the cornerback position after grading out in the low 70s in each of his two years at Auburn. If he blows up the combine — as people expect him to — Igbinoghene's stock will only go up, as people will bank on the rare traits that he possesses.
---
More from the 2020 NFL Scouting Combine: