The 2020 NFL Scouting Combine is officially here, and PFF is in Indianapolis covering the event.
Defensive linemen and linebackers addressed the media on Thursday, and these were some of the notable quotes that followed. In this article, we'll analyze the key takeaways by using the advanced statistics that can be found in PFF's recently released and newly updated 2020 NFL Draft Guide.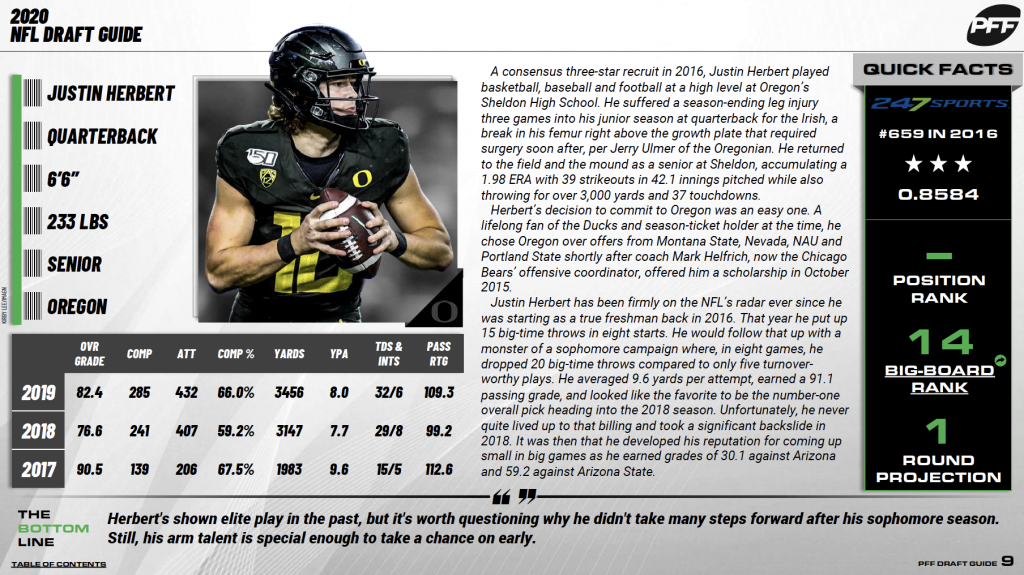 "Ohio State with Coach J, really drinking the Kool-Aid. My sophomore year I was sipping it… My junior year I was drinking gallons all the time." – Chase Young on how he went from being an elite player to one of the best PFF has ever seen.
Chase Young entered the 2019 season as a potential top-five pick. By the end of the year, he was hands-down the best non-quarterback prospect in the 2020 NFL Draft.
Young was an elite pass-rusher in 2018 and produced a 91.2 pass-rush grade, but he managed to exceed even those lofty expectations in 2019. He finished the year with the best overall grade we have ever given to a defensive player in the PFF College era (96.1). His season was also up there with former Buckeye Nick Bosa for being the most valuable by an edge defender in terms of PFF WAA. Young gave high praise to the Ohio State coaching staff for bringing out the best in him.
---
"Derrick Brown mentioned how NFL teams scout versatility over one alignment for interior defensive linemen. He played over half his snaps at 3-tech, but on his limited reps playing 0-tech and 5-tech, he remained one of the best pass-rushers in the nation in terms of PFF grade." – Anthony Treash
Many defensive linemen tend to be a bit too high on themselves when it comes to describing their versatility and ability to remain dominant at any position. In Brown's case, though, he's one of the few who can actually say that he is a dominant player regardless of playing 0-, 3- or 5-technique. In 2019, he produced PFF grades above 78.0 at all three of those alignments and was easily one of the 20 best pass-rushers in college football at any of the three roles. PFF has Brown as the top interior defensive lineman in this draft class and a top-10 prospect overall.
---
"What I love most about the game is that I can literally go out there and hit a man consistently and the police won't come…They won't say nothing about it in the press. I ain't on no headlines in handcuffs, no mugshots, no nothing." – Marlon Davidson on what he loves most about the game.
Marlon Davidson showed his savage side during media availability. As we touched on yesterday, Davidson is a versatile player and will likely be moved to the interior, given his measurements.
He vastly improved as a pass-rusher in 2019, posting an 83.8 pass-rush grade after not posting anything higher than 62.0 in each of his three seasons prior. He never found much success when rushing from the interior, though, and actually produced a sub-7% pass-rush win rate on those reps throughout his career.
---
"It just depends on if I'm getting it back. I like people to return that energy." – Jordan Elliott on if he's a big trash-talker on the field.
Elliott talked about how he needs some back and forth when trash-talking, and given what we saw from him a season ago, that trash-talk was warranted. His overall grade of 92.4 in 2019 was the highest mark of any SEC defender.
---
"I'd run through a brick wall for Matt Rhule." – James Lynch 
Lynch was Rhule's first in-home visit after taking the job at Baylor, and he went on to become one of the most important players on that Baylor defense. Lynch was solid in run defense out of the gate, but he improved his stock as a pass-rusher this past season. His 79.6 pass-rushing grade in 2019 was by far the highest mark of his career.
---
"Penei Sewell…that guy is amazing. He's gonna be a first-round draft pick for sure." – Marlon Davidson on the toughest offensive lineman he faced in college.
Marlon, we agree. As a sophomore this past season, Sewell recorded an overall grade of 95.5 with 90.0-plus grades in both pass protection and as a run-blocker. That was the highest mark of any offensive lineman in the country. There is no doubt that Sewell will hear his name early when his time comes.
---
"Guys that say I'm just speed, they don't watch the film." – K'Lavon Chaisson
As Chaisson said, he is not just speed. In the latest edition of the PFF 2020 NFL Draft Guide, lead draft analyst Mike Renner listed Chaisson's legitimate speed-to-power move as one of his biggest strengths. From a purely athletic standpoint, Chaisson is up there with anyone in the class, though that hasn't necessarily translated to elite production thus far. The highest overall grade of his collegiate career came last season at 72.7 overall.
---
"A lot of guys wonder where my strength comes from. I think us Nigerians have some extra muscles that some other people don't have" – Julian Okwara on his strength.
Despite his undersized frame, Okwara is able to generate legitimate power with his bull-rush, which is one of his more frequently used pass-rushing moves. The use of that move has helped him record a pass-rushing grade of 85.0 or higher in both 2018 and 2019.
---
"I haven't really scratched the surface with my pass-rush. A lot of the times, I just be out there bull-rushing – just walking guys back. So, I feel like once I get the right coaching, the sky's the limit." – Javon Kinlaw on being able to plug into any scheme and play any role on the line.
Kinlaw posted an elite 90.7 pass-rush grade in 2019, so the fact that he knows that he has room to improve in the pass-rush department is a scary thought. The former Gamecock posted the highest pass-rush win rate (18.8%) of any FBS interior lineman last year, but as we stated in PFF's 2020 NFL Draft Guide, one of Kinlaw's weaknesses is his limited pass-rush repertoire.
---
"Imma get a 4.3…I feel like I'm the fastest linebacker here." – Willie Gay on 40-yard dash expectations and his speed.
We called Gay "one of the fastest linebackers in college football," in the latest edition of the PFF 2020 NFL Draft Guide, so we agree with him here. There may be a limited sample on him, but the combination of his athleticism, instincts and strong coverage production when on the field make him an interesting prospect. If he does actually run in the 4.3-second range, his stock could really take off.
---
"I feel like my bend is the best in the class, and then I feel like my get-off is up there." – Curtis Weaver on his strengths.
PFF has Weaver listed as the third-best edge defender in the class due to his very impressive track record as a pass-rusher over the last several seasons for Boise State. Putting up strong results will be big for him this week, given that his athleticism is his biggest question mark.
---
"I feel like I'm one of the best edge rushers in this draft class and also one of the best linebackers in this draft class." – Josh Uche on his versatility.
Uche was used all over the field for Michigan, getting pass-rushing reps in off the edge and seeing time against interior offensive linemen as a blitzing off-ball linebacker. Wherever he ended up rushing the passer from, he did it successfully. Uche's pass-rushing grade of 91.4 last season was one of the best marks in the country.
---
"TCU's Jeff Gladney came in a bit short (5'10"), but he's got some wings for a short cornerback with 32″ arms. Dude's going to fly in the 40-yard dash, as well — could run in the 4.3s." – Austin Gayle
Jeff Gladney has some great makeup speed, and it shows in his deep coverage numbers. Rarely did he let up an open receiver on such targets; he actually forced tight coverage on 79.5% of his targets 10-plus yards downfield, the sixth-best rate and nearly 20 percentage points above the FBS average. And with those 32-inch arms, Gladney forced the second-most contested targets over the last couple of seasons, as well. Don't let the height fool you.
---
"Man, Lenoir Rhyne's Kyle Dugger has some insane measurables. He's rocked up at 6-foot-1, 217 pounds with ABSURD length. Could rise up the board significantly with good testing/interviews." – Austin Gayle
When you're coming out of a school like Lenoir Rhyne and are generating the kind of buzz that Dugger has, there is a good chance that you're a freak athlete. Dugger certainly fits that mold. The PFF 2020 NFL Draft Guide labels him as a supremely explosive athlete with a big tackle radius. A strong week at the combine would do wonders for his draft stock.
---
"Virginia's Bryce Hall had a great weigh-in. Measured in at 6-foot-1, over 200 pounds with stupid length (32″ arms, 78″ wingspan)." – Austin Gayle
From 2017-18, Bryce Hall was one of the best cornerbacks in college football, recording a two-year PFF grade that ranked fifth in the FBS. An injury limited him to only six games in 2019, but opposing quarterbacks clearly recognized just how good he was, as his coverage snaps per target average went from 5.7 to 8.2.
---
"Not sure his stock can get much higher, but Ohio State's Jeffrey Okudah turned in a near-perfect weigh-in. Dude was built in a lab to play cornerback." – Austin Gayle
This past season, Okudah allowed just 0.49 yards per coverage snap when in press coverage, the second-lowest mark in the nation and well over a half-yard lower than the FBS average. On 29 such targets, he allowed just four first downs and not a single explosive play, and he forced eight incompletions and tallied one interception. NFL teams have to be salivating over his elite-level man-to-man skills.
---
More from the 2020 NFL Scouting Combine: