The 2020 NFL Scouting Combine is officially here, and PFF is in Indianapolis covering the event.
Offensive linemen and running backs addressed the media on Wednesday, and these were some of the notable quotes that followed. In this article, we'll analyze the key takeaways by using the advanced statistics that can be found in PFF's recently released and newly updated 2020 NFL Draft Guide.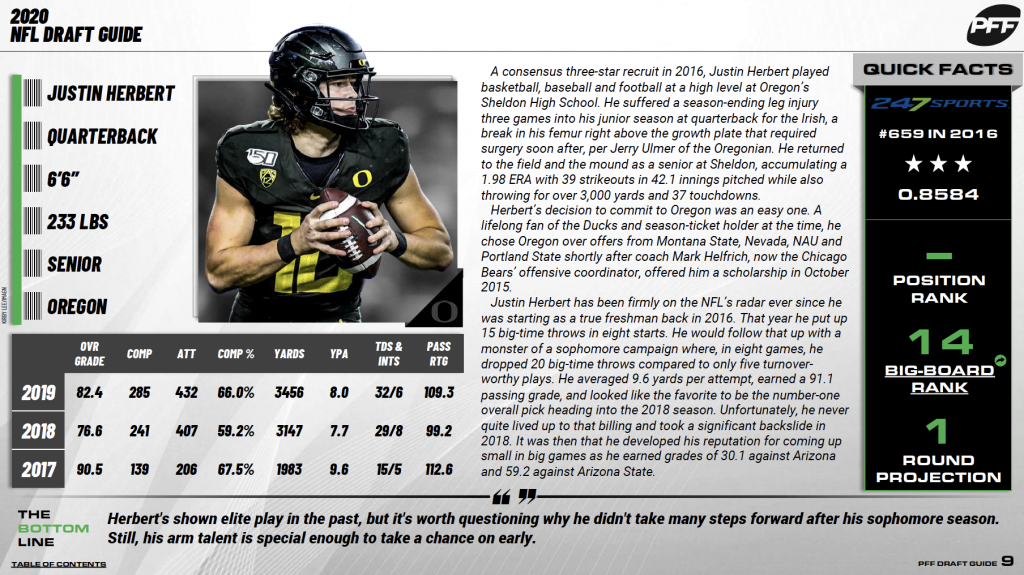 "I swear I'm the most dominant tackle in this class… I'll open the holes, just run behind me. You wanna score TDs? Run behind me." – Mekhi Becton
Standing at 6-foot-7 and weighing in at 364 pounds, Becton is an absolute unit. He is one of the most dominant tackles in this class, and he has a lot of high-end potential given his physical tools. While we believe he'll be gone within the first 20 picks, we still have Becton as the fifth-best offensive tackle on the PFF Big Board due to his good but not elite college data. He bounced around from left and right tackle in his first two years at Louisville and posted PFF grades in the 60s. In 2019, he stuck at left tackle and improved in both pass protection and run blocking, but still was just 29th in PFF grade.
---
"Auburn's Marlon Davidson bulking all the way to 303 pounds shows he's buying into an interior defensive line role at the next level, which really does elevate his stock… If he tests well with the added weight, he's going up boards." – Austin Gayle
Davidson has always been a versatile guy, and he showed that he could play all up and down the line, but he played well over 80% of his college snaps on the edge. On his limited snaps on the interior, Davidson showed to be a strong run defender by recording a 79.0 run-defense grade, though he managed just a 60.4 pass-rush grade and a 6.9% pass-rush win rate. Hopefully, the added weight helps.
---
"Throw it all in and just plug my nose. I'd gag sometimes, but that's what you have to do." – Ben Bartch on the shake that he would drink to gain weight that consisted of scrambled eggs, cottage cheese, grits, peanut butter, banana and Gatorade.
Bartch came to St. John's as a tight end at 230 pounds. He was listed at 305 pounds by the time he finished his college career, and he weighed in at 309 pounds at the 2020 NFL Scouting Combine. By the sounds of it, he went to great lengths to put on that kind of weight, and he put it on well. Bartch only has one season of PFF grading and data (2019), but he was dominant in those reps and allowed just four pressures across 315 pass-blocking snaps. That, combined with how he held up at the Senior Bowl, has him listed as the sixth-best tackle prospect on the PFF Big Board.
---
"Tyler Biadasz played all 2,861 of his collegiate snaps at center but has stressed numerous times he's versatile and comfortable playing anywhere on the interior. He's the fifth-best interior offensive lineman in this class in @PFF's eyes." – Anthony Treash
Biadasz played 100% of his collegiate snaps at center, and in that role, he ranked among the five highest-graded in every year. The run-blocking ability is clearly there, as his career-low grade in that facet was still an impressive 82.1, but there's been some concern with his work in pass protection. He allowed seven combined sacks and hits in 2018, and he lost even more reps in 2019, leading to a 70.5 pass-block grade. All this being said, he's still one of the best interior offensive linemen in this class, and being able to play at guard on either side of the line would only help his stock.
---
"Derrick Brown (6'4″, 326) and Javon Kinlaw (6'5″, 324) are massive. Both players have great size/length." – Austin Gayle
The official measurements came in for Brown and Kinlaw, and, as a surprise to nobody, they're both large human beings. As the top two interior defenders on the PFF Big Board (10th and 11th overall, respectively), both players should come off the board fairly early. Brown's 90.8 overall grade ranked behind only Jordan Elliott among players at the position in the SEC in 2019, and Kinlaw followed right behind him with a grade of 89.3.
---
"I always had a chip on my shoulder, so it's me or you're going to hurt my family. I always think, like, it's me or you, and I got to take you out… I enjoy seeing people on the ground. I want to jump on top of them and get up and laugh at them." – Damien Lewis on the "nastiness" in his game
Lewis had to work for his opportunity to play for LSU, coming out of Canton High School as an unranked prospect before going on to become a two-time junior college All-American at Northwest Mississippi Community College. He graded out well in his two seasons for the Tigers, however. Lewis earned a PFF grade of 77.1 back in 2018 and 79.3 this past season, and some of that nastiness showed through in the run game in 2019, where he earned a run-blocking grade of 82.3 on the year.
---
"Josh Uche from Michigan. His hands and some of his counters were tough." – Jedrick Wills on his toughest opponent in college.
PFF's lead draft analyst Mike Renner listed one of Uche's "pros" as his ability to string together moves with his hands and keep his strike zone small while keeping his hands churning. It would appear that one of the best offensive tackle prospects in the class, Jedrick Wills, agrees with that assessment. Uche doesn't have a whole lot of experience throughout his career as a pass-rusher (325 snaps), but he recorded a 91.4 pass-rushing grade last season in the biggest role of his collegiate career.
---
"PFF Data Scientist Eric Eager wrote an article about how Andrew Thomas projects to the NFL and found his pass protection (assuming he tests well) comps to Laremy Tunsil and David Bakhtiari. I asked Thomas if he thinks those are fair comps, and he said, 'Absolutely… I'm working hard to get to that level.'" – Anthony Treash
Using PFF's advanced database and AWS' machine learning capabilities, PFF's Eric Eager found that Andrew Thomas projects from college to pro better than any other offensive tackle in this draft and that he has high-end comps of Tunsil and Bakhtiari in pass-protection. Thomas produced the third-best PFF grade among all FBS offensive tackles this past season, and he was one of four to rank among the 10 best in both pass-blocking and run-blocking grade.
---
"Yeah, it's been frustrating for sure. It's kind of the reason that I left was because of that. Being able to take care of my body…just being a full-time athlete…I feel like that's all I need is a chance in the NFL, and I could really be healthy next year and dominate. I'm 90% right now, and I don't want to show the scouts anything but my best." – Netane Muti on his injuries the last two seasons and not working out at the Combine.
No prospect has had worse injury luck than interior offensive lineman Netane Muti. He's played in only five games over the last two years and missed all of 2016. When he was at 100%, though, Muti was always one of the best players on the field. Over the course of his career, he earned a pass-blocking grade of 85.4 and a run-blocking grade 82.2. Assuming he has a clean bill of health and is 100% by April, Muti could end up a steal considering he's PFF's top-ranked interior offensive lineman.
---
"Being nasty." – Jonah Jackson on his strengths
After playing a mix of center and right guard at Rutgers from 2016-18, Jackson made the move to Ohio State and ended up the second-best interior offensive lineman in the draft in PFF's eyes. Jackson was always a nasty player, whether he was trying to open up holes in the running game or blocking for his quarterback in the passing game. He earned a PFF overall grade of 78.1 and was the fifth most valuable guard in the FBS, according to PFF WAA.
---
"I want to continue to round my whole entire game out from pass blocking to catching the ball to even running the ball. Even the things I think I do well, I want to continue to improve upon." – Zack Moss on where he thinks he can improve.
Moss is the No. 1 running back on PFF's board for a reason. He makes people miss — both as a runner and as a receiver — at an absurd rate. This past season alone, he forced 89 missed tackles on the ground and another 15 after the catch. As the latest edition of the PFF Draft Guide says, Moss has got the size, vision, hands and especially elusiveness, all while performing at an above-average level in pass protection. The fact that he wants to continue to improve is just an added bonus to prospective teams.
---
More from the 2020 NFL Scouting Combine: