There are several position groups that have historic potential in this draft class. The incoming wide receiver class is one of the best in recent memory and boasts All-Pro caliber options at the top along with a deep selection of impact players who should last through the first several rounds. There are also a number of plug-and-play starters at the top of the offensive tackle class, which is something that hasn't been the case for a while.
The incoming class of edge defenders doesn't compare to those groups. Sure, it has Chase Young at the top — the best edge defender prospect that PFF has seen since our college grading began in 2014 — but the options behind him all have limitations in one way or another. Their pros and cons are broken down in the PFF Draft Guide and its 1,191 pages of glory, but we're here for the sole purpose of looking at some of the best landing spots for the top 10 edge defenders on the PFF Big Board.
[Editor's note: Check out PFF's 2020 Mock Draft Hub and NFL Draft Big Board. PFF Elite subscribers can also download the 1,100-page 2020 NFL Draft Guide.]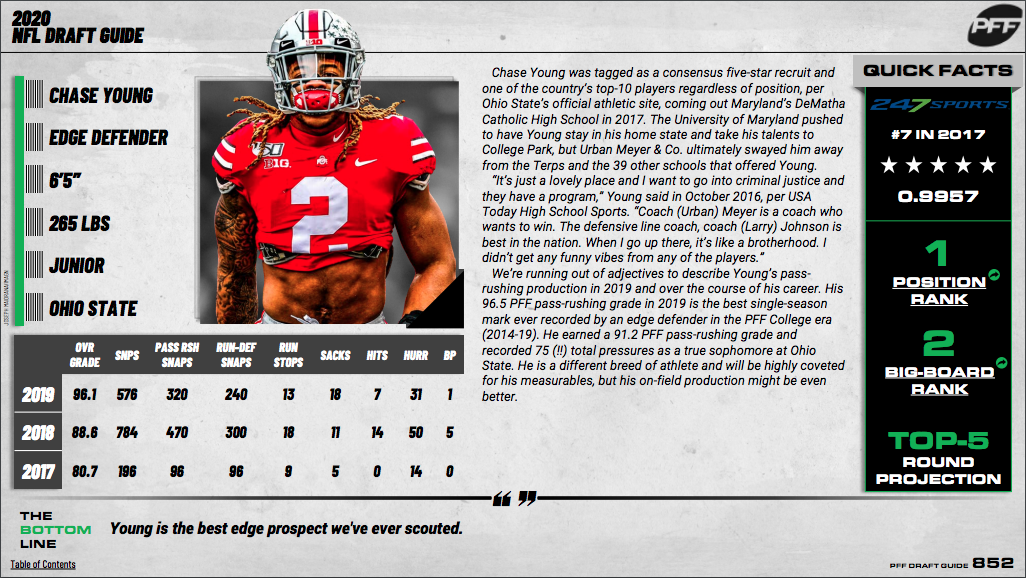 In all honesty, it doesn't matter where Young ends up. He's going to dominate, and he's going to dominate right away, which something that you can't bank on from your typical rookie edge defender. Young isn't your run-of-the-mill edge prospect, though. The guy is an athletic freak, and he's been one of the most productive pass-rushers PFF has seen since the dawn of the PFF College era in 2014.
Over the last two seasons, Young has a pass-rushing grade of 95.7 and 131 total pressures, and both of those serve as FBS-high marks for the position. When it comes to slam-dunk picks, you are just not going to find many easier NFL projections.
The consensus has been for some time that he'll end up with the Washington Redskins at No. 2 overall. However, a scenario does exist (one that the Redskins should be thinking about) whereby they get a king's ransom to trade out of that second pick. That potential trade down opens up the possibility of Young falling to No. 4 and the New York Giants — a team that doesn't already have an entrenched, reliable veteran like Ryan Kerrigan or a second-year, first-round pick like Montez Sweat to turn to at the position. 
Instead, the Giants are currently armed with some combination of Kyler Fackrell, Lorenzo Carter and Oshane Ximines as their starting edge defenders. There is a chance that guys like Carter or Ximines could develop into solid options, but as of now, that trio has one season combined with a pass-rushing grade of 70.0 or higher (Fackrell in his rookie 2016 season on 173 total snaps).
If Young was to fall into their laps, it is hard to see Dave Gettleman messing up, and it isn't as crazy as you might think given the chance of a Joe Burrow–Tua Tagovailoa–Jeffrey Okudah start to the draft.
There is a strong chance that Epenesa's pathway to success in the NFL will start on the inside rather than the edge, but we'll leave him here for now.
While he was highly productive at Iowa, the athleticism just doesn't look like it's there for him to win off the edge consistently. The PFF Draft Guide called his combine performance "disastrous," and it's hard to disagree with that assessment. He still comes in as a top-20 prospect overall, though, because it's hard to ignore what he put on tape in college. Epenesa has elite length and power for the position, allowing him to put up back-to-back seasons with pass-rushing grades above 85.0 in 2018 and 2019 while providing stout play against the run. There is plenty of reason to believe he can have success despite the lack of athleticism. 
As for this destination, the Vikings are a team that has seen longtime members of their defensive line — Everson Griffen and Linval Joseph — depart. They brought in Michael Pierce to replace Joseph, but there are still some questions as to how the defensive line is going to look next season. Ifeadi Odenigbo figures to get first crack at the edge spot opposite Danielle Hunter after putting up a 71.8 pass-rushing grade in 403 defensive snaps last season — nearly three-quarters of which were pass-rushing snaps — but there isn't a whole lot of depth at the position. 
Epenesa would give them another potential starting option on the edge, and he could quite easily kick inside and use his length and strength to overpower interior offensive linemen if his limited athleticism keeps him from winning consistently on the edge. That kind of inside/outside, versatile pass-rusher is something the Vikings could use. They're probably better suited going wide receiver and cornerback early, but from a team fit perspective, I like Epenesa to Minnesota with one of their late first-round picks.
Weaver is one of the players that PFF is higher on than most around the industry and that all comes down to his history of production. Weaver dominated in 2018 and 2019 off the edge for Boise State, earning pass-rushing grades of 92.8 and 92.3 in those campaigns. In 2018, his pass-rush win rate crossed over 30%, which is an absurd number for a player who rushed the passer on as many snaps as he did.
The concern with Weaver is whether he has the athleticism to produce against NFL offensive linemen. His overall build and athleticism may leave you wanting more, but Weaver does have elite bend for the position, something he showcased in a 7.0-second three-cone at the combine. 
The Buccaneers brought back their starting edge defender duo from a season ago in Shaquil Barrett and Jason Pierre-Paul, but Barrett will be playing on the franchise tag and Pierre-Paul is 31 years old and coming off three consecutive seasons without a pass-rushing grade above 70.0. Weaver could come in and be a rotational piece in his rookie season as he acclimates to the NFL, serving as a potential starter in the coming years if Pierre-Paul sees his play decline further or the Buccaneers are unable to come to terms with Barrett long term. They're also a destination that would allow Weaver to rush the passer from a two-point stance, something he did almost exclusively at Boise State. He would be a steal for Tampa Bay on Day 2, given where he sits on our big board.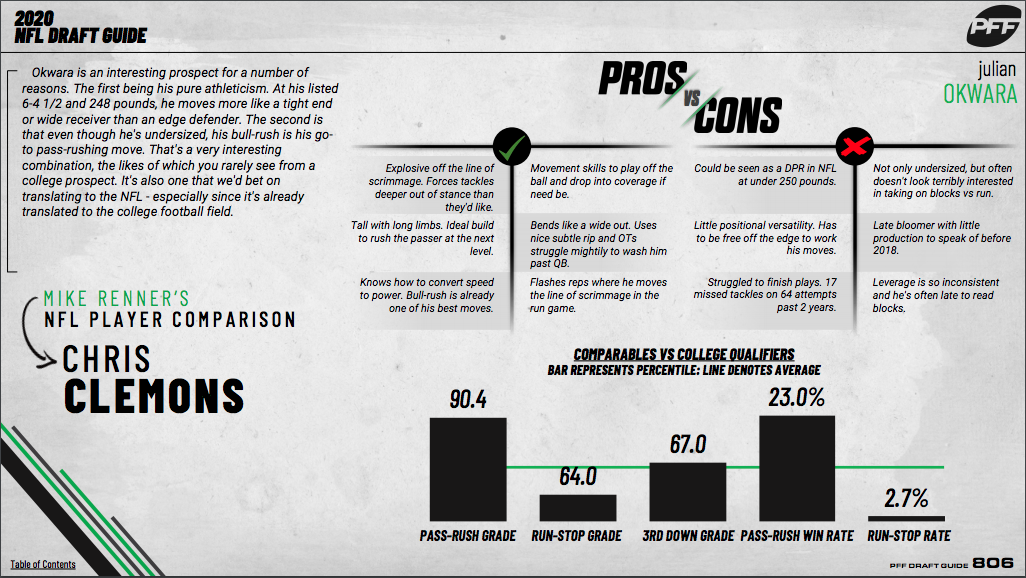 Like Weaver, Okwara is an edge rusher PFF is higher on than most. And, again, it comes back to production. Okwara was highly productive across his last two seasons with the Fighting Irish, putting up pass-rushing grades of 86.5 in 2018 and 90.4 last season. He recorded pass-rush win rates of at least 23% both seasons, as well. That level of production, combined with his athleticism and length, makes him intriguing at the NFL level. He may be undersized, but Okwara is still able to bring power with the bull-rush, one of his go-to moves. He further highlighted that strength with 27 reps on the bench at the combine despite having 34 3/8-inch arms
On the other side, the Titans need to add some juice to their pass-rush. The only Titans edge rusher to record a pressure rate of at least 10% last season was Cameron Wake, who was released by the team earlier this offseason.
They might have added Vic Beasley Jr. to start across from Harold Landry III, but Tennessee shouldn't be happy with stopping there, given Beasley's inconsistent play throughout his career. Okwara has shown the ability at Notre Dame to consistently pressure the quarterback out of a two-point stance, making him a natural fit on the Titans defense. He may be limited to a pass-rushing-specialist role early in his career, but there is no reason why he can't have an impact in that role for Tennessee as he continues to develop. 
Chaisson is a polarizing prospect. He has all the physical tools to be a top-flight edge defender; he plays with great leverage, is solid against the run, shows good bend and flies off the line of scrimmage. However, at PFF, we're going to value production on the football field over raw athletic potential more than most.
Chaisson has reps on his tape on which he wins against some of the top tackles in the country, such as Georgia's Andrew Thomas, but he never really dominated as a player of his caliber should — his highest pass-rushing grade in a single game this past season was 77.9 against Utah State. There's reason to love the tools, but the question then becomes, why didn't that translate to elite production?
For better or worse, there is every reason to believe those tools will get Chaisson drafted in the first round, likely near the midway point. Cornerback is certainly the more pressing need for Atlanta, but Chaisson would fit well on that defense, even if we generally think pick 16 is too early for him to come off the board. Adrian Clayborn and Vic Beasley Jr. aren't on the roster, leaving a starting edge duo of Takkarist Mckinley and the newly acquired Dante Fowler Jr. to man the edge. Fowler is coming off a career year with the Los Angeles Rams, picking up an overall grade of 72.1 and 67 total pressures in 2019, but Mckinley has yet to flash much upside through the first three seasons of his NFL career. Upside is undoubtedly something that Chaisson isn't short on.
Taylor is a name few are talking about, but that only gives a team a chance to get a quality player later in the draft. He finished the 2019 season with the highest pass-rushing grade of any edge defender (85.7) against the SEC, winning primarily with his long-arm bull-rush. That's a move that is easy to see translating to the NFL and one that can set up some of his other moves as offensive linemen have to respect the bull-rush. There are some limitations to his game — like stiffness coming around the corner — but Taylor was one of the best pass-rushers in the country down the stretch last season from a production standpoint. That's certainly not the worst starting point. 
The Chiefs, meanwhile, are in a position where pass-rush is more of a need than it may appear. Chris Jones' future is still very much up in the air, and outside of Frank Clark, they are relying on guys like Alex Okafor (sub-65.0 pass-rushing grades each of last two years), Tanoh Kpassagnon (49.8 pass-rushing grade in 2019) and Breeland Speaks (56.6 pass-rushing grade as a rookie in 2018) off the edge. Taylor could fit into a rotational role early in his career and could quickly find himself elevated to a starting position without much of note above him on the depth chart. More importantly, he could do so at a potential bargain later in the draft. 
If we think Taylor is being undervalued by the NFL community, Gross-Matos finds himself on the other end of the spectrum. Despite coming in at 63rd on the PFF Big Board, Gross-Matos is penciled into the first round of nearly every mock draft out there. He serves as a classic case of "looking the part" without ever truly using his natural ability to dominate college competition. He did hit a career-high 81.8 pass-rushing grade in 2019 and the tools are certainly there for him to be a high-level starter in the NFL, but many times on his tape, it looked like he was simply running through pass-rushing moves without a real purpose rather than reacting to the offensive lineman. 
If the Dolphins don't package picks to move up, they have two selections (18 and 26) in the range that Gross-Matos figures to come off the board, and it's a fit that makes sense for both sides. Miami would get a raw prospect with upside to add to the shots they have taken on players like Kyle Van Noy, Shaq Lawson and Emmanuel Ogbah this offseason, and Gross-Matos could enter into a rotational role as the Dolphins work to develop the flashes of potential into more consistent stretches of play.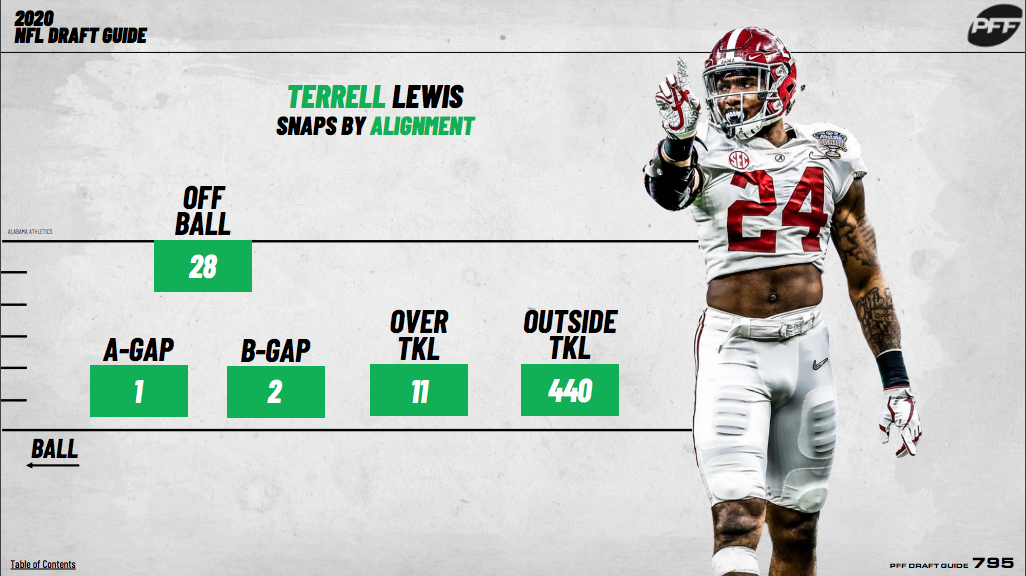 Lewis recorded an 85.8 pass-rushing grade a season ago, in what was the first season of his career in which he played 100 or more pass-rushing snaps. His 48 pressures on 242 pass-rushing snaps resulted in a strong 19.8% pressure rate. The problem with Lewis, though, is that he has a limited sample, and he fell off toward the tail end of last season in several games against better competition (LSU and Auburn). He has the traits to be a successful NFL pass-rusher, but at this point, we don't feel that he has done enough to warrant some of the hype that he has generated. PFF's Mike Renner listed him as a third-round prospect in the PFF Draft Guide.
Now, Lewis isn't going to fall to Round 3 with how thin this edge defender class is, but it's not too difficult to see him falling to the top of the second round, and that is a situation where the Lions might pull the trigger on drafting him. Detroit ranked 29th in the NFL in team pass-rushing grade last season, not really having anything consistent outside of Trey Flowers. The departure of Devon Kennard doesn't really hurt from a pass-rush perspective, but it does leave them even thinner at the position. Jeffrey Okudah is a perfect fit for their man-heavy defense at third overall, and the Lions could pair him with Lewis as a potential answer to their pass-rushing woes at the top of the second round. 
Uche is by no means a traditional edge prospect. He had the freedom to move around the formation at Michigan, which meant that a decent portion of his pass-rushing came as a blitzer against interior offensive linemen. The evaluation becomes even more complex when you recognize just how little playing time that Uche got as a pure pass-rusher over his career at Michigan. He did show the ability to succeed against tackles as well, though, and Jedrick Wills said at the combine that Uche was his toughest opponent in college. Uche has the kind of length and production that makes him an intriguing bet as an NFL edge rusher. He earned a 91.4 pass-rushing grade in 2019.
What better team to make that bet than the Ravens, a team that blitzed more than any team in the NFL in 2019 and one that played around with "positionless" football. It's arguable that the Ravens' two biggest needs right now are outside linebacker and off-ball linebacker, and Uche could theoretically fill both roles, serving as a versatile piece who could be moved around Baltimore's defense. As the PFF Draft Guide says, it's ok to be hesitant at this point and admit we need more information. With a Day 2 pick, however, I don't think there is any team that could better utilize Uche's skill set than the Ravens.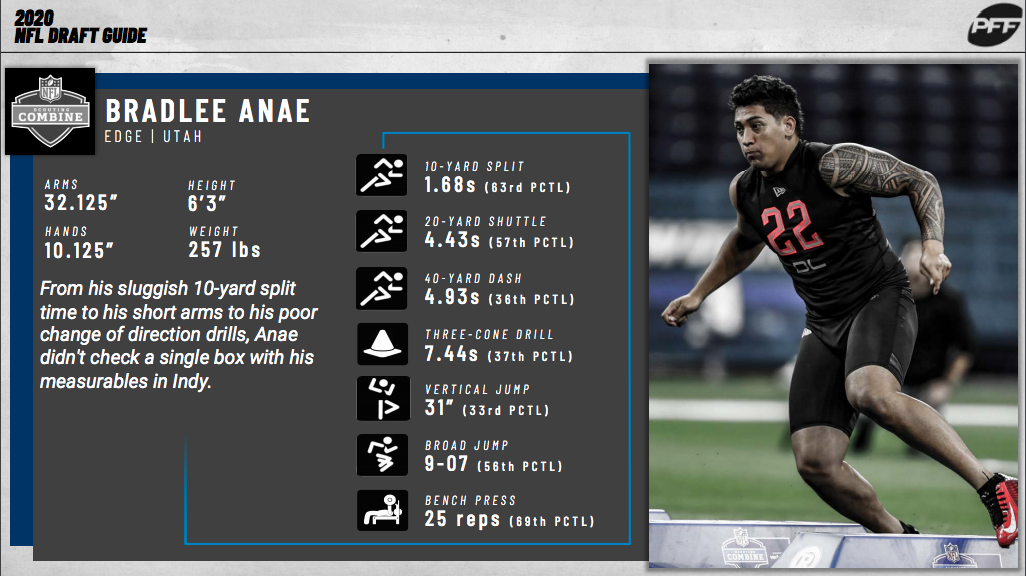 Following a disappointing performance at the combine, it's hard to talk about Anae without leading off with his athletic limitations. There's just not much of a chance that he becomes an elite edge defender with the kind of measurables that he put up in Indianapolis, but on the other hand, Anae has been one of the most prolific pass-rushers in college football over the past several seasons. His 158 pressures over the last three seasons are more than any player in this year's draft class, and his technique is some of the best that you'll see. That gives him some value to teams as we get deeper into Day 2.
The Cowboys have added two veterans on their interior defensive line in Gerald McCoy and Dontari Poe to help bolster the middle of their defense, but they could still look to add another edge defender to rotate opposite Demarcus Lawrence. Dallas did sign Aldon Smith, but it remains to be seen how he will look in his first NFL game action since 2015. Anae is a guy who could come in and contribute right now in a rotational role given how well he uses his hands, and the Cowboys could still look to other areas of need with their early picks, i.e., cornerback, especially since they let Byron Jones walk.