We're back for the third season of NFL Draft narratives, where we take common storylines and hold them up against PFF data. We had a successful run during the 2018 and 2019 draft seasons, so let's take a look at the various storylines and narratives this year and what the data actually says. 
[Editor's note: Check out all of PFF's 2020 NFL Mock Drafts and NFL Draft Big Board. PFF Elite subscribers can also download the 1,100-page 2020 NFL Draft Guide.]
Narrative: Mekhi Becton is worth a top-five pick (FALSE)
While Becton has a highlight reel of run blocks, there are some concerns about his pass protection. It's easy to get caught up in his 6-foot-7 360-plus pound frame and impressive NFL Combine numbers, but Becton was not challenged often in pure pass-blocking situations at Louisville — and it makes him a difficult projection at the most important part of the position.
When you add to the mix the other first-round caliber offensive tackles, Becton looks like even more of a risk. Players such as Georgia's Andrew Thomas, Iowa's Tristan Wirfs, Alabama's Jedrick Wills and Houston's Josh Jones were all much cleaner pass protectors at the college level. There's still a chance that Becton produces like a first-round talent, but given his 79.2 pass-blocking grade last year and his 64.7 mark on "true pass sets," he's more of a second-round prospect on the PFF draft board. Here's more from Ben Linsey on Becton and his ranking as the fifth-best offensive tackle on the PFF Big Board.
2019 pass-blocking grades on true pass sets pic.twitter.com/mm2Xwct4z1

— Ben Linsey (@PFF_Linsey) April 6, 2020
Narrative: This is the best offensive tackle class in years (TRUE)
Speaking of the offensive tackles, this is the best class we've seen in years. We feel good about the previously mentioned top four of Thomas, Wirfs, Wills and Jones, while Becton could also be a solid player even with our pass-protection concerns. There's a chance the first round adds a few more names in Boise State's Ezra Cleveland, USC's Austin Jackson, or Georgia's Isaiah Wilson, and while all three players would be reaches are our board, they show the depth this class has to offer. Overall, the PFF draft board has 13 offensive tackles ranked in the top 100, so the first three rounds should be loaded with talent for tackle-needy teams.
Narrative: K'Lavon Chaisson is a first-round talent (FALSE)
Speaking of incredible highlight reels, teams have salivated over Chaisson's high-end plays during NFL Draft meetings for months. Many teams like to show a player's best 10-to-15 plays to show what a player is capable of, and Chaisson's "best 15" make him look like a top-10 pick. The question lies in the other 745 from last season, where Chaisson finished with a mediocre 72.7 overall grade. For a player with such incredible explosion and the ability to convert that explosion to power, why is the production so low despite having the tools in the toolbox to dominate?
It's the same question we asked last year about Michigan's Rashan Gary, and for pass-rushers, their PFF grade in college is very indicative of how well they will perform at the next level. Like Gary and Becton, there's a chance that Chaisson puts it all together and the NFL production trumps his college tape. But it's a risky proposition to bet on perceived upside in the first round.
| | | | |
| --- | --- | --- | --- |
|  2019 Grades | Overall | Pass Rushing | Run Defense |
| K'Lavon Chaisson | 72.7 (Rk: 73/208) | 78.9 (Rk: 41/208) | 70.5 (Rk: 89/208) |
Ranks among FBS draft-eligible edge defenders.
Narrative: Jordan Love played poorly because of his supporting cast (FALSE)
Love took a noticeable step back last year after a promising 2018 campaign, but it's not the fault of his supporting cast. This was a similar narrative for fellow Mountain West quarterback Josh Allen coming out of Wyoming — Allen's poor numbers were explained away by his supporting cast rather than his accuracy and decision-making. The PFF grading system already does a fine job of isolating the quarterback's play from that of his supporting cast, and Love's 75.0 overall grade in 2019 is a concern, as it ranks just 25th among FBS quarterbacks in this draft class alone.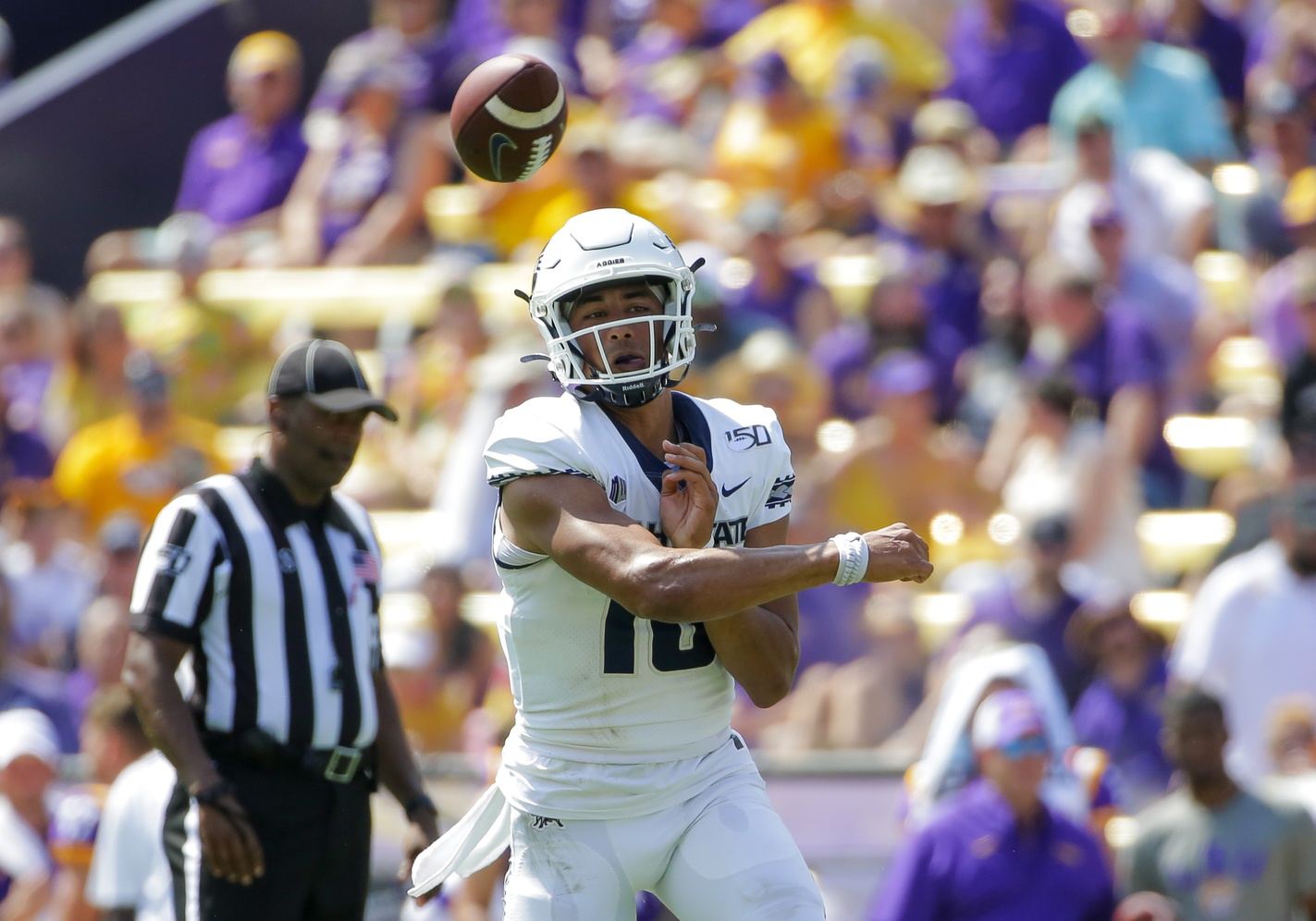 As far as the supporting cast goes, Love had the fourth-most "open" throws of any quarterback in the class, and he ranks just 22nd in accuracy percentage to go with the seventh-highest percentage of uncatchable passes on those targets. If one is using supporting cast to make excuses for a quarterback, it makes sense only if one is judging that quarterback on raw stats or wins/losses. Other than that, quarterback performance can be isolated away from his ecosystem using PFF data, and the data was not in Love's favor in 2019.
Here's more on the wide range of outcomes for Love in the NFL. 
Narrative: Pass on WR early because you can get one in Round 2 (TRUE, NOT TRUE)
PFF lead draft analyst Mike Renner suggested this topic because he does believe there's a top tier of wide receiver in this class featuring CeeDee Lamb, Jerry Jeudy and Henry Ruggs III. Lamb is likely the most complete receiver in the class, Jeudy is the best route runner and Ruggs is a game-changing speedster. All three receivers are going to be difficult to find comparables for later in the draft, so even with a deep group of pass-catchers, passing on the special traits of the top three is not advisable. 
However…
Narrative: This is the best WR class since 2014 (TRUE)
The wide receiver depth is fantastic. Beyond the big three, there's another deep threat in TCU's Jalen Reagor, the best catch radius in the draft in Clemson's Tee Higgins and draft-board riser Denzel Mims from Baylor who brings a great combination of speed and size. Need a crafty slot receiver? Look at LSU WR Justin Jefferson. An after-the-catch threat? Colorado's Laviska Shenault. A sure-handed, big-bodied possession type? USC's Michael Pittman Jr. is the guy. Overall, the PFF draft board has 17 wide receivers ranked in the top 100, and it's a great year for teams to double up at the position to mitigate risk and add variable skill sets to their skill position group.
Narrative: You can't pass on Chase Young (FALSE)
Chase Young is awesome. He projects to be awesome. The Redskins, and other teams picking in the top five, may be better off trying to add two or three players rather than just adding Young. 
All of the above can be true.
Young pass-rushing grade in 2019 was the highest we've seen in a regular season, and those grades are very stable when projecting to the next level, so we have a high level of confidence that Young becomes one of the league's best pass-rushers. The question is about what that's worth, especially in relation to the opportunity to add multiple starters to a team in his stead. As our own Timo Riske pointed out, there are plenty of scenarios where Washington "wins" by trading down with regard to adding more value to their team. There are also plenty of scenarios in which a team that trades up to get a quarterback also "wins" the trade from their perspective. For the Redskins, they must do their due diligence and explore trade-down opportunities because the opportunity to add two or three good players is better for the team than adding one great player — even if Young goes on to have a 10-year, Hall-of-Fame-caliber career. 
I think one of difficult things for us to wrap our heads around is the lack of impact of non-QB stars in the NFL

They don't make nearly as big of an impact as stars in other sports

Khalil Mack is a star, but his impact on a game is far lower than an equal name in another sport

— Steve Palazzolo (@PFF_Steve) April 8, 2020
Narrative: You can't pass on Derrick Brown (FALSE)
See above. Now, add to it that Brown is not projected as an elite pass-rusher. There's a certain point in the draft where Brown is a "safe" play, as he can provide excellent run defense. But that's not where games are won and lost in the NFL. Brown is a classic case of a good player who might not be the most valuable player for winning games, so he's certainly not a "can't-miss" prospect if the goal is maximizing future wins.
Narrative: My team would NEVER pass on Player X (FALSE)
Sorry, no matter how much you know the ins and outs of your favorite team's draft strategy, crazy stuff happens every year. Not only that, but as locked in as we get on which players are worthy of being first-round picks, hindsight drafts always seem to make the initial 32 picks look iffy. When we look back at the 32 best players or the 32 most valuable players in any draft class, it rarely looks anything like the order you see on draft night. So lay off with the "worst mock draft ever" comments!