Draft season makes for months of storylines, narratives and over-analysis. Player evaluation is certainly an inexact science, however, some of the driving storylines are founded in truth while others are not. Here's a look at some of the common 2019 NFL Draft narratives and whether or not they hold up with PFF data.
Kyler Murray is an "outlier" to succeed at the next level: False
It's all about perspective. If the focus is on Murray's size, then the term "outlier" immediately comes to mind. However, Murray's on-field production makes him the best bet in the draft. Of course, every draft pick is a "bet," and each player comes with risk, but there are other quarterbacks who are bigger outliers than Murray given their subpar college production. Murray has the ability to win from the pocket, outside of the structure and with his legs, all leading to the highest passing and rushing grades of any quarterback in the nation in 2018. Even with only one full year starting under his belt and a 5-foot-10 frame, Murray is far from the biggest outlier in the draft.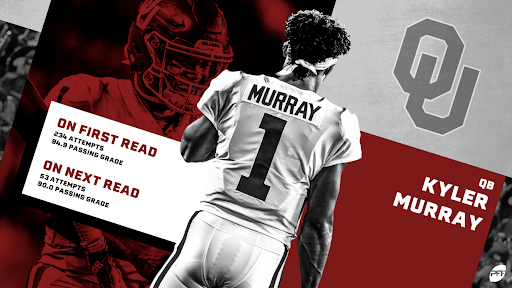 Daniel Jones is the real "outlier" in the draft class if he goes top-15: True
While Jones "looks the part," his throw-for-throw production in college is far from where you'd expect it to be for a first-round prospect. Last season was the best we've seen from Jones, but his 81.9 overall grade is still well below the expectations for a first-round signal-caller. Jones does a few things moderately well, but his advanced numbers suggest he's more of a third-round prospect than one worth investing in as a first-rounder. If Jones does find next-level success, he's the real outlier in this quarterback class as the projections point to a spot starter or backup, despite his "NFL" size and look.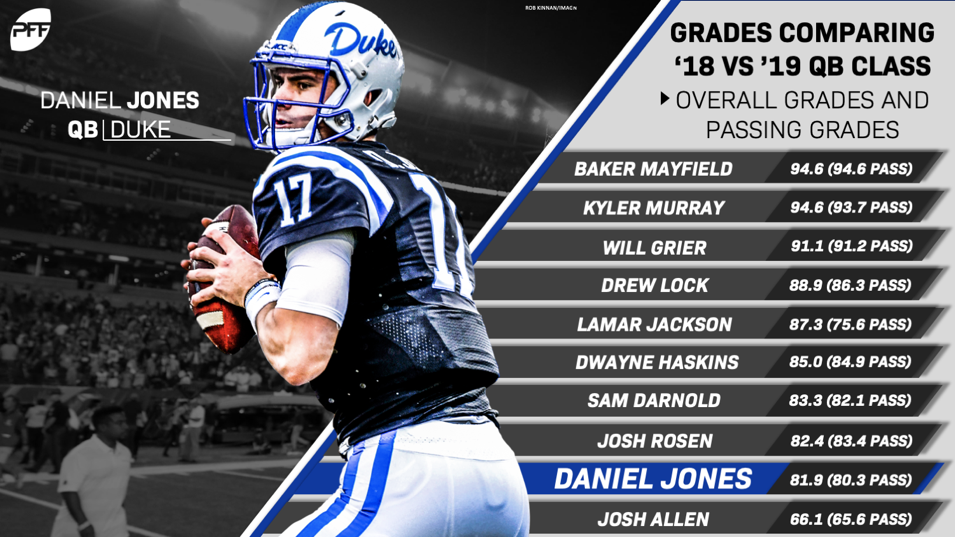 Jonah Williams is a guard: False
Jonah Williams is a tackle. Especially at the beginning, Williams deserves every possible opportunity to succeed at tackle before potentially moving to guard, especially if the offensive line depth chart doesn't push him inside immediately. However, if arm length is the reason to slap the guard label on Williams, it's time to change the standards for NFL pass protectors as Williams falls well within reason when compared to other successful NFL offensive tackles. Tack on three years of strong production in the nation's most difficult conference and Williams has earned the top ranking among offensive tackles on the PFF draft board.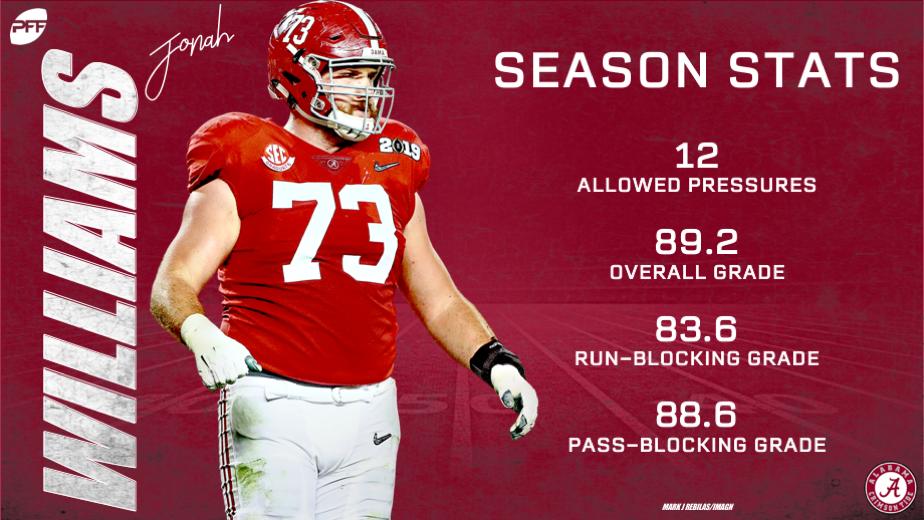 Dalton Risner is not an offensive tackle: False
It's time for the NFL to treat offensive tackles like baseball teams treat pitching prospects who are given every opportunity to start before moving to the bullpen. Most college offensive tackles with a track record of success should at least be given a chance to play tackle at the next level, and Risner certainly fits the bill. After starting at center as a freshman, Risner has been fantastic playing right tackle for Kansas State, finishing his career with only 29 pressures allowed on 1,490 pass-blocking attempts. Risner has brute strength and handles power as well as any tackle in the class, though there are still some questions about his ability to handle speed rushers off the edge. Either way, he deserves an opportunity to show that he's a starting offensive tackle.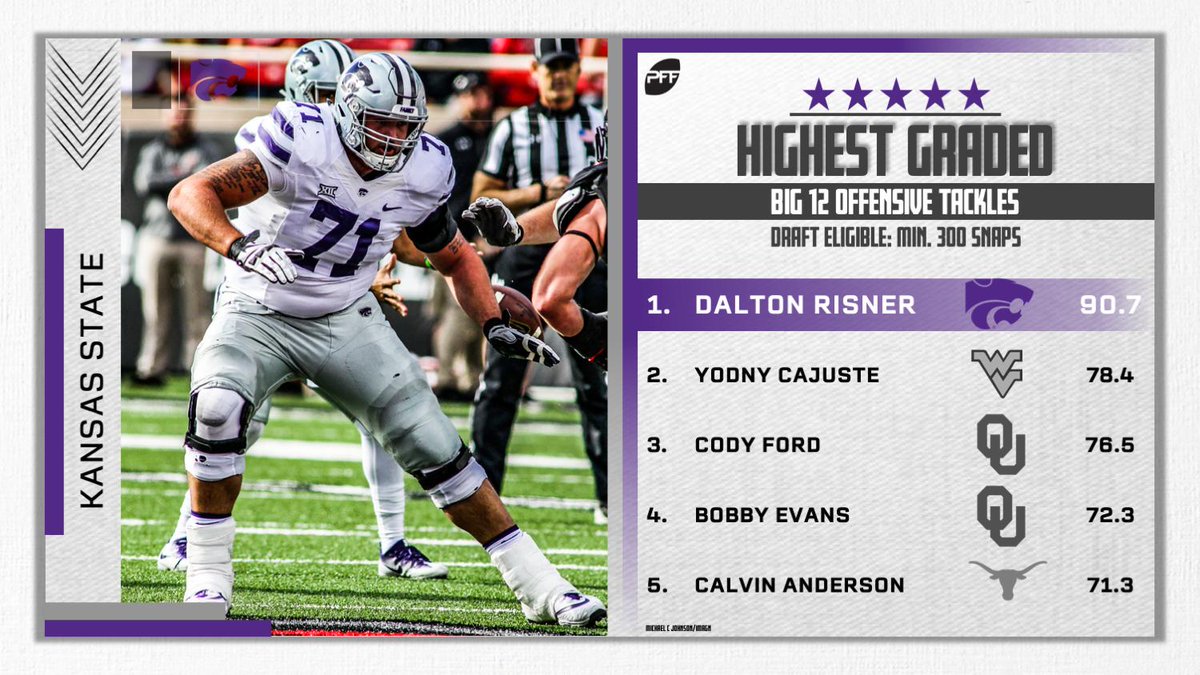 D.K. Metcalf was not a productive college receiver: False
Though Metcalf did not have a great PFF grade, one of our best measures of production for a receiver is yards per route run, and Metcalf showed well in that department at 2.83 last season. It's a number comparable to his teammate A.J. Brown, who came in at 3.01, and Arizona State WR N'Keal Harry (2.71). Metcalf was in a battle for targets at Ole Miss with both Brown and Damarkus Lodge in the mix. The reason for the first-round hype for Metcalf is what he brings as a deep threat, not what he brings from a volume standpoint, and that's a worthwhile addition for any offense. He has legitimate speed and ball skills, and he'll command the attention of opposing coverage units due to his ability to get behind the defense at any time.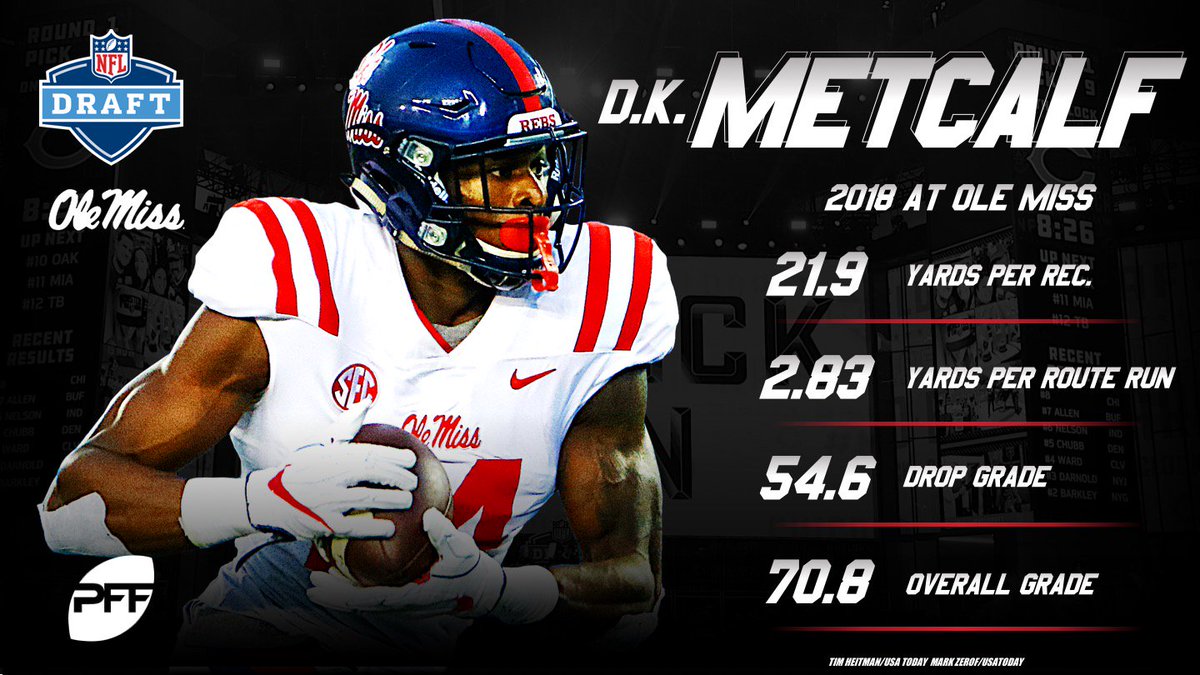 Rashan Gary was held back by Michigan's scheme: False
Potential top-10 pick Rashan Gary is getting hyped based on his physical tools and potential, but his college production was lacking. Of course, he's not getting drafted for what he did in college, but past performance is the biggest indication for future success, and Gary is lacking in that department. His career-high 80.4 grade is far below the standards of other top picks, but it was worth investigating whether or not his production was hindered by Michigan's scheme. In order to isolate Gary in pass-rush situations, we sorted by plays with no blitzes or stunts over the last three years, and his 68.8 pass-rush grade ranked in the 50s in the draft class alone. He may have had some responsibilities to hold his gap and open plays up for his teammates, but even when he was given the opportunity to get after the quarterback, Gary produced far below his peers in the draft class, and that's a major red flag for a first-round pick.