Draft season makes for months of storylines, narratives and over analysis. Player evaluation is certainly an inexact science, however some of the driving storylines are founded in truth and others are not.
Here's a look at some of the common NFL draft narratives and whether or not they hold up with PFF data.
Baker Mayfield has plenty of easy throws in the Oklahoma offense: True
Yes, the Oklahoma offense has a number of easy throws built into the system and Mayfield threw screen passes on about 20 percent of his attempts. Tack on a few run/pass options as well as the defensively-challenged Big 12 and there were plenty of open receivers even on top of the screen passes. Among 10 quarterbacks charted in our new quarterback accuracy project, Mayfield did have the highest percentage of "open" throws in the class (though it wasn't by a massive margin).
However, this should not be the end of the analysis. Our data has shown the the most stable measure of quarterback accuracy is the ability to hit open throws, and Mayfield is the best in the class in this regard, especially when throwing the ball down the field. The high percentage of open throws should not distract from…
Mayfield can't make tight-window throws: False
While Mayfield had the lowest percentage of tight-window throws in the class last season, he was by far the most accurate in those situations, coming in 9.0 percent better than the No. 2 quarterback, UCLA's Josh Rosen. Mayfield has the zip to fire the ball in between zones and he has the accuracy to "throw receivers open" away from the leverage of defenders. Both are important traits for the next level, and Mayfield showed well in these difficult situations, even if they don't show up as often as other quarterbacks in the class.
Lamar Jackson doesn't work through progressions: False
Jackson has no problem sitting in the pocket and surveying the field. In fact, he had the second-highest percentage of passes in which he got to a second/third read in the class, and he had the fourth-highest accuracy percentage among the 10 quarterbacks with advanced charting. That's a huge upgrade from his overall accuracy that ranked 10th, showing that working through multiple reads and throwing accurately is the least of Jackson's problems.
Jackson just runs around and scrambles: False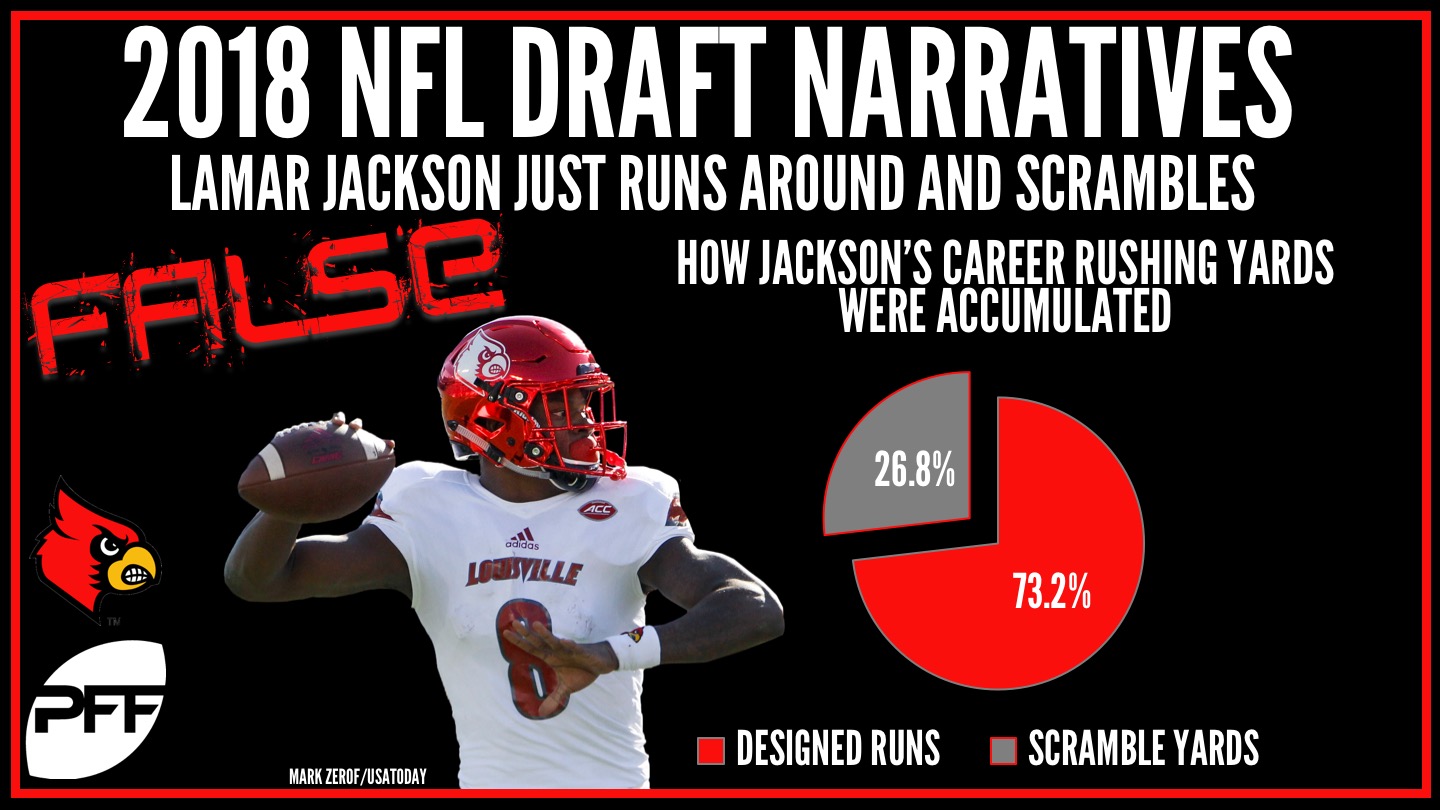 Let's start with the rushing yards. Jackson's gaudy rushing totals stemmed mostly from his ability in the designed running game, they weren't the result of broken pass plays. He gained 73 percent of his career rushing yards on designed run plays, while only 27 percent came on scrambles. Last season, 22.4 percent of Jackson passing attempts came outside the pocket, a number that ranked only 15th in the draft class. He's looking to pass first, and run second, but when he did break the pocket, he posted the second-highest PFF grade in the draft class. Jackson's athleticism is a legitimate weapon at the next level, but the idea that he's merely a runner who might pass the ball is simply false.
Saquon Barkley is a generational running back: False
When the hype train gets moving, it's difficult to temper expectations for players we really like. While Barkley is our top running back in the draft class, he's not a perfect prospect across the board, and his work as a pure rusher is not as clean as other backs from previous classes or even in this class. Barkley's receiving skills separate him from the pack as he's a potential mismatch weapon, both out of the backfield and when lined up wide, but as a runner, he does not maximize the yardage given by his run-blocking. He's often too quick to look for the home run when a three or four-yard gain is there to be had, and this may lead to a bit too much dependence on his offensive line at the next level. Make no mistake, when plays are blocked well, Barkley is an explosive, big-play threat, but his inconsistency may lead to a boom-or-bust style as a runner.
Bradley Chubb is the clear top pass-rusher in the draft and he should be a lock top-five pick: False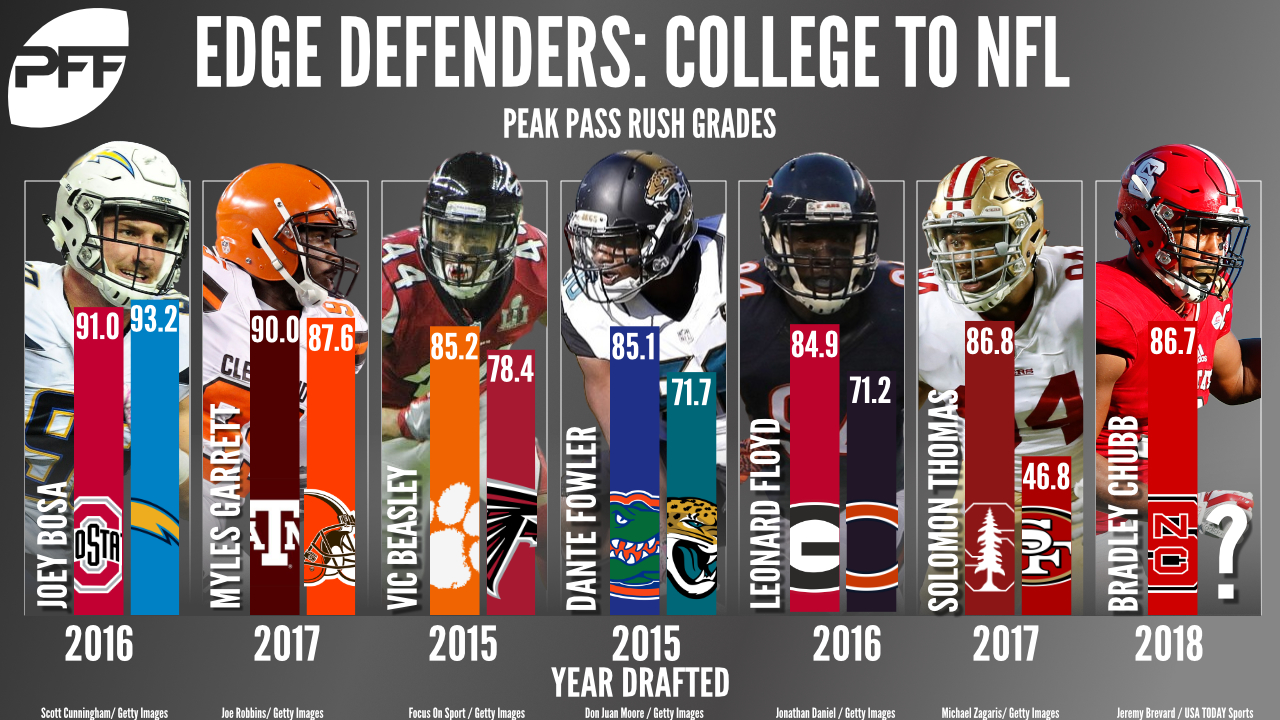 Chubb is an excellent football player. He has excellent size and burst off the line of scrimmage, and he's polished both against the run and as a pass-rusher in his technique. However, Chubb is being mocked as the first non-quarterback off the board and a potential top-five pick, but his pass-rushing prowess does not stack up to previous elite top-five pass-rushers. There's some risk with Chubb's game translating after he posted a career-high 86.7 pass-rush grade last season, a solid number, but not at the same level of the Chargers' Joey Bosa or the Browns' Myles Garrett. Bosa and Garrett each posted multiple seasons of 90-plus pass-rush grades in college, and they've had the smoothest transition to the NFL among recent top-10 picks from a pure pass-rushing standpoint. Chubb looks like he'll be a fine player at the next level, but one that fits more in the 10-20 range rather than a top-five lock.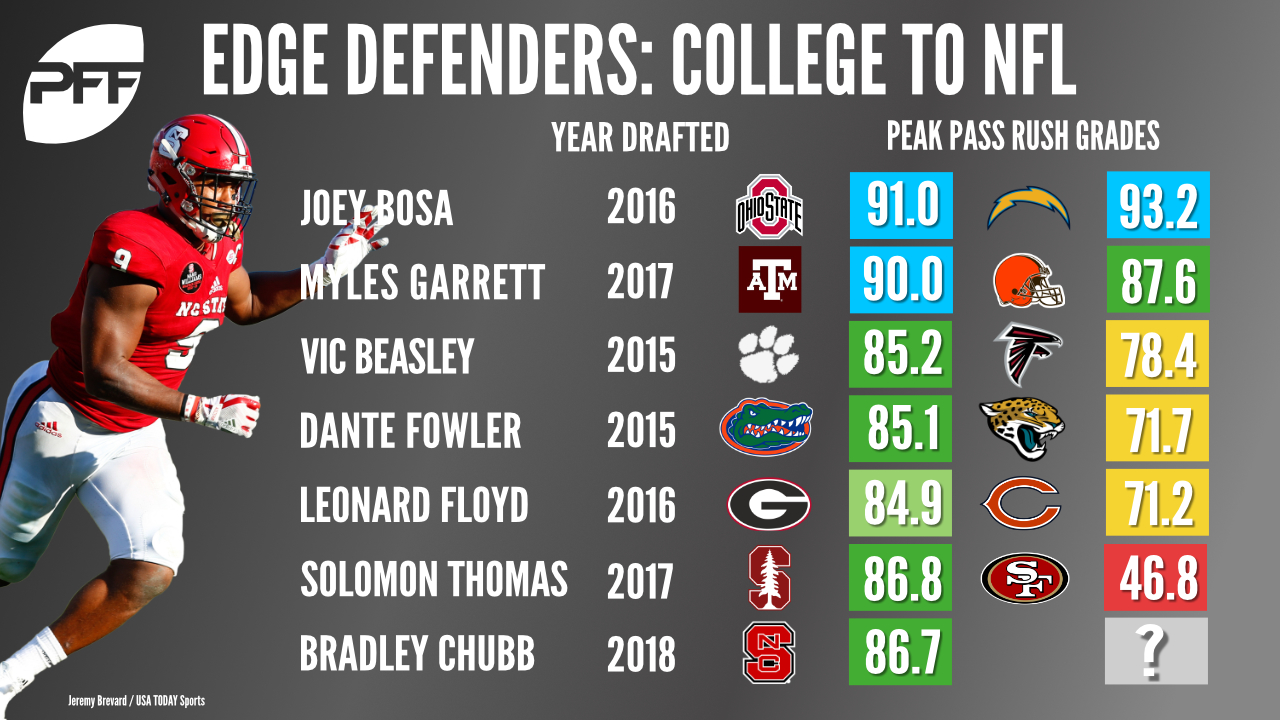 Josh Allen's supporting cast is the only reason for his 2016 drop-off: False
If we limit ourselves to only looking at stats, they can be interpreted or even dismissed in irresponsible ways. Luckily, there are more ways to evaluate quarterback play beyond completion percentage, starting with PFF grading breakdown and capping things off with PFF's new QB accuracy charting. Allen had a poor 2017 season no matter which way it's sliced, and losing a number of NFL-caliber players was certainly part of the issue, but it does not excuse the poor decisions and inaccurate passes that littered his tape. Allen was a much more productive player in 2016, but he still lacked the decision-making (22nd in the nation in turnover-worthy throws) and accuracy from the pocket (101st among 133 qualifiers in adjusted completion percentage) to earn a spot as a lock top-15 pick. He was surrounded by multiple NFL-caliber talents, including WR Tanner Gentry, TE Jacob Hollister, RB Brian Hill and C Chase Roullier, but his accuracy, touch and processing was as much an issue that year as it was in 2017.
Losing key playmakers only exacerbated present issues, rather than taking a polished product and making it look worse due to a lack of supporting cast. Our notes from the PFF Preseason Draft Guide sum up Allen's game, and they all remain true a year later: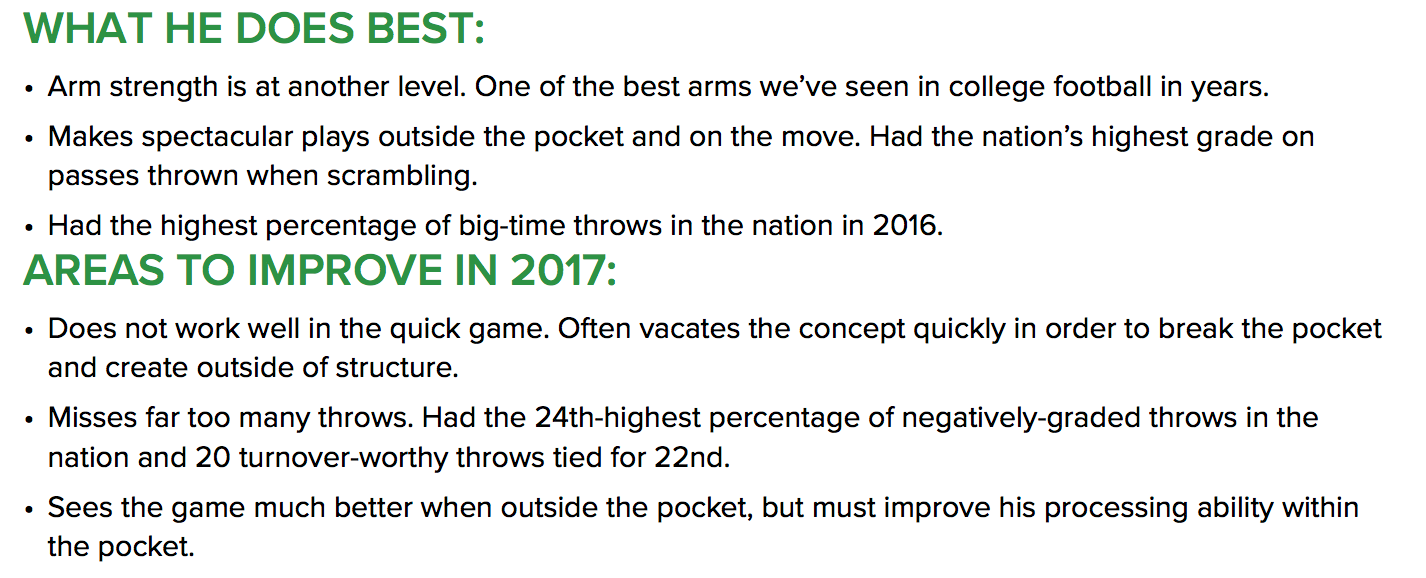 Quenton Nelson is the best guard prospect in years: True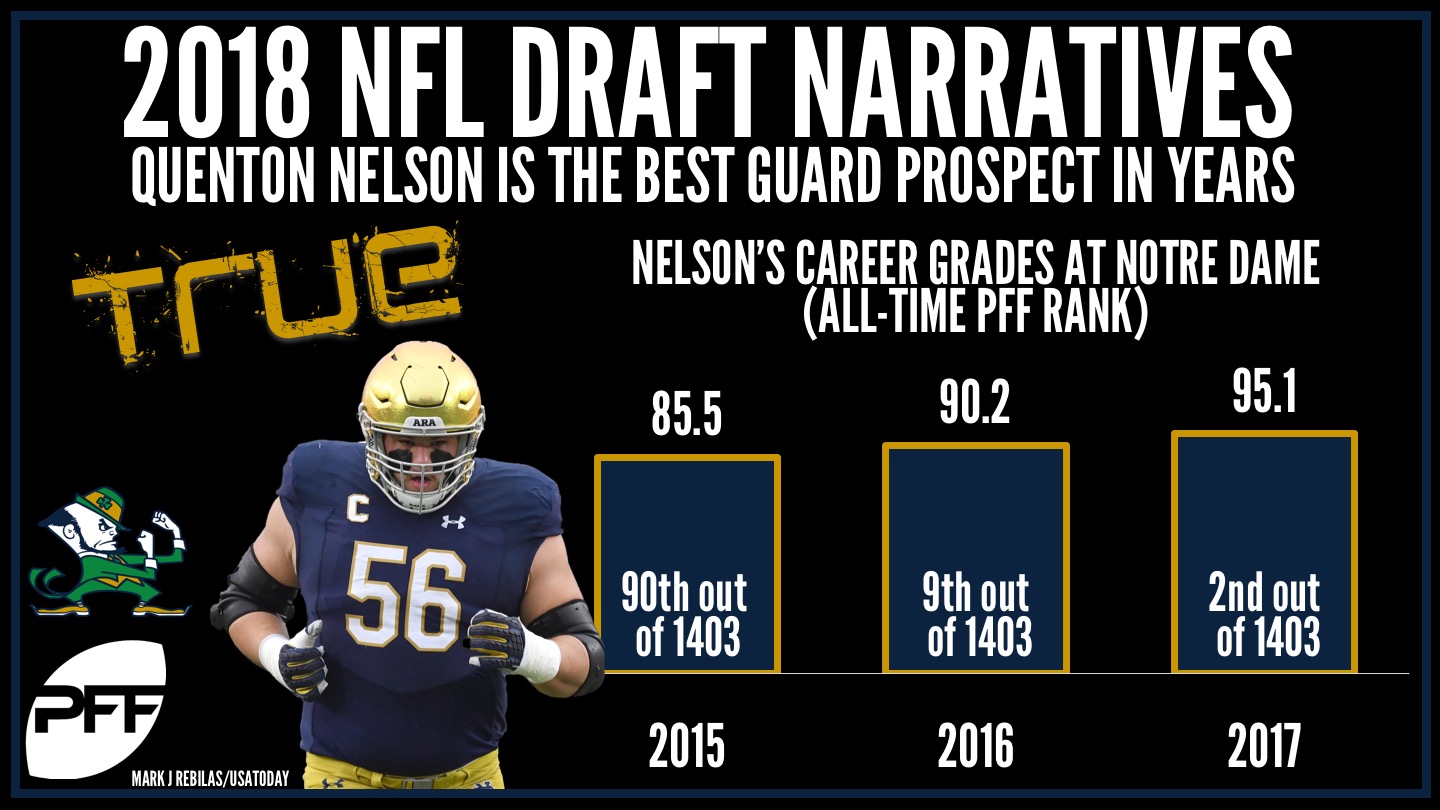 Everyone loves Nelson, and rightfully so. He's strong in all areas, dominating in the run game and continuing to improve as a pass-protector during his time at Notre Dame. He's a mauler on front-side double-teams and he's just as adept at locating defenders when on the move. In pass protection, Nelson allowed 11 pressures in 2016, but he cut that down to only five last season. Overall, he was the fourth-graded guard in 2016 before posting the top grade in 2017. Nelson's 94.6 overall grade is the second-highest we've seen from a guard in four years of grading, but it's the top mark among players from Power-5 caliber teams.