From NFL legends like Kurt Warner and Jerry Rice to current NFL stars Carson Wentz and Darius Leonard, we have seen numerous non-FBS prospects make the jump to the NFL with ease. In the 2020 draft class, there is a plethora of non-FBS prospects who are being considered by NFL GMs, and several will hear their names called on draft day. There is always some type of risk involved when drafting a non-FBS player, but some have far more risk than others, which begs the following question:
Which non-FBS prospects are worth investing in during the 2020 NFL Draft and which ones are not?
Using PFF's advanced database and 1,100-plus page NFL Draft Guide, we answer that question:
WORTH INVESTING IN
S Kyle Dugger, Lenoir-Rhyne
Dugger rings in as PFF's 51st-best prospect overall and fifth-best safety in the 2020 NFL Draft. He played in only seven games this past year due to injury, but during that short time period was lights-out across the board. He came away owning a PFF overall grade of 79.7 and made minimal mistakes in coverage. Dugger played 90-plus snaps in the box, slot and free safety and allowed just a 28.9 passer rating with as many plays made on the ball as first downs allowed (four) on his 215 coverage snaps. When in the slot specifically, Dugger allowed just two catches on nine targets for 13 yards (one score) with an interception and forced incompletion.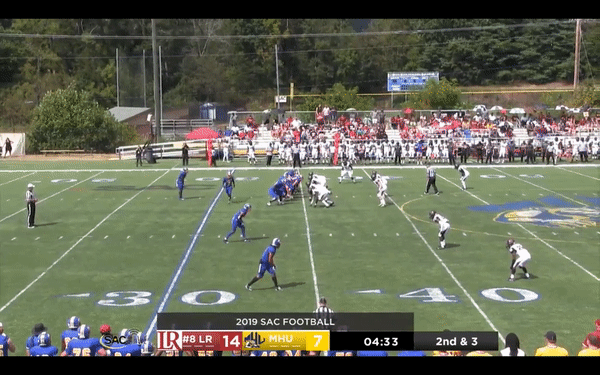 Out of this list, Dugger and Lenoir-Rhyne went up against some of the weakest competition. But Dugger got his opportunity to show he could go toe-to-toe with top-tier prospects at the Senior Bowl, and he proved himself in one-on-ones by forcing two incompletions and intercepting one on his five reps. In Indy, Dugger verified the sheer athleticism evident on tape. Among all safeties, Dugger finished first in the vertical, second in the broad jump and sixth in the 40-yard dash. He owns all the tools needed to succeed at the next level, making him the best non-FBS prospect in this class.
TE Adam Trautman, Dayton
We only have data on Trautman's 2019 campaign, but he flat-out exposed FCS defenses — and his 94.3 receiving grade attests to that. Of his 11 games played, nine of them ended with an 80.0-plus receiving grade. Trautman finished his season picking up 27 explosive plays of 15-plus yards, which led all college football tight ends regardless of school classification That's the second-most we have ever seen in a single season by a tight end in the PFF College era.
Dayton's Adam Trautman measured at 6'5″ 255 lbs at the NFL Combine. He routinely made FCS defenses look like JV squads with that size, consistently winning in single coverage and on contested balls.

He posted a 94.2 @PFF grade in 2019, the 2nd best we've ever seen by a TE. pic.twitter.com/FhxtFsFNSB

— Anthony Treash (@PFF_Anthony) February 24, 2020
Trautman is an athletic specimen and can line up inline, in the slot or outside and remain a lethal receiving threat with his route running. Some might be cautious to invest in Trautman given his average straight-line speed that won't make him much of threat deep downfield, but don't overthink this one. He's PFF's TE3 in this draft class and easily worth a Day 2 pick. 
T Ben Bartch, Saint John's (Minn.)
Bartch started his career at Saint John's back in 2016 as a 230-pound tight end and ended as a 309-pound offensive tackle — all thanks to his daily shake consisting of scrambled eggs, cottage cheese, grits, peanut butter, banana and Gatorade. Good thing he suffered through that every day to gain all that weight, because it's clearly paying off for him — he currently sits as the 55th-best prospect overall and sixth-best tackle in this class.
In his final year with the Johnnies, Barth recorded a PFF pass-block grade of 97.3. Yes, that's no typo — a 97.3 pass-block grade with just four pressures allowed on 541 pass-block reps. He tossed around D-III linemen routinely and continued his dominance at the Senior Bowl where he posted one of the highest win rates of any offensive lineman.
WR Isaiah Coulter, Rhode Island
Everyone knows how incredibly loaded this wide receiver class is, but that doesn't mean you're going to get a typical second-round type of talent in the fourth-round. You can get a guy like Rhode Island's Isaiah Coulter in that round, though, and you should absolutely do it. Despite standing at 6-foot-2, Coulter would get overpowered in contested situations (just a 38.5% contested catch rate in 2019) and didn't have a catch radius to be proud of. What he does have is elite-level speed and solid route-running that allowed him to separate at a high level and win on vertical routes. In his two games against FBS competition this past year (Ohio and Virginia Tech), Coulter saw five of his 11 receptions with open separation and burnt off a couple impressive explosive plays on crossers.
OL Kyle Murphy, Rhode Island
Murphy played all over the line throughout his career and started at left tackle for the Rams in 2019, but he's more of a guard at the next level — and that move could turn him into a viable starter in the NFL. At left tackle this past year, Murphy owned just a 68.2 overall grade, which is by no means great against the level of competition he was facing. Again, he has the tools we like for him to flip to the inside. We would place him among the top guards in the class, so snagging him late on Day 3 could be a steal for a team willing to work with him.
EDGE Derek Tuszka, North Dakota State
Tuszka is a bit undersized and didn't have the explosiveness on the field that you'd like to see, but he proved at the NFL Scouting Combine he has the athleticism. And he definitely showed the production at North Dakota State to take a flyer on in Day 3. This past year, Tuszka produced an elite 91.8 pass-rush grade and generated a whopping 25.2% win rate and 22.1% pressure rate — all of which rank sixth or better among all collegiate edge defenders we collected data on. Tuszka recorded a win rate above 14% in all but two of his games this past season (and in one of those two, he only logged seven pass-rush reps). It's a huge concern that he won largely because of weak competition as opposed to skill — and he absolutely has to bulk up more — but regardless, the collegiate production and athleticism is worth investing in late.
S Kenny Robinson, St. Louis Battlehawks (XFL)
Kenny Robinson is among the list of overall undervalued and PFF favorites in this draft class. After spending a couple years at West Virginia and displaying great playmaking ability, Robinson had to leave college football for the XFL to help his mother who was fighting cancer. He then played five games for the Battlehawks and showed the same instincts we all fall in love with when he was with the Mountaineers. In college, Robinson combined for 14 plays made on the ball while allowing just 23 catches in coverage (181 snaps at outside corner, 186 snaps in the slot, 216 snaps in the box and 771 at free safety). In the XFL, Robinson allowed just four catches in coverage while intercepting two (almost exclusively at free safety).
He's a proven, versatile player and lethal in coverage regardless of alignment. In PFF's latest Analytics Mock by George Chahrouri and Eric Eager, which takes into account positional value and college-to-pro projections, they have Robinson as late first-round pick. In reality, he'll likely be a late Day 2 pick at best. In other words, some team is going to get a steal in this guy.
TOO RISKY TO INVEST
S Jeremy Chinn, Southern Illinois
Chinn is an absolutely freakish athlete and destroyed the Combine, but his instincts on the field were rather poor. He played only two games against FBS competition this past season — one was the worst team in the FBS as far as team grade in UMass and the other was Arkansas State, which was his lowest-graded game of the year. Throw in the fact that Chinn lost all of his one-on-one matchups at the Senior Bowl and it only makes matters worse. Some are a bit too high because of his near-perfect athleticism. We slot Chinn as a late-round project at best.
T Alex Taylor, South Carolina State
Alex Taylor is an absolute unit at 6-foot-8 and looks the part of an elite offensive tackle when standing in the sideline, but he is on the opposite end of the spectrum when on the field. In his last season at South Carolina State, Taylor produced a 73.9 overall grade and closed out his collegiate career allowing three pressures to Norfolk State. His Senior Bowl performance doesn't help matters, as he produced the lowest grade of any tackle in attendance in one-on-ones and a 0.0 pass-block grade in the game itself. Taylor might be a UDFA project, as much as some might hate to admit it given his insane build.
QB Kevin Davidson, Princeton
Davidson graded fairly well in his lone season we have data on in 2019 by posting an elite 91.9 overall grade. He took very good care of the football, producing a minimal turnover-worthy play rate that would have ranked among the five best FBS signal-callers. He also displayed solid arm strength deep downfield (20 big-time throws and zero turnover-worthy plays when throwing 20-plus yards). That said, he offers virtually no mobility and can't create outside the structure. The pocket presence is of huge concern, and Davidson isn't going to be handed clean pockets at the next level like he did against Ivy League schools. Teams might fall in love with the arm strength, but they have to be careful to not take him much earlier than the sixth or seventh round.
RB James Robinson, Illinois State
The measurables of Robinson were hot, but the on-field production was not. On his 364 carries for Illinois State, Robinson earned just a 73.0 rushing grade and owned a broken tackle per attempt average that is alarming at 0.20. He wasn't heavily involved in the passing attack, either, with at least two catches in only four his 15 games last year. Robinson was durable in 2019 and could handle the workload, but that type of production on a snap-for-snap basis doesn't project well from FCS to the NFL. 
LB Dante Olson, Montana
It's rare to see a prospect do as well as Olson in the vertical but as poor as he did in the 40. He graded out very well in the lone season we have data on him in 2019, especially in coverage where he owned an 87.7 grade that ranked among the 10 best FCS and FBS off-ball linebackers, and he was one of the best tacklers we saw this past year. While Olson's speed wasn't a huge issue in the FCS, it will be in the NFL. He'll get eaten alive by NFL running backs and won't be nearly the same threat in coverage as a result.
TE Charlie Taumoepeau, Portland St.
As weak as this tight end class is, we might see Charlie Taumoepeau come off the board earlier than he really should. Taumoepeau is solid with the ball in his hands and creates after the catch, as he broke eight tackles on his 36 catches and averaged 6.4 yards after catch per reception. But the problem was getting it in his hands, as he had an 11.6% drop rate and caught just one of nine contested targets. His athletic limitations showed at the Senior Bowl, too, as he flat-out struggled to separate. It will be far more difficult for him to win lined up at receiver in the NFL. At 6-foot-2 and 240 pounds, Taumoepeau doesn't quite fit what NFL teams need nowadays at the position. He is a UDFA special teamer at best.