The 2021 NFL Draft is finally here. Soon, we will find out what the San Francisco 49ers will do with that no. 3 overall pick, how far Ohio State quarterback Justin Fields will slide and where Kyle Pitts, Ja'Marr Chase and Penei Sewell will land.
This particular draft has long been set up for chaos. The historically talented group of quarterbacks was always going to send the league into a frenzy, while COVID-19 has continued to wreak havoc on the evaluation process. The pre-draft medicals remain uncertain, and the cancellation of the NFL Scouting Combine limited face-to-face interactions and clouded testing numbers. There is just a lot of uncertainty.
So, before the Jacksonville Jaguars are officially put on the clock and the chaos ensues, I went ahead and made some bold but realistic predictions of what might happen in the first round of the 2021 NFL Draft. My predictions include three top-10 trades and a couple of surprise picks down the order.
View PFF's 2021 NFL Draft position rankings:
QB | RB | WR | TE | T | iOL | DI | EDGE | LB | CB | S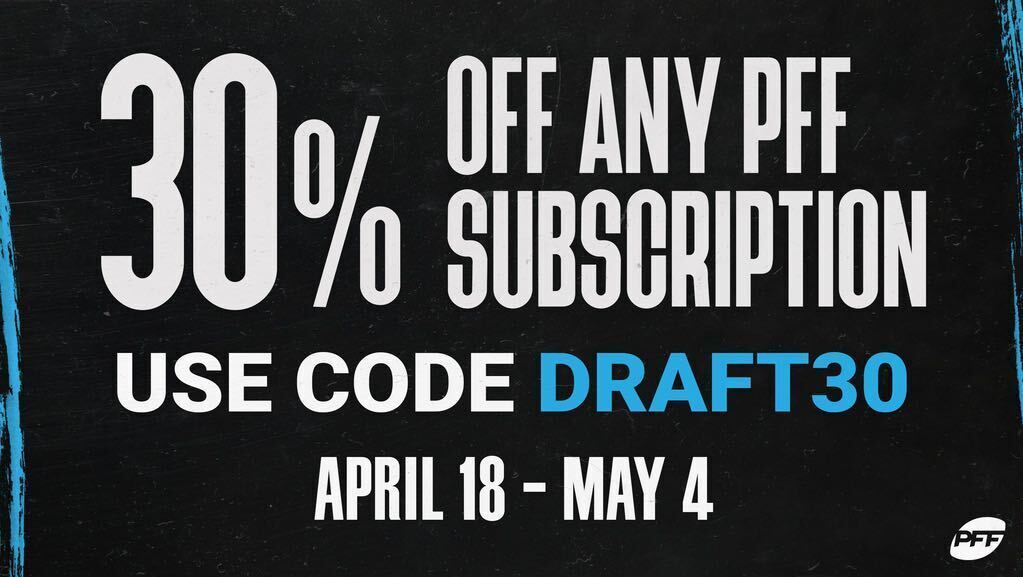 The Patriots are reportedly infatuated with Fields, and the word is that they will be willing to trade up for him. And given that Cam Newton ranked 24th in PFF passing grade last year, this seems like a good idea.
The Ohio State quarterback, arguably the most accurate quarterback in the class, is one of the five best draft prospects PFF has ever evaluated. He has the arm talent, the athleticism to extend plays, fantastic judgment and the ability to add to the ground game. He displayed all of those traits during his two years as a starter at Ohio State, where he earned a 90.0-plus PFF grade in both seasons.
Fields was the most valuable college football player in the country in 2019 and 2020, according to PFF WAA (wins above average). He might hold onto the ball a bit too long and isn't as quick to process things as some, but he has all the requisite tools to become a franchise quarterback.
Sewell makes all the sense in the world for the Panthers, who boast a shaky offensive line as things stand. Still, it wouldn't be a surprise to see the Chargers make an offer Carolina can't refuse to go from No. 13 to No. 8 to draft Justin Herbert's blindside protector from college. The former Oregon quarterback has even gone on record saying that he is advocating for his former teammate.
Sewell would help the Chargers' offensive line go from one of the league's worst to one of the league's best. A year ago, the Los Angeles offensive line combined for the second-worst PFF grade of any unit in the last decade, and while they added center Corey Linsley and the versatile Matt Feiler to team up with a hopefully healthy Bryan Bulaga at right tackle, there's still a need there.
Sewell was the most valuable tackle of the 2019 college football season and looked like a grown man against high schoolers at times. The power behind his punch, his movement skills and the frequency with which he put guys on the ground were all special for someone of his age.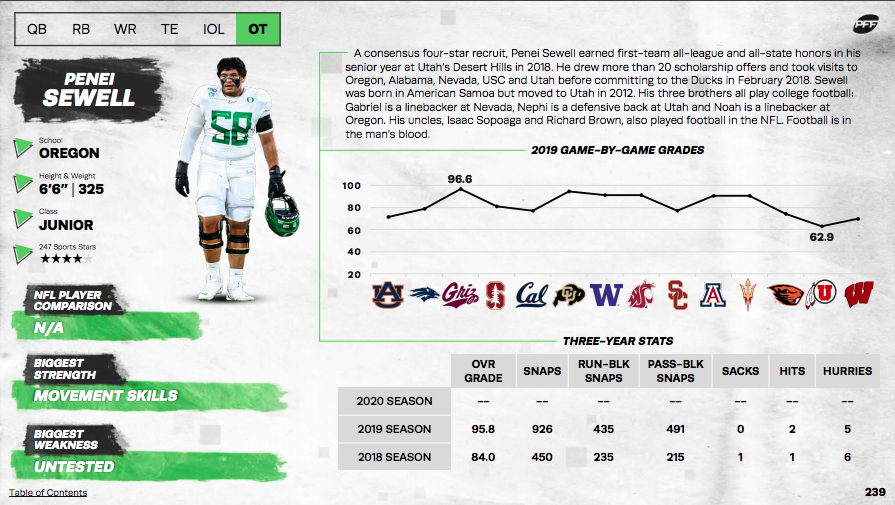 General manager Ryan Pace received permission to offer whatever was needed to acquire Russell Wilson from Seattle, so now the question is whether he will get it again to move up for a quarterback in the 2021 NFL Draft.
There's a very strong possibility that he just might, and if Trey Lance goes to San Francisco at No. 3 and Jones slides this far, Chicago may take another swing on the quarterback position with a huge move up.
Andy Dalton didn't particularly show much in the way of promise when he filled in for Dak Prescott in 2020. Yes, he was accurate and took care of the ball, but he failed to orchestrate any semblance of a downfield passing attack. And that's why he finished the season with a 69.5 passing grade, 22nd among quarterbacks.
While Jones has his limitations, he does have the cleanest tape of anyone in this class. Last year, he posted the lowest negatively graded throw rate we have ever recorded in our seven years of grading college football en route to the best single-season PFF grade ever earned by a Power Five quarterback. He would bring accuracy, great decision-making, pinpoint timing and good vision with him to the Windy City.
He doesn't have the ceiling of some other signal-callers in this class, but he can be a quality NFL quarterback. And that's something Chicago has never really had.
WR DeVonta Smith slips to the 15th overall pick
Smith is a unique case. He just produced the highest single-season receiving grade ever given to a wide receiver, taking home the Heisman Trophy in the process. He is one of the most complete receiving prospects the league has seen in recent years.
The only notable knock on him is his thin 166-pound frame. It clearly wasn't an issue at Alabama, but NFL teams are questioning whether that will remain the case when he lines up against bigger and more physical defensive backs. I don't think it will be an issue, but it weighs heavy on his draft stock, which is why we could see him fall as far as 15th overall.
EDGE Jaelan Phillips and CB Caleb Farley's medical flags don't get in the way — Phillips is the first DL off the board, and both go inside the top 20
There has never been more uncertainty in an NFL draft. Some teams have to rely on 2019 tape to study players who opted out in 2020, while there was no combine to gather reliable athletic testing times or meet face-to-face with prospects. Most notably, the medical reports are as murky as they have ever been.
Miami edge defender Jaelan Phillips and Virginia Tech Cornerback Caleb Farley, two prospects who come with medical red flags, have been forced to watch their draft stock oscillate as the league tries to figure out how to evaluate them.
Phillips was the No. 1-rated recruit of the 2017 class before committing to UCLA, but he was hit by a car during his true sophomore campaign and decided to medically retire after the subsequent injuries and another concussion after the fact.
Fortunately, Phillips was able to make his return to the field. He transferred to Miami, where he broke out down the stretch for the Hurricanes and looked like the player many thought he'd become when he was the nation's top recruit. He recorded four or more pressures in each of his last seven games and was one of the five highest-graded edge defenders in the FBS over that span. Still, concussions are a big concern.
As for Farley, he's among the group of players that decided to opt-out in 2020 due to COVID-19 concerns, but he also comes with a questionable medical history of his own. He tore his ACL in 2017, had a back operation in 2019 and underwent another back procedure in March. And yes, Farley was told at the medical combine in Indianapolis early this year that he should be ready for the season and that his back shouldn't be a long-term issue, but back injuries are rarely as straightforward as that.
If the Virginia Tech product were fully healthy and had no concerns medically, he would easily be a top-10 pick. The size, length, speed and production are all there. The 6-foot-2, 207-pound corner is capable of running a sub-4.3 40-yard dash and was one of the best cornerbacks of 2019, as his 90.5 coverage grade from that season can attest.
Both players are everything the NFL wants at their respective positions outside of the medicals. They would be slam-dunk top-10 picks if they had a clean bill of health. While neither will go in the top 10, I would not be surprised to see teams still take chances on the two relatively early.
The San Francisco 49ers will almost certainly be securing a passer with the No. 3 overall pick, and Aaron Rodgers just won the MVP Award after posting the highest PFF grade among quarterbacks in 2020. It looks like time is running out for Garroppolo and Love in their current cities.
The only way Garoppolo starts for the 49ers is if the team wanted to redshirt its rookie quarterback, while the chance of Love playing significant time for Green Bay — two years before the team has to decide on his fifth-year option — is practically zero.
As PFF salary cap analyst Brad Spielberger noted yesterday, Garoppolo's contract doesn't help his trade value. The best-case scenario is probably a third- or fourth-round pick in return for the veteran quarterback, but it's still better than releasing him outright. For teams that miss out on the quarterbacks in Round 1, it makes a lot of sense; Garoppolo may not be an elite quarterback, but he can be good within the right ecosystem, as we saw in 2019 when he ranked 13th in PFF grade at 77.3.
For Love, the potential return is likely a late 2021 second-round pick and a 2022 third- or fourth-rounder. It would be an incredible result for Green Bay, given how we felt about Love as a prospect, gifting the Packers more ammo to take advantage of their Super Bowl window.
The Pittsburgh Steelers, who had an interest in Love before the 2020 NFL Draft, could be intrigued by a deal.
Not one, but TWO running backs come off the board in Round 1
Back in the day, it was a surprise if there weren't multiple running backs taken in the first round of the NFL draft. Now, the league is trending in the opposite direction. Teams are starting to realize the value, or lack thereof, of the running back position. Slowly but surely, they are coming to recognize that they are better off taking one either on Day 3 or from the undrafted free agent pool.
But this year, I wouldn't rule out teams making one last return to past ways. In fact, this could be one of the last drafts where we see multiple running backs come off the board in Round 1.
The NFL draft rumor mill has been churning, with Alabama's Najee Harris being linked to the Pittsburgh Steelers and Clemson's Travis Etienne drawing ties to the Buffalo Bills.
Both backs have the receiving ability required at the position in today's NFL, as they rank seventh and first, respectively, in PFF receiving grade among all FBS running backs since 2019.
There are concerns about Harris' speed. With Etienne, the problems lie with him running laterally and looking for that home run too often. Still, I don't think this will get in the way of some teams taking them in Round 1. Along with the Steelers and Bills, the New York Jets, Jacksonville Jaguars and Tampa Bay Buccaneers could also swing the bat on a running back.
I don't need to beat a dead horse and explain why I wouldn't support taking a running back in Round 1, but the point here is that there is a chance we see it happening on Thursday night. This makes the "over 1.5 running backs taken in the first round" prop bet over at DraftKings Sportsbook look pretty juicy (you can boost the odds on that prop to +225 with the promo code PFF).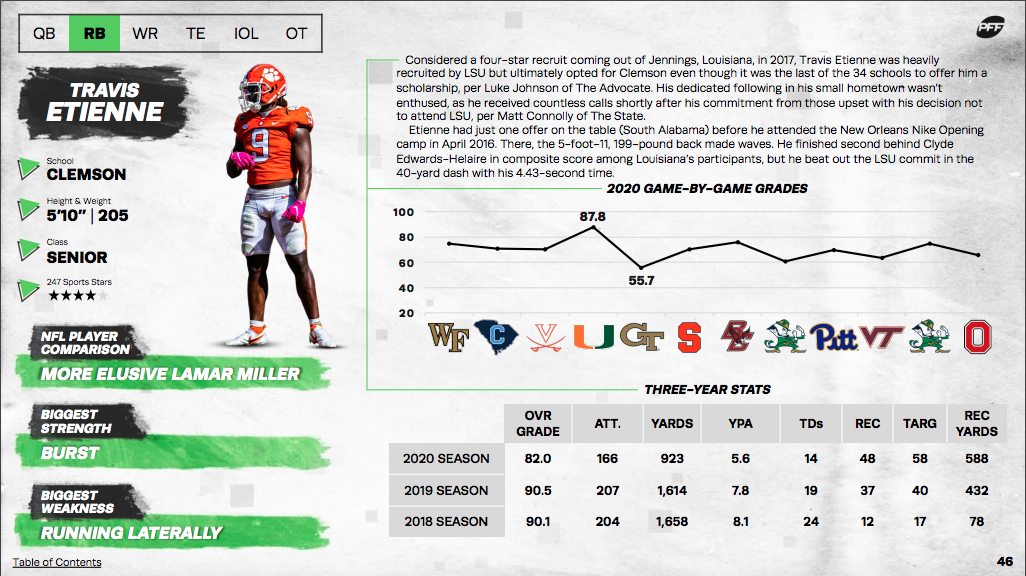 A quarter of the first-round picks are offensive linemen
It's no secret that this offensive line class is one of the most talented in recent memory. Starting with Penei Sewell, who set the PFF College record for the highest PFF grade ever earned by a Power Five tackle as a teenager in 2019, there's a lot to like with this group. So much so that it wouldn't be a surprise if no fewer than eight offensive linemen hear their names called tonight, especially if we see three off the board within the first 13 picks.
Sewell, Rashawn Slater, Christian Darrisaw, Alijah Vera-Tucker and Teven Jenkins are all first-round locks. Stanford tackle Walker Little, North Dakota State tackle Dillon Radunz, Texas tackle Sam Cosmi, Alabama center Landon Dickerson and Notre Dame tackle Liam Eichenberg are all on the fence.
Little has the tools, but it's somewhat concerning that he has played all of 72 snaps over the last two years. Radunz has elite explosiveness and agility, but there are questions about his anchor and the fact that he faced poor competition at the FCS level. Cosmi is going to be one of the most athletic tackles in the NFL, but his pass sets are going to need a rebuild, which means that he might not be a Day 1 starter. Dickerson has brute strength that showed up regularly in the run game in 2020, where he led the FBS in run-block grade, but the torn ACL he suffered in the SEC championship game is giving teams some pause. Eichenberg is a well-experienced player who is NFL-ready from a technical standpoint, but he doesn't have the ideal length or athleticism.
While those five have more question marks than the other five locks, I wouldn't be shocked if we see three come off the board down the stretch, especially if the consensus top five are all off the board by Pick 20 and the trade market is crickets.
---
More of PFF's 2021 NFL Draft tools here: 
2021 NFL Draft Big Board | 2021 NFL Draft Guide | 2021 NFL Draft Stats Export | NFL Mock Drafts | NFL Mock Draft Simulator