The first full weekend of college football brought an assortment of quality games, upsets and feel-good storylines. Week 1 was headlined by a come from behind thriller by Auburn at Jerry World in Texas. Iowa State needed three overtimes to beat in-state rival Northern Iowa, and Mack Brown got his first victory for the Tar Heels. Our PFFELO rankings and PFF College Greenline gambling predictions were on point for Week 1. Let's continue to build on that momentum for the rest of the 2019 season. Below is our current Top 25 College Football Power Rankings based on our PFFELO model.
PFFELO is an iterative system that updates each team's rating after each game based on two things: how well they played against their opponent and how well they were expected to play against their opponent. The PFFELO rating system measures the former using our unique offensive, defensive and special teams grades, while the latter is determined by the PFFELO ratings leading up to the game and where the game is played.
For example, a heavy favorite playing at home is expected to outplay the visitor, so a victory would result in only a small rise in their PFFELO rating and a similarly small decrease in the defeated team's. But if an upset were to happen, the visiting team would see their PFFELO rating rise substantially, and the home team's see a similarly sized drop.
Sometimes in football the best team does not win, and PFFELO accounts for these oddities by using our grades. Hence, there will be teams rated higher or lower in this system than their win-loss record would suggest. While adjustments are made using preseason market data, along with recruiting rankings, the majority of these numbers are derived using our grades. Since PFF began charting college football in 2014, the difference in PFFELO values alone has been able to explain over three-fourths of the variance in the closing Vegas line. Check back for weekly college spread picks using this model (as well as other information) and check out PFF College Greenline for a full slate of against the spread and total lines based on this on our rating metrics.
[Editor's Note: All ELITE subscribers can access PFF College Greenline, and online dashboard with predictions for the spread, total and moneyline on every FBS game every week. Subscribe today to gain access!]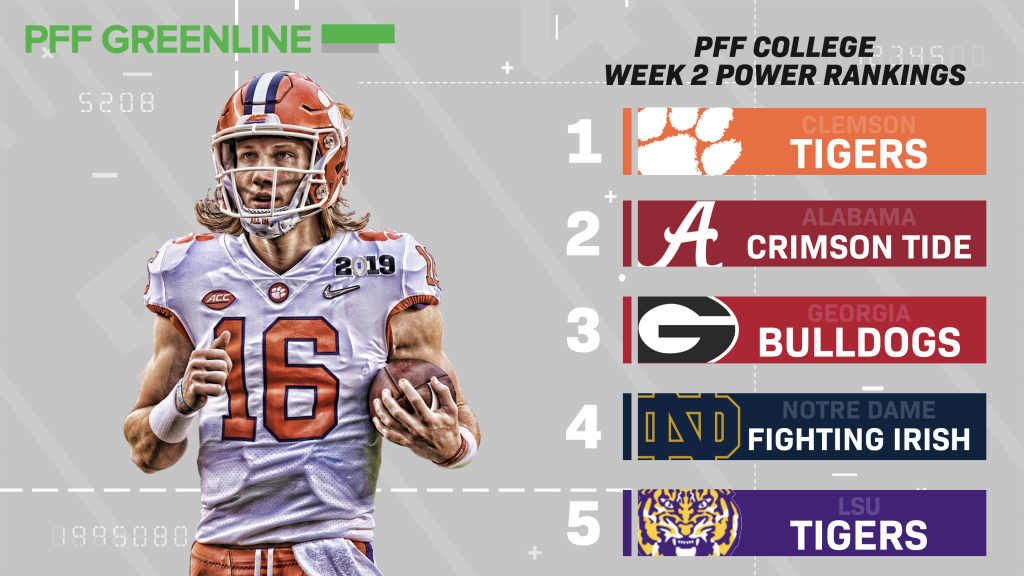 Clemson rolled through their first overmatched ACC opponent in a 52-14 win against Georgia Tech. It wasn't exactly a glowing performance, however, as all-world quarterback Trevor Lawrence had his lowest-graded game in his short college career. Lawrence had two interceptions on four turnover-worthy throws with an accuracy percentage of 33.3. Travis Etienne picked up the slack with eight missed tackles forced. He went for 108 yards after contact including a 90-yard touchdown run. The Tigers enter their toughest regular-season stretch of 2019 with a home matchup against 12th-ranked Texas A&M followed by a road showdown against Syracuse. Clemson is over 200 ELO points better than A&M and opened as -17.5 point favorites on Saturday.
The Crimson Tide shook off any lingering rust in the second half of Week 1, running away from Duke en route to a 42-3 victory. Jerry Jeudy looks like one of the best receiving prospects we have seen in some time. On 10 receptions, he accounted for eight first downs, four explosive plays and three missed tackles. Jaylen Waddle is no slouch on the other side, either. Together, with Tua Tagovailoa at the helm, Jeudy and Waddle form what could easily be the most dynamic passing unit in the PFF College era (2014-19). Alabama continues to ease into their schedule and is laying a ridiculous 54.5 points to New Mexico State on Saturday. 
3. Georgia
Georgia took care of Vanderbilt on the road Saturday. Following their tough road opener, Georgia heads home for two cupcake matchups before their home showdown with Notre Dame. To say the game with Notre Dame will have a significant impact on the College Football Playoff race could be an understatement. Georgia should open between a field goal and touchdown favorite and has to win if they want to remain relevant throughout their remaining SEC schedule.
4. Notre Dame
The vaunted Notre Dame defense struggled to open 2019 with edge rushers Khalid Kareem (56.8) and Julian Okwara (54.6) grading well below average. Ian Book didn't exactly set the world ablaze, either. Book had a 57.7 passing grade with one turnover-worthy throw and three sacks taken. Notre Dame is taking the week off to reset before a home matchup with New Mexico followed by their showdown in Georgia.
LSU looked the part of a team with College Football Playoff potential in their 55-3 victory over Georgia Southern. Again, it was against Georgia Southern, but Joe Burrow looked like a quarterback capable of beating anyone. A whopping 70.8% of Burrow's passes were accurate, and he had finished the contest with an 88.9% adjusted completion percentage. The Tigers are hitting on all cylinders as they head to Texas for their road matchup against the 13th-ranked Longhorns. Over 150 PFFELO points separate LSU and Texas, making LSU a five-point road favorite. Featured as the PFF College Greenline Game of the Week, the Greenline play that leans towards Texas will be available to all. 
The hype for Justin Fields feels real after his Week 1 performance. With an 89.9 PFF passing grade, Fields had an aDOT of 12.7 with 71.4% of his yards coming through the air. Fields had two big-time throws and also forced two missed tackles with his legs, averaging 5.3 yards after contact per attempt. Cincinnati could be a tough test for the Buckeyes in Week 2. After opening at -16.5, it seems that oddsmakers have also bought into Fields and the Buckeyes being for real in 2019.
7. Oklahoma
Jalen Hurts quickly entered the Heisman Trophy discussion putting up a monster performance in his first action for the Sooners. Hurts had the third-highest PFF passing grade among all FBS quarterbacks in Week 1. He graded that well without a single big-time throw. On 16 rushing attempts, he picked up 10 first downs, forced four missed tackles and averaged 10.9 yards per carry. Things continue to look bright for Oklahoma, with only a road matchup against Texas looming. The expectation is the Sooners run the table, pitting Hurts against his former team in the College Football Playoff.
Michigan coasted to a 40-21 win over Middle Tennessee. Shea Patterson definitely deserves praise for his performance with four big-time throws. He threw past the sticks on 66.7% of attempts. His pass-catchers offered little help, as a unit they posted a 57.9 receiving grade. Michigan hosts Army in the Big House as 23-point favorites. The Wolverines then get a week off before beginning their Big Ten schedule on the road against the Badgers.
9. Florida
Florida got an extended break after opening their season in Week 0 with a tightly contested win over Miami. Feleipe Franks didn't exactly silence the haters after posting a PFF passing grade of 45.1. He had an uncatchable inaccurate throw on 32% of his attempts. Flashing game-breaking ability, Kadarius Toney needs to get more than 13 offensive snaps to help move the football. Florida has a get right game against Tennesee Martin before a tough road matchup against Kentucky.
10. Auburn
The PFF College Greenline Game of the Week from Week 1 lived up to the hype, as Auburn scored two fourth-quarter touchdowns, one with nine seconds left to upend Oregon in Texas stadium. Bo Nix leaves as the hero, but his performance throughout the game was anything but reassuring. With a lowly adjusted completion percentage of 48.1%, Nix received a 39.8 PFF passing grade. With one big-time throw and three turnover worthy throws, Nix looks the part of a gunslinger with a 14.3 aDOT. The Tigers survived Week 1 but to get through the middle of their SEC schedule, Nix will need to play closer to the player who led the fourth-quarter comeback and leave behind the performance leading up to that shining moment.
Texas did enough on Saturday to cover the 20.5 spread and jam in a last-minute touchdown to secure the over and the win for our parlay pick on Saturday. Sam Ehlinger picked up right where he left off the 2018 season with an adjusted completion percentage of 78.4% and chipping in three big-time throws. The Longhorns are five-point home dogs and will need another gritty performance from Ehlinger to pull off the upset over LSU.
Penn State was an offensive juggernaut in their Week 1 rout of Idaho. As a team, they forced 17 missed tackles and had an explosive pass play eight times. Sean Clifford consistently targeted receivers downfield with an aDOT of 15.2; almost 72% of his passing yards came through the air. KJ Hamler was perfect on his four targets, posting a PFF receiving grade of 88.7. The Nittany Lions are the forgotten team in the Big Ten after the big two, but if they continue to play like they did Saturday, they can definitely make some noise in the Big Ten title race.
Nate Stanley had a successful Week 1 after getting significant contributions from his pass-catchers. Over 52% of Stanley's yards came after the catch, as he threw past the sticks on only 48.4% of attempts. Defensively, the Hawkeyes completely shut down the run game but need to improve both coverage and pass-rush if they want to stay relevant in the Big Ten. They open their Big Ten schedule against Rutgers, where they are a 19.5-point favorite with Greenline giving a significant edge to the Hawkeyes.
The Aggies took care of Texas State and now prepare for a showdown at Death Valley against the No. 1 ranked Clemson Tigers. Kellen Mond had a bit of an uneven performance with two big-time throws alongside two turnover-worthy throws. His passing grade of 76.7 was slightly above average, but he will need to be great to give the Aggies a chance at the upset on Saturday. Bookmakers give them around a 13.5% chance of pulling off the upset over Clemson.
The Bulldogs seem to be the team we have ranked higher than all other ranking systems having them at 16 where they are outside the top 25 elsewhere. Tommy Stevens flashed some playmaking ability, posting a 77.5 PFF passing grade. Most are now aware of the generational ability of Kylin Hill but after touting the rock 27 times, he picked up 71 yards after contact on six forced missed tackles. Their schedule stays light until SEC conference play begins at Kentucky in three weeks. 
The Jacob Eason to Aaron Fuller connection appears to be the real deal after one game. Eason had three big-time throws with almost 60% of his yards coming through the air. Aaron Fuller started the big-time catch trend with this ridiculous touchdown but also made numerous other plays downfield. 
Aaron Fuller, #BigTimeCatch pic.twitter.com/sKJCXERzUR

— Cam Mellor (@PFF_Cam) August 31, 2019
With an improved passing game and less reliance on the defense, the Huskies are the clear early favorites in the Pac-12. 
The Badgers dominated South Florida in every aspect of play on Friday. Jonathan Taylor continues to be the piece that makes this offense go. On 16 rushing attempts, he picked up 103 yards after contact on five forced missed tackles. He also took two dump-offs for touchdowns in the passing game. As good as Taylor is, the key to the Badgers'season will be the play of Jack Coan. He didn't need to do much besides dump or hand the ball off but when asked to throw downfield, he was rarely successful. A matchup this Saturday against Central Michigan leads into an off week before the Michigan Wolverines travel to Camp Randall stadium. 
Kentucky took care of Toledo on Saturday, covering the -10.5 spread and giving Greenline writeup picks another victory. Terry Wilson had an erratic performance and gets one more tune-up game before a matchup with Florida followed by the full slate of SEC games. DeAndre Square absolutely balled out in coverage and is looking like the prototypical next-generation coverage linebacker. 
Utah won in typical Utah dominating fashion on Thursday night. On 48 rushing attempts, Utah forced 17 missed tackles and generated an EPA per rush of .17. Even more encouraging was the play of Tyler Huntley on limited attempts. Huntley received an 83.5 PFF passing grade on 22 dropbacks, scrambled six times and took zero sacks. It was enough to get the victory on Saturday, but once their Pac-12 schedule gets rolling, Huntley will be asked to do significantly more downfield. 
The lone team in the Top-25 to lose in Week 1, Missouri lost in an unexpected shootout on the road in Wyoming. Kelly Bryant was adequate in his first game for the Tigers but was plagued by five drops and two turnover-worthy throws. Missouri slides from 17th to 20th in our PFFELO rankings. Heading home to take on West Virginia, the Tigers opened as two-touchdown favorites with Greenline projecting West Virginia to keep it closer than the spread in a low-scoring game. 
It was a real sweat, but thanks to a fumble recovery for a touchdown on a strip-sack, Stanford covered the -6.5 giving Greenline another win on Saturday. K.J. Costello didn't return after taking a hit to the head at the end of the first half. It could be a battle of backup quarterbacks on Saturday when the Cardinals square off against USC. This team needs Costello back as quickly as possible as they face a string of difficult opponents over the coming weeks. Oddsmakers have set the initial line as Stanford as 2.5-point dogs against USC. With JT Daniels out, it appears like oddsmakers have priced this game with the idea that both backups will play this weekend. 
22. Virginia
Virginia rolled through Pittsburgh on Saturday after being down at halftime. Defensively, they allowed positive EPA on only 38% of plays. With a schedule that consists of only one ranked opponent, Virginia should stay close to the top of the ACC conference. 
The Orange rode a dominant defensive performance led by Josh Black to victory Saturday. Syracuse generated pressure on 54% of dropbacks with a win percentage of 52%. Questions linger on the offensive side of the ball where Tommy Devito struggled to start the season. On 40 dropbacks, Devito had a 37.8 passing grade with two turnover-worthy throws and two sacks taken. Syracuse heads to Maryland before hosting the No. 1 ranked Clemson Tigers next week. The Syracuse-Maryland spread opened for the Orange at -3 before shifting all the way to +1 for Syracuse. Greenline actually agrees with current consensus betting markets and would make Maryland a small favorite at home this weekend.
24. NC State
Matthew McKay looked poised in his debut as a starter for the Wolfpack. He rarely pushed the ball downfield, evidenced by his 8.4 aDOT. McKay also threw short of the sticks on 65.8% of his attempts. Only facing two teams in the top 25, the Wolfpack have some time to get comfortable with the new players on the offensive side of the ball.
Michigan State completely shut down Tulsa's offensive unit Friday night. Tulsa generated positive EPA on only 28% of pass attempts. The Spartans had zero missed tackles defensively. Outside of the top two teams in the Big Ten, the theme continues to be whether the quarterback play can be good enough to keep pace with Ohio State or Michigan. Brian Lewerke didn't bring any defining answers to that question on Friday. His aDOT of 6.7 leaves a lot to be desired. Thankfully, he did have two big-time throws, which helped bring his passing grade up to 67. Opening at -16 in their matchup against Western Michigan, Greenline offers no discernible edge on either the spread or total.