Coming off their big win in Jacksonville, PFF's No. 4 Georgia Bulldogs get the chance to lock up their second straight SEC East crown Saturday in Lexington in what is quite possibly the biggest game on Kentucky's home turf in their school's history. As only we at Pro Football Focus can, let's examine the matchup that will determine the East's representative in Atlanta on December 1st.
The PFF College Game of the Week is brought to you by Eckrich, the Official Smoked Sausage of the College Football Playoff.
Can Georgia handle Kentucky's edge defender extraordinaire Josh Allen?
Last week against Florida's strong edge rush, the Georgia offensive only allowed five total QB pressures. Well, they'll see a whole other level this week in Kentucky's Josh Allen. Allen is the highest-graded edge defender (92.8), has the highest pass-rush grade (94.3), and our Steve Palazzolo had him as the 18th pick in PFF's second mock draft. Allen has 41 total QB pressures, including 10 sacks, on only 178 pass rush snaps – meaning he also has the FBS's highest pass-rush productivity (15.2). The FBS leader in QB pressures, Florida State's Brian Burns (86.8) with 51, has achieved that number on 315 pass-rush snaps. The reason Allen only has that number of pass rush snaps is not that they only bring him in to rush, it's because he's also dropped into coverage on 101 snaps.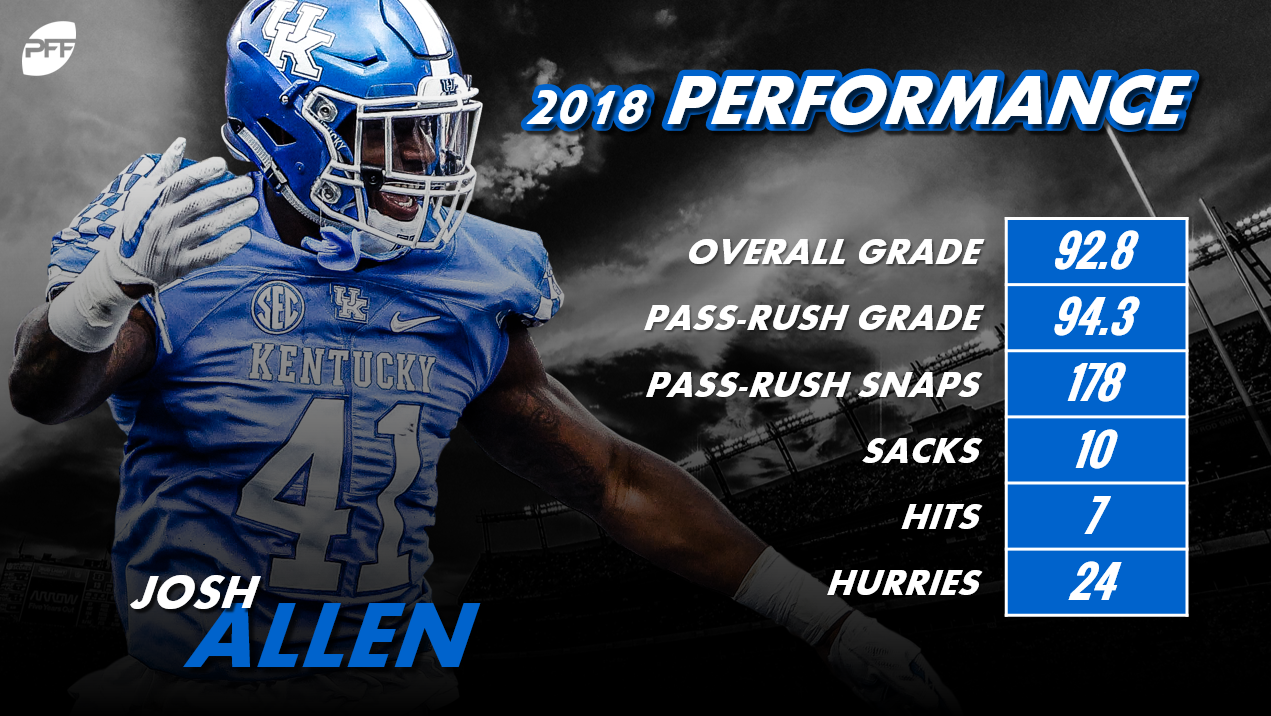 Georgia's young offensive line will be tested from not just Allen. Kentucky's top three pass-rushers – Allen, edge defender Jamar Watson (74.3) and interior defender Calvin Taylor Jr. (75.7) – have combined for 78 total QB pressures, which is only two less than Georgia's entire team has managed in 2018.
What if Kentucky has to throw it often?
Kentucky has Benny Snell Jr. (78.5) and they want to run the ball – that is known and clear. But if the running game falters in any way, what will QB Terry Wilson (59.3) and the rest of the offense do? Wilson has struggled passing this season, only averaging 6.5 yards per attempt with more interceptions (six) than touchdowns (five). His primary target, WR Lynn Bowden Jr. (79.4), has caught 43-of-51 targets and has seven of the team's 21 explosive plays in the passing game so expect to see our highest-graded corner, Georgia's Deandre Baker (91.4), shadowing Bowden wherever he goes. It won't be just Baker making it difficult for Wilson as the Bulldogs have the second-highest coverage grade in the FBS and have forced an incompletion on 16.4% of targets, third-most in the FBS.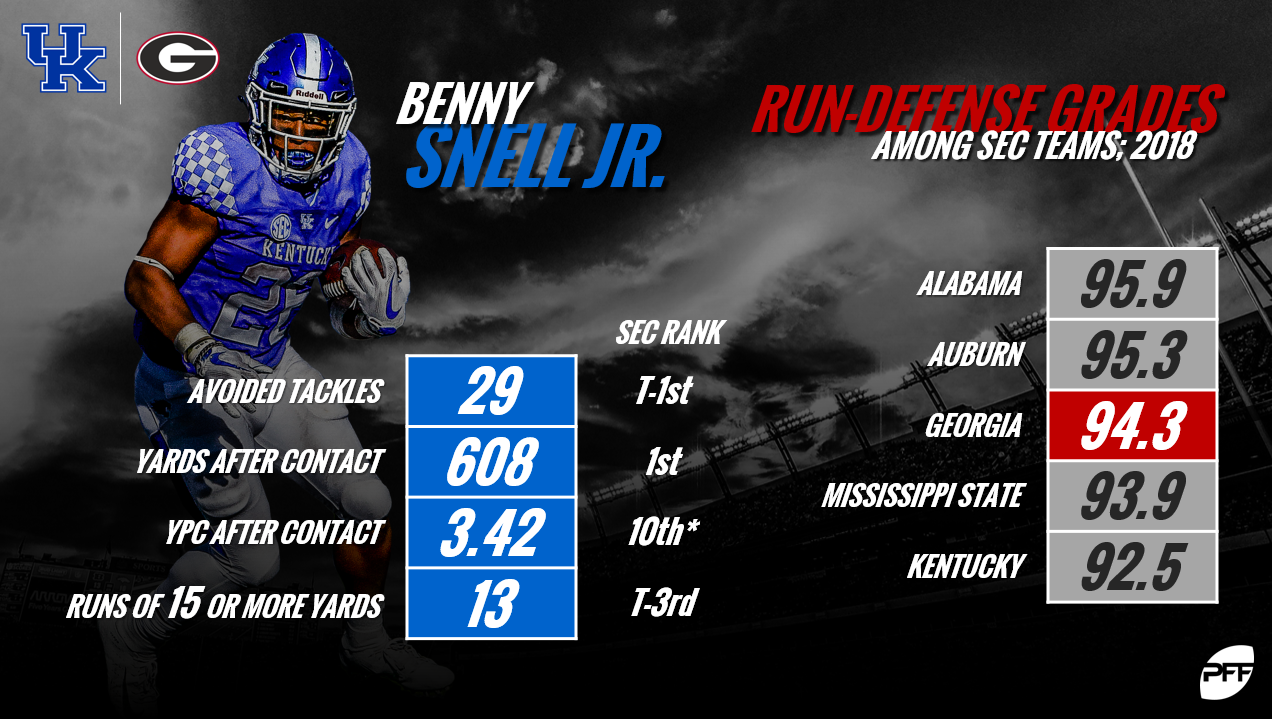 Jake Fromm
Going into the Florida game, Georgia QB Jake Fromm was coming off his worst performance since his first start last season as a true freshman against Notre Dame. After missing multiple throws, and multiple touchdown throws, against LSU, Fromm couldn't miss against Florida. His 90.7 game grade was the highest of his career and earned him a spot on PFF's National Team of the Week. He went 7-of-12 for 119 yards and two touchdowns against the blitz as well as 3-of-4 for 75 yards and two touchdowns on throws over 20 air yards. Bulldog fans hope the more recent version of Fromm shows up on Saturday.
Trick or treat?
With Halloween being this past week, it's only fitting we point out the frequency with which the Wildcats like to dig into their bag of tricks. As we pointed out in our Top 25 Observations this week, Kentucky has run 35 trick plays, 10th-most in the FBS. Expecting we'll see more of those this Saturday in Lexington as this contest is for a December 1st trip to Atlanta and a shot at…. well, that'll be a little more certain after a certain game Saturday night in Baton Rouge.