Just earlier this week, we detailed the nation's highest-graded wide receivers through nine weeks of play. We didn't want those guys who are tasked with covering receivers to feel slighted, so here are the top-graded cornerbacks through the same timeframe as the receivers, up to Week 9 of the college football season.
This list is brought to you by Eckrich, the Official Smoked Sausage of the College Football Playoff.
[Editor's note: To qualify for a ranking, a cornerback must have spent at least 140 snaps in coverage this season.]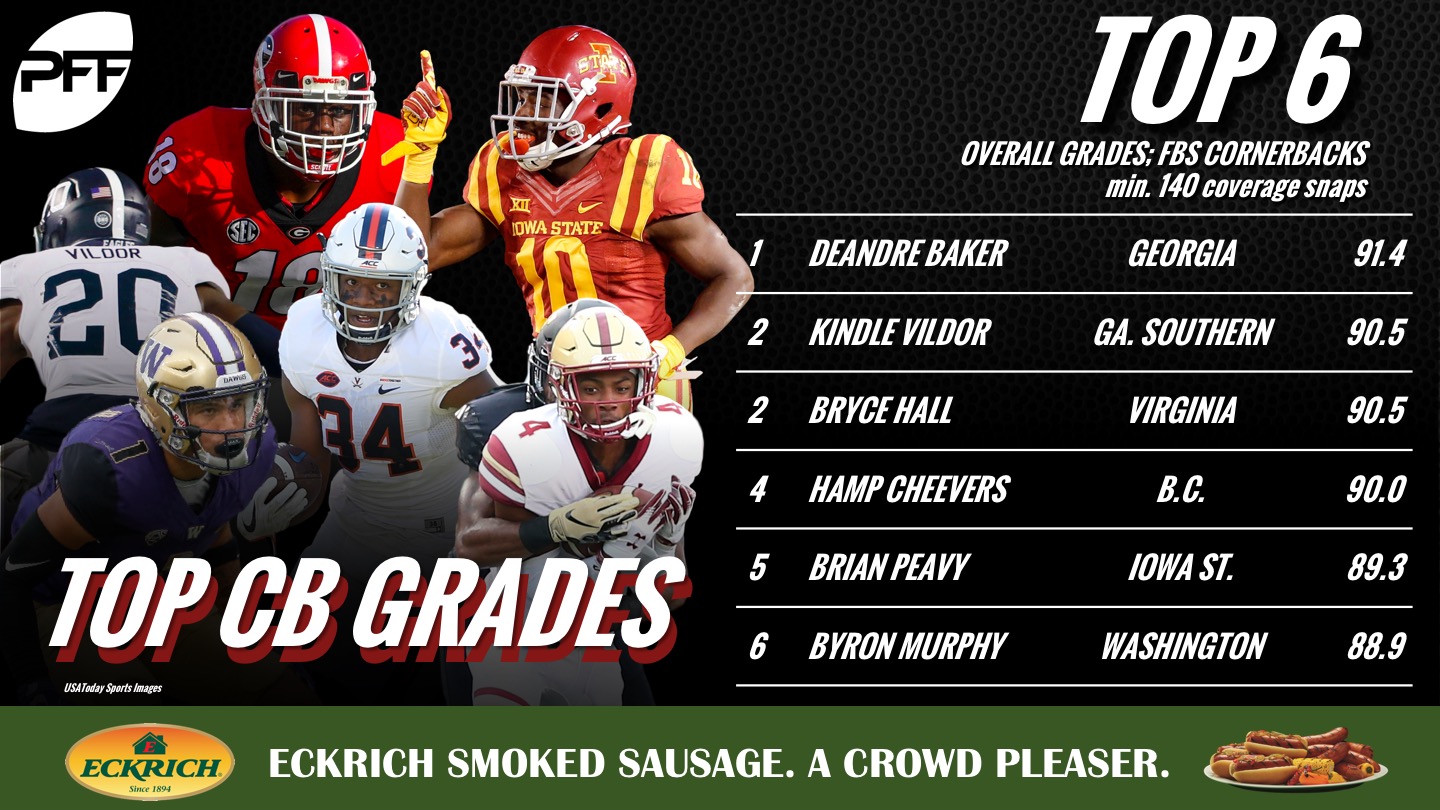 1. Deandre Baker, Georgia
2018 overall grade: 91.4
Baker has been the nation's top-graded cornerback all season long and that doesn't appear to be in jeopardy anytime soon. He's allowed just 48.4% of passes thrown at him to be caught (15-of-31) for just 117 yards and only 17 yards after the catch. He has recorded two interceptions and broken up another eight passes thrown his way.
2. Kindle Vildor, Georgia Southern
2018 overall grade: 90.5
Vildor may be the relatively unknown on this list, but if we had our say, he would be a national name. He's been targeted 41 times, allowed just 23 receptions and has recorded four interceptions and four pass breakups. His 37.4 passer rating when targeted is the 15th-lowest among all the nation's cornerbacks who have been targeted at least 20 times.
2. Bryce Hall, Virginia
2018 overall grade: 90.5
Hall leads the nation with his 15 plays on the ball, tying with Stanford's Paulson Adebo and USF's Mike Hampton. He has broken up 13 passes and intercepted two more while allowing just 46.0% of the passes thrown his way to be caught (23-of-50). Hall has allowed just 57 yards after the catch and allowed a reception no longer than 30 yards all season long.
4. Hamp Cheevers, Boston College
2018 overall grade: 90.0
The leader in interceptions among cornerbacks this year, Cheevers has had a knack for the ball all year. He has an additional five pass breakups to go with his five interceptions and sports a lowly 26.4 passer rating when targeted. For reference, a quarterback receives a 39.6 passer rating just for throwing an incomplete pass on every play.
5. Brian Peavy, Iowa State
2018 overall grade: 89.3
Peavy's decision to come back is paying dividends as he's having another solid year for the Cyclones. He's been targeted 25 times and has allowed just 10 receptions (40.0% catch rate allowed). Peavy has allowed only 14 yards after the catch and despite one touchdown reception allowed, he's still sporting a 68.8 passer rating when targeted.
6. Byron Murphy, Washington
2018 overall grade: 88.9
Murphy has been a longstanding player on any sort of top-graded cornerback list for the last two seasons. He's following up an incredible 2017 season in which he graded out with an 86.6 overall grade with yet another strong performance for the Huskies. Targeted in coverage 35 times this year, he's allowed just 16 receptions for just 119 yards while breaking up 12 of the 35 targets thrown his way.