Welcome to the ninth NCAA Team of the Week for the 2018 season. As always, our team of over 500 analysts has dissected and graded every snap of every game to bring you the most detailed and valid set of picks you can find anywhere.
The Week 9 Team of the Week saw many impressive performances across the country and as always, overall grades, playing time and the quality of opposition has been factored in to make these selections.
The PFF Team of the Week is brought to you by Eckrich, the Official Smoked Sausage of the College Football Playoff.
Offense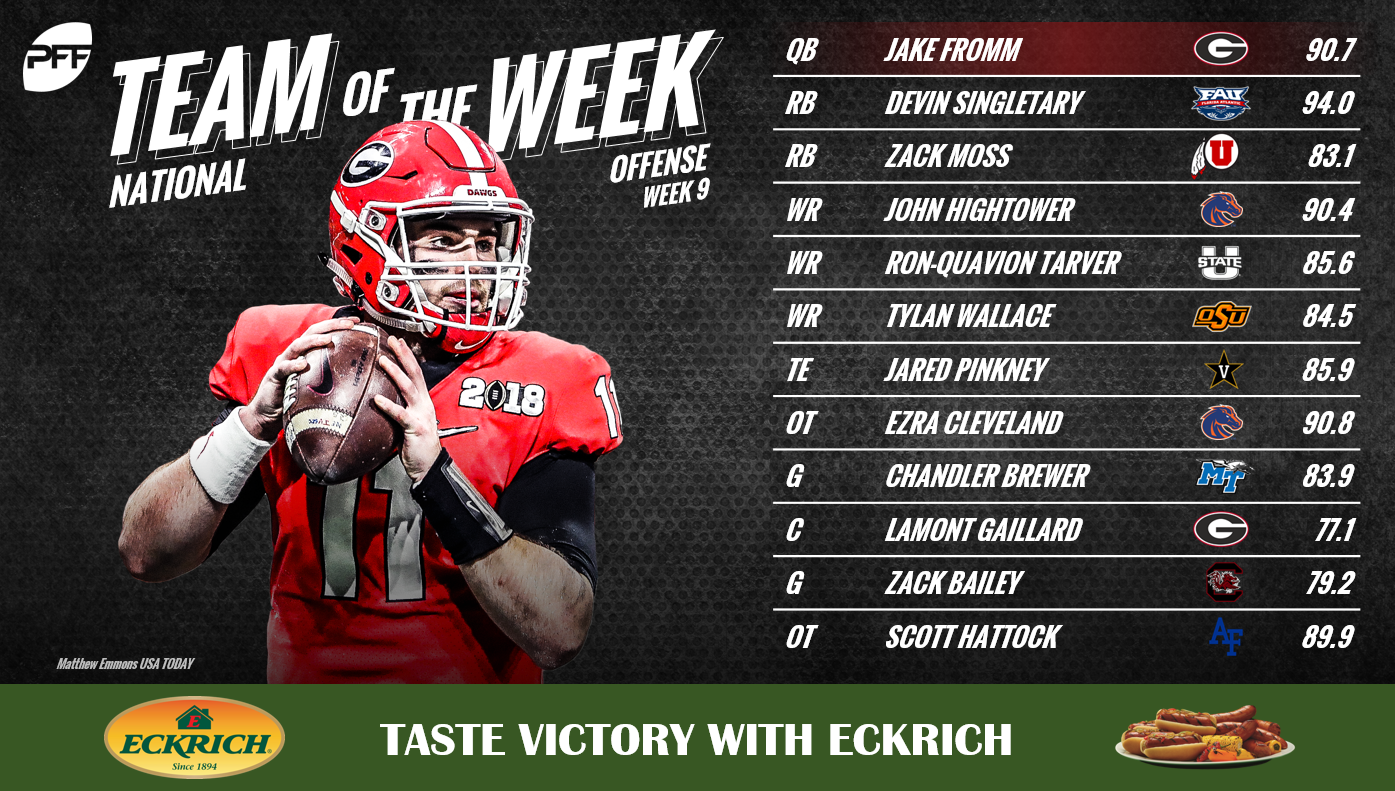 Quarterback
Jake Fromm, Georgia
Week 9 Grade: 90.7
Fromm had the best game of his career against the Gators on Saturday, erasing all doubt of a quarterback controversy and setting up for a de facto SEC East Championship game next weekend against Kentucky. Fromm was blitzed on 12 dropbacks from Florida but more than held his own, completing 10-of-12 passes for 121 yards and a touchdown.
Running Back
Devin Singletary, FAU
Week 9 Grade: 94.0
This game happened on a Friday and came in defeat but Singletary was certainly not to blame for that. On 20 carries against Louisiana Tech, Singletary gained 169 yards including 146 yards after contact and forced 14 missed tackles on his carries. He scored a touchdown and ran for another seven first downs as he averaged 7.30 yards after contact per attempt.
Running Back
Zack Moss, Utah
Week 9 Grade: 83.1
Another result from Friday, Moss carried the Utes offense with his 26 attempts, 211 yards and three touchdowns. He also was extremely tough to bring down, gaining 132 yards after contact and forcing four missed tackles on his carries.
Wide Receiver
John Hightower, Boise State
Week 9 Grade: 90.4
A Boise State receiver on our National Team of the Week is becoming a staple every week apparently as Hightower takes the top honors in Week 9. Hightower was targeted 10 times, hauled in eight receptions for 182 yards including 99 of which came after the catch. His three touchdowns and two additional first downs led to a perfect 158.3 passer rating when targeted.
Wide Receiver
Ron'Quavion Tarver, Utah State
Week 9 Grade: 85.6
Tarver forced four missed tackles after the catch, working hard for his yardage against New Mexico. He hauled in seven receptions for 112 yards, a touchdown and two additional first down receptions.
Wide Receiver
Tylan Wallace, Oklahoma State
Week 9 Grade: 84.5
Wallace's day against Texas was so spectacular that his efforts on the receiving end of Taylor Cornelius passes are able to stand up to his three drops on the evening. Wallace was targeted 15 times and brought in 10 receptions for 222 yards, two touchdowns and six additional first downs. He forced a missed tackle and gained 45 yards after the catch.
Tight End
Jared Pinkney, Vanderbilt
Week 9 Grade: 85.9
Pinkney gets the edge over his counterpart in this one – Cheyenne O'Grady – as Pinkney brought in five receptions for 93 yards and a touchdown. He gained 80 of his yards after the catch and forced two missed tackles with the ball in his hands.
Offensive Tackle
Ezra Cleveland, Boise State
Week 9 Grade: 90.8
Cleveland is becoming a mainstay on the Team of the Week – doing so in Week 9 by way of impressive run-blocking. While he allowed only one pressure (a hurry) on 39 pass-blocking snaps, his 90.5 run-blocking grade was 3.4 grade points higher than the next closest tackle this weekend.
Offensive Guard
Chandler Brewer, Middle Tennessee State
Week 9 Grade: 83.9
Brewer allowed no pressures on 38 pass-blocking snaps in the MTSU victory and also led the nation's guards with his 85.9 run-blocking grade.
Center
Lamont Gaillard, Georgia
Week 9 Grade: 77.1
Playing against a formidable Gators front, Gaillard did not allow a single QB pressure on 29 pass-blocking snaps while he also finished with a fifth-ranked run-blocking grade among centers.
Offensive Guard
Zack Bailey, South Carolina
Week 9 Grade: 79.2
Bailey and the South Carolina offense needed just 19 total dropbacks to defeat Tennessee as Bailey did not allow a single pressure and also finished with the sixth-highest run-blocking grade among guards this week.
Offensive Tackle
Scott Hattock, Air Force
Week 9 Grade: 89.9
Both Hattock and his teammate Parker Ferguson fell next in line as two of the only four offensive tackles in Week 9 to field overall grades above 80.0. Hattock gets the edge with his 87.1 run-blocking grade as he paved the way brilliantly for the Air Force rushing attack.
Defense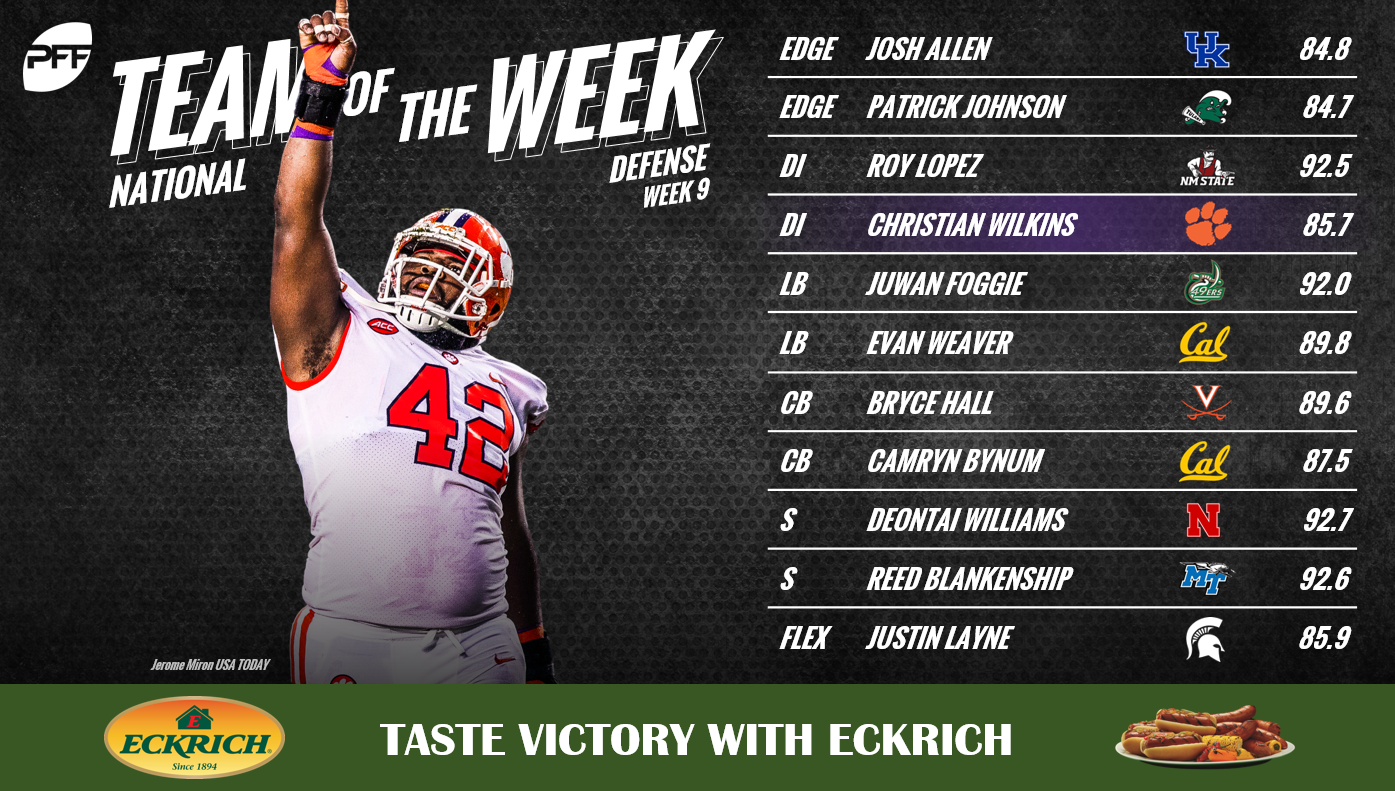 Edge Defender
Josh Allen, Kentucky
Week 9 Grade: 84.8
Lost in Kentucky's epic come-from-behind victory against Missouri was Allen's defensive performance in which he tallied four QB pressures on 20 pass-rushes and 10 total tackles. Of his nine solo tackles, seven of them went for defensive stops and he also limited receivers in his coverage to just 10 yards after the catch against the Tigers,
Edge Defender
Patrick Johnson, Tulane
Week 9 Grade: 84.7
With an identical grade to North Texas' Dion Novil, Johnson gets the edge here as his multi-facets defensive play was integral to Tulane's victory over Tulsa. On 23 pass-rushing snaps, Johnson recorded five pressures and on seven snaps in which he dropped back into coverage, he was targeted once and didn't allow a catch.
Defensive Interior
Roy Lopez, New Mexico State
Week 9 Grade: 92.5
Lopez utterly dominated the defensive front for the Aggies against Texas State, despite the final result. He led the nation this weekend with six stops in run defense, recording a tackle for an 'offensive failure' on 14.0% of his run-defense snaps. He forced a fumble and also added a QB hurry on the pass-rush as well.
Defensive Interior
Christian Wilkins, Clemson
Week 9 Grade: 85.7
Wilkins gets in here because he also had plus grades on the offensive side of the ball (1 att., 1 yard, 1 TD) while he dominated on the defensive side of the ball, albeit for just 29 snaps. Wilkins recorded five pressures on just 19 pass-rush snaps and recorded two stops on just 10 snaps against the run.
Linebacker
Juwan Foggie, Charlotte
Week 9 Grade: 92.0
Foggie was all over the field for the 49ers, displaying great instincts as he racked up four defensive stops on his five solo tackles without missing a tackle attempt. Most impressive, however, were his skills in coverage. On 43 dropbacks in coverage, Foggie was targeted four times as the primary coverage defender, allowing just two receptions for 21 yards while intercepting two passes of his own.
Linebacker
Evan Weaver, Cal
Week 9 Grade: 89.8
Weaver's incredibly athletic pick-6 against Washington ultimately sealed the deal for Cal. On the evening, Weaver racked up 11 total tackles including five defensive stops and had quite the night in coverage. On 27 snaps in coverage, Weaver was targeted eight times, allowing five receptions for just 37 yards and an interception for a 33.9 passer rating when targeted.
Cornerback
Bryce Hall, Virginia
Week 9 Grade: 89.6
Hall is having arguably the best two-game stretch of his career, making our National Team of the Week for the second consecutive week. On nine targeted passes, Hall allowed five receptions for all of 19 yards and limited receivers to just eight yards after the catch. He chipped in with two pass breakups and over the past two weeks has allowed just seven receptions on 18 targets for just 36 yards.
Cornerback
Camryn Bynum, Cal
Week 9 Grade: 87.5
An impressive display in coverage against Washington, Bynum was targeted four times and allowed just a single reception for 11 yards. Impressively, he forced negative yardage after the catch on the only reception he allowed while also securing an interception and a pass breakup for a 0.0 passer rating when targeted.
Safety
Deontai Williams, Nebraska
Week 9 Grade: 92.7
Williams needed all of 23 snaps to impress against Bethune-Cookman and despite the inferior foe, his day finished to the tune of a pass breakup and an interception while sporting a 0.0 passer rating when targeted.
Safety
Reed Blankenship, Middle Tennessee State
Week 9 Grade: 92.6
The second member of the Blue Raiders to make our National Team of the Week, Blankenship added value no matter which facet of defense you look at. On two blitzes, he recorded a sack while he brought in five defensive stops and had an interception in the secondary.
Flex Defense
Justin Layne, Michigan State
Week 9 Grade: 85.9
Layne finished the afternoon having spent 49 snaps in coverage and allowing just one reception on his nine targets for a mere two yards. He recorded three additional pass breakups and sported just a 39.6 passer rating on throws into his coverage.