Below is the Week 7 edition of our PFF ELO rankings for college football. Like all ELO systems (including our version for the NFL), PFF ELO is an iterative system that updates each team's rating after each game based on two things: how well they played against their opponent and how well they were expected to play against their opponent. The PFF ELO rating system measures the former using our unique offensive, defensive and special teams grades, while the latter is determined by the PFF ELO ratings leading up to the game and where the game is played.
For example, a heavy favorite playing at home is expected to outplay the visitor, so a victory would result in only a small rise in their PFF ELO rating and a similarly-small decrease in the defeated team's, but if an upset were to happen, the visiting team would see their PFF ELO rating rise substantially, and the home team's see a similarly-sized drop.
Week 6 provided a compelling midway point for the 2018 college football season with a few slip-ups among the top 10, as both Oklahoma and Auburn lost. Alabama continued to light up the scoreboards while Georgia, Ohio State and Clemson rolled over inferior opponents. Notre Dame continues to prove they are for real with another impressive victory over a top 25 team that has them squarely in the playoff hunt.
Sometimes in football, the best team does not win, and PFF ELO accounts for these oddities by using our grades. Hence there will be teams rated higher or lower in this system than their win-loss record would suggest. Since PFF began charting college football in 2014, the difference in PFF ELO values alone has been able to explain over three-fourths of the variance in the closing Vegas line. Check back to profootballfocus.com for weekly college spread picks using this model (which were 28-19-1 last week) and check out PFF Greenline for our NFL version of the product.
The PFF ELO College Power Rankings are brought to you by Eckrich, the Official Smoked Sausage of the College Football Playoff.
1.

The offense is going to get the majority of the praise with this team, and that's understandable given how well they've played at some of the most important spots on the field. However, their defense is the highest-graded in the country, with Quinnen Williams generating another seven pressures last week against Arkansas. Linebacker Dylan Moses flashed last week, with five total stops. He's allowed only a 45.2 passer rating into his coverage his entire career, while generating 31 stops in the process.
2.

D'Andre Walker has been big for the Bulldog defense, with four sacks, six quarterback hits, eight hurries and 10 stops. They are allowing fewer than -0.12 EPA on early-down runs and passes, and are in the top three in terms of FPF grading on that side of the ball through six weeks. Their next four games are against ranked (AP) opponents, so if they are going to make it to their second consecutive National Championship Game, they will be tested along the way.  
3.

After a scare against Syracuse, Clemson had their way Saturday against Wake Forest to the tune of 63-3. Trevor Lawrence was much better than in his initial start, generating a 112.7 passer rating when clean, along with a 128.1 passer rating on the seven dropbacks when he was actually pressured. Three rushers averaged more than 12 yards per attempt on exactly 10 carries each last Saturday. With a defense that is also one of the country's three best, they have the goods to stay in this top three moving forward.  
4.

Ian Book's emergence is the big story, but we forget that there were real (and legitimate) concerns over whether Notre Dame's offensive line would continue to be their old self with multiple players drafted in the first round of the 2018 NFL Draft. Robert Hainsey and Alex Bars have thus far been the team's two highest-graded offensive players, combining to allow just two sacks and one quarterback hit so far while opening holes for guys like Dexter Williams, who is averaging 8.9 yards per carry so far.  Bars' replacement will have big shoes to fill.
5.

Here comes the trio of Big Ten teams. Ohio State briefly trailed Indiana on Saturday but proceeded to crush the Hoosiers by leaning on Dwayne Haskins' 150.3 passer rating on his 39 clean dropbacks. He was especially lethal in the short middle, where he was 20-of-24 for 294 yards and two touchdowns. Having avoided a loss on the road to Penn State last week, they will be heavy favorites in all of their games from here on out, meaning they are the only thing standing between them and the College Football Playoff.  
6.

Jonathan Taylor continues to make this offense churn, totaling 150 yards after contact against Nebraska with a ridiculous 6.3 YAC per attempt. He is right in line with other generational talents at the running back position posting an EPA per rush attempt of 0.20. Alex Hornibrook is reliable when called up with over 38 percent of his throws receiving a positive grade, highest in the Big Ten. This secondary has to play better as they have allowed a successful pass on just under 50% of early-down pass attempts with a passer rating allowed of 88.3. The Badgers face off against Michigan at home in a game they have to win if they want to stay relevant in the National Title chase.
7.

Penn State had a week off to mend after letting the Ohio State game slip away at the end. They absolutely have to run the table and hope that the Buckeyes get upset if they want to play for the Big Ten title and any hope of entering the playoff picture. Trace McSorley has been incredible on the ground, posting the second highest EPA generated per rush attempt of any quarterback in the PFF era. Their defense has been adequate but has been forced to blitz on over 42% of pass attempts which has led to big plays allowed in critical spots.
8.

Oklahoma lost a wild Red River Showdown against 21st-ranked Texas. They needed some late-game heroics from Kyler Murray to overcome a three-touchdown deficit in the 4th quarter but still couldn't come up with a stop and lost on a last-second field goal. The Sooners offense finally ran into a formidable opponent and couldn't do enough to make up for their porous defense. Oklahoma has allowed 50% of early-down pass attempts to be successful with a passer rating of 92.9. Their defense has been exposed time and time again leading to the firing of their defensive coordinator Mike Stoops.
9.

UCF continues to roll through the easy part of their conference schedule with a convincing win over SMU on Saturday. Questions remain about McKenzie Milton's low adjusted completion percentage as he is currently tied for 48th in the country at 68.9%. With 16.9% of his attempts being 20-plus yards downfield, the culprit doesn't appear to be an issue of constantly forcing deep passes downfield. Concern for his low completion percentage could be overblown as he has generated the ninth-highest EPA per drop back in the nation at 0.40.
The UCF pass defense has generated pressure on 41 of dropbacks and allowed just a passer rating of 64.1. Jumping out to early leads has allowed this defense to play aggressively. On early-down passes, they have allowed a successful play on just 37% of attempts.
10.

Washington re-enters the top 10 after handling UCLA on the road in a game that was not as close as the final score indicates. They have a looming matchup against Oregon in Eugene followed by Colorado at home. Jake Browning has been terrific over his past three games posting a passer rating when kept clean of 129.1. He has the second-highest percentage of positively-graded throws in the Pac-12 at 32.6%. Aaron Fuller has emerged as Browning's go-to target and has the sixth-best yard per route run in the country at 3.52.
Defensively, the Huskies blitz at one of the lowest rates in the FBS. They have generated pressure on 28% of dropbacks but have completely locked down early-down pass attempts. Byron Murphy has been exceptional in coverage with six passes breakups and a passer rating allowed of 77.2.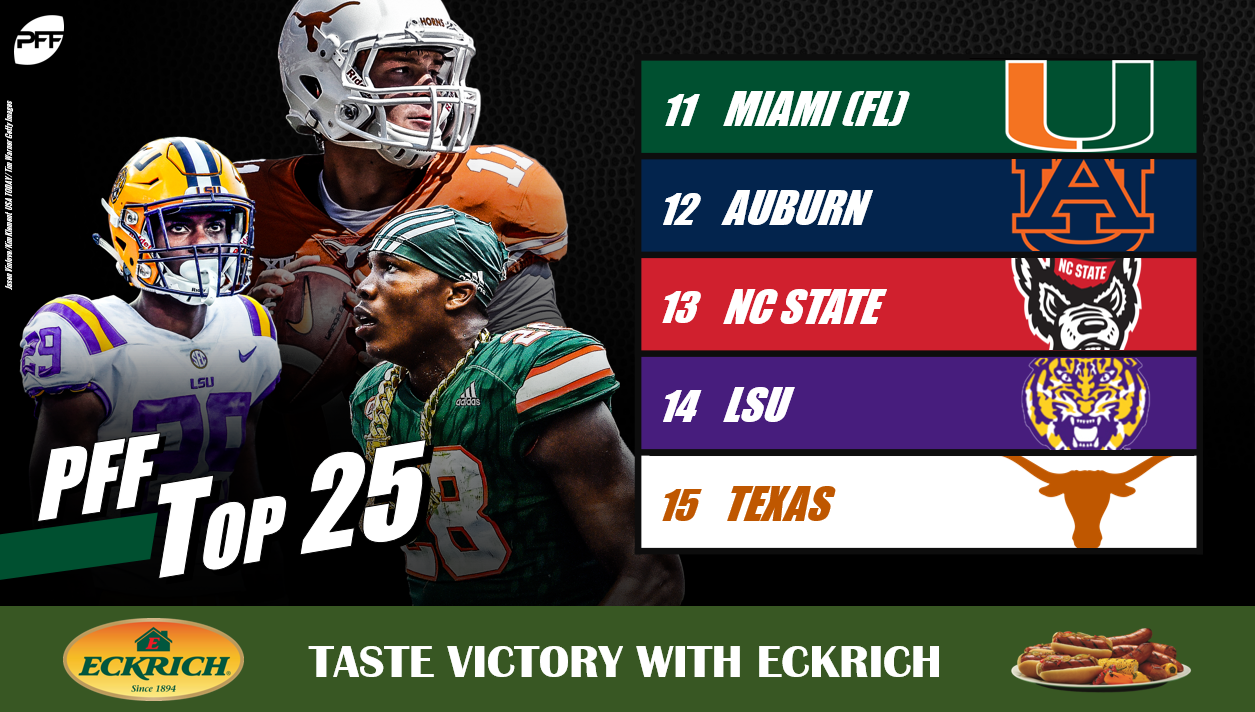 11. Miami (+2)
12. Auburn (-3)
13. NC State (+3)
14. LSU (-3)
15. Texas (+6)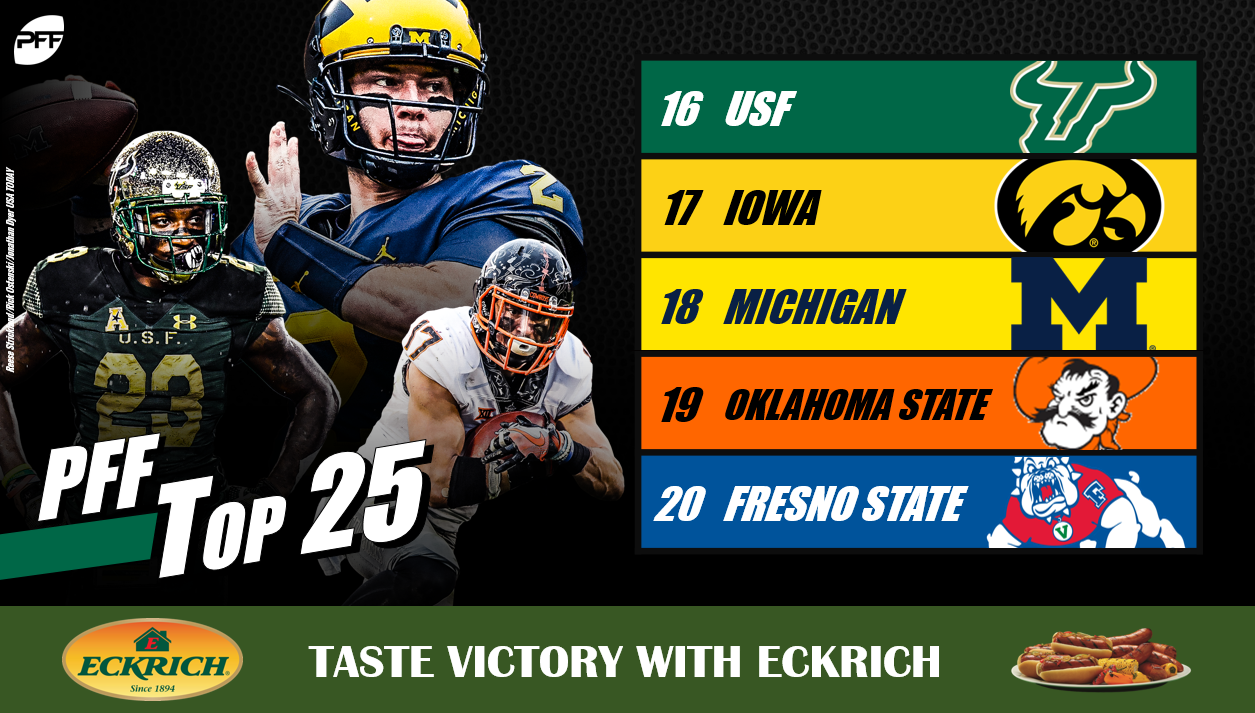 16. USF (+6)
17. Iowa (-2)
18. Michigan (+1)
19. Oklahoma State (-1)
20. Fresno State (+7)
21. Florida (+21)
22. Mississippi State (+1)
23. Stanford (-9)
24. Kentucky (-7)
25. Washington State (no change)