This year's National Championship game between LSU and Clemson is set to be the most anticipated in recent memory. LSU quarterback Joe Burrow is coming off a historic season that resulted in him hoisting the Heisman Trophy in New York as well as being the runaway favorite to go number one overall in the 2020 NFL Draft. Clemson quarterback Trevor Lawrence had the best true freshman season PFF has seen in 2018 and blew out Alabama in the National Title game — and his sophomore campaign this year has made him a virtual lock for the first overall pick in 2021. Throw in two of the best wide receiver duos in the nation and two elite secondaries, and we have ourselves a National Championship game that could be as good as Texas versus USC back in 2005-2006.
But how will the game ultimately play out? PFF has a database containing virtually any piece of data one could possibly think of and that is supplied to all 32 NFL teams and 70 FBS programs. Through the power of that, here is how the National Championship game could play out based on each team's strengths and latest trends:
(Note: we are NOT saying this will happen or projecting they will, just that these impact plays are more likely to happen based off the past.)
Quarter 1
Isaiah Simmons sacks Burrow on an early third-down blitz
Hands down, the most versatile defensive player in this upcoming draft class is Isaiah Simmons. Whether it be on the line, in the box, in the slot or at free safety, Simmons has found great success at each alignment in every phase. In the pass-rush particularly, Simmons has been used as a blitzer and picked up at least one pressure in all but two games this season while totaling seven sacks. LSU has surrendered a below-average sack and pressure rate on blitzes this season, so don't be surprised if you see Simmons pick up a highlight sack off a blitz from the box.
Trevor Lawrence picks up 20-plus yard gain on a designed rush
Clemson had an interesting gameplan against Ohio State in its usage with Trevor Lawrence. The starting signal-caller normally had a designed rush attempt or two in each game throughout his collegiate career, but this time around, Lawrence didn't just have a few — he had 14, six more than his previous career-high. One of those 14 designed rushes resulted in a game-changing 67-yard touchdown. In all but one game this season, Lawrence picked up at least one 10-plus yard rush. While his big gain will almost certainly come from a non-run-pass option designed rush, be on the lookout for run-run-pass options throughout the game, as Clemson ran seven of those plays against Ohio State.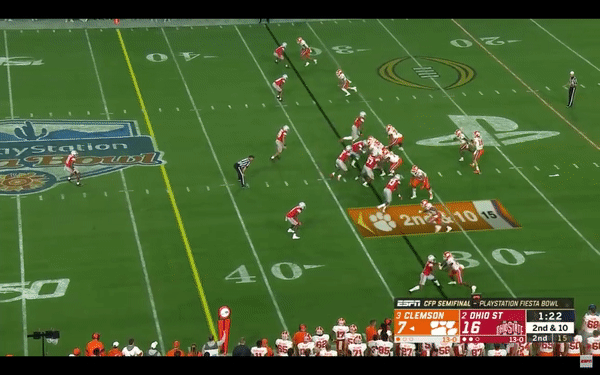 Travis Etienne breaks a couple tackles on an inside-zone rush for a red-zone touchdown
No other team generated more expected points added (EPA) per rush attempt this season than the Clemson Tigers. Running back Travis Etienne has reaped massive benefits from rushing behind one of the nation's best run-blocking units and has shown his value, as well, ranking 35th among all FBS players regardless of position in PFF's wins above average metric. Inside zone is the Tigers' most-used rushing concept and by far their most successful. On those plays where they use an inside-zone concept, Etienne has produced the second-highest rushing grade, second-most broken tackles per attempt and an FBS-high 8.3 yards per attempt.
While Clemson comes out the gate blitzing Burrow, he'll beat it with a big touchdown
Clemson's defense has heavily integrated the blitz this season, raising its blitz rate over 12 percentage points since last year to 45.4% (10th highest in the FBS). The Tigers have had overall success in this by generating pressure on nearly 50% of their blitzes. That being said, they'll hit home a few times against LSU and get a sack, but they won't be able to completely shut down the nation's best quarterback. When Burrow has been up against the blitz, he's had the most 20-plus yard completions and touchdowns in the FBS. Cover-0 has given Burrow some fits over the course of the season, but no other coverage/blitz combo has been able to stop him.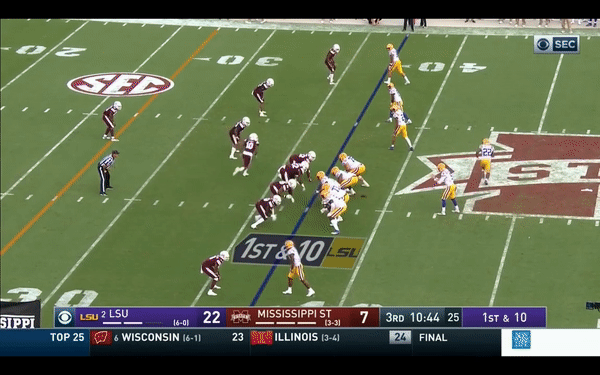 Quarter 2
Derek Stingley Jr. forces a contested target on Tee Higgins and snags an interception
Derek Stingley Jr. has not only been college football's best true freshman, he's been one of the best — if not the best — defensive backs overall. Nearly a quarter of Stingley's targets in coverage this season have resulted in an interception or pass breakup. He is an absolute ballhawk who can go toe-to-toe in press man coverage with any receiver in the country, and he'll see an elite one Monday in Tee Higgins. Stingley leads the country in contested targets forced (33) and has allowed just a 13.0 passer rating on those. He has picked off five contested throws so far in 2019 and will get Lawrence to throw his first interception since Week 8 on one.
Joe Burrow threads a tight-window pass to Ja'Marr Chase over the middle of the field in the end zone
One of Joe Burrow's most appealing traits is his tight-window passing, which is considerably better than any other college quarterback. His PFF passing grade to a tight window sits at 87.3, and the next best in college football is 76.4. The tight windows Burrow has hit over the middle of the field, specifically, is what stands out here. Clemson's coverage unit has allowed just one tight-window throw to be caught for a touchdown and has intercepted 16 (tied for most in FBS), but Burrow is destined to get them once here.
Most touchdowns thrown into a tight window (per @PFF)

1. Joe Burrow – 24
t2. Sam Howell – 14
t2. Jamie Newman – 14

If Joe Burrow was a stock, I'd literally invest my savings in him. pic.twitter.com/74ZEDMab5S

— Anthony Treash (@PFF_Anthony) January 6, 2020
Tee Higgins responds by "Mossing" Stingley on a go route for a touchdown
College football's highest-graded cornerback in coverage may have won a contested-catch scenario against Higgins earlier, but he won't win them all against one of the best contested-catch receivers in the FBS. Higgins owns a 69.2% contested catch rate 10-plus yards downfield. He won't win with his speed but can beat a defensive back single-handedly with his 6-foot-4 frame and agility. Stingley won't shadow Higgins, but for the snaps they're up against each other, it could be the best wide receiver versus cornerback matchup we have seen all season long.
Clyde Edwards-Helaire punches in a touchdown on an RPO rush
As indicated earlier, Etienne was one of the more valuable running backs in college football this season, but there was one that notched him out in PFF's WAA metric: LSU's Clyde Edwards-Helaire. LSU has ramped up its usage of RPOs with Joe Brady coming onto the scene and has greatly improved in this facet. When Burrow opts to hand the ball off to Edwards-Helaire on an RPO, he has generated the highest rushing grade and 8.0 yards per rush, with 3.8 coming before contact.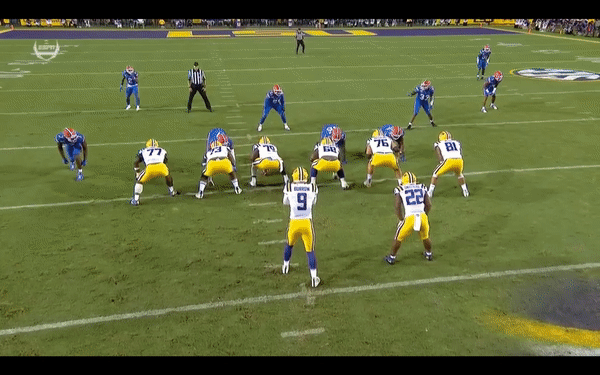 Quarter 3
Trevor Lawrence beats LSU's Cover-1 blitz for a touchdown
LSU's defense blitzes about as much as Clemson does, primarily from Cover-1. Similar to the scenario earlier (Burrow vs. Clemson's blitz), though, it'll burn them at one point as the opposing quarterback is just too good. Lawrence ranks one spot ahead of Burrow in PFF grade against the blitz and has converted these dropbacks to sacks at a far lower rate. Only one team successfully beat Lawrence through blitzes this season, and that team was Ohio State. Granted, the Buckeyes' pass-rush was far fiercer than LSU's, so Lawrence will get a big play or two off against the blitz as he did in previous weeks.
After Justin Jefferson is kept quiet with man coverage in the first half, he finds a couple explosive plays against Clemson's zone
Third-year receiver Justin Jefferson had the game of his life against Oklahoma, catching 14 passes for 227 yards and four touchdowns. Even with that massive game, Jefferson still needs to consistently prove one phase of his game to ensure he is deserving of a high draft pick — beat his coverage defender in man-to-man coverage. Jefferson, among FBS receivers, ranks second in receptions and in yards from finding a hole in zone coverage and has obviously seen most of his big plays come from such scenarios (nine of his 14 catches in the semifinal came in such an instance). This isn't a bad thing for his college game. In fact, it's rather good considering he and Chase have offsetting strengths and weaknesses. Based off his previous play, it'd be a surprise to see Jefferson not pick up an explosive play from a hole in zone.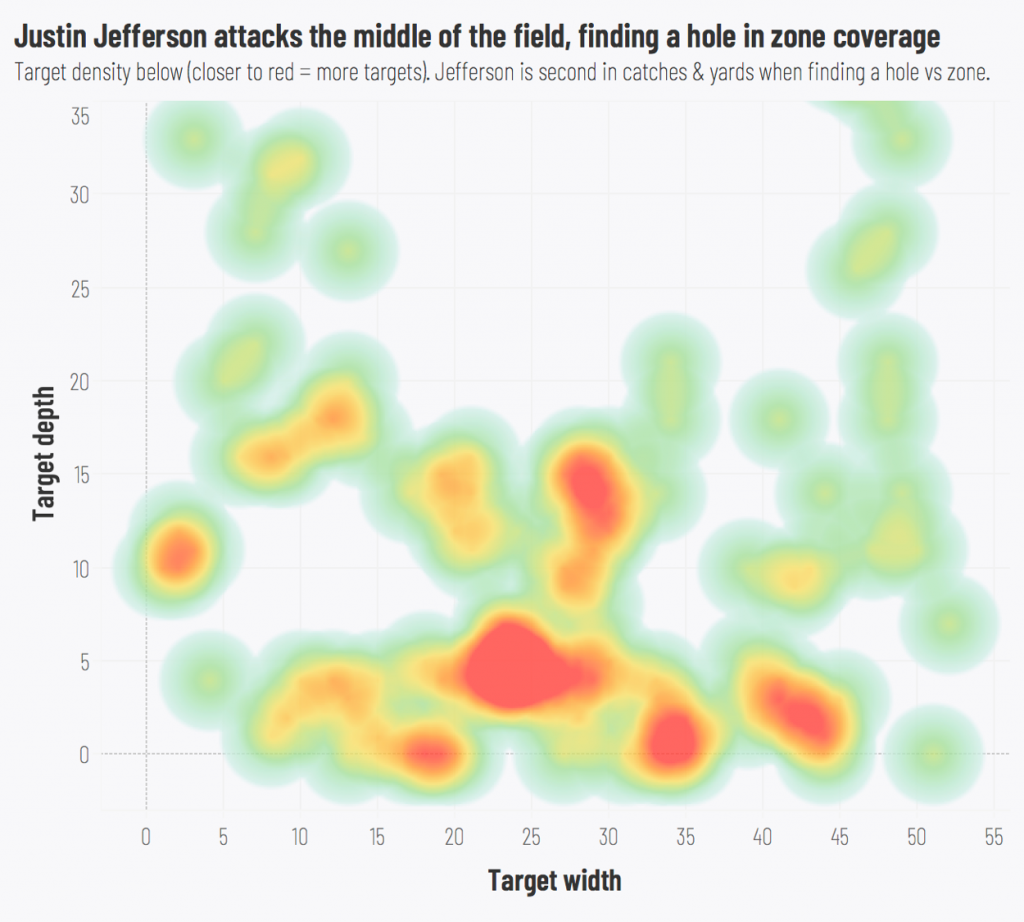 Joe Burrow fires a 30-plus yard pass through the air to Ja'Marr Chase for a touchdown
Believe it or not, Joe Burrow has really taken his deep-passing game to another level as of late. He was already great earlier in the year, but over the course of his last five games, Burrow has produced the most completions, yards and touchdowns on 30-plus yard throws. He hadn't attempted more than three of those throws in a single game until the conference championship, when he attempted six — and he matched that total in the semifinal, as well. Nonetheless, it seems like a given that Burrow will test Clemson's coverage unit deep, and Ja'Marr Chase — who has seen more of these 30-plus yard targets than anyone else on LSU's roster — will likely be the recipient of it.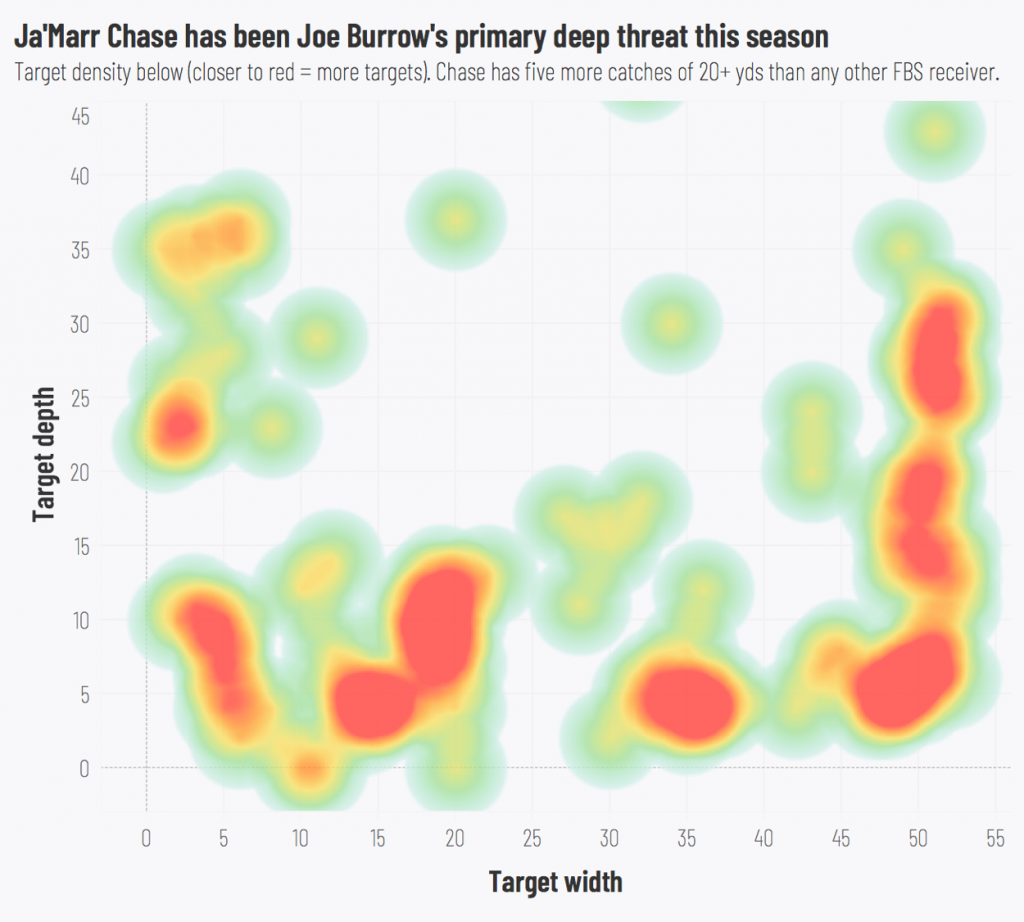 Quarter 4
Trevor Lawrence will try to go vertical with Justyn Ross, but Kristian Fulton won't allow it
Nearly half of Lawrence's touchdowns this season have come from a vertical route, and he has been precise on these throws altogether by having the second-lowest uncatchable pass rate in the country. He has seen a vertical target turn into a touchdown in all but two games this year and ended the regular season hot on these with 12 big-time throws over the four games prior to facing Ohio State in the College Football Playoff semifinal.
We have talked over the true freshman Stingley, but we have yet to mention the 16th overall pick in PFF's latest mock draft who's opposite of him in Kristian Fulton. On vertical targets in coverage, Fulton has allowed four of 18 passes to be caught and has gathered 10 forced incompletions in the process. Like Stingley, Fulton is a ballhawk and one of the top press man corners in the game.
Clemson first-down RPO touchdown pass in the red zone
The RPOs have been a common topic in this piece thus far and rightfully so, as both teams have been raking on those plays. Lawrence, in particular, has taken full advantage of the extension of the run game by pulling and passing the ball when he sees fit. Eight of his touchdowns this year have come on such plays, and it's destined to happen in the red zone when the game is tight against LSU.
Joe Burrow creates outside the structure for the game-winning touchdown
Getting the ball back late in the fourth with the National Championship on the line, Joe Burrow gets a chance to cap off his already great year in the best way possible. There are numerous alluring qualities of Burrow, though one of the best is his ability to remain calm and create a play when it looks like all will fail. Burrow's eight touchdowns when creating outside the structure (outside the pocket attempts on non-designed rollouts) are four more than anyone else, and he produced a positively graded play rate 10 percentage points higher than any other quarterback. As of now, PFF projects the final score of this game to be roughly 35-31 in LSU's favor. This game could very well come down to the final play, and Clemson clearly has a better shot than most (including Vegas) think.