In the leadup to kickoff, which itself got a little heated, the Red River Showdown was chock full of both storylines and players to watch. Would Jalen Hurts have his big Heisman moment? Could the Texas defense ever hold up against Lincoln Riley's offense? Could Sam Ehlinger and Texas pose the first real threat to Oklahoma's undefeated season? Those questions—and more—were answered in the Sooners' emphatic 34-27 win over Texas, a game that had more than its fair share of fireworks.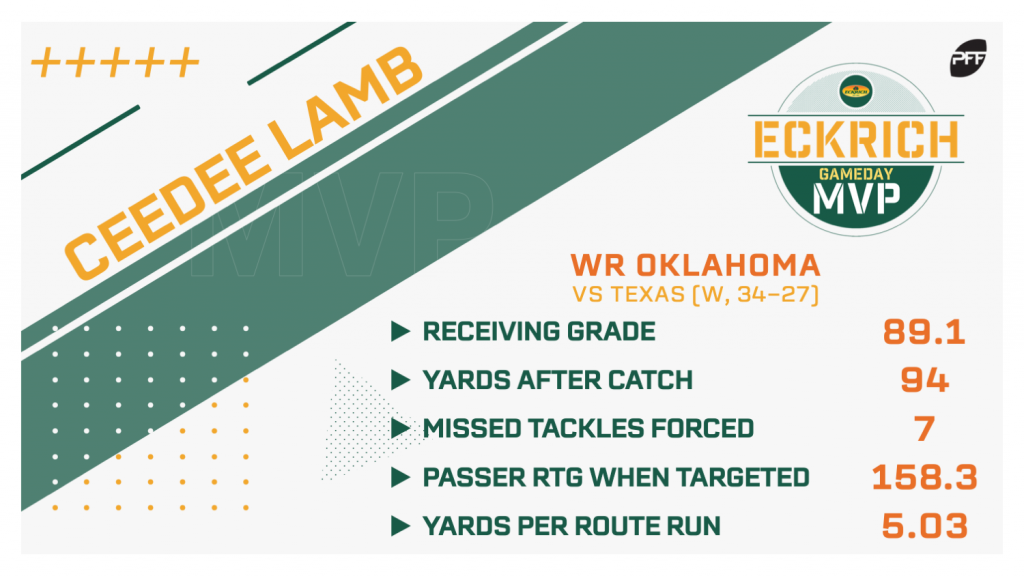 But the man responsible for lighting up the sky wasn't Hurts or Ehlinger, but Oklahoma wide receiver Ceedee Lamb, whose incredible performance on Saturday was more than worthy of Eckrich Gameday MVP honors.
Targeted a whopping 12 times in the showdown—his most targets in a single game since Week 9 of the 2017 season—Lamb hauled in all 10 of his catchable targets for 171 yards, three touchdowns and three additional first downs. Altogether, he generated a perfect passer rating of 158.3 when Jalen Hurts threw the ball his way, the fourth game this year in which Lamb has produced a perfect passer rating when targeted.
The Oklahoma pass-catcher paraded his impressive combination of athleticism, physicality and elusiveness all game long, excelling after the catch and turning would-be short gains into highlight-reel scores. A staggering 94 of his 171 receiving yards came after the catch on Saturday, and he shed Texas tacklers left, right and center, ending the game with an incredible seven missed tackles forced.
Lamb's best play of the contest came with the game tied at 10-10 when Hurts found his reliable wideout for an absurd 51-yard  touchdown to pull ahead of their rivals. After leaving two Texas tacklers in his wake, he turned what should have been a 26-yard pickup into a 51-yard score.
Remember when it was 'bad tackling by Texas Tech' that couldn't bring down Ceedee Lamb?

Nah, that guy's just that shifty. pic.twitter.com/8Wa5WIM34B

— Cam Mellor (@PFF_Cam) October 12, 2019
But as if one internet-breaking play wasn't enough, Lamb almost outdid himself late in the fourth quarter, hauling in another touchdown pass from Hurts, this one a 27-yard score that once again made quick work of Texas' tackling efforts.
CeeDee Lamb, very good.

— Austin Gayle (@PFF_AustinGayle) October 12, 2019
Lamb's mammoth effort on Saturday earned an elite 90.2 overall grade, the best grade among receivers in Week 7. He also earned a spot on PFF's Eckrich Team of the Week. On the season, Lamb now ranks fifth among 203 receivers who've seen at least 30 targets in overall grade (90.3); he ranks first in passer rating when targeted (158.3), ninth in yards after the catch per reception (10.3) and third in yards per route run (4.39) among that same group of players.
After an outstanding performance that displayed both his reliable hands and his excellence after the catch, it's not farfetched to now include his name in the Heisman race, and it's becoming increasingly likely that he's the top receiver taken in the 2020 NFL draft.