After a full slate of games on Saturday, we at PFF and our team of over 500 analysts have dissected and graded every player on every snap of every game to bring you the most detailed and valid set of picks you can find anywhere.
The Week 7 Eckrich Team of the Week powered by PFF saw some impressive performances and, of course, the strength of opponent also factored into the overall selections as did the PFF player grades.

Quarterback
Joe Burrow, LSU
Burrow finished 7-of-9 on passes targeted at least 10 yards downfield against Florida's secondary, throwing for 179 yards and a score while averaging 12.2 yards per attempt in the contest. He did nothing but help his Heisman candidacy against the Gators, finishing the night with as many touchdown passes as he had incompletions.
Second-Team QB: Patrick O'Brien, Colorado State
Running Back
Tony Jones Jr., Notre Dame
Rattling off 176 yards on the night, Jones kept the Irish on pace and on schedule throughout their win against USC. He may not have found paydirt on the ground but he did rattle off a national-high nine first downs on his carries as he was integral in keeping the ball away from the USC Air Raid offense. He averaged 4.60 yards after contact per attempt and broke five tackles in a dominant night on the ground.
Second-Team RB: SaRodorick Thompson, Texas Tech
Running Back
Clyde Edwards-Helaire, LSU
Edwards-Helaire and the Tigers offense seemed unstoppable against Florida, easily their toughest test to date. CEH rattled off 134 yards on just 13 carries against UF, scoring two touchdowns and ripping off another three first downs. He had great run-blocking ahead of him and only needed to gain 30 yards after contact to reach his totals but his vision and burst through the holes his line created were second to none on Saturday.
Second-Team RB: Jordan Cronkrite, USF
Wide Receiver
Ceedee Lamb, Oklahoma
It may take an entire defense to tackle Lamb this season as the Oklahoma speedster has taken his game to a new level in 2019. He broke seven tackles against the Longhorns and tallied 171 yards on 10 catches with three scores. Including first downs, Lamb finished with six receiving conversions and obviously saw a perfect passer rating of 158.3 when targeted.
Second-Team WR: Whop Philyor, Indiana
Wide Receiver
Brandon Aiyuk, Arizona State
Aiyuk showed off his speed against Washington State on more than on occasion, ripping off seven catches for 196 yards and three scores. He gained 116 yards after the catch to lead the nation, averaging 16.6 yards after the catch per reception. Like Lamb, he also saw a perfect passer rating when targeted on the afternoon.
Second-Team WR: Ja'Marr Chase, LSU
Wide Receiver
Warren Jackson, Colorado State
A highlight-reel waiting to happen, Jackson hauled in nine catches for 214 yards against New Mexico, the latter leading the country in Week 7. He gained 76 of his yards after the catch, scored two touchdowns and had six more first-down receptions as he truly seemed unstoppable on the receiving end of O'Brien's passes.
Second-Team WR: Sage Surratt, Wake Forest
Tight End
Brycen Hopkins, Purdue
With no Elijah Sindelar or Rondale Moore in the lineup, the Boilermakers biggest playmakers happened to be their tight end on Saturday. Hopkins showed up big against Maryland, leading all tight ends across the country with 140 yards on 10 catches through the air. He gained 56 of those yards after the catch, securing six first downs and breaking two tackles in the process. He also kept a clean sheet in pass protection when tasked with pass blocking.
Second-Team TE: Kyle Pitts, Florida
Offensive Tackle
Penei Sewell, Oregon
Making the case for nation's best tackle, Sewell put forth a dominant effort on Friday night against Colorado. He finished with elite grades in pass protection, run blocking and overall as he continually moved the Buffaloes from their spot and didn't allow a single QB pressure all night.
Second-Team OT: Calvin Throckmorton, Oregon
Offensive Guard
Julio Garcia, UNLV
The Rebels ran into Nashville and dominated their SEC foe in Vanderbilt with a dominant performance on the ground. Garcia led the nation's guards in overall grade as he pushed the Commodores defensive line back to open some huge lanes while keeping a clean sheet on his 13 reps in pass protection,
Second-Team OG: Jovahn Fair, Temple
Center
Matt Hennessy, Temple
There were multiple occasions during the Temple-Memphis game that Hennessy was called out for his excellent reach blocks for the Temple run game and that effort saw him finish with top marks across the board in Week 7. As impressive as his run-blocking was, he also didn't allow a single QB pressure on his 40 pass-blocking snaps in a truly terrific game.
Second-Team C: Creed Humphrey, Oklahoma
Offensive Guard
Shane Lemieux, Oregon
The Ducks have the best offensive line in football and Lemieux joins his teammate — Sewell — here for the second time this season. Lemieux allowed just two QB hurries up the middle from a stout Colorado defensive interior while dominating in the run game for CJ Verdell & Co.
Second-Team OG: Nolan Laufenberg, Air Force
Offensive Tackle
Scott Hattok, Air Force
Hattok saw a whopping 67 run-blocking snaps in the Falcons big win over Fresno State as they kept their conference championship aspirations alive. They'll need some outside help to do so but if they can get another dominant performance like the one they received from Hattok against the Bulldogs, the offense will do their part.
Second-Team OT: Josh Jones, Houston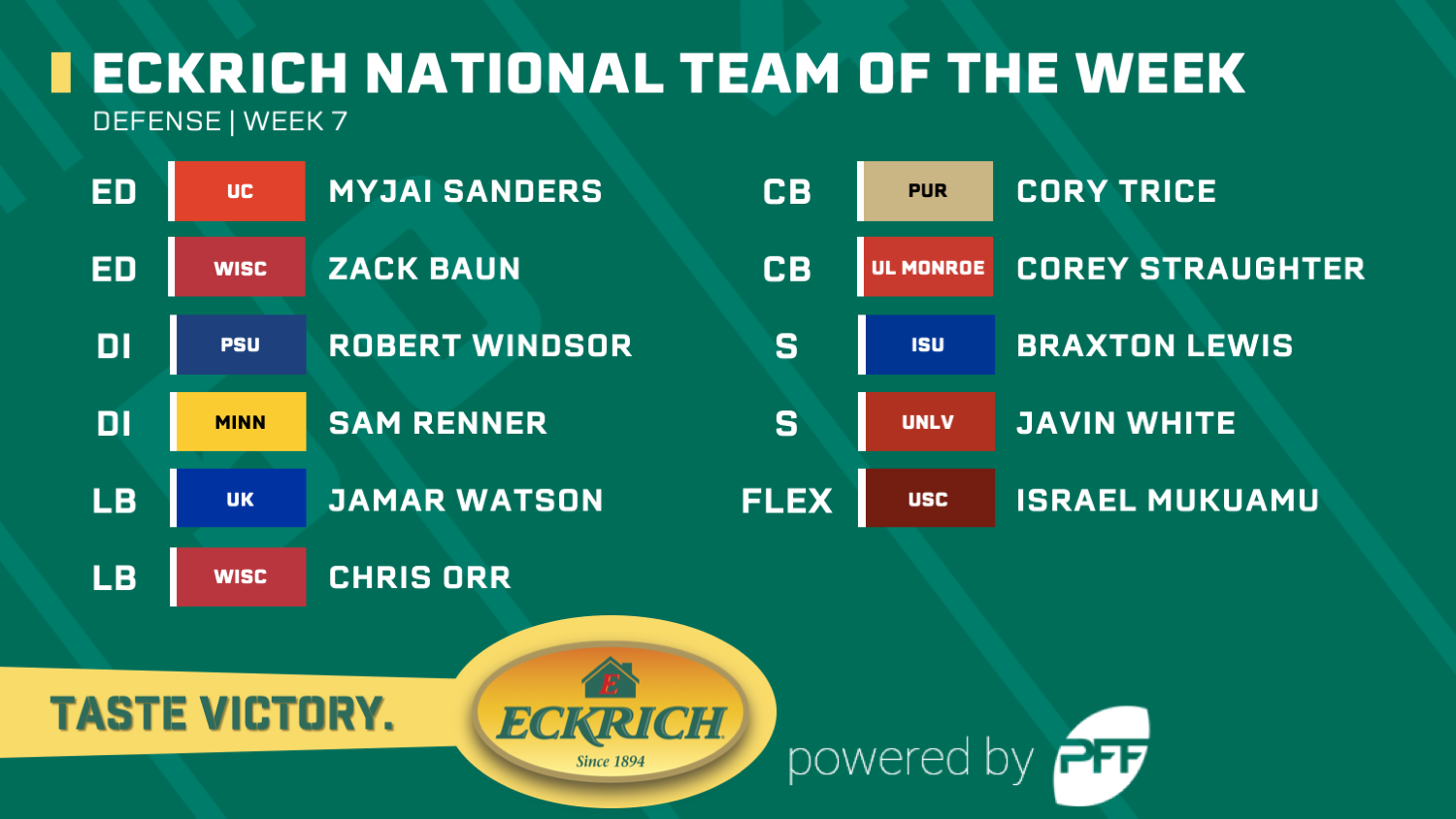 Edge Defender
Myjai Sanders, Cincinnati
Sanders was dominant on the edge opposite Houston's Josh Jones, recording eight total pressures including two sacks and a QB hit. He finished with the nation's highest pass-rushing grade in the win for Cincinnati, giving them a stout pass-rushing force to rely on through AAC play this season.
Second-Team Edge: Chris Rumph II, Duke
Edge Defender
Zack Baun, Wisconsin
Baun's highlight-reel moment came when he beautifully dropped back into coverage and nabbed an interception that he returned 34 yards for a pick-6. The Badgers defense has now scored four defensive touchdowns this year while allowing just four offensive touchdowns as Baun led all edge defenders in overall grade in Week 7.
Second-Team Edge: Terrell Lewis, Alabama
Defensive Interior
Robert Windsor, Penn State
A human wrecking ball, Windsor battered the Iowa interior to the tune of seven QB pressures that included two sacks and two more QB hits. He also recorded a defensive stop in run defense and was dominant in every facet, not missing a single tackle to round out his impressive performance.
Second-Team DI: PJ Mustipher, Penn State
Defensive Interior
Sam Renner, Minnesota
The Minnesota defense stymied the Nebraska offense on Saturday night, helping the Gophers improve to 6-0 as Renner was a big part of their defensive efforts. On 25 pass-rushing snaps, he got home with five pressures that saw him sack the quarterback once and included two QB hits and two more hurries. He added in two defensive stops in the run game as all three of his solo tackles were down as a loss for the offense.
Second-Team DI: Alim McNeill, NC State
Linebacker
Jamar Watson, Kentucky
With a quarterback conundrum that saw the Wildcats start their all-everything wide receiver at the position, a strong defensive performance was pivotal to their victory over Arkansas. Watson recorded three quarterback pressures, didn't miss a tackle and was dominant in coverage. He didn't allow a catch in coverage and forced a fumble to boot, giving Kentucky a dependable, three-down threat at the second level.
Second-Team LB: Javahn Fergurson, New Mexico State
Linebacker
Chris Orr, Wisconsin
Unshockingly, the Badgers place a second player on the defensive team as they limited Michigan State to just 149 yards of total offense. Orr recorded three defensive stops and three QB pressures while breaking up the only pass targeted his way as the primary coverage defender. In a truly dominant defensive performance, Orr stood out.
Second-Team LB: Cam Jones, Indiana
Cornerback
Cory Trice, Purdue
In a close game against Maryland in the first half, it was Trice's pick-6 that sparked the Boilermakers to a big win against the Terrapins. He nabbed an interception with just :18 seconds remaining on the clock, returning it 37 yards for a score while he nabbed another interception and a pass breakup later in the game. In total, he was targeted seven times, allowed one reception for 19 yards and had the two interceptions and pass breakup to see a passer rating of 0.0 when targeted.
Second-Team CB: Michael McMorris, Navy
Cornerback
Corey Straughter, UL-Monroe
Straughter stood out on Thursday night, seeing eight targets come his way as the primary coverage defender. All he did on those targets was allow one reception and just eight yards while making an interception and three more pass breakups. He was stout in coverage and in every facet of the game for the Warhawks.
Second-Team CB: T.J. Carter, Memphis
Safety
Braxton Lewis, Iowa State
Lewis flew all over the field for the Cyclones, finishing with six total tackles without a single missed attempt. He was targeted just once as the primary coverage defender and yet he still made an interception and an additional pass breakup in a dominant effort on the backend of the Iowa State defense.
Second-Team S: Nigel Warrior, Tennessee
Safety
Javin White, UNLV
The Rebels secure two players on the team of the week lists here as they upset the Commodores in dominant fashion. White was stellar on the backend, finishing with seven total tackles and a sack while he was strong in coverage. On six targeted passes, he allowed just two catches for one yard and had an interception and a pass breakup to see a 2.8 passer rating when targeted.
Second-Team S: Tyson Williams, Nevada
Flex D
Isreal Mukuamu, South Carolina
On a whopping 61 coverage snaps, Mukuamu came away with the first interception of Jake Fromm's season, returning it for a touchdown to spark the Gamecocks defense. He finished the day with two more interceptions, giving him three for the day while he allowed just 38 yards into his coverage on those 61 snaps.
Second-Team Flex: Darren Hall, San Diego State