Week 6 saw a few upsets along with a few highly rated teams that didn't perform up to expectations against quality opponents. Week 7 is the best weekend of action we have so far, with six games between teams ranked in the top-25. Five teams in our Top-10 face off against ranked opponents, which means we could see some drastic changes to the playoff landscape once the dust settles on Week 7. Let's take a closer look at our current rankings as things start to take shape.
PFFELO is an iterative system that updates each team's rating after each game based on two things: how well they played against their opponent and how well they were expected to play against their opponent. The PFFELO rating system measures the former using our unique offensive, defensive and special teams grades, while the latter is determined by the PFFELO ratings leading up to the game and where the game is played.
For example, a heavy favorite playing at home is expected to outplay the visitor, so a victory would result in only a small rise in their PFFELO rating and a similarly small decrease in the defeated team's, but if an upset were to happen, the visiting team would see their PFFELO rating rise substantially, and the home team's see a similarly sized drop.
Sometimes in football, the best team does not win, and PFFELO accounts for these oddities by using our grades. Hence there will be teams rated higher or lower in this system than their win-loss record would suggest.  While adjustments are made using preseason market data, along with recruiting rankings, the majority of these numbers are derived using our grades. Since PFF began charting college football in 2014, the difference in PFFELO values alone has been able to explain over three-fourths of the variance in the closing Vegas line. Check back to PFF.com for weekly college spread picks using this model, and check out PFF College Greenline for a full slate of against-the-spread and total lines based on our rating metrics.
[Editor's Note: All ELITE subscribers have access to PFF Greenline, an online dashboard with projections for the spread, total and moneyline for NFL and FBS games every week. Subscribe today to gain access!]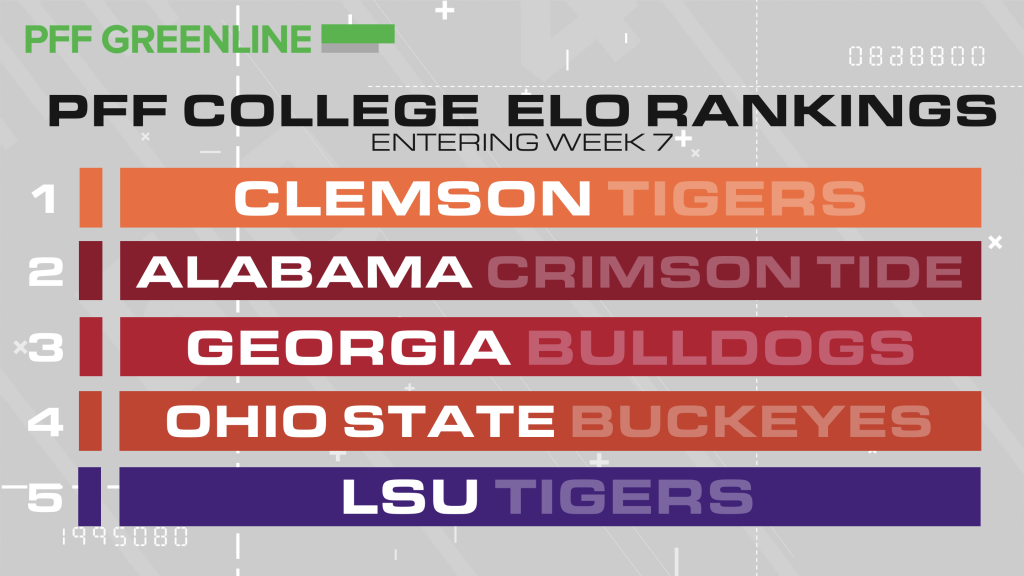 Top-25 Rankings
1. Clemson
Clemson continues to hold onto the top spot in our rankings despite a nail-biting victory over UNC followed by their bye last week. The gap has tightened considerably, with the next four teams all making up ground on the Tigers. They have the 68th hardest strength of schedule remaining, which starts this Saturday as 27-point favorites at home to Florida State. Greenline leans towards the Tigers covering this wide spread. Clemson must improve their passing game, where they have averaged a mere .022 expected points added (EPA) per pass attempt, which ranks just 58th among FBS schools.
2. Alabama
Alabama takes on its first Top-25 opponent of 2019 as they head on the road to face off against Texas A&M. A convincing win could propel them above Clemson in our rankings, as they find themselves as 16.5-point road favorites. Greenline leans toward the Tide in this matchup and gives them almost a 90% chance of winning on Saturday. Fittingly enough, this is close to what we have their playoff odds as per our latest simulation, which also has them winning the SEC title almost 50% of the time.
3. Georgia
Georgia continues to inch closer to the top two in our rankings, with Jake Fromm playing like one of the best quarterbacks in the nation. Fromm has seven big-time throws and only one turnover-worthy throw on passes targeted 10 or more yards downfield in 2019. As a unit, the Bulldogs have the best passing grade in the country, at 92.7. They have a successful pass play — according to EPA — on over 60% of attempts. The Bulldogs have a couple of SEC tuneup matchups at home before their bye, followed by a road trip to Florida, a home game against Missouri, a road game against Auburn and a home game against Texas A&M. It's a brutal road/home stretch that should determine if they make the SEC championship game and the four-team playoff.
4. Ohio State
The Buckeyes head into their bye having reeled off five straight against-the-spread covers after failing to cover in Week 1. This past week, Justin Fields had his first down game of the season against Michigan State, throwing two turnover-worthy throws, which doubled his season total. Chase Young continues to be the most dominant player in college football, forcing pressure on 23.6% of pass-rushing snaps. A difficult remaining schedule with matchups against Wisconsin, Penn State and Michigan have us slightly lower on Ohio State, but we still give the Buckeyes over a 35% chance of making the college football playoff and over a 60% chance of getting back to the Big Ten Championship Game.
5. LSU
LSU has far exceeded preseason expectations so far in 2019. Joe Burrow continues to lead our Heisman Trophy Watch, with the Tigers having the second-best passing grade in the country. They average over a half-point of EPA per pass play and 61% of pass attempts have been successful from an EPA standpoint — the latter being second in the country — and they've done it on a much higher air-yard percentage, with three times as many big-time throws as the first-ranked Sooners. The Tigers have the second-most difficult strength of schedule remaining, which is why we are low on them to squeeze into the top four playoff teams. We have their playoff chances at just over 15%, with a trip to the SEC title game happening 10% of the time. They have another difficult matchup this weekend in our Game of the Week, as they are 13-point favorites with Greenline leaning toward the Florida Gators at a slightly below break-even percentage.
6. Notre Dame
Ian Book turned in his best performance of the season against Bowling Green. Notre Dame continues to move towards the top of our rankings despite almost no chance of getting into the college football playoff. Oklahoma should leapfrog them with a victory this Saturday as the Fighting Irish continue to slide down our rankings slowly. They draw USC at home this Saturday in another matchup between two top-25 teams in Week 7. With an 80% win probability, Greenline leans towards Notre Dame but doesn't offer a significant enough edge to beat the vig in this matchup at the current price.
7. Oklahoma
The Red River Showdown is finally here, with the Sooners given the opportunity to make up some ground by facing off against a quality opponent. We should see what Jalen Hurts can do for a full four quarters after completely dominating to start 2019. As a passing unit, Oklahoma is third in the country in passing grade and first in EPA with .712 EPA per pass attempt generated. They have looked the part of a national title contender, with our simulation giving them the fifth-best odds to reach the playoffs at almost 30%. It starts this Saturday as they currently sit as 10.5-point favorites in this neutral-site matchup against Texas. Greenline actually leans heavily towards the dog, with the over 75.5 being one of our favorite bets this weekend.
8. Penn State
Penn State jumped out to an early lead against Purdue before taking their foot off the gas and coasting to a coverless victory in Week 6. Sean Clifford looked uneasy towards the end, throwing his first two turnover-worthy throws of 2019. He now has four big-time throws along with those two turnover-worthy throws in 2019, but he's looked like a completely different quarterback over his past two games. Over these past two games, he has zero big-time throws and has dropped his aDot by 7 yards, falling from 14.4 over the first three games to 7.4 over the last two. He will need to regain his early-season form as they head to Iowa this weekend, with matchups against Michigan and Michigan State following the next two weeks. The Nittany Lions are 3.5-point road favorites this weekend with Greenline siding with the home dog in this Big Ten matchup.
9. Florida
Florida relied on its defense in an impressive victory over Auburn last week. Freddie Swain was a game-breaker for the Gators and earned an 85.6 receiving grade. He helped his backup quarterback immensely by generating 80 yards after the catch on three explosive plays while averaging a 14.6 aDot. Kyle Trask wasn't great, but with only one turnover-worthy throw, he did enough with his playmakers and defense providing enough support to secure the victory. Trask will need to be perfect this weekend if the Gators want any chance at knocking off LSU. With a 20% win probability, an upset is possible but will require near-perfect execution from this offense to keep pace with LSU.
10. Auburn
Welp! It was a disappointing performance, to say the least, for Auburn. Bo Nix officially came unglued with a 27.4 single-game grade and five turnover-worthy throws (with one called back due to penalty). Nix had only 11 completions in total, with only two coming on throws traveling 10 or more yards downfield. It wasn't entirely Nix's fault, however, as he was under pressure on almost a third of his dropbacks. The concerning part is that Nix was better under pressure than he was from a clean pocket, which is one of the main reasons we were low on him throughout the beginning of the season. Auburn gets a much needed week off before continuing the 11th most difficult remaining schedule, which still includes matchups against the three best teams in the SEC.
11. Wisconsin
The Badgers continued to win in Wisconsin fashion and rode the brilliance of Jonathan Taylor to another dominating victory in Week 6. As a rushing unit, they forced a missed tackle on 19% of attempts, and their .172 EPA generated per rush attempt is the 15th-best mark in the FBS. Wisconsin has the 13th most difficult remaining schedule in the FBS, and it begins this weekend with their matchup against Michigan State, a matchup that is being overlooked due to the quality amount of matchups coming in Week 7. The Badgers have almost a 28% chance of getting to the Big Ten Title Game, and their playoff chances are alive by the slimmest of margins, currently sitting around 5%.
12. Texas
The matchup between the top two teams in the Big-12 is finally here. It should be an offensive showcase with the highest total among FBS matchups for Week 7. Greenline still loves the over and would set this total closer to 79 if priced correctly according to our model. With almost a 29% win probability, the Longhorns have a legitimate chance at pulling off the upset and ruining the Sooners' playoff hopes. It will, of course, come down to the play of Sam Ehlinger and this Texas passing offense — they have the tenth-best EPA generated per pass play but will need to be nearly perfect to keep up with the Sooners on Saturday.
13. Michigan
It was a dominant defensive performance for Michigan, as questions continue to swirl about their (lack of) offensive production. Shea Patterson now has a below-average passing grade in three of five matchups, with nine turnover-worthy throws and only seven big-time throws. He definitely isn't playing up to the level needed to win the Big Ten. With over 60% of his total yards coming through the air, he hasn't been helped much by his receivers after the catch, either. With matchups against Penn State and Notre Dame looming in the next two weeks, their bounce back after the Wisconsin thrashing could be short-lived.
14. Iowa
It was a disappointing performance from Nate Stanley, who had just a 41.7 passing grade game in their loss to Michigan in Week 6. Stanley never looked settled, taking seven sacks, having an aDot of 7.5 and throwing past the sticks on just 39.5% of attempts. They head home for another difficult matchup against Penn State with their Big Ten title game odds fleeting.
15. Missouri
Missouri has been quietly getting it done thanks to their elite-level defense. As a whole, the Tigers have the fourth-best defense grade in the FBS. Their coverage unit has the third-best grade, and their EPA allowed per pass play is the second-best in the nation. With an easier than expected remaining SEC schedule, the Tigers have legitimate SEC title game aspirations, as their chances currently sit at almost 16%.
16. Washington
The Huskies couldn't get it done on the road against Stanford in Week 6. Their loss leaves the wide-open Pac-12 with one less contender, as their odds of making it to the conference title game plummeted to 8%. Jacob Eason didn't have a great game, but his 78.8 passing game grade is far from atrocious. The issue was the six drops that torpedoed drives as the Huskies failed to move the ball with any sort of consistency. Washington looks to get back on track against Arizona before looking to play spoiler to Oregon in two weeks.
17. Michigan State
Their Week 6 game quickly slipped away from the Spartans, as they were ineffective in moving the ball or slowing down the offensive output of the Buckeyes. Again, this is why we place so much emphasis on quarterback play and downgrade those teams who rely heavily on defense and a ground-and-pound rushing attack. The Spartans have the 11th-best EPA allowed in run defense, and only 35% of opposing rushing plays have been successful from an EPA standpoint. Still, in today's version of football, that quality defensive effort will only net you a middle-of-the-pack finish in the Big Ten, which is where the Spartans are heading.
18. Utah
The Utes return from their week off having picked up ground in the Pac-12 race thanks to other results falling their way. Utah is a 13.5-point road favorite against Oregon State, which has the worst-ranked defense in the Pac-12. Utah still controls their own destiny in the Pac-12 South, with our simulation currently giving them a 30% chance of reaching the conference title game.
19. Oregon
The current odds-on favorite to win the Pac-12, the Oregon Ducks continue to win in unconvincing fashion in 2019. With a good-but-not-great passing offense, it has been the Ducks' defense that has carried them to victories so far. They have the second-best coverage grade in the FBS, with Deommodore Lenoir posting a 22.7% forced incompletion rate. They have only allowed 33% of pass attempts to be a positive EPA play, so if Justin Herbert can channel the play he put forth in 2018, this Ducks squad could make quite a bit of noise as we head to the latter half of the season.
20. Minnesota
Surprising more than a few people, the Minnesota Golden Gophers currently have the best chance to play Ohio State in the Big Ten Title Game. With Tanner Morgan providing adequate quarterback play, the talent on this roster has blossomed with one of the best wide receiver duos and coverage units in the Big Ten. Morgan needs to cut back on his turnover-worthy plays, but outside of a clunker of a performance against Georgia Southern, he appears to be heading in the right direction.
21. Texas A&M
The Aggies begin the fourth most difficult remaining schedule in the FBS this weekend at home against Alabama. They appear to have found some early backing, with the spread moving in their direction having settled in at +16.5 for the home dogs. Greenline leans towards the Tide and gives the Aggies only a 10% chance of winning outright. It could be a long day for Kellon Mond, who continues to struggle under pressure with a 47.1 passing grade while having five turnover-worthy plays after the pressure has got home.
22. Virginia
Virginia has emerged as the clear favorite to play Clemson in the ACC Championship Game. Their journey to that destination begins on Friday night, where they find themselves as road dogs to Miami. This spread has oscillated around a pick-em but moved out to +2.5 for the Cavaliers recently. This line may have finally settled at that price, with Greenline giving Virginia a 52.6% cover probability while winning 48.2% of the time.
23. Mississippi State
Getting a much-needed rest week after their painful loss in Auburn, the Bulldogs have a get-right matchup against Tennessee. Mississippi State has over a 70% win probability, but if they are caught looking ahead to next week's matchup against LSU, this game could go off the rails quickly. Still, with tough matchups remaining against LSU and Alabama, the Bulldogs season is in jeopardy of also going off the rails quickly.
24. USC
The Trojans slide back into our Top-25 off a bye week. USC now travels to Notre Dame for our sixth matchup between Top-25 teams. Switching to an air raid offense has been a bit of a struggle, as USC currently has the 61st-rated offense according to our Massey rankings. Facing off against the Fighting Irish's third-ranked defense, if the Trojans' offense can generate some production, they should be able to keep the game close enough to cover the 11-point spread. Despite going through three quarterbacks, USC has held it together enough to currently be the odds-on favorite to play Oregon in the Pac-12 Title Game.
25. Pittsburgh
Pittsburgh rose 15 spots and gained over 30 ELO points after their stunning victory on the road against Duke. Continuing with his theme for 2019, Kenny Pickett had some great throws and some miserable throws. He now has seven big-time throws on the season but eight turnover-worthy plays, as well. The Panthers have the second-best odds to face Clemson in the ACC title game, albeit by the slimmest of margins. With a current projected win total of 7.5 games, the Panthers should comfortably cover their over-six preseason win total.