After the sixth week of action, we take another look at who's in line for the Heisman in our weekly Heisman Watch.

1. Joe Burrow, QB, LSU
From last week: no change
Burrow had a shaky start against Utah State but after an interception that bounced off his receiver's hands, he showcased what makes him truly this year's leader for the Heisman. He finished with his lowest overall grade since Week 1, an 83.1 overall grade, a nearly-elite mark that is still the 16th highest-graded game from an SEC quarterback this year. He's dealt with pressure admirably and dissected defenses from a clean pocket as he leads the country among quarterbacks with at least 150 dropbacks with his ridiculous 84.9% adjusted completion percentage. He's got a chance for another Heisman statement victory against Florida in Week 7.
2. Chase Young, Edge, Ohio State
From last week: +2
If there's a defensive player as of late to have a shot at the Heisman, it truly is Young, as he's been absolutely dominant through six weeks of action for the Buckeyes. By large sum, the Buckeyes are the best team in the country, and the best player on the field resides on their defense in Young. He's contributed 29 total pressures, including nine sacks, two QB hits and 18 QB hurries — but it's how he's done it that is truly remarkable. It doesn't matter whether he's rushing from the left of the right side of the defensive line, he's just as dominant, gaining 17 pressures from the left and 12 from the right. Additionally, he leads the country by winning 36.9% of his pass-rushing snaps this year, beating 19 more defenders than his stat sheet says. If he keeps this up, we'll see him win some hardware in New York.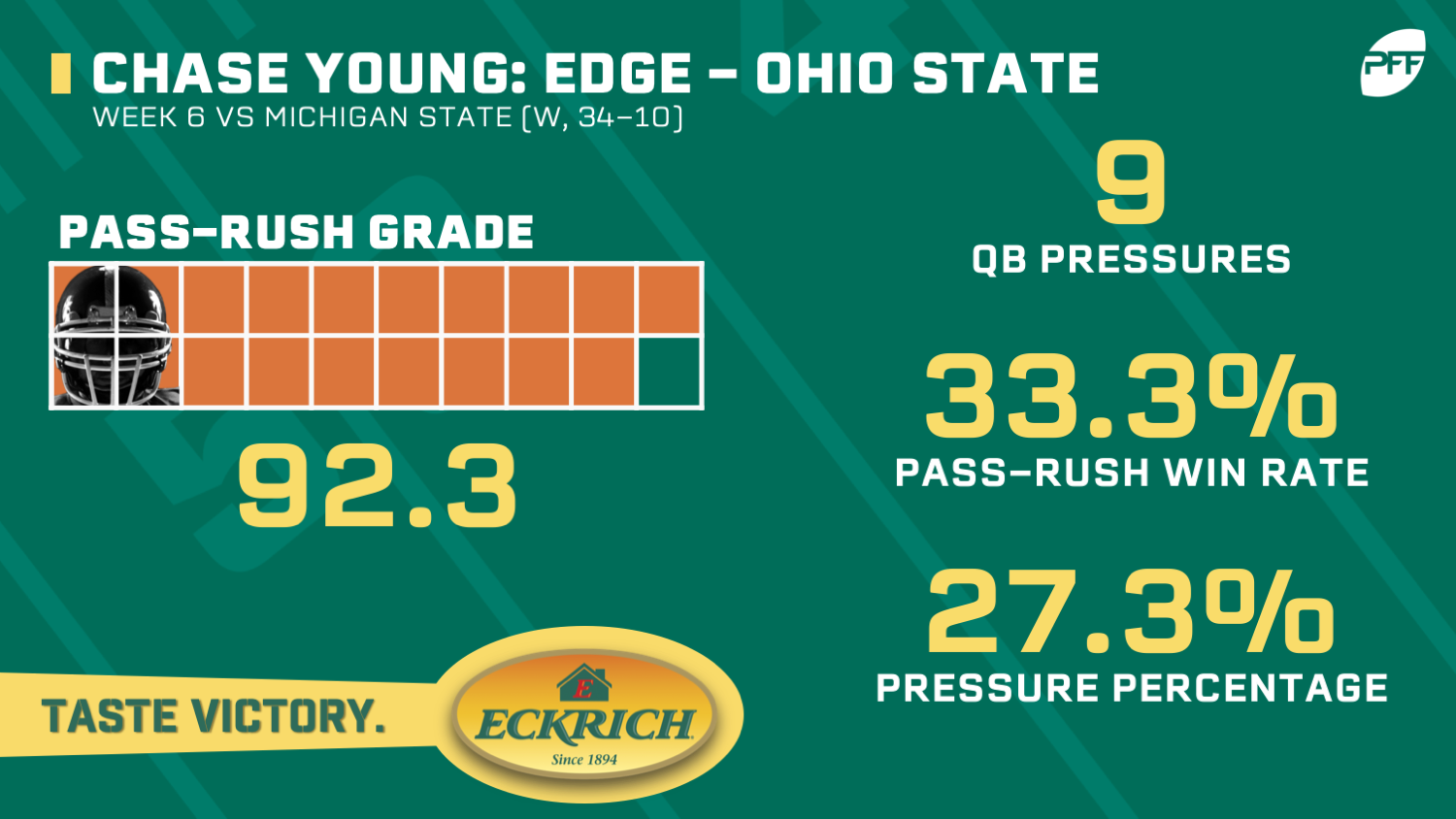 3. Jalen Hurts, QB, Oklahoma
From last week: -1
Hurts slides down one spot here because of Young's ascendence, not because he couldn't take care of Kansas in the first half in Week 6. He finished with his lowest game grade since Week 2 against South Dakota, but all five of his outings, much like Burrow above him, rank within the top 20 (actually in the top 16) among Big 12 quarterbacks this year. His five deep touchdowns are already a career-high for him in a season, as he's thrown for 533 passing yards on passes targeted at least 20 yards downfield on just 12 completions. He's developed into a great downfield passer in the Lincoln Riley offense. And if he gets past Texas with a statement victory, Hurts will almost assuredly join Burrow in New York.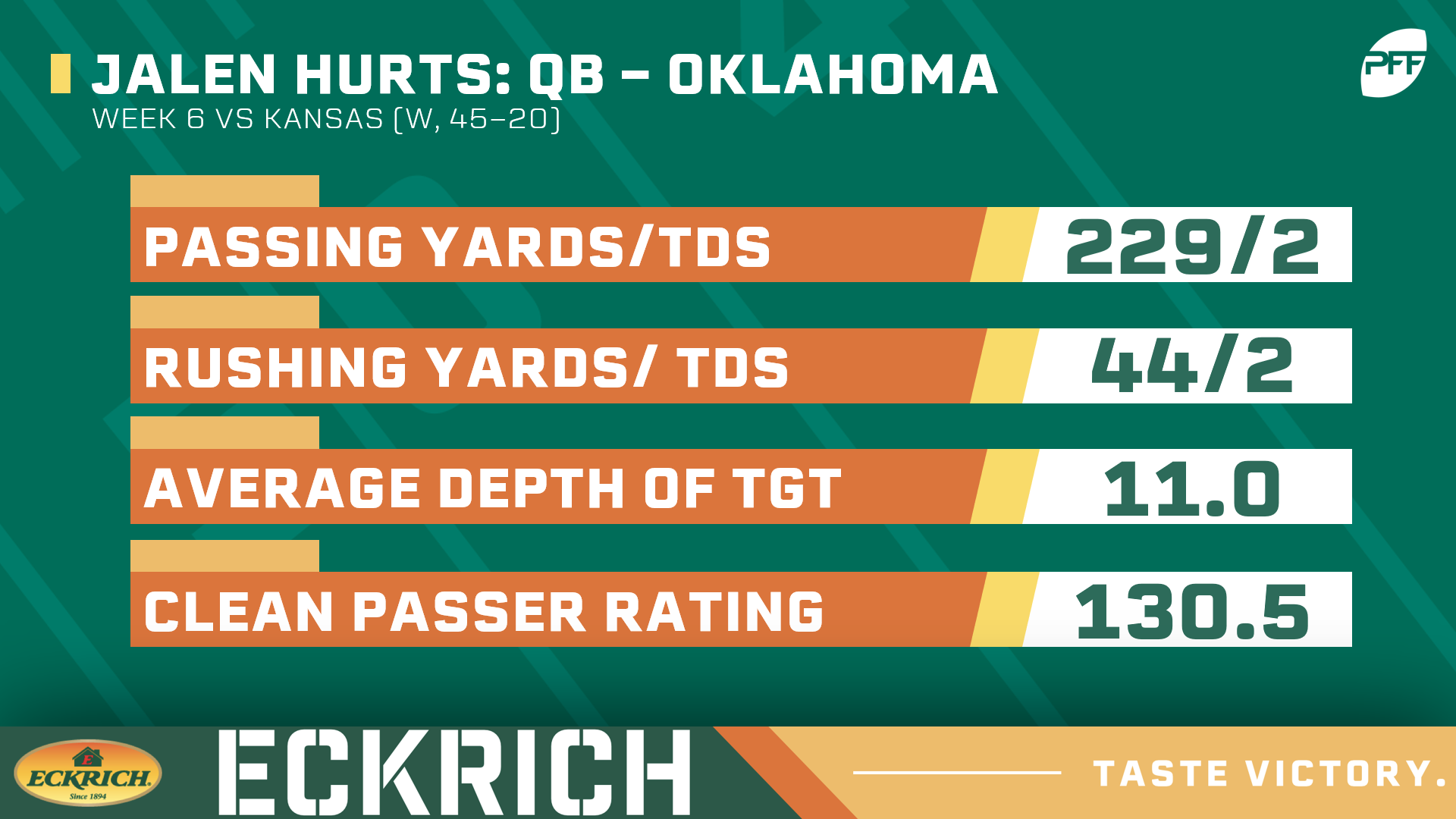 4. Tua Tagovailoa, QB, Alabama
From last week: -1
Tagovailoa and the Crimson Tide were off last week, but with Young's emergence, he slides down a spot. He'll have to potentially deal with pressure in Week 7 against Justin Madubuike and Texas A&M, but Tua has shown he can handle pressure more than admirably. He's currently fielding the nation's fifth-highest passer rating on pressured dropbacks at 127.5, completing 59.3% of his passes and throwing four touchdowns with no interceptions.
5. Jonathan Taylor, RB, Wisconsin
From last week: +2
Arguably the nation's best running back whenever he's on the field and potentially climbing the rankings in terms of a draft-eligible prospect, the Badgers continue to ride as their star player goes, and he's potentially taking them all the way to New York. Taylor finished with five touchdowns against Kent State, four on the ground and another through the air. He's now caught four touchdown passes this season after catching a total of 16 passes and no touchdowns before the 2019 season. He's been remarkably consistent and has run for 100 or more yards in 10 consecutive games.
6. Justin Fields, QB, Ohio State
From last week: -1
Fields threw his first interception of the season against Michigan State and had arguably his roughest outing from a passing standpoint against the Spartans. Good thing for the Buckeyes is that the best defenses in the Big Ten were on display, as Ohio State and Michigan State represent No. 1 and No. 2, respectively, in terms of our Big Ten ELO defensive rankings — so he'll likely not face off against a better defense all season long. He has a Friday night showdown with Northwestern looming after a bye week to showcase that he can move on from his lowest-graded outing.
7. Sam Ehlinger, QB, Texas
From last week: -1
Ehlinger didn't quite have the statement victory against West Virginia that he needs to vault past any of the quarterbacks ahead of him, as he's the only signal-caller on the list with a loss under his belt this season. But he'll have his chance at potentially another statement victory against Oklahoma in Week 7. Ehlinger is currently third in the country with 16 touchdowns coming from a clean pocket, and if that's something he can execute against Oklahoma and their secondary, which has shown some weakness outside of Motley, Brown and Davis, the duel between Ehlinger and Hurts could go down as an all-timer. Either way, it's likely that one of these two are walking out of Dallas a rung higher than they were before.
8. Chuba Hubbard, RB, Oklahoma State
From last week: no change
Hubbard once again went for over 100 yards in Week 6 as he increased his lead over the rest of the country's running backs and became the first running back to eclipse the 1,000-yard mark. He now has run for 1,094 yards on 163 carries, averaging a whopping 6.7 yards per attempt while ripping off 559 yards after contact in the process. He's scored a national-high 13 touchdowns while gaining 36 additional first downs on the ground. As great as he has been on the ground, if he wants to surpass Taylor moving forward, we'll have to see more from him through the air as he has just four receptions for 17 yards on the season.
9. Jake Fromm, QB, Georgia
From last week: +1
Putting forth his second highest-graded outing of the season, Fromm now has back-to-back games of at least a 91.5 overall against Notre Dame and Tennessee. He threw for a season-high 30 attempts against the Volunteers and had great success, averaging 9.6 yards per pass and two scores. The Bulldogs may have the best offensive line in the country but if pressure does get to Fromm, he's shown an ability to make smart decisions, completing 14-of-21 passes on pressured dropbacks this season.
10. J.K. Dobbins, RB, Ohio State
From last week: +2
Dobbins trails only Taylor in terms of yards per attempt among running backs with at least 100 carries, averaging 7.1 yards per attempt and gaining 826 yards on 116 carries through six games. He's rattled off just six touchdowns on the ground but has 34 additional first-down carries and is gaining 4.44 yards after contact on the ground per attempt. He's well on his way to a career year in every major rushing category, which would be just another 1,000-plus yard season, 40-plus missed tackles forced and nearly 1,000 yards after contact. Not bad for a guy who's the third member of the Buckeyes on this list.