There is a lot of great talent leaving the Mountain West to pursue their respective NFL careers in Curtis Weaver, Josh Love, Cole McDonald, John Hightower, Logan Wilson and Luq Barcoo, among others. That leaves us all wondering: Who is going to step up in their place? Using PFF's advanced database that is used by all 32 NFL teams and 72 FBS programs (that you too can get partial access to), these are the top 10 players returning to the Mountain West in 2020:
1. WR Khalil Shakir, Boise State
In his true sophomore 2019 season, Khalil Shakir proved that not only was he the best slot receiver in the Mountain West, but one of the best in all of college football. In PFF slot receiving grade, Shakir was fourth in the FBS behind Ja'Marr Chase (the second-best returning player in the SEC), CeeDee Lamb (a top 10 prospect in the 2020 NFL Draft) and Tutu Atwell (the sixth-best returning player in the ACC). That's pretty good company to be in. He showed he could run any route in the book but was especially lethal on screen plays, as he averaged nearly 14 yards after the "catch" on those. He's a quarterback's best friend, generating a 121.2 passer rating in the slot, and will likely see an increased workload with John Hightower departing.
2. WR Warren Jackson, Colorado State
Shakir barely edged out Warren Jackson for the top returner in the Mountain West. That being said, the 6-foot-6, 220-pound Jackson broke out in 2019 and produced a 90.1 overall grade that is among the three best returning wideouts in the entire country. Given his size, it shouldn't be a surprise to hear that Jackson was tied with likely 2020 first-round pick Tee Higgins for the second-highest receiving grade in tight coverage in 2019, ranking behind only Ja'Marr Chase. Jackson hauled in an impressive 91% of his catchable tight coverage targets. At one point in the season, Jackson was added to the Biletnikoff Award watch list, and it seems likely he'll end up on that list once again in 2020.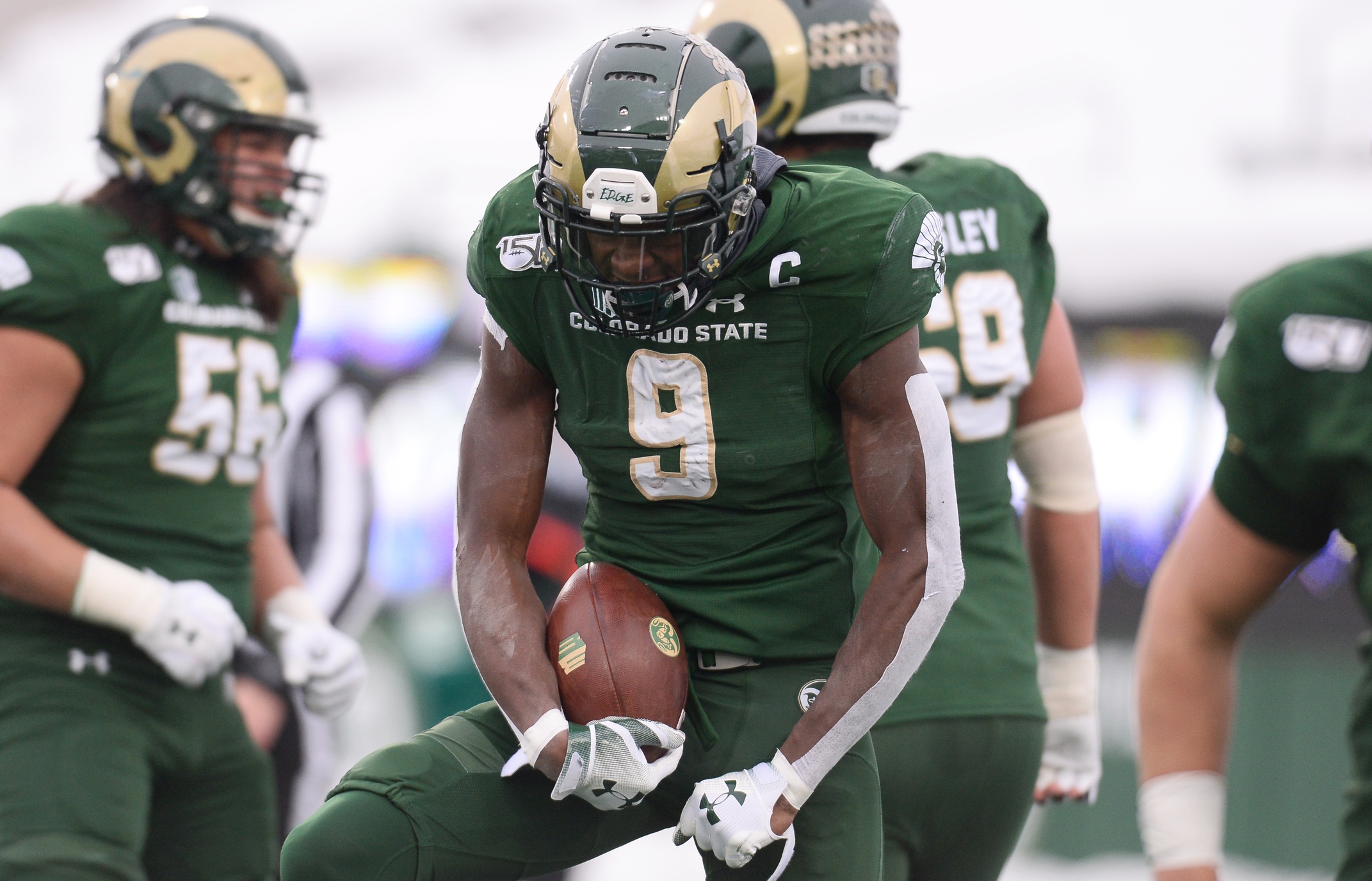 3. S Dwayne Johnson Jr. SDSU
After redshirting in 2016 and playing in just 101 snaps on defense in 2017 and 2018, Dwayne Johnson Jr. finally got his opportunity with the Aztecs in 2019 and far exceeded expectations. He was one of college football's best box safeties, recording the second-highest PFF grade at the alignment among safeties. Overall in coverage, Johnson shined by allowing less than half a yard per coverage snap and ranking 11th in coverage grade.
4. CB Jalen Walker, Boise State
Cornerback Jalen Walker has come a long way in his collegiate career, going from redshirting in 2016 and being a below-average role player in 2017 and 2018 to become into the top returning outside corner in the Mountain West in 2019. Walker produced an 83.2 coverage grade this past year and routinely forced tight coverage. Among his 78 targets in coverage in 2019, the receiver had a step or more separation on just a quarter of them. That formed a rate that was the second lowest among FBS cornerbacks. Many don't know the name Jalen Walker, but if he plays like this again in 2020, it'll be hard to ignore.
5. WR Tre Walker, San Jose State
San Jose State's Tre Walker has been one of college football's most underrated receivers these past few seasons. His two-year PFF grade and yards per route run mark have been among the 20 best in the country, while also being responsible for the ninth most explosive plays of 15-plus yards (53). He may be just 5-foot-11, but Walker has been solid in contested situations by catching 26 of 50 such targets since 2018, with a handful of those being an incredible back shoulder snag. Losing Josh Love hurts, but bringing back Tre Walker should help whoever is throwing the ball for the Spartans.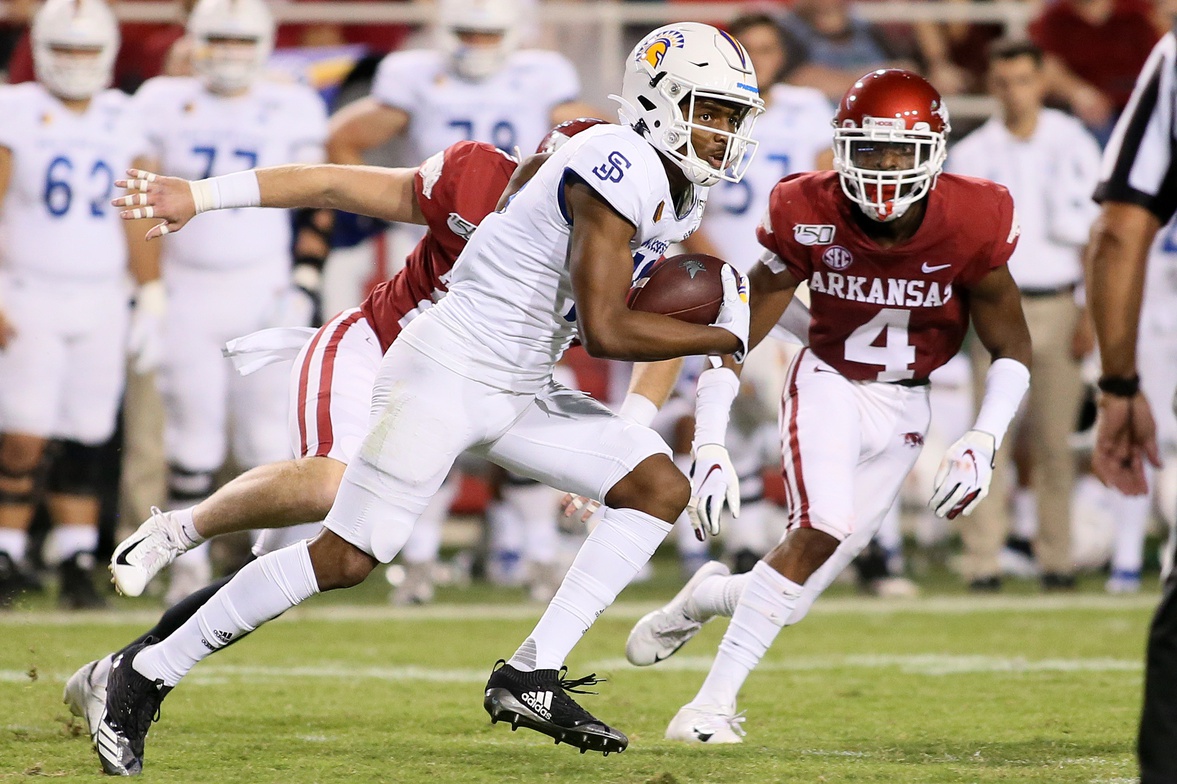 6. G Nolan Laufenberg, Air Force
If I asked who the most valuable left guard season in the PFF College era was, most would correctly respond with Quenton Nelson's 2017 season with Notre Dame. But if I were to ask who came in second, few would guess Air Force's Nolan Laufenberg in 2019. Laufenberg was an integral piece to the Air Force rushing attack and was one of the best run-blockers in the country. He produced an 81.1 run-blocking grade, which ranked eighth among all guards. Most of his success clearly came from his run-blocking given the Air Force scheme, and while his pass-protection needs some work, it hasn't been terrible by any means, as he has allowed just one combined sack and hit on 274 career pass-block snaps.
7. WR Jesse Matthews, SDSU
No one quite expected redshirt freshman and walk-on Jesse Matthews to have the year he did in 2019. Matthews finished the year ranking among the 25-best returning wide receivers in PFF receiving grade (78.4) and displayed some of the best hands in the country — he had the fourth most catchable targets without one drop among all receivers, whether they are returning or headed to the draft. He wasn't great after the catch nor was he productive on a per-route basis, but he showed to be one of the most reliable receivers on the field and should garner more targets in 2020.
8. EDGE Dom Peterson, Nevada
Nevada's Dom Peterson proved he was a stout run-defender in his redshirt 2018 campaign by producing an 86.0 grade in that facet, but he was below average in the pass-rush that year with just a 61.3 grade. In 2019, Peterson stepped up and proved he was capable of being a solid pass-rusher by improving his grade to 84.3. Peterson won a decent amount of his reps, posting a 15% win rate, but still has room for improvement as far as his rate of pressures generated goes. An underrated aspect of Peterson's play is the few amount of tackles he'll miss. In his two seasons on the field, Peterson has missed just four of his 78 tackling attempts.
9. QB Donald Hammond III, Air Force
Air Force is notoriously known for its old-school triple-option offense, and signal-caller Donald Hammond III has been a huge part of that, both in the rushing attack as well as on the few plays the Falcons opted to launch it downfield. Hammond saw 128 designed rushes this past year and ended up producing one of the 15 highest rushing grades for a non-quarterback. Hammond wasn't an elusive runner nor was he an explosive one, but he picked up a first down at an incredibly high rate on short-yardage situations. Over 40% of his first downs came when Air Force had six yards or fewer to gain for the first down, and he picked up the conversion on nearly three-fourths of those. If Hammond was going to pass, it was almost always a shot downfield. He was certainly not the most accurate quarterback, but he did toss 10 big-time throws and just two turnover-worthy plays on 20-plus yard throws.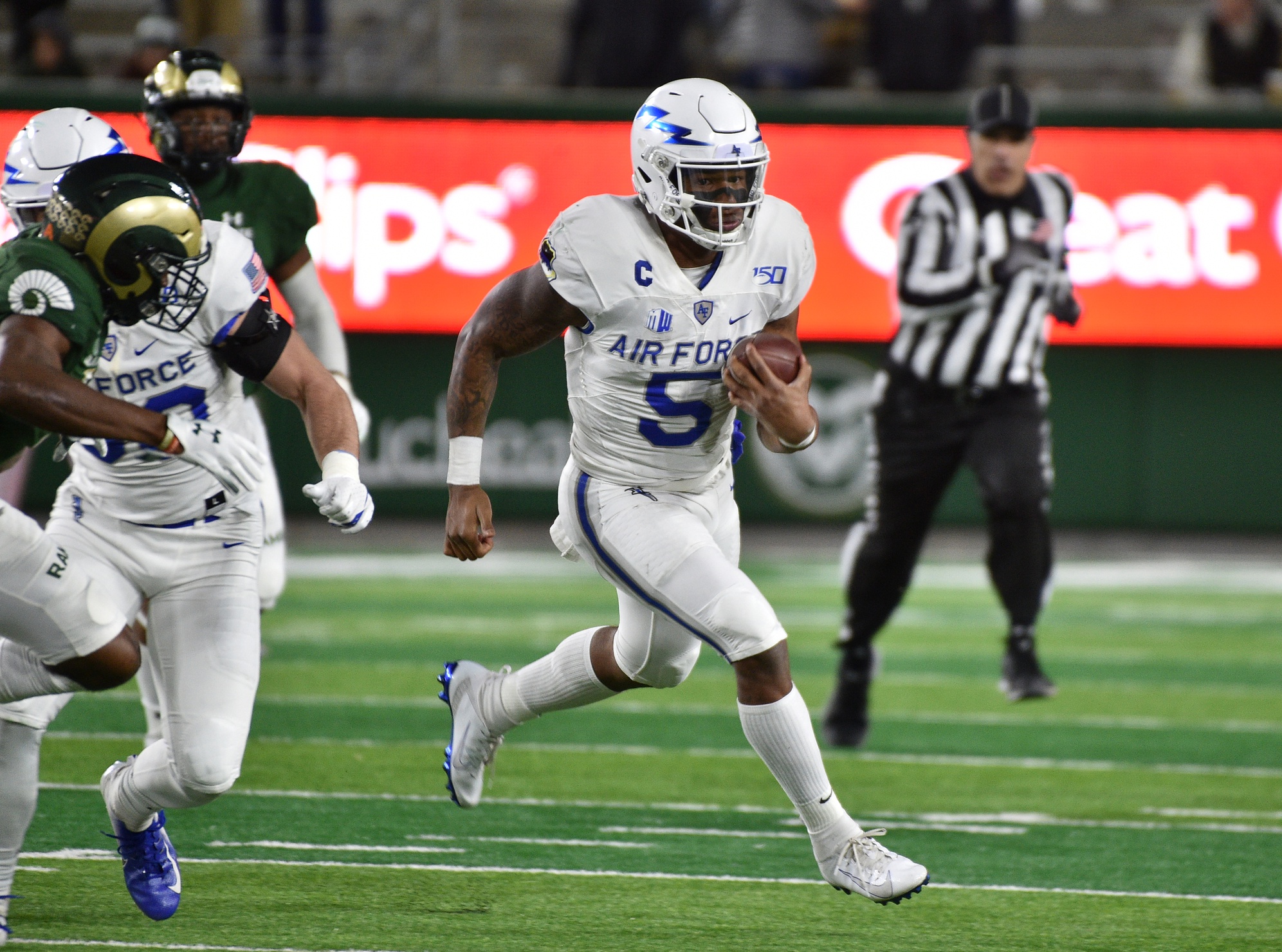 10. TE Trey McBride, Colorado State
The season Trey McBride had as a true sophomore was quite remarkable — his 83.6 overall grade was among the five best tight ends in college football. He had some of the best hands we saw at the position, dropping just one pass while catching eight of his 10 contested targets. McBride saw more snaps inline but was targeted more when in the slot or out wide, where he'd be one of the five highest-graded FBS tight ends and the second-most productive with a little over two yards per route run at those two alignments. On top of that, he was a great blocker when inline, surrendering just two pressures on 94 bass-block snaps and ranking fourth in run-block grade. The tight end position isn't seeing a lot of high-end talent returning, so McBride has every opportunity to make a name for himself nationally in 2020.