Believe it or not, Clemson isn't the only standout team in the ACC. In PFF's way-too-early 2020 top 25 rankings, North Carolina, Virginia Tech and Louisville all joined the second-ranked Clemson Tigers in the top-20, and Miami is among the teams that could sneak on in at some point considering their transfer talent. A majority of the ACC's top talent is returning in 2020, forming a top-10 returners list that could be considered the best among all conferences:
1. QB Trevor Lawrence, Clemson
Of course, Trevor Lawrence is the top returning player in the ACC next year and in all of college football, for that matter — we all know it. There really isn't a thing he doesn't do well. In fact, he's looking like he'll end up as the best prospect PFF has ever seen when it's all said in done about a year from now and is definitely worth tanking for. PFF has never seen a true freshman season like what we saw from Trevor Lawrence in 2018. His WAA that year was nearly triple the amount we have seen from first-year quarterbacks in the prior seasons in the PFF College era and was second to only first-overall pick Kyler Murray that season.
Perhaps the best quality of Lawrence's is how great he is in unfavorable situations. He has superb pocket presence by converting pressure to sacks on just 15% of his career dropbacks, which is a mark that most seniors with NFL aspirations wish they were at. He can create outside of structure, stay poised and throw in a pressured pocket with bodies flying at him and can extend plays with his legs. In fact, he's averaged nearly 10 yards per carry on scrambles. With that, Clemson went on to use that athleticism of his in the designed rushing attack in 2019, and he ended up with the fourth-highest rushing grade at his position this past year. Remember that game-changing 67-yard touchdown of Lawrence's against Ohio State on a designed rush? Just a little teaser of what's to come with his usage. 
Lawrence's decision making is already up to the expectations for a No. 1 overall pick, as he has posted a career turnover-worthy play rate that ranks seventh-best over the past two years — and a third of those turnover-worthy plays came in an uncharacteristic three-game stretch to start the 2019 season. Not to mention, he was also one of two quarterbacks to also rank in the top-10 in big-time throw rate in addition to limiting those negative plays.
2. QB Sam Howell, North Carolina
As said, Trevor Lawrence produced the best true freshman season PFF has ever seen back in 2018, but the person right behind him is North Carolina's Sam Howell. The cannon he displayed for the Tar Heels last season was quite absurd. There were times he threw it over 40 yards downfield with ease — in fact, he had an FBS-leading six such touchdowns. Yes, even more than Joe Burrow, who had the second most with five.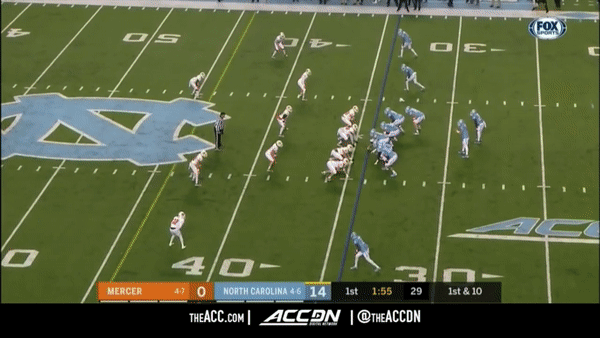 Howell was a gunslinger, which caused him to produce some turnover-worthy throws, but it also resulted in him posting the eighth highest big-time throw rate among FBS quarterbacks. His play under duress killed him, but we must consider the stability of performance under pressure opposed to being in a clean pocket. A quarterback's performance when free from pressure is the most telling of future performance, and that is an area where Howell thrived, posting the fourth-highest passing grade and taking advantage of the situation with deep passes (most 20-plus yard completions when clean this past season with 32 — Justin Fields and Joe Burrow were tied for second with 30).
3. EDGE Quincy Roche, Miami (FL.)
Miami had a down year in 2019 — there's no doubt about that. However, they got a couple added boosts from the transfer pool this offseason, and one of them lands among the three best players in the conference in edge defender Quincy Roche. Previously with the Temple Owls, Roche was an above-average pass-rusher in his first two seasons of collegiate action in 2017-18, ranking 28th in two-year pass-rush grade in that stretch and finishing as a fringe top 25 player in win rate and pressure rate. In 2019, though, he took his play to new heights and was one of the biggest breakouts.
Roche produced a pass-rush grade this past season that ranked behind only Chase Young, who is a virtual lock to be taken in the top three of the 2020 NFL Draft. His WAA was right there with Young, as well, and was the fifth-best ever recorded in a single season by an edge defender. Pressure rate is more important than the sack numbers, but Roche killed both categories. He generated pressure on 18.4% of his reps, which was among the five highest rates at the position. It'll be interesting to see Roche go up against ACC tackles in 2020, but based off what we saw in 2019 in games against Power-5 competition, he should be more than okay.
4. RB Travis Etienne, Clemson
It was a bit of a shock to see running back Travis Etienne not declare for the 2020 NFL Draft, but Clemson has to be jumping for joy with him returning to their squad in 2020. Running backs generally don't matter at the college level and always don't in the NFL, but Etienne is in the rare group that actually has generated significant value. In 2019, Etienne had the second most WAA at his position, barely trailing LSU's Clyde Edwards-Helaire, but still was the seventh most WAA by a running back in the PFF College era and his 2018 was the 16th most. Overall, he's been the fourth most valuable college running back we have seen behind Christian McCaffrey, Kareem Hunt and Jonathan Taylor.
Etienne's elusiveness is almost hard to believe — he broke 90 tackles on 207 carries. That formed a rate that was the highest in college football and led to him earning the highest rushing grade. The big reason why Etienne generated value in 2019 was his vast improvement receiving. He bettered his yards per route run from 2018 to 2019 by a yard and a half and dropped fewer balls on more catchable targets.
5. WR Justyn Ross, Clemson
He wasn't able to exactly replicate his true freshman season from 2018 this past year, in which he was the second highest-graded receiver in the country, but Ross was still able to comprise a solid year and add up his two-year WAA to be among the 10 best in the country at his position. The 6-foot-4 Ross has been one of the best deep threats in college football, ranking second in two-year receiving grade on targets of 20-plus yards. His size comes in clutch on these targets, as he just flat out bodies defensive backs in contested situations, hauling in nine of 13 such deep targets in his career. The vertical route tree is his clearly his specialty — he's generated the third most explosive plays on vertical routes in his career. Tee Higgins may be gone for Trevor Lawrence, but he'll still have one of the best in the country at the position in Justyn Ross.
6. WR Tutu Atwell, Louisville
Standing at 5-foot-9 and weighing in just over 150 pounds, Louisville's Tutu Atwell is one of college football's most underrated receivers. Atwell reportedly ran a 4.33 40-yard dash a couple of years ago and is lethal after the catch as a result. He was used extensively in the screen game, where he'd record the highest PFF receiving grade at 93.8 (only receiver above 90.0) and an impressive 16.3 yards after the catch per reception. Most of those were jet motion plays, and on those specifically, Atwell averaged 13.2 yards per "reception" (if you even want to call it that, but still very impressive, regardless). Not all of his production has come on these types of plays, though — he can still separate downfield at a very high level. He had 21 targets coming 10 or more yards downfield in which he was deemed open (more than a couple of steps of separation) — among the 20 most in college football.
7. EDGE Chris Rumph II, Duke
Only true diehard college football fans know who Chris Rumph II is, and it's okay if you don't — the great thing about PFF is that we can identify the hidden gems for you and, most importantly, give credit to those underrated players. Roche is the best edge defenders returning in the ACC and the number one returning defensive lineman in the country, but the man in second in both categories is Duke's Chris Rumph, who produced the second-highest overall grade in the country last season, making plays against the run and in the pass-rush. The most important job for an edge defender is rushing the passer, and there wasn't anyone near Rumph when it came to win rate and pressure rate. Watching him creep over the interior offensive line as a linebacker and busting through the gaps right after the snap is just a beautiful sight to see: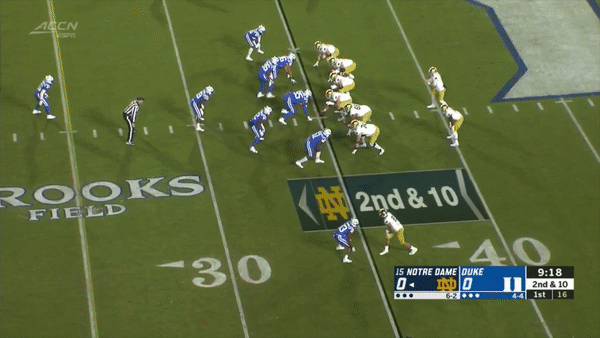 8. CB Caleb Farley, Virginia Tech
Virginia Tech's Caleb Farley made one of the biggest year-to-year improvements this past season, improving his PFF coverage grade from 59.3 to 90.3, making him the lone defensive back on this list. The missed tackles are still a concern, but Farley improved in every significant statistical coverage category for a defensive back:
| | | |
| --- | --- | --- |
| 2018 | Caleb Farley | 2019 |
| 357 | Coverage snaps | 396 |
| 54 | Targets | 50 |
| 32 | Catches allowed | 18 |
| 463 | Yards allowed | 257 |
| 4 | Touchdowns allowed | 1 |
| 18.5% | Forced incompletion % | 24.0% |
| 96.5 | Passer rating allowed | 26.8 |
If Farley forced his opposition into a contested situation, it was incredibly difficult to win. Of his 50 targets, 20 were contested and he allowed just five to be caught. Just two went for a first down while Farley intercepted a pair and forced 12 as incompletions. 
9. DI Marvin Wilson, Florida State
On top of already having the two best returning defensive linemen overall in Roche and Rumph, the ACC has the best returning interior defensive lineman in the country in Florida State's Marvin Wilson. He could have easily declared for the 2020 NFL Draft, as he was being considered a first-round prospect, but an injury in the final weeks might have made Wilson cautious to declare. Over the past two seasons, Wilson's two-year PFF grade ranks as the third best at his position. His best plays were made in the pass-rush, where he was the second highest-graded at his position in 2019. The most impressive part of his play is the fact he can thrive at multiple alignments on the interior.
10. QB D'Eriq King, Miami (FL.)
D'Eriq King kind of had a whirlwind 2019 — he decided to redshirt the season after starting out 1-3 and return to compete in 2020. After sitting out the year, King then decided to transfer to Miami, which has to be ecstatic it landed him. King really didn't play that great in Dana Holgorsen's offense, recording a 59.9 passing grade in his four starts. However, we must consider his 2018 campaign, and if King is able to replicate that season, he can easily be one of the top quarterbacks in the country. That year, King finished with the second-highest overall grade at his position at 91.2, which ranked behind only Kyler Murray. King has great athleticism and can bring value to the rushing attack, as he has generated an explosive rush on over a quarter of his carries the past two years. A lot of King's success in 2018 came off play-action passing. And with the change in scheme, we saw his play-action usage rate drop over 20% in 2019. In other words, integrating play action is a must for Miami in 2020.