[As a part of our partnership with ESPN, this is a story that was originally published on ESPN+ and can be viewed in its entirety with your ESPN+ subscription – PFF's top 10 true freshman classes of 2019]
Recruiting is the biggest piece of the puzzle in building a college football dynasty. If you win the recruiting battle, you can get a clear head start over other dominant programs.
Some programs are forced to rely on their true freshmen more than others. Sometimes that pays off, and sometimes it doesn't. Obviously, it takes time for top recruits — or any recruits, for that matter — to develop, but every year, there are a handful of rare athletes who make an immediate impact from day one as true freshmen.
PFF has unveiled its wins above average metric (PFF WAA) in recent weeks, and we used it to rank the top 10 true freshman classes from the 2019 college football season.
1. LSU Tigers
Why they're ranked here: Joe Burrow got all the hype — and rightfully so — but the dominance of true freshman cornerback Derek Stingley Jr. was a bit overlooked because of it. Stingley finished the season as the second-most valuable LSU Tiger in the team's title-winning run, and he ended up as the most valuable non-quarterback in the country. LSU, which is often referred to as "DBU," had another impact true freshman cornerback on the field in Cordale Flott, who was also stingy in coverage. On his 153 coverage snaps, Flott allowed just eight of 25 targets to be caught, and he produced five pass breakups.
How their top recruit fared: Five-star running back John Emery Jr. was LSU's top recruit from the 2019 class. With Clyde Edwards-Helaire on the roster, Emery saw just 39 carries, but he was incredibly elusive when he saw the field, producing 0.33 broken tackles per rush attempt. In the receiving game, however, Emery saw nine targets and dropped two of those. Although he needs to improve within the passing game, his elusiveness shined there, too, with three broken tackles on six catches.
Best true freshman: Not only was Stingley the best true freshman on LSU's roster, but he was also the best true freshman in the country. He was the most valuable non-quarterback in WAA not just in the 2019 season but since PFF College's inception in 2014. Stingley forced tight coverage on 75.5% of his targets, which was the second-highest rate in the FBS and more than 25 percentage points higher than the average. On those tight coverage targets, Stingley allowed just 20 catches from 71 total targets while intercepting six passes and forcing 20 incompletions. He's the definition of a lockdown corner.
2. North Carolina Tar Heels
Why they're ranked here: Throwing a true freshman quarterback onto your depth chart can get ugly pretty quickly, but in North Carolina's case, it paid dividends. Sam Howell was the Tar Heels' signal-caller from start to finish in 2019, and he ended up as one of the 10 most valuable quarterbacks in the FBS. North Carolina had only four four-star recruits in this past recruiting class, but the Tar Heels got a pleasant surprise from the performance of three-star cornerback Storm Duck, who became a starter in Week 5. Duck's 81.3 coverage grade for the 2019 season was the 35th-best mark among 478 qualifying FBS cornerbacks.
How their top recruit fared: Howell was 120th in the 2019 ESPN 300 recruiting rankings and managed to exceed expectations in his true freshman campaign with his rocket launcher of an arm. He produced 21 touchdowns on throws 20-plus yards downfield, which was second to that of only Burrow in 2019, and some of those were as far as 40-plus yards downfield. In fact, he led the FBS in touchdowns on such throws, with six. Additionally, no quarterback picked apart man coverage better than Howell did this past season, as his PFF passing grade against man-coverage shells led all FBS quarterbacks.
Best true freshman: North Carolina closed out the 2019 recruiting cycle 35th in ESPN's RecruitingNation rankings and clearly outperformed with the performances of Howell and Duck, as well as those of safety Don Chapman and edge defender Tomari Fox. That said, Howell was the top dog among North Carolina's 2019 true freshman class, as he was worth more in WAA to his team than any other Tar Heel. He was the best true freshman quarterback of the 2019 season and trailed only Trevor Lawrence (2018) as the best true freshman quarterback PFF has ever seen in terms of WAA.
3. Georgia Bulldogs
Why they're ranked here: Many of the Bulldogs' true freshmen were called on to be role players in 2019, and almost all of them had a positive impact on the team. Georgia landed two of the top six wide receivers in ESPN's rankings in Dominick Blaylock and George Pickens, and both led the pack for the Bulldogs, ranking among the 10 most valuable true freshman wide receivers in the country. On the defensive side, off-ball linebacker Nakobe Dean was the most valuable true freshman at his position, and it wasn't close. Dean's coverage skills shined, as he allowed just five of his 14 targets in coverage to be caught, with a couple of pass breakups mixed in.
How their top recruit fared: Edge defender Nolan Smith was ESPN's second-ranked recruit of 2019, and he played the second-most snaps of any true freshman on Georgia's roster, with 287. However, Smith was only slightly above average as a pass-rusher in 2019, sitting just above the 60th percentile in PFF pass-rush grade (69.9), and despite owning nine combined sacks-plus-hits on his 181 pass-rush snaps, he had a subpar pressure rate at 10.3%. Smith has a ways to go to get to elite status, but he fared better than most true freshmen at his position in 2019.
Best true freshman: Pickens finished the season first among true freshman wide receivers in WAA, and he finished 19th among all wide receivers in the FBS. The best thing we saw from Pickens was his reliable hands, as he was one of 10 wide receivers to not drop a catchable target beyond the first-down marker. He wasn't the best in contested-catch situations, but Pickens proved to be a great deep threat and will be one to watch with the nation's second-highest-graded deep passer, Jamie Newman, throwing him the ball.
4. USC Trojans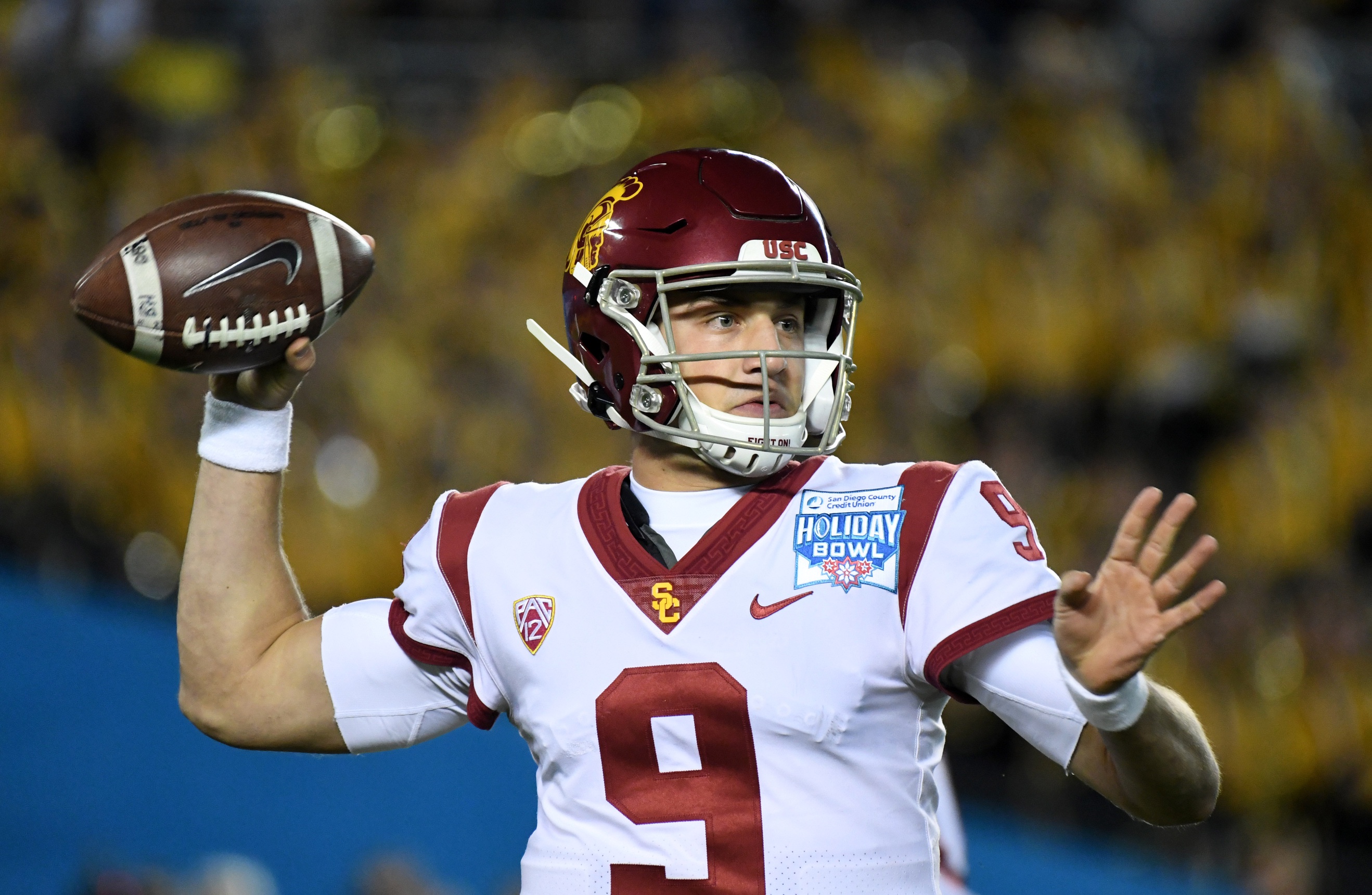 Why they're ranked here: USC had four true freshmen play considerable snaps in 2019, and all produced positive returns on investment. Slot receiver Drake London was relied on more in the latter half of the season, and he displayed some great after-the-catch ability with 13 broken tackles on his 39 catches. Throwing him the ball was Kedon Slovis, who earned the third-highest WAA among true freshman quarterbacks. On the defensive side of the ball, the Trojans had cornerback Chris Steele and edge defender Drake Jackson, who both ranked among the 20 best true freshmen at their position in terms of WAA.
How their top recruit fared: USC's top recruit, wide receiver Kyle Ford, tore his ACL in his senior season of high school, which limited him to a handful of snaps at the tail end of the 2019 season. Steele, who was with Florida through spring practices before transferring to USC, was the next-highest-rated recruit on the roster to play significant snaps. Steele made very few plays on the ball and was beaten for a handful of 30-plus-yard plays, but overall, he was solid, allowing fewer than 50 yards in coverage in eight of his 12 games played. His tackling was great for a freshman, too, as he didn't miss one of his 28 tackle attempts.
Best true freshman: Slovis was the most valuable player on USC's roster, and he was one of the most accurate quarterbacks in college football. On throws of 10-plus yards downfield, Slovis had an uncatchable pass rate of 23.1%, edging Burrow for the lowest in college football. His pocket presence and overall play when under pressure were pretty poor, though, as he converted pressure to sacks at a below-average rate and had eight fumbles, though that can be somewhat expected for a first-year quarterback. As has been said by several coaches over the years, quarterback accuracy is a trait that can't really be coached, and Slovis clearly has that box checked.
5. Oregon Ducks
Why they're ranked here: Oregon had a loaded 2019 recruiting class, with 10 of its incoming true freshmen landing in the ESPN 300. Three of those players, in particular, were significant contributors in 2019. Edge defender Kayvon Thibodeaux and cornerback Mykael Wright were two of the 10 most valuable non-quarterback true freshmen in terms of WAA from the 2019 season. Although slot receiver Mycah Pittman had bad injury luck that limited him to seven games, he produced a 70.0 receiving grade when healthy, 15th among 47 qualifying true freshman receivers.
How their top recruit fared: Thibodeaux was the No. 1 overall recruit from the 2019 class, and he certainly played like it in 2019. In the six years that PFF has been collecting college data, Thibodeaux's 2019 season was the best we have seen from a true freshman edge defender. His pass-rush grade trailed only that of Utah's Bradlee Anae as the best in the Pac-12, and he won on more than 16% of his pass-rush reps to crack the 80th percentile among all FBS edge defenders.
Best true freshman: As good as Thibodeaux was, Wright meant a little bit more to the Oregon defense. On his 187 coverage snaps in 2019, Wright allowed just eight catches on 23 targets for 85 yards while adding three pass breakups and one interception. That paved the way to a passer rating allowed of 28.4. Oregon has a loaded secondary returning, but the Ducks have to find a way to get Wright on the field more in 2020.
6. UCF Knights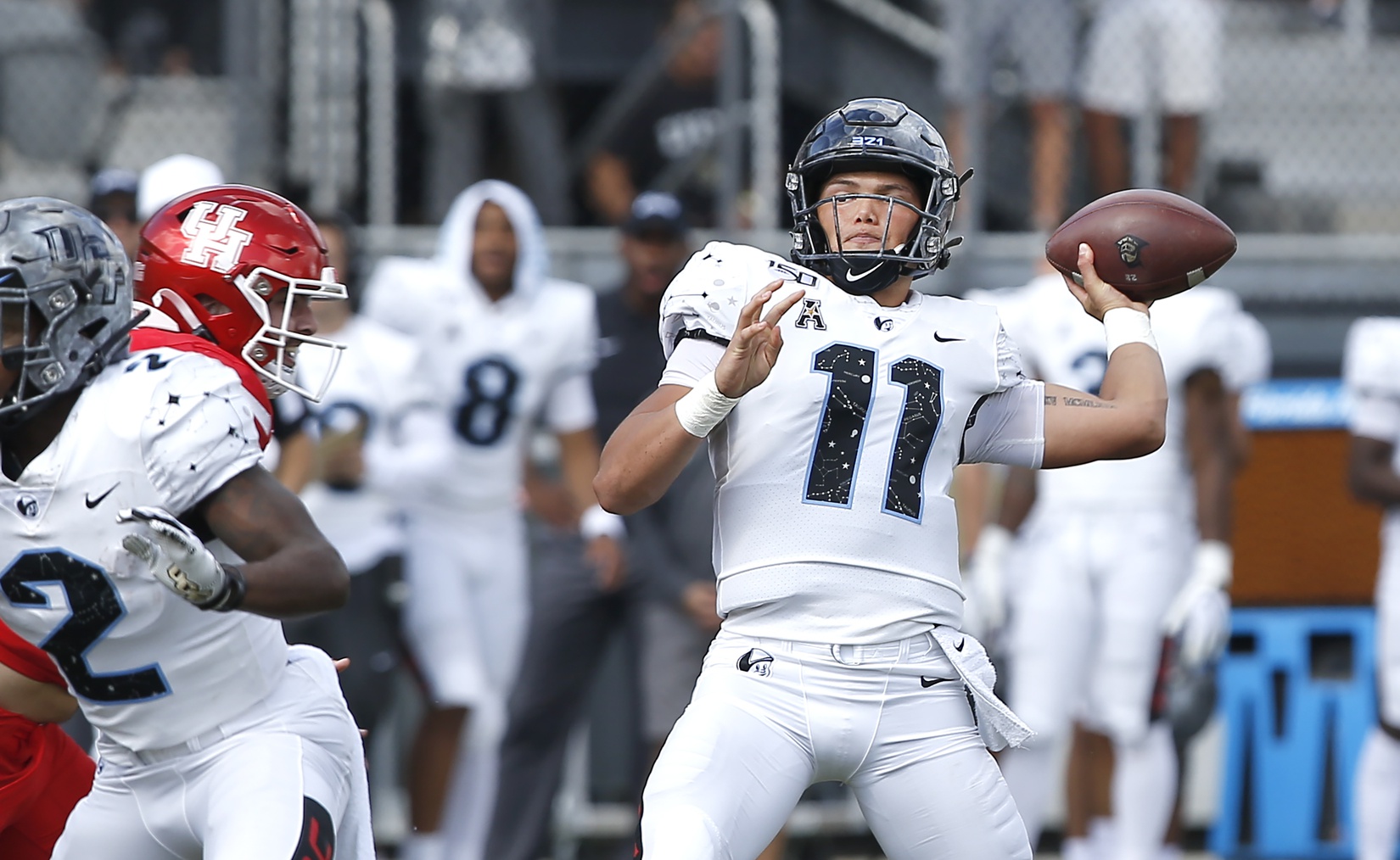 Why they're ranked here: The Knights were 50th in ESPN's recruiting rankings and ended up sixth on this list, partly because they had arguably the biggest surprise of the 2019 true freshman class. Quarterback Dillon Gabriel replaced Notre Dame transfer Brandon Wimbush as the Knights' starting signal-caller in Week 2, and he ended up generating the second-most WAA among true freshman quarterbacks. The other two true freshmen who saw meaningful playing time, edge defender Tre'Mon Morris-Brash and linebacker Tatum Bethune, also generated positive value.
How their top recruit fared: As one of UCF's three four-star recruits from 2019, Morris-Brash played 275 snaps and stood out in the pass rush by recording a grade of 76.2 in that facet (84th in the FBS). In addition, Morris-Brash generated pressure at the seventh-highest rate in the country, at 19.7%. The biggest flaw in his play last season was his tackling, though, as he missed 11 of his 34 total tackle attempts.
Best true freshman: While Morris-Brash was reliable as a pass-rusher and Bethune showed flashes of great play in coverage, Gabriel was the shining star of this true freshman class. Gabriel and Burrow were the only two quarterbacks in college football to rank among the top 10 in both big-time throw rate (PFF's highest-graded throws) and turnover-worthy play rate (PFF's lowest-graded throws). Gabriel's accuracy isn't the best, but he displayed a heck of an arm as a true freshman, producing the fourth-most deep passing yards in the country.
7. Washington Huskies
Why they're ranked here: Only a handful of true freshmen from a loaded Washington recruiting class played significant time in 2019, but the impact by those who saw the field was positive. Cornerback Trent McDuffie and safety Cameron Williams played the most among the class and generated the most WAA, both ranking among the seven best at their positions. Wide receiver Puka Nacua had just 11 targets on the season but managed to generate five explosive plays of 15-plus yards while catching three of his five contested targets.
How their top recruit fared: Interior defensive linemen Jacob Bandes and Faatui Tuitele headlined Washington's recruiting class but played very few snaps. After those two came quarterback Dylan Morris, but he didn't play either, leaving McDuffie as the highest-ranked recruit.
Best true freshman: McDuffie played the most of any Washington true freshman and was one of the best in the country. His 85.4 overall grade was 11th among 456 qualifying cornerbacks in the FBS, and his tackling was as good as anybody's, with just one missed tackle on 45 attempts. McDuffie rarely allowed big plays in his coverage and allowed only six explosive plays of 15-plus yards on his 421 coverage snaps.
8. Clemson Tigers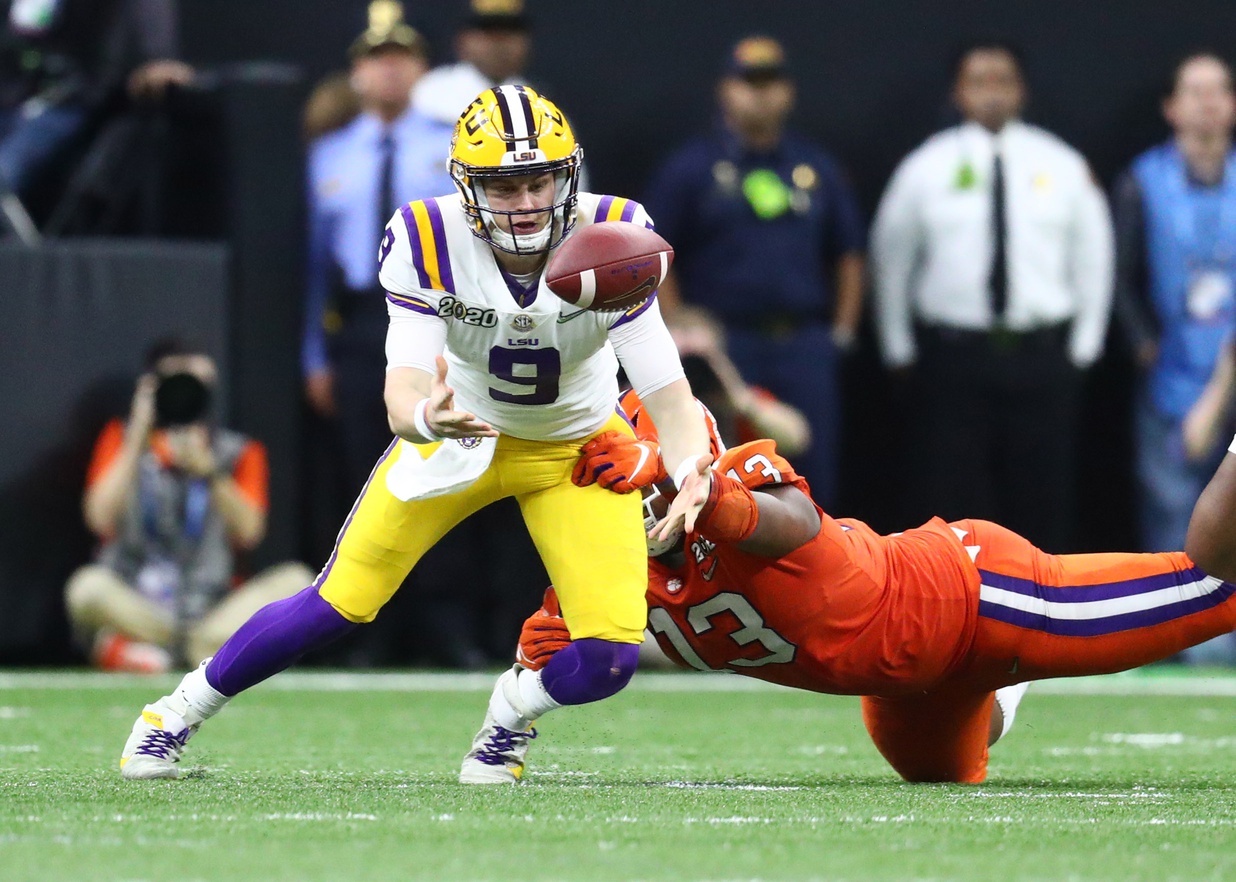 Why they're ranked here: Clemson didn't have a single five-star recruit come to town before the season, but the Tigers had 16 four-star recruits, and most of them saw a decent number of reps. The Tigers had eight true freshmen play more than 100 snaps last season, seven of whom generated positive WAA. Although he wasn't the top of the class, one of the most impressive showings came from offensive guard Will Putnam, who put up an 82.6 pass-block grade and allowed just one pressure on his 92 pass-blocking snaps. Interior defensive lineman Tyler Davis was another key contributor, as he generated more WAA than any other true freshman at his position.
How their top recruit fared: Andrew Booth Jr. was the top recruit brought in by Clemson after he ranked 34th overall in ESPN's 300 rankings, but he saw the field for only 68 snaps. He allowed two catches on three targets for 9 yards while adding a pass breakup. After Booth was Frank Ladson Jr., the only Clemson true freshman to play more than 100 snaps and not generate positive value.
Best true freshman: Putnam and Davis were two of the top true freshmen on Clemson's roster, but the best was wide receiver Joe Ngata. Among FBS true freshman receivers, Ngata generated the sixth-most WAA. He went up against press coverage exceptionally well and produced a raw PFF grade that ranks among the 20 best in college football on such plays.
9. Florida Gators
Why they're ranked here: Florida saw flashes in the secondary this past season through their true freshmen, Kaiir Elam, Jaydon Hill and Chester Kimbrough. Although Hill and Kimbrough each barely cracked 100 snaps, they produced positive WAA. Elam played a bit more, with 310 snaps, but he managed to produce the 25th-most WAA among all cornerbacks in the FBS. Down in the trenches, edge defender Mohamoud Diabate was highly productive in the pass rush, with 18 pressures on 78 total pass rushes while winning on more than a quarter of his reps.
How their top recruit fared: Elam and tight end Keon Zipperer were within a few spots of each other on the ESPN 300. Elam was one of the country's best cornerbacks overall. Zipperer played only 34 snaps but caught all three of his targets for 31 yards and a touchdown.
Best true freshman: Elam was the best true freshman on the roster, and he was the best player overall for Florida in terms of WAA. Elam's 89.8 coverage grade was ninth-best in college football, and he allowed just 10 of his 23 targets to be caught, with only five of those 10 moving the chains. That's not to mention that he had three interceptions and six forced incompletions.
10. Cincinnati Bearcats
Why they're ranked here: Cincinnati at No. 10 is a big surprise, considering the Bearcats didn't crack the top 75 in ESPN's recruiting rankings and didn't have a single recruit in the ESPN top 300. However, they saw some great play from three-star cornerback Ahmad Gardner, who finished as the eighth-highest-graded cornerback in coverage. Cincinnati also saw plus production from three-star wide receiver Tre Tucker on a per-route basis (albeit a very small sample), as he gathered 3.67 yards per route run on the season.
How their top recruit fared: Cornerback Justin Harris was the Bearcats' highest-ranked recruit to see the field, and he played just 52 snaps. He gave up a 40-yard play and missed one of his two tackle attempts on the season.
Best true freshman: Really, the Bearcats crack the top 10 because of the play of Gardner. He was the 13th-most valuable cornerback in the FBS and allowed just a 39.4 passer rating on his throws into coverage. For perspective on how great that is, a quarterback throwing the ball away every play produces a passer rating of 39.6. It was nearly impossible for any wide receiver to beat Gardner at the catch point or generate any separation. On the 33 targets Gardner saw that were 10-plus yards downfield, he allowed just eight to be caught while forcing 14 incompletions. Best of luck to the AAC wide receivers going up against him the next two seasons.