It's go time. Conference championship week is here, and trophies are on the line. With that in mind, we examine some PFF stats to know for the 10 championship games, starting with the Pac-12 Championship Game that is to be played tonight in Santa Clara.

One thing many might not realize is that Utah quarterback Tyler Huntley has outplayed Oregon's much-discussed Justin Herbert in all facets, as his overall (90.6), passing, clean-pocket and under-pressure grade are all better than Herbert's at this point in the season. This is also despite Huntley being the eighth-most-pressured quarterback in the FBS (39.2%).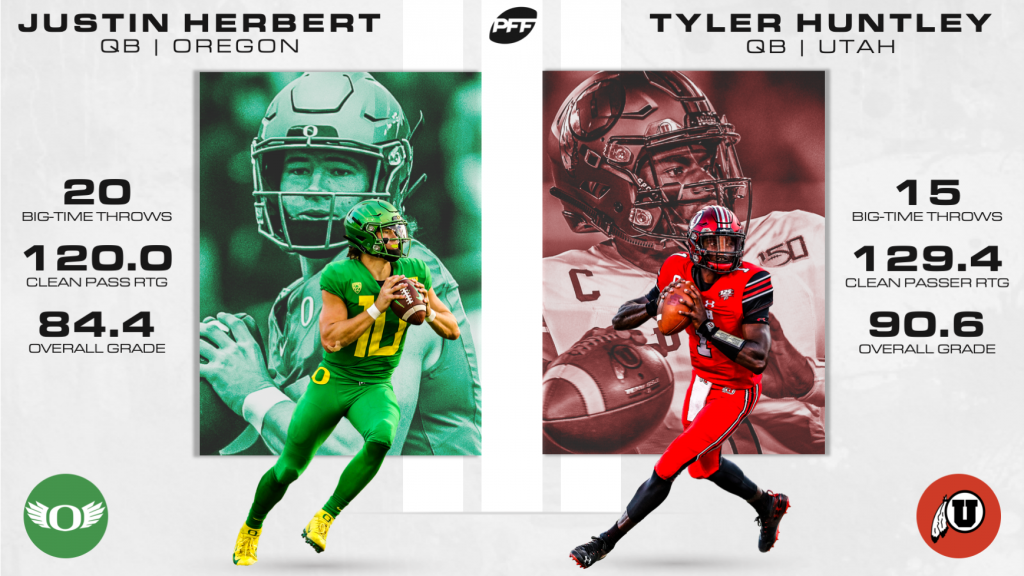 The country will also get to see the brilliance of Utah running back Zack Moss, who is currently the highest-graded running back in the nation (91.6 grade). Good luck bringing him down, as his 78 missed tackles forced in the running game is second-most in the FBS behind only A.J. Dillon, who just so happens to have 118 more rushing attempts to his name.
While he did bring Oklahoma back against Baylor the first time around, quarterback Jalen Hurts has not been the same quarterback the past four games. Through the season's first eight games, Hurts' 92.2 passing grade was tied for second nationally, just behind Justin Fields. However, over the past four games, Hurts' passing grade has dipped to 56.6.
The Bears are going to need to get back to the pressure rates they've been able to attain all season in order to keep Hurts from busting out. As a team, their pass-rush grade is 15th in the FBS, while their 49.5% pressure rate is the 22nd-best. In Game 1 against the Sooners, the Bears only pressured Hurts on 16 of his 50 dropbacks.
If you haven't paid attention to the Mountaineers, especially their defense, then you've missed out. In another rematch game, Appalachian State will look to do what they did to the Ragin' Cajuns' offense in the first game. Against all other opponents, Louisiana averaged 41.7 points per game — they got seven against the Mountaineers.
The Appalachian State defense is loaded with highly productive players, including the nation's highest-graded cornerback in Shaun Jolly (91.3 grade), who has only allowed a 49.8 passer rating into his coverage and has nine pass breakups and five interceptions. E.J. Scott (88.3) leads them on the interior, and four different defenders have at least 20 total quarterback pressures.
Outside of their initial game with the Mountaineers, the Ragin' Cajuns have dominated on the offensive side, and they're led by PFF All-American guard Kevin Dotson (90.5 grade) and the three-headed monster of running backs Elijah Mitchell (88.0), Raymond Calais (81.7) and Trey Ragas (81.4).
After struggling out of the gate, Jim McElwain has got the Chippewas on the right track in his first season as coach, winning six of their last seven games, a stark turnaround from 1-11 in 2018. They are led on offense by senior transfer Quinten Dormady (65.5), who's coming off the highest-graded game of his well-traveled career against Toledo (90.0 game grade). Defensively, their primary interior and edge defenders — Robi Stuart (79.3), LaQuan Johnson (77.5), Troy Hairston (75.1) and Sean Adesanya (74.0) — have combined for 116 total quarterback pressures and the team's pass-rush win percentage is 13th in the FBS.
The Redhawks have certainly been battle-tested, losing three of their first four games to Iowa, Cincinnati and Ohio State. In contrast to Central Michigan, Miami is led on defense by a truly elite defender, Doug Costin (87.4). Costin has the eighth-highest grade among all FBS interior defenders and also leads all those interior defenders with 46 total quarterback pressures.
After opening losses to Ohio State and UCF, Lane Kiffin has guided the Owls to a win in nine of their last 10 games. In what might be his final game at FAU, given the numerous open coaching positions, Kiffin will lean on his most consistent playmaker, senior tight end Harrison Bryant. An elite performer over the past three seasons, Bryant went up another level in 2019. He leads all FBS tight ends in grade (93.0), receptions (61), yards (965) and missed tackles forced (11). For his career, he now has 144 receptions for 2,100 yards and 15 touchdowns.
The Blazers bring a stingy front seven into this championship game, led by edge defender Jordan Smith (92.6 grade) and interior defender Garrett Marino (91.0). Smith is currently the nation's third-highest-graded edge defender—and he's first overall in run-defense grade—while Marino is the second-highest-graded interior defender. The two have combined for 88 total quarterback pressures, including 16 sacks and 56 stops.
Déjà vu, right? Memphis got the win in the first game and now we get it again this week, this time for a championship. The biggest question will be if quarterback Desmond Ridder (68.2 grade) can return for the Bearcats. Redshirt freshman Ben Bryant gets the call again if not. Bryant played solidly (71.2 game grade), but turned the ball over. On the bright side for the young quarterback, preparing for the same opponent two weeks in a row should do nothing but help. 
Ultimately, can the Bearcats stop the big play Memphis seems to always get? The Tigers have the fifth-best explosive pass play percentage in the FBS and quarterback Brady White (77.1) has 1,049 yards on throws targeted 20 or more yards downfield, eighth-most in the FBS.
One of the best matchups of the weekend will see PFF SEC Player of the Year Joe Burrow take on one of the nation's best defenses in Georgia. While we have lauded Burrow's PFF numbers, a vital piece to LSU's offense is running back Clyde Edwards-Helaire (84.3 grade). He's forced 69 missed tackles in total and goes up against a team that has missed only 90 tackles this season, the third-fewest in the nation.
Georgia will be without their highest-graded receiver for the game's entirety (Lawrence Cager, 83.8 grade) and their second-highest graded receiver for the first half (George Pickens, 78.6 grade). That doesn't bode well given LSU's talent at the cornerback position in true freshman Derek Stingley Jr. (90.1 grade) and Kristian Fulton (87.8 grade).
This is a rematch unlike any of the others, in that each team could legitimately play multiple quarterbacks. In the first matchup for Boise State, Chase Cord relieved injured starter Hank Bachmeier, and now Jaylon Henderson (67.9) has guided them the past three games. Henderson is coming off the best game of his career against Colorado State (82.9 game grade) and will hope to keep it rolling. For Hawaii, both Cole McDonald and Chevan Cordeiro played in the first game, and both have played snaps over the past three games. 
Whoever plays quarterback for the Warriors will have to account for Boise's edge rusher extraordinaire Curtis Weaver. Weaver's 91.4 overall grade is good for fourth in the FBS. Weaver is also tied for third nationally with 15 sacks and has at least four total quarterback pressures in nine of the Broncos' 12 games.
Very quietly over the past five weeks, Trevor Lawrence has found his groove and put the Tigers in position again to compete for the National Championship. Since Week 3, Lawrence's 91.6 passing grade is fourth in the FBS, and he has 21 big-time throws and just four turnover-worthy plays during that stretch. In the last four games, his 92.4 PFF grade is behind only Joe Burrow.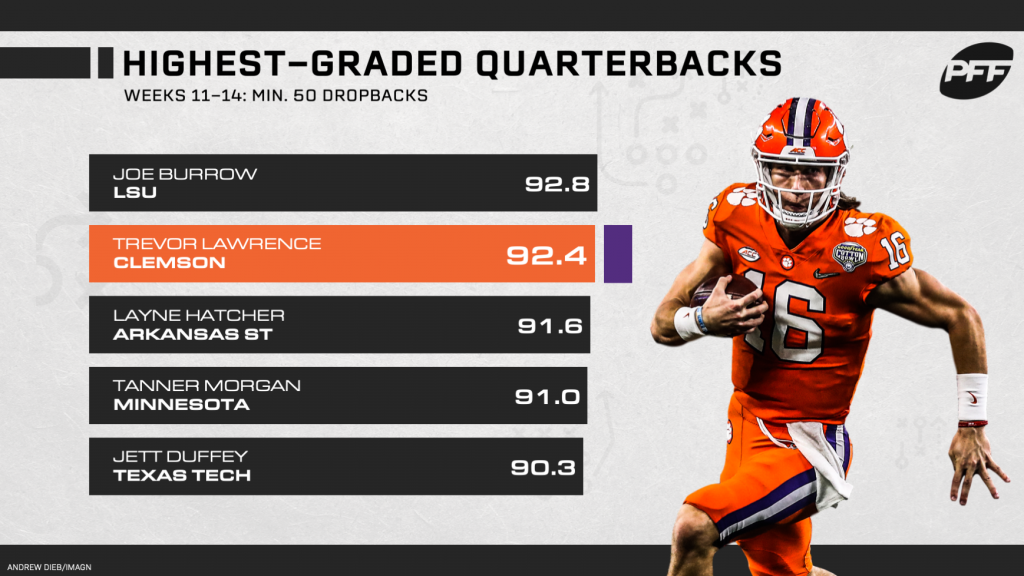 Virginia quarterback Bryce Perkins had his best game of the year to help propel the Cavaliers into this matchup, but taking on Clemson will be an entirely different story. Perkins has been pressured on 37.9% of his dropbacks (12th-most in the FBS), and Clemson's 55.3% pressure rate is seventh-most in the FBS — that's not a good combination for Virginia.
It was close early, with the Badgers only trailing 10-0, but then the second half happened, and the Buckeyes exerted their will en route to a 31-point victory.
Can Wisconsin get its best player, running back Jonathan Taylor (91.5 grade), some room to do damage? Taylor only had 57 yards on 21 touches in the first game. Can the Badgers somewhat slow down Chase Young (97.0 grade)? The PFF Big Ten player of the year, and highest-ever graded edge defender, only had four sacks in the first game. If not, the Buckeyes' elite defense will again suffocate the Badgers and give ample opportunities to their explosive offense.