The dust has settled on the 2019 regular season at the FBS level and it's time to take a look back. Ahead of the conference championships across the nation, we take a look at the best players at their respective positions with an in-depth look at how they graded over the course of the full season.
Utilizing our play-by-play grades of every player on every play of every game, our list of All-Americans takes into account every player's actions on the field on Saturdays while also utilizing our wealth of signature statistics to determine the list. The strength of opponent and consistent play also factor into our selections detailed below.
The 2019 PFF All-Americans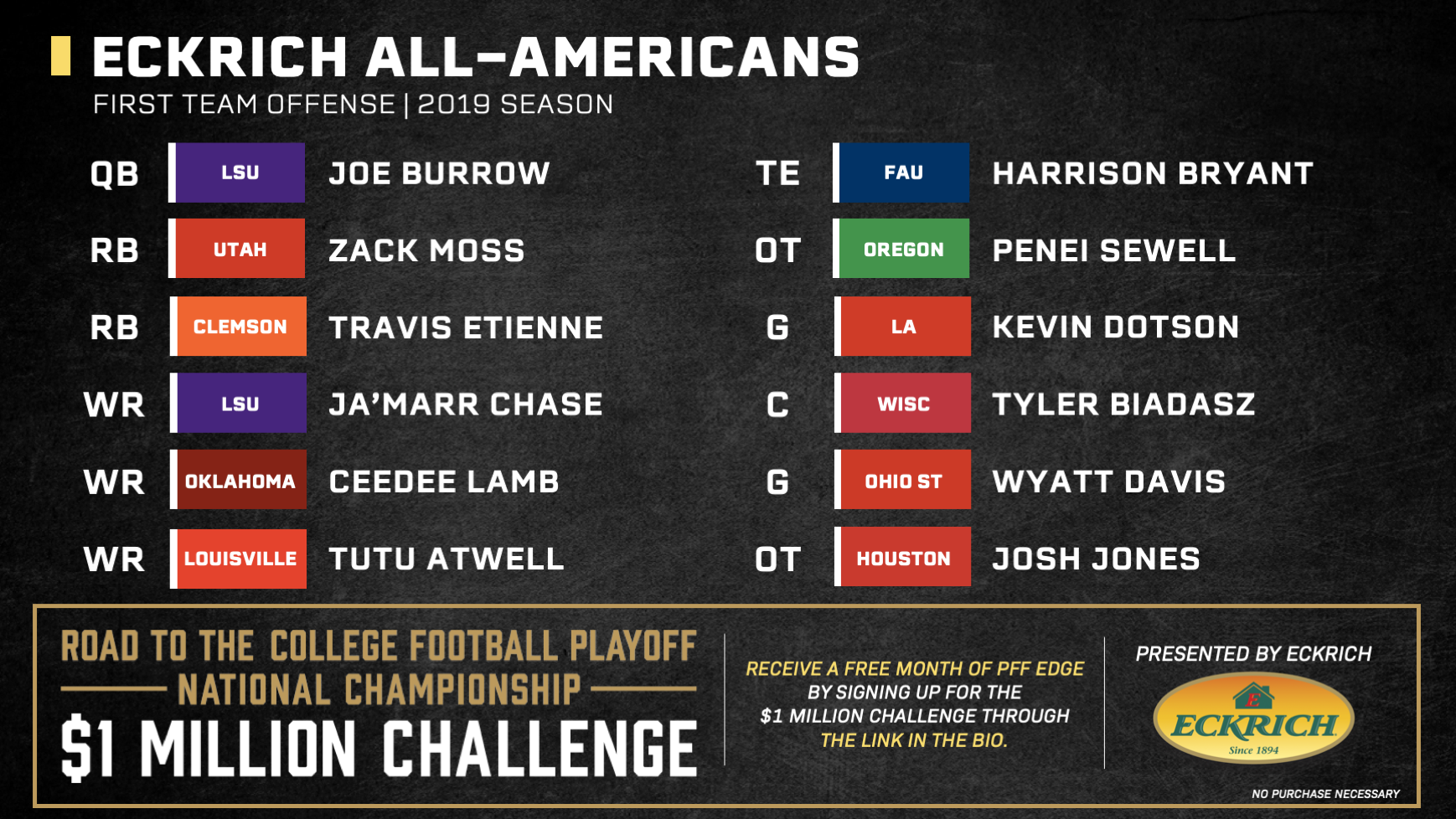 Quarterback
First Team: Joe Burrow, LSU
The nation's highest-graded quarterback to every level of the field, Burrow was perhaps the best quarterback we've had the privilege of grading since we started grading college in 2014, and that includes the likes of Baker Mayfield, Kyler Murray and a few other first-round picks at the position. Burrow lit up every defense he saw this season, including several top-10 matchups. On all throws targeted at least 10 yards downfield, Burrow finished the season 101-of-152 for 2,475 yards, 31 touchdowns against just six interceptions and 29 big-time throws, fielding a ridiculous 69.1% adjusted completion percentage in the process to lead the nation.
He's got the Heisman Trophy all but locked up for good reason, as Burrow averaged a depth of target of 9.2 yards downfield and still finished with the nation's second-highest overall adjusted completion percentage. He set all sorts of PFF accuracy records in 2019 and finished the regular season with a standard completion percentage figure of 78.3%. There was no player more dominant for the entire length of the season than Burrow, and the hardware will certainly follow.
Second Team: Justin Fields, Ohio State
Third Team: Tyler Huntley, Utah
Honorable Mention: Jalen Hurts, Oklahoma; Tua Tagovailoa, Alabama
Running Back
First Team: Zack Moss, Utah
For a while, it seemed like Moss was going to set the record for the highest missed-tackle-forced percentage in a season, as he broke tackles at a historic rate in 2019. While he didn't set the record, he did break the previous record held by David Montgomery by forcing a missed tackle on 39% of his attempts, breaking 78 tackles on 199 carries and gaining 1,242 yards on the ground. He finished seventh in total yards after contact with 929, averaging the fifth-best yards after contact per attempt at 4.7. Moss doesn't go down on first contact very often and 33.0% of his carries actually moved the chains for a first down (50) or a touchdown (15) as his rushing conversion percentage ranks inside the top 20 among all running backs.
He makes the Utah offense roll and it's never more notable than now as you look back and see their lone loss came to USC in a game where he left with an injury. The Utes will continue to roll as Tyler Huntley (our Third-Team All-American QB) and Moss will carry them, and that should be into the College Football Playoff.
Second Team: J.K. Dobbins, Ohio State
Third Team: Clyde Edwards-Helaire, LSU
Honorable Mention: AJ Dillon, Boston College; Jaret Patterson, Buffalo
Running Back
First Team: Travis Etienne, Clemson
The aforementioned record for highest missed-tackle-forced percentage now belongs to Etienne, who capped an incredible season by shattering the former record in missed tackles forced per carry by breaking a tackle on 45% of his attempts. He broke 75 tackles on 167 attempts, blowing past the previous mark of 33% set by Montgomery. In total, Etienne also led the nation with 8.3 yards per attempt and 5.3 yards after contact per attempt as he gained 894 of his 1,378 rushing yards after contact.
Overshadowed a bit by his quarterback, Etienne is certainly one of the best players in the entire country and most definitely in the conversation for best running back in the nation. He'll have at least two more games to prove his gaudy grades and statistics weren't just a product of inferior competition in the ACC, as some pundits claim.
Second Team: Jonathan Taylor, Wisconsin
Third Team: Chuba Hubbard, Oklahoma State
Honorable Mention: Najee Harris, Alabama; LeVante Bellamy, Western Michigan
Wide Receiver
First Team: Ja'Marr Chase, LSU
The likely Biletnikoff Award winner, Chase saw the biggest benefit of the Joe Burrow explosion that was 2019. Chase could get open with ease and has a wide-open route tree, something that Burrow helped exploit against even the best defensive backs. He leads all receivers with 14 touchdowns on passes targeted at least 10 yards downfield, having dropped just one of such passes all season long. Even if he couldn't get open or if the ball was thrown to a contested situation, he came down with it more than not, as he caught 13-of-24 contested-catch opportunities this season.
What Chase adds that other talented route-runners and contested-catch receivers usually lack is the ability to make any defender miss after the catch. He broke 21 tackles and racked up 563 yards after the catch with 350 of those coming after contact as well. For the season, he ranks second in yards per route run by gaining 3.93 yards for every route he was an eligible receiver.
Second Team: Jerry Jeudy, Alabama
Third Team: Geraud Sanders, Air Force
Honorable Mention: Antonio Gandy-Golden, Liberty; Tee Higgins, Clemson
Wide Receiver
First Team: Ceedee Lamb, Oklahoma
A one-man wrecking crew with the ball in his hands, Lamb made serious plays whenever he touched the football in 2019. He broke 18 tackles on his 50 receptions, ripping off 1,033 yards in the process, 553 of which came after the catch. He caught 14 touchdowns and 20 more first-down receptions while finishing third in yards per route run at 3.81. Lamb showed up biggest on the biggest of stages, racking up ridiculous numbers when his team needed him most.
Against Texas, Lamb went for 10 catches, 171 yards, three scores and seven broken tackles while he ripped off eight catches, 165 yards and two scores against Iowa State while breaking four more tackles against the Cyclones. He wasn't just a big-play receiver waiting to happen, he made more plays on his own than even the most advanced statistical sheet can show.
Second Team: Isaiah Hodgins, Oregon State
Third Team: Gabriel Davis, UCF
Honorable Mention: Omar Bayless, Arkansas State; Devin Duvernay, Texas
Wide Receiver
First Team: Tutu Atwell, Louisville
The rapid rise of Scott Satterfield's Cardinals in 2019 gave way to one of the nation's best receivers in Atwell. Ranking first among qualified receivers with a ridiculous 4.17 yards per route run, Atwell gained over four yards per snap on 269 plays that he was an eligible receiver, seeing a great uptick with Micale Cunningham throwing him the ball. He was nearly impossible to bring down after the catch, as well, finishing fourth in yards after the catch per reception at 11.4 while gaining the fourth-most yards after the catch in total at 697.
The sky is the limit for Atwell, as he finished with 24 explosive plays of 15 yards or more, seeing his targets average 11.4 yards past the line of scrimmage. He finishes the regular season with 43 receiving conversions and a 124.2 passer rating when he was the primary target.
Second Team: Rashod Bateman, Minnesota
Third Team: DeVonta Smith, Alabama
Honorable Mention: Tyler Johnson, Minnesota; Michael Pittman Jr., USC
Tight End
First Team: Harrison Bryant, FAU
The Mackey Award finalist will have another showcase game in the Conference-USA Championship, but it may not even make a difference. Bryant was by far the nation's top tight end, hauling in 61 catches for 965 yards, six scores and 43 more first downs. He leads the nation with 11 missed tackles forced after the catch and is an after-the-catch threat just as he is someone who can go up and get the contested balls thrown his way. He ranks first among tight ends with 25 explosive plays of 15 yards or more and despite seeing a bevy of targets and a ton of routes run, he still ranks second among all tight ends by averaging 3.15 yards per route run.
What truly separates Bryant from the rest of the class of tight ends this year was his blocking all season long. He stayed in to pass protect on 35 snaps, not yielding a single QB pressure while his 78.7 run-blocking grade on 285 snaps ranked 12th among all tight ends.
Second Team: Charlie Kolar, Iowa State
Third Team: Brant Kuithe, Utah
Honorable Mention: Josh Pederson, UL-Monroe; Hunter Bryant, Washington
Offensive Tackle
First Team: Penei Sewell, Oregon
With legitimate consideration for the Heisman Trophy, it's no shock to see Sewell here as he's pressing for the best overall grade we've ever given to a tackle in a single season. A year removed from setting the record for highest grade we've given to a true freshman at the position, Sewell's sophomore campaign has been nothing short of dominant. He's the most-represented athlete on our National Team of the Week and leads all tackles in run-blocking grade and overall grade by some margin. He's allowed just six total pressures on 436 pass-blocking snaps, not allowing a single sack all year long.
Sewell has the moves of a much smaller man but the strength of a much bigger one. There is seemingly no limit to what he can accomplish, and you can bet that his junior season will have him dotting every preseason award watch list, including the Heisman in 2020.
Second Team: Andrew Thomas, Georgia
Third Team: Jedrick Wills Jr., Alabama
Honorable Mention: Danny Pinter, Ball State; Darian Kinnard, Kentucky
Offensive Guard
First Team: Kevin Dotson, Louisiana
The Ragin' Cajuns are most definitely a run-first team, and when you have Dotson paving the way, that certainly seems logical. Dotson was by far the nation's highest-graded guard overall and had the only 90.0-plus run-blocking grade at the position. He gave up just two total pressures on 339 snaps in pass protection and paved the way for multiple wide-open lanes in the run game.
Dotson is the only player with elite grades in both pass protection (86.6) and in the run game (90.4) as he finished as the only player with at least 400 snaps at guard to have an overall grade above 85.0 in an incredibly dominant year.
Second Team: Nick Rosi, Toledo
Third Team: Josh Rivas, Kansas State
Honorable Mention: Nolan Laufenberg, Air Force; Jordan Meredith, Western Kentucky
Center
First Team: Tyler Biadasz, Wisconsin
There was certainly going to be a Wisconsin lineman on the list and Biadasz was all but assured that position almost at the jump of this season. Through the regular season, he's grading out with an identical 86.7 overall grade that he had a year ago, as he's improved greatly in pass protection during his junior season. Biadasz has allowed just two total pressures this season and like Dotson above, he is the only center with elite grades in both the run game and the passing game.
It remains to be seen whether or not he'll return in 2020 to the Badgers, but one thing is for sure, the Wisconsin faithful has at least two more games to witness his greatness, something that they'll surely not complain about.
Second Team: Matt Hennessy, Temple
Third Team: Keith Ismael, San Diego State
Honorable Mention: Tyler Linderbaum, Iowa; Dustin Woodard, Memphis
Offensive Guard
First Team: Wyatt Davis, Ohio State
Davis took on the best of the Big Ten's interior defenders and did so with a truly impressive final showing for the 2019 regular season. Davis did not allow a single QB hit or sack on his 361 pass-blocking snaps and finished four separate Big Ten competitions without allowing a single QB pressure in the entire game. He was integral in the Ohio State rushing attack just the same, but his impressive turnaround from an average 2018 season is miraculous.
Davis is a mauler in the middle and though he allowed 13 hurries, he still finished as the nation's second-highest-graded overall guard among those with at least 400 snaps. Few can come close to how Davis moves with his strength, as he truly grabs your attention any time you watch the Buckeyes.
Second Team: Jonah Jackson, Ohio State
Third Team: Alijah Vera-Tucker, USC
Honorable Mention: Kendrick Green, Illinois; Landon Dickerson, Alabama
Offensive Tackle
First Team: Josh Jones, Houston
In what almost became a throwaway year for the Cougars, Jones was a glaring bright spot in Houston. In his nine games, he was the highest-graded Houston player in all but one of them (D'Eriq King's final game) as Jones allowed just four total pressures on 325 pass-blocking snaps. He finished second in run-blocking grade and second in overall grade, dominating any defensive linemen placed in front of him.
An underrated aspect of any left tackle's repertoire is reliability, and Jones was only penalized twice all season long. He capped the 2019 year with elite grades across the board as he most certainly made huge strides on everyone's 2020 NFL Draft rankings.
Second Team: Tristan Wirfs, Iowa
Third Team: Calvin Throckmorton, Oregon
Honorable Mention: Scott Hattok, Air Force; Blake Brandel, Oregon State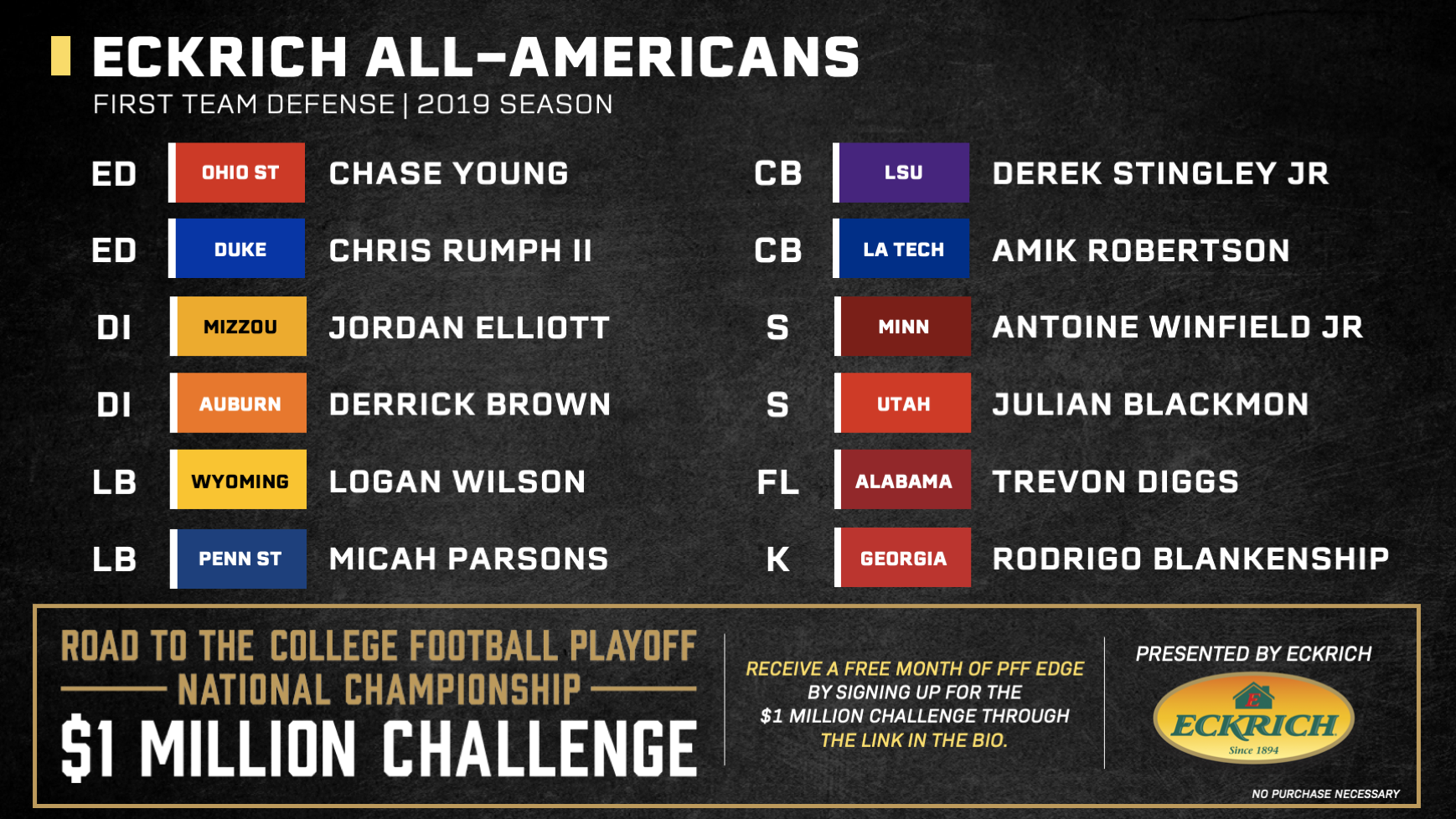 Edge Defender
First Team: Chase Young, Ohio State
Young was seemingly unblockable all season long, when in the lineup. He didn't let a two-game suspension bother him in the slightest, as he finished the year with 18 sacks, four quarterback hits and 25 more hurries, despite the offensive gameplans clearly schemed to avoid him. Only a few times in recent history has a defensive player required a specific scheme the way that Young commanded, as there was palpable evidence of offenses completely avoiding him, including the Northwestern offense who dramatically changed their gameplan when the two met. On the very first play when Northwestern and Ohio State met, Young quickly recorded a sack, but for the next 16 snaps, the Wildcats either ran to the opposite side of the field or threw a screen pass to avoid Young's impact. He finishes the regular season with a pass-rush win rate of 29.6%, seeing more double teams as the year went on, impactful just the same as he opened up lanes for the other Buckeye pass-rushers.
Young is clearly the best player when he steps on the field, and if the offensive coordinator opposite him didn't know it before the game, they certainly got the taste of it immediately. He even had another 27 pass-rushes in which he beat the lineman in front of him but the offense schemed a quick pass so he couldn't record a pressure.
Second Team: Quincy Roche, Temple
Third Team: James Lynch, Baylor
Honorable Mention: Josh Uche, Michigan; Patrick Jones, Pittsburgh
Edge Defender
First Team: Chris Rumph II, DUke
For a while, it was Young who was going to finish the year with the highest pass-rush win rate, but with a dominant end to his regular season, Rumph II secured the pass-rush win title for 2019. In doing so, Rumph even broke the 2019 record for the highest pass-rush win rate in a game as he finished the regular season against Miami by winning 51.7% of his snaps against the Hurricanes. On the year, Rumph recorded 48 total pressures that included seven sacks, 11 hits and 30 hurries on just 197 pass-rushes while he recorded 38 tackles with just five misses and 25 defensive stops to his credit. His season-long 32.8% pass-rush win rate tops that of even the aforementioned Chase Young, as he totaled even more pressures than Young but on 47 fewer pass-rushes.
Rumph rounds out his incredibly effective season by forcing a fumble, batting another pass at the line and having 20 additional pass-rush wins that he didn't get credit for. He'll find his way to several more awards from us at PFF but First-Team All-American is surely where he belongs for the time being.
Second Team: Curtis Weaver, Boise State
Third Team: Alex Highsmith, Charlotte
Honorable Mention: Zack Baun, Wisconsin; A.J. Epenesa, Iowa
Interior Defender
First Team: Jordan Elliott, Missouri
Listed as a breakout candidate for the 2019 season, Elliott didn't just break out, he shattered even our high expectations this year. Despite the troubles for Missouri down the stretch, Elliott never wavered and finished the year with 33 total pressures, including 12 combined sacks and hits with 21 more hurries. He ranks fifth at his position with a pass-rush win rate of 18.4% but first in overall grade. With 29 defensive stops to his credit, Elliott was just as effective against the run as he was when rushing the passer as he had a 90.7 pass-rush grade and a 91.1 run-defense grade, finishing as the only interior defensive lineman with 90.0-plus grades in each facet.
He affected the opposing teams in more ways than one and regularly ate up double teams in the middle like it was his only job. There were just a few times he was kept quiet, and in fact, he had multiple pressures in all but one game in which he rushed the passer at least 10 times.
Second Team: Justin Madubuike, Texas A&M
Third Team: Marvin Wilson, Florida State
Honorable Mention: Jack Heflin, Northern Illinois; Aaron Crawford, North Carolina
Interior Defender
First Team: Derrick Brown, Auburn
As physically imposing a force that there was during the 2019 season, Brown made his presence felt in every contest but most notably against the toughest tests on Auburn's schedule. He finished with the second-highest pass-rushing grade among all interior defenders and had three of his four highest game grades come against Florida, Georgia and Alabama. Tallying 34 total pressures, Brown recorded five sacks, 10 QB hits and 19 more hurries while he batted four passes at the line, made 34 defensive stops and 41 total tackles without a single missed tackle attempt to his credit this year.
His tackling was unmatched this season and he was the country's most dominant interior defender against the run. He made 11 tackles for no gain or a loss and was the only interior defensive lineman to record 33 tackles without a single miss against the run.
Second Team: Garrett Marino, UAB
Third Team: Javon Kinlaw, South Carolina
Honorable Mention: Bravvion Roy, Baylor; Neville Gallimore, Oklahoma
Linebacker
First Team: Logan Wilson, Wyoming
No linebacker across the nation was able to accomplish what Wilson accomplished in 2019, as he was the only defensive player in the country to field elite grades against the run, in coverage and when blitzing the passer. His all-around elite play saw him finish as the nation's highest-graded linebacker as he recorded 17 total pressures on just 50 pass-rushes, secured 40 run stops and made nine total plays on the ball for a passer rating of just 63.2 into his coverage. Utilized all over the field, Wilson really shined when rushing the passer as he won 36.2% of his pass-rush attempts AND got home with pressure on every pass-rush win, leading the way to one sack, five hits and 11 more hurries.
Overall, Wilson attempted 106 tackle attempts and secured 82 solo tackles with 14 assisted tackles while he averaged making a tackle in run defense just 3.33 yards past the line of scrimmage. Elite at all levels of the field, Wilson capped an incredible four-year career with career-high grades across the board.
Second Team: Carlton Martial, Troy
Third Team: Nick Bolton, Missouri
Honorable Mention: Kyahva Tezino, San Diego State; Malik Harrison, Ohio State
Linebacker
First Team: Micah Parsons, Penn State
Similarly to the aforementioned Wilson, Parsons was incredibly efficient no matter what the offense threw at him this season. While he was arguably the nation's best tackler at linebacker, he truly excelled in run defense where he led all linebackers with a 94.8 run-defense grade. He recorded 71 total tackles against the run and missed just six attempts while 35 of his solo tackles went as a defensive stop. He made 15 tackles for either a loss or no gain, forced a fumble and allowed just an average of 2.16 yards per tackle, one of the nation's top figures. Parsons also added an impressive set of blitzes as he got home with 21 total pressures on 78 pass-rushes including three sacks, six QB hits and 12 hurries.
In total, Parsons was an incredible three-down linebacker for the Nittany Lions and that went as far as not allowing a single touchdown in his coverage despite being targeted 32 times. He allowed a long reception of 25 yards and made three pass breakups to boot.
Second Team: Jordyn Brooks, Texas Tech
Third Team: Chris Orr, Wisconsin
Honorable Mention: Asmar Bilal, Notre Dame; Jan Johnson, Penn State
Cornerback
First Team: Derek Stingley Jr., LSU
The talented true freshman cornerback played well above his age all season long and against one of the most difficult stretches of schedule that any pass defense saw in 2019. Stingley shook off a bad performance against Alabama and rallied through the last three games of the regular season by allowing just four receptions on 15 targets for a mere 25 yards. In total, Stingley limited quarterbacks to just a 41.4% completion percentage into his coverage and made as many interceptions as he allowed touchdowns. What set him apart from the rest of the nation's cornerbacks was not just his age, but his ability to shake off any mistake he may have made and continue to be as sticky as he ever was in coverage. Despite allowing over half his total receiving yardage allowed all year in just two games (vs. Florida, @ Alabama), he rebounded incredibly in the following weeks and put forth elite overall and coverage grades for the year.
Stingley forced 15 total incompletions, forcing an incompletion on 21.4% of the passes thrown his way, the country's fifth-best percentage. He's made an incredible leap into stardom that will likely land him on an NFL roster as a high draft pick but LSU fans don't have to worry about that for at least two more seasons.
Second Team: Shaun Jolly, App State
Third Team: Corey Straughter, UL-Monroe
Honorable Mention: Travion Banks, Miami Oh.; Aaron Robinson, UCF
Cornerback
First Team: Amik Robertson, Louisiana Tech
No cornerback made more plays on the ball than Robertson did during the season, breaking up 17 balls and intercepting five more to record just a 53.7 passer rating into his primary coverage. Limiting himself to just two penalties all year, Robertson played a sticky but safe brand of coverage and dominated at the catch point. His 19 total forced incompletions led the nation as he allowed a catch just 52.6% of the time into his coverage, all leading to his national-best coverage grade of 91.3. He was terrific across the board but not just against the pass.
Robertson also made 24 total defensive stops, ranking eighth among all cornerbacks, and that went as far as timing blitzes with near perfection, getting home with pressure on a third of his pass-rushes.
Second Team: Elijah Molden, Washington
Third Team: Ahmad Gardner, Cincinnati
Honorable Mention: Jaylon Johnson, Utah; Patrick Surtain II, Alabama
Safety
First Team: Antoine Winfield Jr., Minnesota
The leader in overall grade nearly all season long among safeties, Winfield made his own name for himself after following in his father's footsteps with sure tackling and an all-around fierce style of play. He was a ballhawk in coverage and recorded seven interceptions and a pass breakup despite seeing just 21 total targets into his primary coverage. He flew all over the field and recorded 72 total tackles and 22 defensive stops while allowing just a 50.8 passer rating. He had well-above-average grades in every single facet of play and finished with an overall grade of 86.6.
Winfield was strong against the run, sharp with his tackling and terrific when tasked with blitzing, but his coverage and thievery of the football are what stood out in his final season with the Gophers. He allowed just one reception longer than 17 yards all season long and made more plays on the ball than he allowed receptions in five outings.
Second Team: Tanner Muse, Clemson
Third Team: Ar'Darius Washington, TCU
Honorable Mention: Jeremiah Dinson, Auburn; Nigel Warrior, Tennessee
Safety
First Team: Julian Blackmon, Utah
The transition to safety from cornerback paid big dividends for Blackmon, as he finished the regular season as the Utes' highest-graded player on defense among a star-studded cast of characters. Blackmon made nine total plays on the ball including four interceptions and five more pass breakups as he displayed his strong coverage skills more often than not. He missed just seven of his total 56 tackle attempts and recorded 11 stops across the board. Blackmon's football instincts are second to none and that showed time in and time out for the four-year letterer. Capping his fine season is perhaps the most perfectly-timed blitz from any safety this year when he sniffed out a hole in UCLA's protection and utilized elite closing speed to track down Dorian Thompson-Robinson for a strip-sack.
Blackmon's all-around play embodies the Utah defense this year and they've more than proven that they belong in the College Football Playoff discussion. Blackmon, of course, being a huge reason why.
Second Team: Trevon Moehrig, TCU
Third Team: Xavier McKinney, Alabama
Honorable Mention: Dwayne Johnson Jr., San Diego State; Antwon Kincade, Western Kentucky
Flex Defense
First Team: Trevon Diggs, Alabama
Like any great defensive back, you've got to be able to put errors behind you and put them behind you quickly, and that's just what Diggs did this season. In his one negatively graded outing against LSU, Diggs stood up and tightened his coverage following the game against the Tigers and closed out the three final regular-season games by allowing just one reception on 11 targets for all of 20 yards. For the season, he recorded three interceptions and seven pass breakups while giving up just one touchdown all year long. In total, he allowed a passer rating of just 44.5 into his primary coverage and was as sure a tackler at the cornerback position as we saw in 2019.
Capping an incredible three-year stretch of improving his overall and coverage grades for the Crimson Tide, 2019 was Diggs' finest year by a long shot as he firmly placed his name into the talented defensive back pool as one of the best for the 2020 NFL Draft.
Second Team: Kristian Fulton, LSU
Third Team: Caleb Farley, Virginia Tech
Honorable Mention: Luq Barcoo, San Diego State; K.J. Sails, USF
Kicker
First Team: Rodrigo Blankenship, Georgia
The nation's highest-graded kicker by a long shot, Blankenship drilled home all 43 extra-point attempts and was good on 85.7% of his field goals. Terrific from the intermediate depth of the field, the Bulldogs were all but guaranteed at least three points when they drove inside the 20-yard line, as Blankenship made all 13 field-goal attempts between 20-39 yards. He wasn't too shabby from outside 40 either, connecting on 8-of-11 from 40-49 yards and 3-4 from 50-plus yards out.
Second Team: Matthew Trickett, Kent State
Third Team: Nick Sciba, Wake Forest
Honorable Mention: Blake Mazza, Washington State; Dominik Eberle, Utah State
Punter
First Team: Sterling Hofrichter, Syracuse
Hofrichter finishes not only as the nation's highest-graded punter but as one of the nation's best at pinning opponent's deep in their own territory, as well. He allowed just 13 yards on punt returns all year long as just 10 of them were even attempted to be returned, and he pinned opponents inside the 20 on 30 of his 69 total punts this season. His net punt average nearly reached his total punt average, with the latter mark of 43.7 yards being the country's top figure among qualified punters. Hofrichter utilized his strong leg to become a vital part of Syracuse's special teams, and he averaged the country's best average hangtime at 4.50 seconds in 2019.
Second Team: Braden Mann, Texas A&M
Third Team: Michael Turk, Arizona State
Honorable Mention: Joseph Charlton, South Carolina; Arryn Siposs, Auburn
Kick Returner
First Team: Isaiah Rodgers, UMass
The nation's premier kick returner title belongs to the Minutemen, as Rodgers set all sorts of records in 2019. Sure, he was given ample opportunities to return kicks, but Rodgers made them all count. Rodgers attempted 53 kick returns and gained 1,317 yards in the process, the only returner to eclipse 1,000 yards. While he didn't bring one back for a score, he still finished near the top in kick return average among qualified returners and had a long return of 87 yards in the process. He needed all of just the beginning of September to become the UMass record-holder in total kick return yardage, but that was just the beginning for him and his gaudy return yardage and grades.
Second Team: Jaylond Adams, Southern Miss
Third Team: Joshua Youngblood, Kansas State
Honorable Mention: Joe Reed, Virginia; CJ Sanders, SMU
Punt Returner
First Team: Jaylen Waddle, Alabama
There had to be one Alabama receiver as a First-Team All-American and it just so happens to be Waddle for the second year in a row. The only difference this year is because of the target share between the talented quartet, Waddle finds himself as the first-team punt returner, for good reason, of course. There were 105 players who attempted at least two punt returns in 2019 and no one had more success on average than Waddle, who averaged 25.3 yards per punt return. His notable return came against LSU as he sparked his team in their comeback effort when he hauled in a punt, didn't let an obvious facemask thwart his effort and sped past the LSU coverage unit for a touchdown on a 77-yard punt return. He was reliable on the back end, muffing just one of his 36 punt return attempts with 16 fair catches to his name as he secured 19 returns for 480 yards.
If only he could have gotten one more punt return attempt…
Second Team: Avery Williams, Boise State
Third Team: Brandon Aiyuk, Arizona State
Honorable Mention: Jalen Reagor, TCU; Austin Conway, Wyoming